Current mood:
tired
Life is still going slowly and sadly around here. I wish I could just shake off this grey storm cloud and sort everything out. But now I know that not everything can go as I had wished. Still, I can't have a good rant about these bad days, until I catch up with my blog. So here we go again!


June 12th 2008
Walked down the road and back for Mum's exercise, and almost fainted in the heat. I wish I had some decent summer clothes to wear, so I didn't have to cover up in this coat.


I received my package from Aikarin - my very special package!


...


......


.............
I know. You're staring at them now, wondering what all the fuss was about, aren't you?


Maybe the Birthflower pony?


No. Although January Carnation has been on my wish list for a very long time (I now only need November Chrysanthemum to complete the set!), she wasn't actually the pony I wanted to tell you about.


So Pearly, the Baby Mermaid?
Well, kind of. I have wanted her for even longer. She is a set completer for me!
Mum has now decided she wants to have a set of Fancy Mermaids for herself as well as the Colourswirl Ponies. Maybe I will make a pony collector of her yet!


But the pony I really wanted to talk about was that scruffy old Music Time with the eye rub...


Because you see, she's no ordinary Music Time. Oh no.
She is an original Hasbro prototype! She's made of plastic like any ordinary pony (unlike the Baby Explorer prototype I found at a car boot sale a few years back - she's made of resin), but has been handpainted. She is so gorgeous with that kind of pearly finish to her. Aikarin had three of these prototype ponies (Music Time, Play Time and Painting Time) but only allowed people to buy one so as to give more people a chance to have one in their collection. I know that Play Time is residing in Canada now, but have no idea where Painting Time is. If you are her lucky owner, or know who is, please let me know. It would be nice to keep track of Music Time's old friends, I think.


Now I will let the pictures speak for themselves: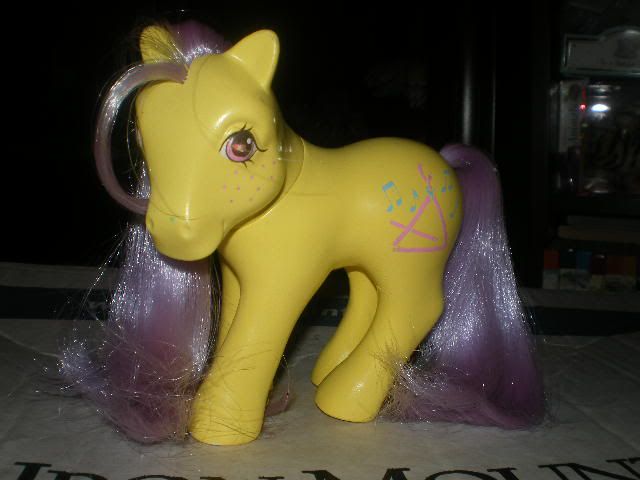 Image deleted by Tinypic before I had the sense to re-upload all my photos to my Photobucket album and update all the links. I apologise for any inconvenience caused!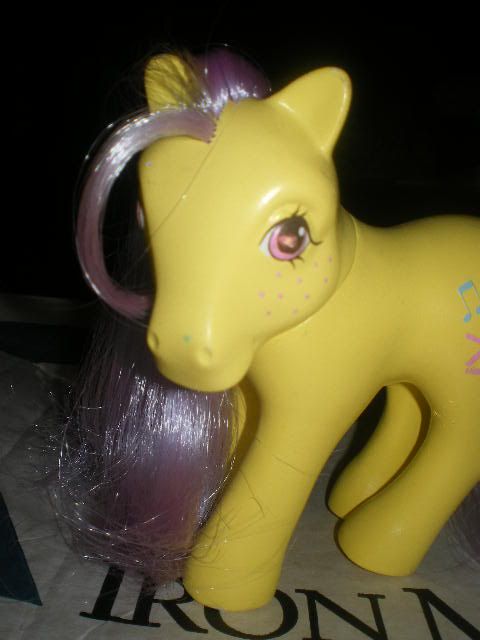 Isn't she just adorable?! And so unique too. I love prototypes and oddities like this one!
In the evening, we went for a site visit at Woodberry to see what Chris Picton has been doing...and yes, this time David remembered the keys, thank goodness. So we actually got to see inside. I am putting the vast majority of the pictures I took in the "Woodberry ~ The House Of My Dreams" album, but for those non-Myspace users, here are a few highlights.
First off, the house (complete with scaffolding) from outside: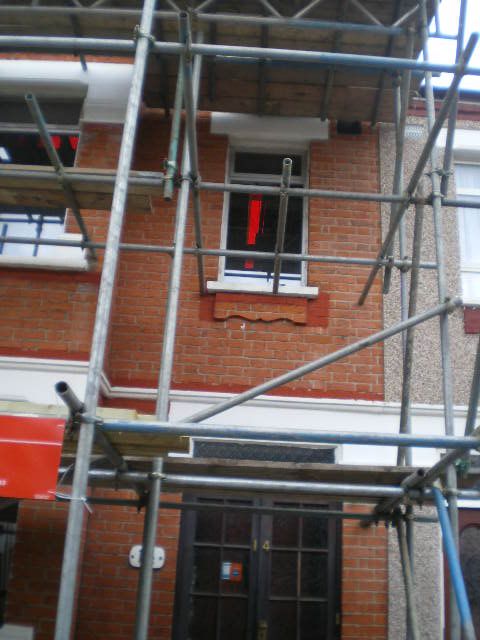 At this point, Chris came out of his own door with a piece of wood and an envelope.
"Here's your post."
He smiled (in his typical smarmy way) at Mum.
"My post?"
Mum asked, puzzled, trying to take the stick of wood from him.
"The envelope."
David said, annoyed.
"Oh, you mean my post as in mail that's come through the door since the builders started work!"
Mum realised.
"I thought you meant a post as in a fence post, and that was the piece of wood!"
Um...yeah. What fence post were you expecting exactly?


So the entire meeting took place with random comments being made on fence posts, which was kind of irritating.


Anyhow, Chris showed us through the house, but the place is so unrecognisable now - there are hardly any ceilings or floors. You can see the sky from the hall! Kind of spooky.


It's pretty hard to take pictures of an entire house, and especially with people walking around in it, and when you're scared you're going to fall through the non-existant ceilings/floors. Still, here are the random shots of, well, what's going to look like nothing on Earth to you all...
Looking up from what was the kitchen, and is to be Mum's family history room (Yes, that's the bathroom and David's loft up there!
)
David and Chris stood in the garden and argued for a while about where the wall should be. (David's line being the bricks, and Chris's being the...er, fencepost, which Mum thought belonged to her!
)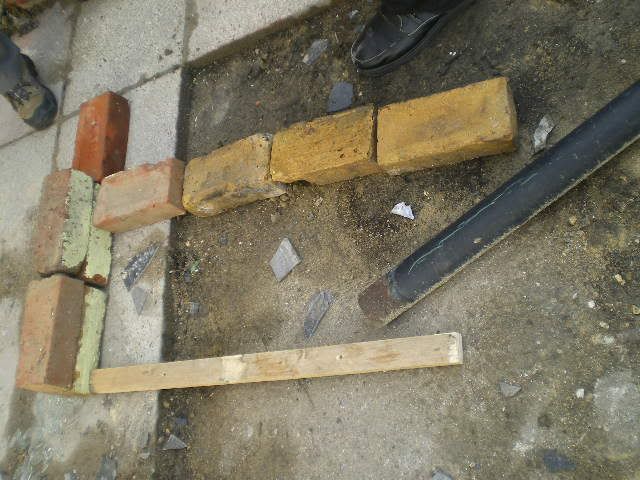 Then we were invited upstairs, something that didn't really please me one bit...
The cupboard door from my room was standing up against the wall, and I noticed the matching doors to each of the rooms were gone. I knew Chris had spoken about sending them off to be fireproofed about a year ago though, so felt I'd better not say anything in case I sounded stupid.
It later turned out this would be the last photo of any of our precious original doors.
No, it doesn't really look much like a house any more, does it?!
It rather concerns me that Chris keeps assuring us he
"knows what we want and is going to make us very happy"
. If he doesn't he'll
"buy Mum a bouquet of flowers every week for a year"
. Um...that's not going to help us with a house we hate that we're stuck living in!
He now wants to make Mum's family history room part of the big open plan kitchen/living room too! Tell you what, why don't we just knock down all the walls, apart from the outer ones, and live in a spaceship?!


Well, I'm really tired now, and I must write a couple of letters before I go to bed, so I'll get on with updating this tomorrow.
So tune in for the next installment of my blog, where you can read about out wonderful weekend in Devon! (Oh, come on! At least humour me, and pretend to be interested!
)
Best wishes,
Desiree Skylark xxx