Current mood:
silly
Song Of The Day: Remember The Times
(My, er, "impressive" lampshade impersonation
)
Many of you have asked me what I thought of Iceland. The answer comes in the form of many different words all meaning the same thing, although I think one of the main characters in this tale (to be known to us all as "Wifey") will over-use all of those, so I will just say they are pretty much positive. I LOVED IT! There were a couple of glitches, but hey, when you consider all three of us went somewhere together, isn't that to be expected? There is a lot to tell you all about though, so instead of writing it all out a million and one times, I hope nobody will mind reading a blog entry. You are, of course, welcome to ask questions on specific things you are interested in and I have thousands more photos I won't be using on this blog. Just ask - I could talk about that place for hours!
First off,
Friday July 18th
...
Our flight left at 9.10pm, but we were supposed to be at Heathrow airport three hours early for some reason. So really, I guess I should have spent the entire morning and afternoon packing. Instead of that, I wanted to get all of my chores done before I went away, so I spent the best part of the day packing freshly-washed ponies in boxes and doing various other mundane things.
So it wasn't until about 3pm that I set my mind to packing...and just then, David walked in from work.
Remember how he wasn't coming to Iceland with us? Well, he'd changed his mind. Of course he was coming with us! He'd never said he wasn't! So why hadn't we packed our bags in order to clear the bathroom for him to pack his...and read another thousand Mills & Boon tales, of course.
"I didn't think you were coming anyway."
I said, rudely.
"Ouch!"
Mum cried.
"Now my bl**dy tooth is hurting! I think I have an abcess!"
Now for those who don't know, Mum is always terrified she will get a toothache while she's away from her dentist, so both David and I thought she was just stressing herself and imagining it. So we continued arguing and packing our cases. About ten minutes later, Mum announces,
"I think I'm going to have to go to the dentist."
Of course, David started yelling at her, but eventually phoned the surgery, who said they could fit her in as an emergency at 4pm. She then took off to the bathroom, and kept walking in and out, opening and closing the door and making all kinds of weird un-necessary preperations, like combing her hair thoroughly again and again, before she saw the dentist. Preventing me from packing my case...I thought on purpose.
Mum kept moaning that
SHE
HERSELF
now thought that she was imagining the toothache, and
"they'd be back too late to catch the plane now, so it was a good excuse not to go with David and I arguing the entire time. After all, he'd put her off anyway."
Luckily, David had just about packed his case before she got in there, so he was ready, and being the inconsiderate idiots they both are, they fully expected me to go to the dentist to
"support Mum"
. Admittedly, I lost my temper at that point, shouting,
"I can't go with you, because you stopped me getting in the bathroom to pack my case, and kept slamming the door in my face!"
and yelling
"B*tch!"
at her as she slammed the front door, thinking she was going to stop us all going to Iceland. I know I was wrong, but I was really upset.
I spent all the time while they were out of the house packing my bags and listening to a cassette tape of a couple of accents I'm trying to learn to keep my nerves from going completely haywire.
They came in at 5.10pm, one hour before we were supposed to get to Heathrow, Mum clasping a bag of anti-biotics. She DID have a tooth abcess and was in a fowl mood with me for yelling at her.
Because David had said he wasn't coming, and was just going to dump us at the airport, he hadn't booked anywhere to park the car! And it was now too late to go on the train. To have parked the car at the airport at such short notice would have cost us several hundred pounds, so Mum rang Emma to see if she and Nick (who works at Heathrow) had any other ideas of where to park. They didn't.
But Nick came to our rescue, and said that if we could drive to their house, we could park the car there, and he would drive us to Heathrow, and do the same for us when we returned.
So, cases finally packed (complete with six bottles of water, six cartons of apple juice, three cartons of Ribena, two packets of chocolate biscuits and two packets of Cornish Wafers, in case we couldn't find anything to eat or drink in Iceland), we started the long drive to Emma's house. By the time we got there, it was actually later than we were supposed to have got to Heathrow. So we couldn't stop and see the kids, which meant Allan was sobbing when we left. I hated leaving him there like that, and promised we'd see him when we got back.
Then we were on our way.
Nick dropped us off at Terminal Two...only for us to discover we were supposed to be departing from Terminal ONE! So David started screaming F-words at Mum across the airport, with everyone staring at us, before we all started the long run down hundreds of corridors to the correct terminal.
Finally in the right place, we found there was absolutely no queue for Icelandair's baggage check-in, and we had plenty of time anyway. So David went to use the facilities, and Mum and I sat down to wait for him. I crossed my legs, as I usually do when I sit down, only for Mum to point out...
OH NO!
My brand new pair of shoes had a huge gaping hole in them! And spare shoes were the one thing I hadn't packed. So I was stuck wearing these all through the weekend away.
I'd just been feeling OK about myself for once too...I'd wondered why that girl on the opposite bench had been staring at my foot in such an odd way. Ugh. Can I not look good for once in my life?!
Not to mention how was I going to walk around in those things for five days? The only other footwear I had on me were great big thick lined moon boots! Oh well, I would just have to manage somehow.
Then we had to get through customs. AGH, absolutely awful for me, because I had a certain G3 pony in my bag (I can't reveal which yet...), and was terrified the magnet in her hoof would set the alarms off, and she'd be destroyed for being "filled with illegal drugs" or some nonsense...not to mention I had to take my broken shoes off, and put them in a tub to travel past all the security guards and through the x-ray machine. Bleh. Fortunately, we all got through fine. When we stopped the other side to put our coats and shoes back on, I saw two men who looked so much like someone I kind of, er, "know" and had this weird dream had said he was coming to London in Spring and wanted to meet me (That
WAS
just a dream, right?
), and a friend of his, that it kind of threw me off-guard. They both stared at us, and were whispering to each other. So, um, I assume that was just about my shoe, YES? If that was you, please let me know. It was horrendous. But you were not really here, right? That "dream" thing would be kind of weird then.
OK, that little weirdness over, we wandered to a window and finally got to see the plane. Mum got more and more nervous, since she hates flying. Strangely, I wasn't at all worried, even though I'd never been on a plane before in my life.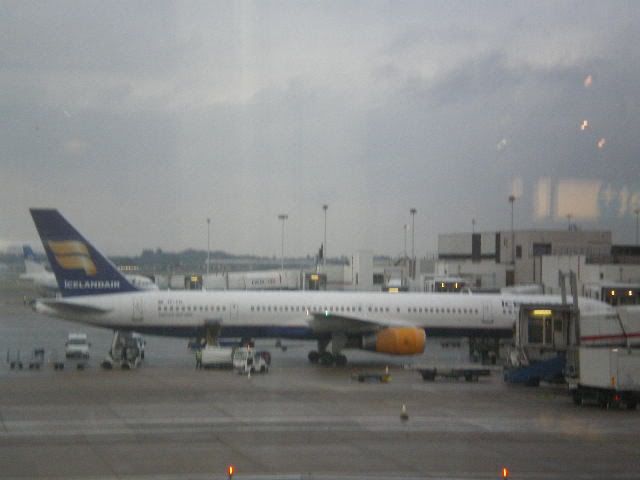 But would things change once I got on the plane?