Current mood:
annoyed
I promise this isn't a blog about the bathrooms
OF
Lincolnshire! The two words in the title have no connection at all. I really must struggle to get this blog back up to date tonight, or else I'll end up in the same situation as before. Although I'm not sure if I'll make it - I'm trying to load more of the Myscene Goes Hollywood videos on Youtube, and my computer hates me for it! My two main voice interests in this movie, Ellis and Sutton, haven't spoken since the second part anyway, so this is all rather pointless anyway, isn't it? Next time,
PLEASE
let me know, Sarah, OK?
Well, we set a new record on Tuesday, and didn't set off for Lincolnshire until 10.30am! And even then David decided to stop off at the refuse centre on the way, and spent ages sorting all the different types of waste into the different recycling tubs.
So, to cut a long story short, we didn't stop anywhere at all until just after noon, and that was a service station, so that we could eat our lunch! We finally made a proper stop at 1.30pm - Burleigh House. It's another of those stately home places us prim and proper English folk just love to visit. Well, most of us anyway. Mum and I hate the places. Well, not so much the places, but the amount of time David spends at them.
We dread them now. Sure enough, David stopped and studied each and every painting on the walls, spoke to each and every toffee-nosed old cronie in each room and, of course, visited every toilet we passed on the way out. (No, I'm not kidding. He went in three in the space of about ten minutes!)
He decided to be mean to Mum and point out a stag-shaped door knocker from across a courtyard which he
KNEW
she wouldn't be able to see with her eyes. Even I couldn't see it! I think the appalling light in this house has finally killed our eyes.
Then we went in the gift shop, which was full of (ridiculously expensive) beautiful things. Mum got herself some new salt and pepper pots for her collection in the shape of horse heads, and apparently also got me a birthday card (Um...a little early, isn't it?!). I fell in love with a little horse pendant, but it cost £7.50, and I was too embarrassed to spend that much on a
"stupid piece of jewellery that would break in five minutes"
in front of those two. I'm really regretting it now.
Mum complained that she never gets to walk around in the grounds of these stately homes, so we went to the "garden of surprises". On the way, Mum almost trod on a very flat, very dried, and very dead mouse, which was in te middle of the path. She took the opportunity to remind me of a dead rat in a similar condition which I actually did tread on in a car park a few years ago. Ew...
The "garden of surprises" was quite pretty really, although it was full of very noisy children screaming loudly and bathing in the fountains (before shaking themselves over us like a load of dogs that got soaked in the rain!!!). I loved the moss garden especially, although Mum was convinced that David and I were going to fall down a well, which was amusing to say the least!
After walking around, we discovered that the only way out was through a large fountain!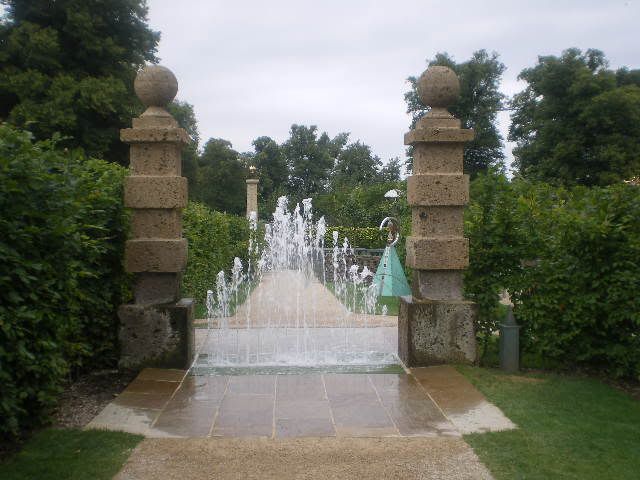 For some time, the three of us stood alongside an elderly lady with a walking stick waiting for this thing to stop so that we could pass. We soon realised it wasn't going to, and thought we'd have to walk through it anyway. David set foot on the mat that the water spouted from, and suddenly it stopped. We realised that we had waited for nothing, and that as soon as we had stepped forward the fountain would have stopped anyway. The old lady didn't realise this though, and wanted to dash through as fast as possible before the water jets started up again. Oh, if only I could have got a photo of her! She just hitched up her dress, picked up her walking stick, and
skipped
over the mat! Immediately, she went back to hobbling along leaning on her stick...
We tried to go to Grimsthorpe Castle after that, and I fell asleep on the way (we'd got up really early, even if David had left the house really late!), but I woke up just in time to see the woman at the ticket desk telling us we were five minutes too late to get into the castle. Mum wasn't best pleased as her main interest in going to these places is
"getting our membership money back"
. Basically, we pay to belong to all these societies (National Trust, English Heritage etc.), which means we get free entry into certain attractions throughout the country. Mum's aim is to make our membership fee back by going in enough of these houses and whatnot. And by not going in Grimsthorpe Castle we "lost" £15! We still had a walk in the grounds which would have cost £9 had we not been members, but that didn't make it up to Mum.
We drove into Boston (where this set of Mum's ancestors came from), and I was told to take some more sneaky photographs of houses in what is now something that can only be described as a very rough council estate. A teenage thug was sitting on a bicycle smoking some nasty substance right on the corner of the street, so we dashed off as soon as the photo was taken, and drove out to Fishtoft to get a photograph of the memorial there.
We soon discovered this was yet another rough place (is anywhere on this planet free of troublesome people these days?!), and even the board about the memorial had been torn down and broken in half. A gang of yobs were sitting in their car in the car park, shouting, "I'm gonna do him in, man!" at the tops of their voices. I dread to think who they were talking about.
We walked along the trail to the memorial, and saw a huge bird fly away from the fence behind. It was a beautiful barn owl, and we got some amazing views of it as it flew away from another family who had walked further along the trail.
Photographs taken, we got back in the car (as quickly as possible past the gang who were getting noisier and noisier inside their car) and headed to Little Chef, which was nicely located a couple of miles down the road from our hotel.
It was only then that I found out we were staying at a different hotel each night! I'm still not sure why David arranged it that way, but all Travelodge's are pretty much the same, so there was no reason to complain really. Again, Mum ended up sleeping on the floor, too hot under the duvet cover. A very strange set up indeed.
I was pretty stressed the entire time we were away, and had very odd, very vivid dreams both nights that we were away, both relating to MLPs in one way or another, which worried me about the safety of my collection in this house. Contrary to popular belief, I do not often dream about My Little Ponies, so if anyone can shed light on why my brain might have been working this way, I would be most pleased.
The one I had that night related to twelve ponies in the car park at Uxbridge being "put to rest" in a nearby river by Mum's (non-existant) native American Indian friend who said a special prayer for them. I was distraught as a couple of the ponies were very rare (namely, the G3 TAF Pony Project Pony and G1 Scribbles), so I ran along the river trying to catch them in a net, and in so doing got my face plastered all over the main newspapers for being "ungrateful" towards Mum's friend who had so kindly put these ponies to rest in the river. However, I found a load more ponies that other people had dumped by a nearby bridge (strangely, in beautiful condition, even though they'd been underwater for about twenty years!), so everything was going to be all right.
David spent ages showering the following morning (doesn't he always when we're away, and short of time?), meaning we didn't get out until 10.30am - again! And even then we had to go to breakfast at Little Chef. I tried the toasted teacake which was delicious. It came with the sweetest little pot of strawberry jam, which Mum quickly stole
"for Uncle John's Christmas present"
. What the... Are we really
that
broke now? Oh, but don't worry. She also stole David's pot of jam (Mum had cereal and didn't get one)! So Auntie Madeline has one too, which
"makes it fair"
.
We drove back into Boston, and spent ages finding somewhere to park. Even so, it was a long way from "the stump" (aka St. Botolph's church, where some of our ancestors got married). I'm really pleased we had to walk around a bit though, as it meant we got to walk around a few shops, and experience the large Wednesday market there. The three highlights of stumbling upon these shops (apart from getting to experience Boston's market atmosphere, of course)?
1)
We were able to pick up some lunch, which we had worried we wouldn't be able to get (vegetarian food is not easy to find), in the form of cheese sandwiches and apple turnovers. More about those cheese sandwiches later. The apple turnovers were just delicious, but rather boring even for the standards of this blog!
2) We got into a few charity shops. No, don't worry. There were no ponies so I didn't do my usual trick of bringing home a small herd of duplicates to make the house even messier. What I did see was a Bucky O'Hare VHS. As you all know, my DVD didn't work all that well, so I've been looking out for a video. It only includes two episodes, but it would appear the BBC licensed a whole set of them back in 1992, when the show must have been on TV. So now I'm looking out for the others. The best bit was how I didn't want David to see what I was buying, so I whispered to Mum
"keep him away!"
, and dashed up to buy this thing. Not only did I open my bag to find the plush Pinkie Pie I had brought with me (in case anything happened to the house) popped her head out to look at the volunteer behind the counter, who then looked at me as if I was mad, but said volunteer decides to start
READING ALOUD
from the video box while I'm scrabbling around for the right change. How fortunate the price label was right over the title, and she reads out
"The Lucky Hare"
instead of the real title. Not that David will have been fooled if he heard her! Agh!
3) We took a wrong turning, and ended up outside a really rundown cheap shop. And there, standing right outside, is this late 1980s RG Mitchell coin operated ride. Now unfortunately, I believe he's been re-painted, but the artwork on the box is original, something I have never seen on this particular model.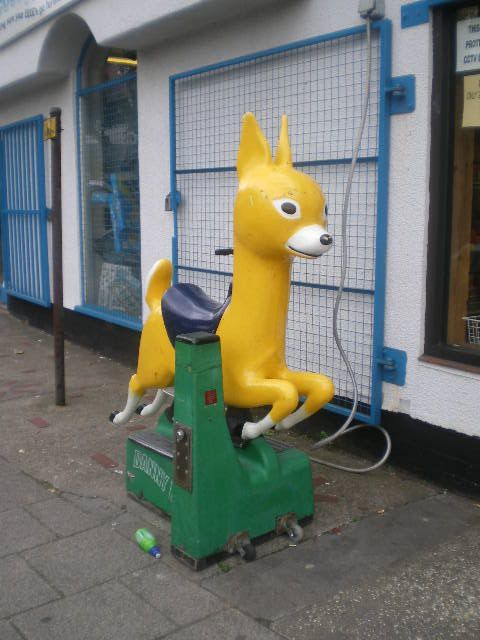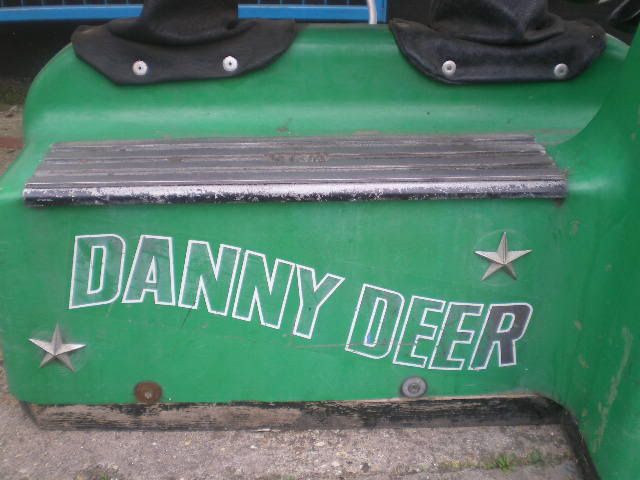 Mum has just gone into a fit of rage, saying she's too tired to stay up any longer, and so I have to go to bed. (
"What are you doing on that bl**dy computer anyway?"
) So I'm afraid I have to cut this blog short. *Sighs* And you never even got to hear about the bathrooms in the title!
Oh well, look out for "The Real Bathrooms and Lincolnshire Blog" tomorrow, which will combine both topics. I'll also get all my private messages sorted out too. I'm going to be sure to keep on top of it all this time, and not let a couple of nights away in Lincolnshire set me right back like the Norfolk trip did.
See you all tomorrow! xxx