Current mood:
uncomfortable
Well, I said I'd attempt to write this blog today, so here it is! And I even have more bathroom stories to add to the mix. (Hmm, that sounded rude... I promise it isn't!
) Not sure I'll get it all in though. It's boiling hot in this house, and I'm struggling to write anything...
So, starting where I left off on Wednesday afternoon, we went to "the stump", (St. Botolph's Church in Boston). There was a massive art exhibition taking place inside, so Mum didn't get any photographs. We have since found out that we could have taken as many pictures as we liked free of charge, so she's quite annoyed now. However, it did force her into getting a nice little sketch of the church from the gift shop, which she'll be able to hang on her family history room wall.
We drove out of town to a nearby graveyard, and had a look for any relatives, even though Mum knew of no graves in the area. David could find nowhere to park, so he stopped in the middle of the country lane outside the graveyard. I had been listening to a cassette tape in the car, and spent a moment taking my headphones off, and popping the cassette player back under the seat in front of me, so my parents were ahead of me. As David went to open the gate, he experienced some difficulty...and suddenly the bolt fell on the ground with a loud
clang!
Both Mum and David bent over to pick the bolt up over the top of the gate (it doesn't seem to have occured to them to push the gate open for easier access!), and two pairs of glasses joined the bolt.
So along I came to pick up the three objects, and then the graveyard search began.
Ten minutes, convinced there was nobody with one of the right surnames on their grave, David headed back to the car. Then I found a grave! David had taken the pen and notepad back to the car, so I had to go back and get him so that he could write down the epitaph. Meanwhile, Mum and I returned to the car. I put my headphones back on, and was just listening to one of Janyse's "Magic Of Think" songs, when suddenly I heard something racing up the road! Yes, something was coming towards us up the deserted country lane. Perfect timing, eh?
I dropped all of my stuff back on the car seat, and jumped out of the car. A huge tractor had now come into sight. Mum and I turned around, and saw that David was no longer at the grave! So where had he gone? OH NO. That wasn't him behind the bushes, was it?
It was. Yes, David was leaving his mark in yet another graveyard.
I started to run across to him, trying to get his attention without yelling. I didn't want to be as disrespectful as him! He stumbled out from behind the bushes, still doing his trousers up, and just then we saw the tractor turning into the farm next door, meaning it wasn't coming to the end of the road where we were parked anyway. I saw Mum had followed me (couldn't let me run across an empty graveyard on my own, could she?
), leaving all of our valuables in an unlocked, unguarded car. Fortunately, everything was safe...but no thanks to those idiots, who spent a full ten minutes trying to get the bolt back in place, before they let me balance it (in less than 30 seconds, may I add?)
Finally, we drove 20 miles to Skegness, another seaside resort we visited in the late 90s. Back then, it was full of kiddie rides, so I wanted to see if any still remained. Sadly, but not surprisingly, most were gone. Still, I saw a few of my "old friends", and took some more detailed photographs (without the ugly child that was me sitting atop them!
). Sorry to bore you with yet more pictures, but I took some photographs of the old pictures, if that makes sense, and hoped you'd be able to get a feeling for the reason these things mean so much to me. In all cases, the first picture is from 1999, while the second brings us back to the modern day. Sorry the quality is so poor. I really need to get a scanner!
I loved seeing this old horse again, and he's obviously been recently re-painted and restored with new reins. Hopefully, he will remain at the seaside for a few more years, at least.
Image deleted by Tinypic before I had the sense to re-upload all my photos to my Photobucket album and update all the links. I apologise for any inconvenience caused!
Then the strange case of the astronaut. David discovered this one still lurking in the back of an arcade... Then went BACK in the same arcade, and came out proclaiming that this arcade had the same rides as next door. Um... I think he's going a little mad.
Image deleted by Tinypic before I had the sense to re-upload all my photos to my Photobucket album and update all the links. I apologise for any inconvenience caused!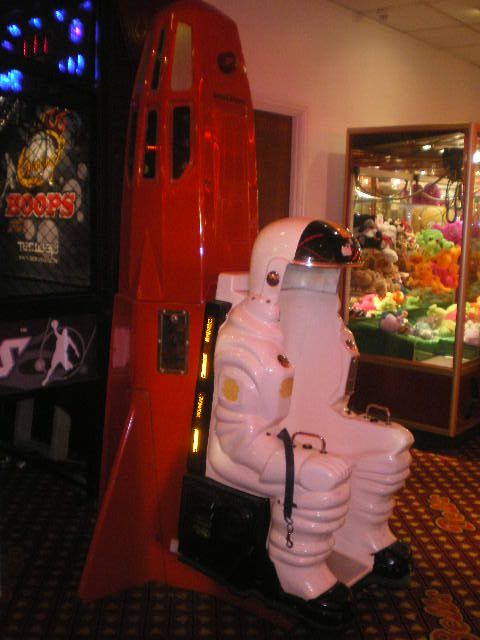 All right, no more silly captions. Here are a couple more.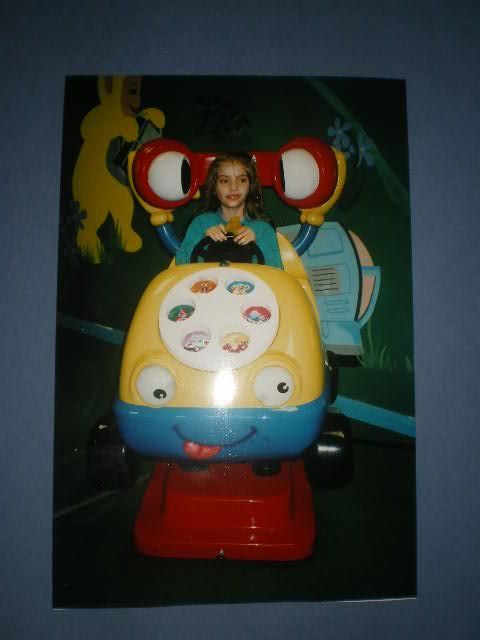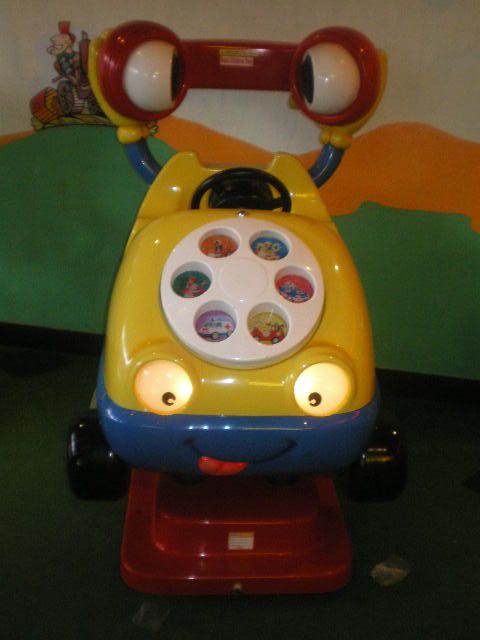 Images deleted by Tinypic before I had the sense to re-upload all my photos to my Photobucket album and update all the links. I apologise for any inconvenience caused!
But let us not forget the rides which now rest on the scrap heap. I was so sorry that some of these older rides no longer remain at Skegness. Yeah, so they were tatty and old, but that's what made them unique and special. Some of these dated from the 50s and 60s! I wish there was someone out there at least making records of these things, even if they're too large to save. *Sighs*
Images deleted by Tinypic before I had the sense to re-upload all my photos to my Photobucket album and update all the links. I apologise for any inconvenience caused!
I do look weird in some of those pictures, don't I?! Oh well, I was only eight at the time... Is that a good enough excuse?
We walked down a sideroad, and saw some interesting shops. It was 5.55pm by this point though, so we knew we didn't have time to walk around. We tried to walk inside one, to see two unfriendly women turning somebody away (she had a whole ton of stuff she wanted to buy too!). Then they turned to us.
"Sarry, way're cla-osed."
, one of the women snapped at us in a bad tempered common voice. She was still packing stuff up when we had got back in the car and drove past though, so I've no idea why they wanted to lose so many potential customers.
Mum was entranced by this board, picturing so many different flavours of ice cream...
...but at the end of the day, fear of her stomach playing up got the better of her, and we walked back to the car. It didn't stop her eating chips though! David and I had to walk up and get them, because Mum was too tired to get out of the car again, and she was convinced we'd
"get seperated"
. Oh well, unfortunately we didn't (would have lended a little more drama for the story, wouldn't it?), and returned with three portions of lovely chips.
It was then that Mum remembered the cheese sandwiches we had bought earlier that day.
"How am I going to fit those in?"
she stressed, totally putting me off of my chips.
We had to rush to the hotel then, because we didn't really know where it was, and Mum wanted to watch "Who Do You Think You Are?" on TV. As it was, we made it with only ten minutes to spare.
Since I'm sure you're all terribly worried about those cheese sandwiches, I'll set your mind to rest and let you know that they didn't go to waste, and we had them for supper. Then Mum and I settled down for another night in one of those nasty hot Travelodge double beds...not that she spent the entire night on the bed. She went and slept on the floor again, while I had an awful nightmare about the Ponycon, and how I'd had to get rid of some of my duplicate ponies, who were now being sold as custom bait for 50p each. I had no loose change, and by the time I got Mum and returned half of them had been sold to a particular customiser whom I have had some bad experiences with in the past. I had another dream too, but I think it was pretty much too silly to write down here.
Well, I was right. I'm not going to get everything written down tonight. However, I shall be getting up early tomorrow to make sure I hear Tabitha St.Germain as Captain Flamingo...er, I mean record TV commercials, don't I? Yes, of course I do! Well, either way I'll be up earlier than my parents, so I should be able to get this blog up to date then.