Current mood:
tired
Are you all sitting comfortably? Good. Lets' see how far I can get with this tale. I really wanted to catch up, so I apologise in advance if this seems rushed. I'm determined to have any chance I get tomorrow free to get my personal messages up to date!
When we got back from Norfolk, we found two brilliant e-mails, one in Mum's inbox, and one in my own.
First mine. It came from the buyer of my Sweetie Pup...yes, the one who hadn't got back to me. Apparently, she had sent payment the previous Monday! But I didn't know because obviously it goes to David's account. Who sends payment without writing an e-mail anyway? Especially when she knew the payment didn't come directly to me? Oh well, she said she was moving the following Friday, but if I sent the pup via first class mail on Monday everything would be fine. But we were out on another coach trip on Monday. So I was in a right situation.
And Mum's e-mail? She had a message from Amazon.com, asking us if we wanted to pre-order the next "Call Of The Wild" DVD. Of course, I ordered through her e-mail account before, so she was the one to get the message, along with a nice big photograph of the DVD case, and some DVD reviews that had been entered into Amazon, including a
REALLY
embarrassing one by myself (Now deleted, so no, you won't find it!
). Oh, it was awful! I'm so glad I logged into her account that night before handing the computer up to her, and was able to delete it before she saw it. I guess we'll get one every time they release another DVD now. *Sighs* And I really want to get them all too. But $15 every two episodes is rather expensive for my standards. Why can't they just sell a box set!
Mum insisted that we go to Epsom boot sale last Sunday, because of David
"letting me down"
the day before. We got up early, and were ready to go by 7.30, but David stayed in the bathroom for his usual two hours, reading his latest Mills & Boon book, and we didn't leave until 9am.
Before we even got into the boot sale, I saw a woman standing outside chatting to her friends with a huge bag of G1 ponies in her hand. It was hardly worth paying to get in, but we did anyway. David had to get his duty out of the way, don't you know? There were loads of G3s there, but all the G1s had obviously been snapped up by this annoying woman. I was very good, and resisted the G3s. I really need to cut down on the duplicates I buy, as I've said a million times before.
On Monday, we went on a coach trip. It was organised really badly, with three coaches of people having to be condensed into two halfway there. David and Mum and I were sat seperately. The main reason for this being that we were going to seperate places! Mum and I were going to Monkey World, but David said that was
"boring"
so he went to a nearby tank museum instead!
I haven't been to Monkey World since I was two or three years old, and didn't really remember much about it (except that I was sick in the car on the way back!
), so I've been wanting to get back there for a long time. It's a brilliant place, because it's like a zoo, except just for primates...and all of them have been rescued from bad situations, such as laboratories and those despicable people who use them as photo props in certain countries. All the animals seem extremely happy there too. I could talk about the sanctuary for a very long time, but instead I'll show you two of my favourite photos from the place.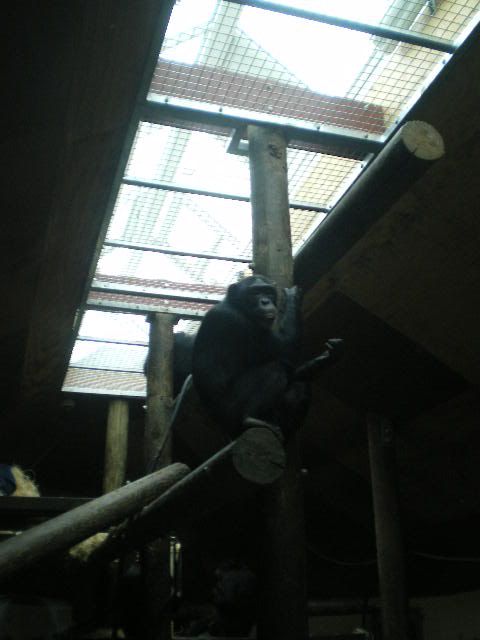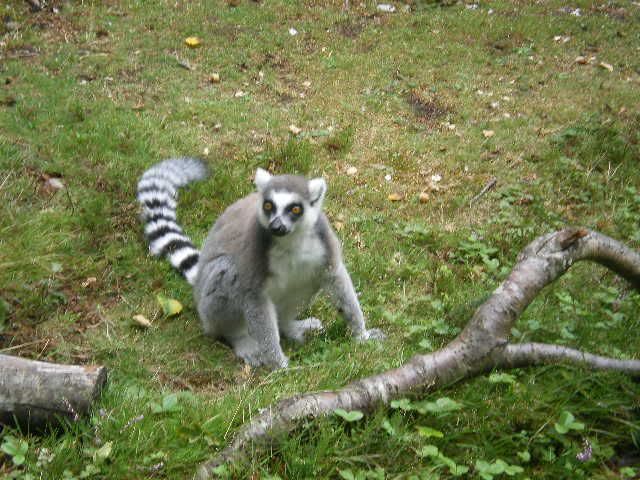 All right, so my pictures are not the best. The weather wasn't all that good though, and the camera doesn't seem to like working in those conditions!
Back on my kiddie ride obsession, one of the three old rides I remember being there fourteen years ago was actually still there. Once again, I have a photo of me riding this truck somewhere (wearing a really funny pair of dungarees, I believe!
) I wish I had a scanner so that I could put them together.
When we got back on the coach, David didn't even speak to us. He still hasn't told us the first thing about the tank museum he visited. He just isn't normal, is he?
According to my offline diary, nothing much happened on Tuesday. I didn't leave the house, but David finally posted out the Sweetie Pup. I crossed my fingers and hoped the buyer wouldn't get mad at me for posting out a day late.
Fortunately, she got it on Wednesday, and seemed happy enough. I'm glad I was able to successfully re-home the puppy anyway.
I personally spent most of Wednesday afternoon watching Caroline's Inu Yasha DVD. I am hooked, although of course I wouldn't admit that to any of my family, and their weird opinions on anime. Janyse is brilliant as Kagura. I saw the trailer for Maison Ikkoku at the start of the DVD too, and now I want to see that show. Well, once we move I will be secretly spending quite a bit of money in HMV, I think.
On Thursday, my parents went to sort out a further loan for the work on Woodberry. This house is going to put us in awful debt, but we simply couldn't have stayed here, whatever David thinks. I spent the time while they were out of the way trying to train my voice. It's no good though. I need proper training, which I'm never going to get now. *Sighs*
In the afternoon, we went to have another look at Woodberry along with Chris Picton. Mum and I far prefer it this time, and are getting quite excited about moving now. David still
"hates the house"
and says
"he always told us it was the wrong one"
though. All because Mum refuses to go back into the small room (the one that is now much smaller because of the stairs up to the loft), and he can't have both loft rooms to himself.
The back door opening has been widened enough for a small window now, and I was able to climb through the extension (despite it being kind of like walking the plank - see below!) to see for myself how big the garden is now. And it seems quite big enough to me.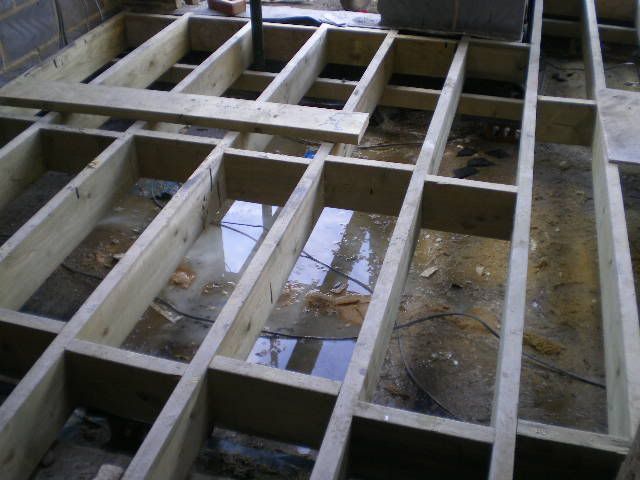 The windows in what will now be Mum's bedroom in the loft have been lowered, meaning she can now see out of them.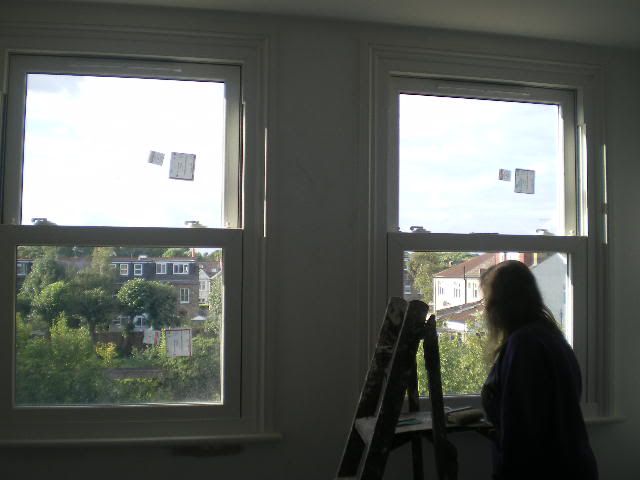 And what remains of the fireplace has been salvaged in one piece and can be moved downstairs and restored. Now WHY couldn't they have done that before dropping all that rubble on top of it?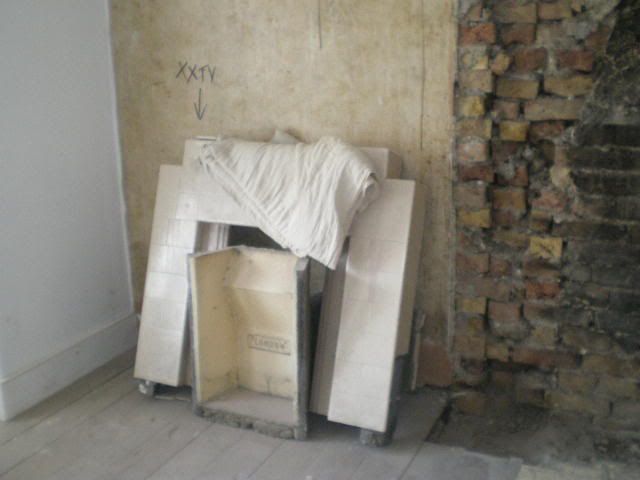 There are doors on all the bedrooms now (the nearest you can get these days to the ones they threw out), and railings on the stairs up to the loft - perfect replicas of the ones on the staircase between the ground floor and first floor. I think that's what brought the house back to life.
The bathroom is still the wrong way around though. And Picton says we can't change it now. Mum got annoyed, because he won't tell her why he can't change it. But apart from that, everything seems to be going well now. And he says they should be finished in
SEVEN WEEKS!
(Well, six and a half weeks now!
)
We drove straight to Mum's "family history" meeting after the house visit, although I don't see what the lecture had to do with family history really. This month it was some retired hospital nurse going on and on about how wonderful her job was. She went over the history of medicine, and spent an hour and a half to do so, when the talk should have lasted a maximum of 45 minutes! Even the organisers who are usually very good with over-enthusiastic speakers were getting angry, glancing at the clock almost constantly. The woman eventually got the message and shut up, leaving everyone with half an hour to pack up and get out of the hall!
When we got back, I switched the computer on and discovered that Brad Swaile will be at London Expo at the end of October. I figured we'd have moved house by then, and maybe I could actually go there and get an autograph. I'd love to actually meet one of the voice actors from My Little Pony Tales! Even if it would cost me £9 to get in, and about £20 for the signature, I was getting so excited about it... And then I looked at the calendar and saw that we will be in BLACKPOOL that weekend. I am still upset now. What awful timing! Well, I guess it just wasn't meant to be. Maybe some day I will get another chance...
Anyways, I have been offered another chance to go to Epsom boot sale tomorrow, so I think I ought to get to bed and try to get there early and beat the pony napper!
I will write to you all tomorrow, I promise. I need to write an extra long message to you, Elisabeth. So much to say, and so little time to say it!
Best wishes,
Desiree Skylark xxx