Current mood:
excited
I saw another rat in the garden today - a huge one. It came bounding up the path, and ran under a flower pot. Then it calmly wandered out from beneath another pot, looked at me, and bounded back down the garden. I also notice there's a teabag on the flat roof of our back room extension... I fear they're closing in on us.
Today, we did some random shopping jobs, which I'm sure you're
desperate
to hear about.
Well, I'd better not leave you in suspense any longer...
First we went to TRU to check up some prices on a couple of things we're intending to get two of my nieces for their birthdays. While we were there, I noticed they have February and March Birthstone MLPs in stock! How weird is that?
Then to TKMaxx to look at more clothes. I saw the sweetest giraffe t-shirt, but at £13, I just couldn't justify buying something that looked like it would fall apart after two seconds.
We popped in Borders and bought a newspaper. We're collecting vouchers for another cheap weekend away - somewhere. We haven't decided where yet.
Then we went hunting for a nice sink in a branch of B&Q which is now on the site where once there stood a pet shop - I bought my little guinea pig, Dieselbelle there in 1997. The pet shop is gone now though, replaced by "InStore" (a cheap shop) and Tile Warehouse. We popped in both stores while we were there - they had fakie ponies with brushes in the G3 flower brush mold in InStore, and some really nice tiles at Tile Warehouse. We didn't get anything in any of the shops though. All the sinks in B&Q were very shiny and silver, and we want a black sink to go with the rest of our kitchen appliances.
Then we travelled to a small shop where I used to go to ride my favourite "running horse" when I was little. He's still there after all these years, and the last ride manufactured by "Edward Savill Amusements" that I know of.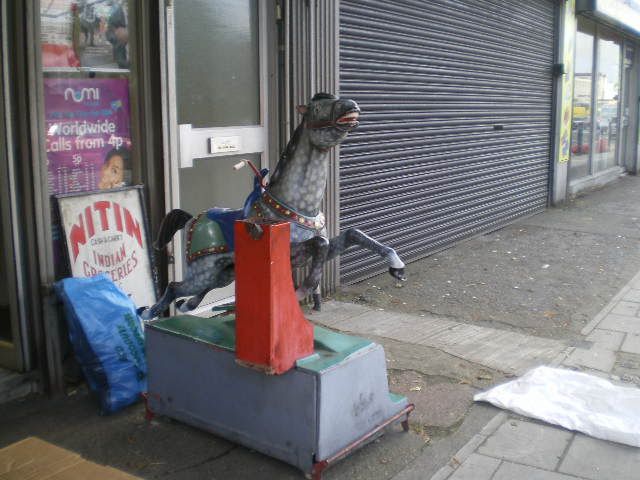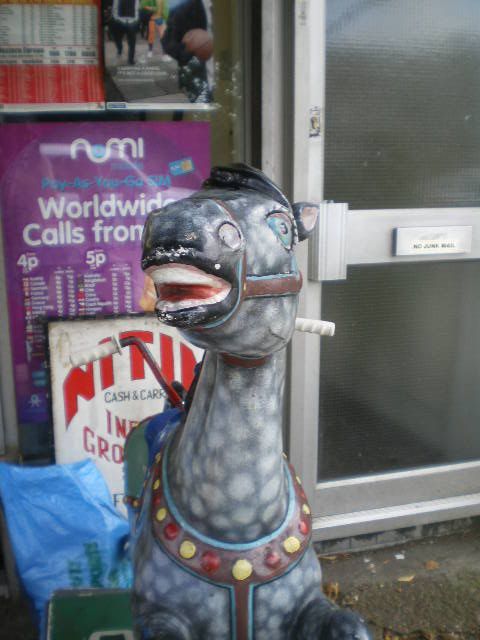 Having broken the screen of the camera though, I wasn't able to get very good pictures. Not to mention that the two men who work in the shop were giving me strange looks the whole time... Then (oh, horror!) one of them came out and asked what I was doing.
Mum kept him talking while I snapped the photos. Fortunately, he was pretty friendly and absolutely fine with me taking them anyway. He said the horse has been there for at least 25 years (which would make him about the age I thought he was). Mum asked if he had a name, which he obviously didn't. The man from the shop looked at her as if she was mad, and came up with a name on the spot;
"Mr. Red"
. I'm not really sure where he got that from.
Finally we went to the toy shop, Smyths in Boreham Wood. We'd never been there before, and everything is quite expensive. I managed to get Abigale something for her birthday at least though.
Then we popped in Curry's next door to look at more kitchen appliances. We had a big argument over the fridges, and David disappeared. After racing up and down the shop several times looking for him, he was eventually found sitting comfortably on a couch watching "The Polar Express" on one of the display televisions! Oh my, what is it with my father?
Well, I've got to go now. I still have a few internet jobs to do before bed, and I'm so tired. I can't think that there's anything else to say about today. I'm getting so excited about the house move (it should only be another month or so now!). I really hope everything goes according to plan.