Current mood:
tired
So I hope this year has been a happy one for all of you so far? With all the financial troubles in the world right now, I know an awful lot of my friends are unemployed and struggling to find a source of income. Something will turn up for all of you soon enough, I'm sure. My Grandma often used to say,
"One door closes and another door opens"
, and I'm a great believer of that. She always made a big thing of New Year too, which kind of ties in with the quote above, considering her tradition of opening the back door to
"let the old year out"
and then run to the front door
"to let the new year in"
. Then she'd usually end up dancing and chatting to all the neighbours in the street well into the early hours.
Well, I wouldn't dare do that in this street. While letting the old year out the back door, I'd probably let a rat IN, and letting the new year in through the front door could end up with me being knocked OUT by a flying glass bottle thrown by one of the passing drunkards.
However, as I watched the London fireworks display on TV (and laughed at one of the presenters who had chosen to wear a ridiculously low-cut dress and was obviously suffering for her stupidity!
), I thought of Grandma's old sayings and traditions, and hoped with all my heart as Big Ben chimed that the closing 2008 "door" would lock away all of our bad luck forever, and the opening 2009 "door" had a golden light hidden behind, leading us away from the horrors to our new lives...
All right, so I know what you're all thinking; that was one of the most stupid, confusing blogs she's ever written. But we haven't even begun the actual blog yet! That was just the prologue! Will 2009 really be a better year for us? Read on...you know you want to really!
Went to Woodberry to look at colours. We discovered that somebody had been in there since our last visit, despite Sickton saying nobody would do any work over the holidays. Well, actually that was no lie. They hadn't done any work. However, the toilets under the stairs had been used once again (and left in an even worse condition), a toffee wrapper had been dropped in the hall, and the remains of a very smelly (meat) fast food meal had been left decaying in my bedroom. Being the strict vegetarian that I am, that made me feel thoroughly sick, so I got David to move it out on to the landing.
Not to mention all the cigarette ash on both our new front wall and at the top of the loft staircase. And who had been in there during the holidays anyway? Well, A big toolbox had been removed from the bathroom under the stairs, so I take it one of the builders had popped in there to collect their tools for another job, even though they were on holiday.
I did finally manage to settle on colours for the walls and woodwork in my bedroom though. The photos below don't really show the colours very well. I know the purple walls are Dulux "Gentle Lavender" if anyone wants to look it up and give me their opinions. The pink isn't a mainstream colour and doesn't have a name, just a number in Wig Woman's colour chart.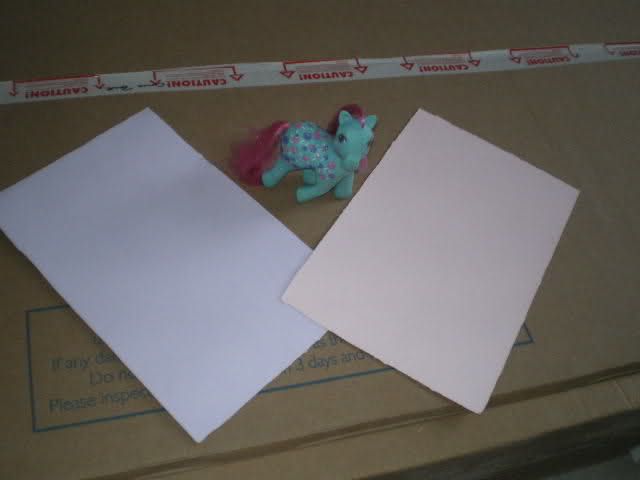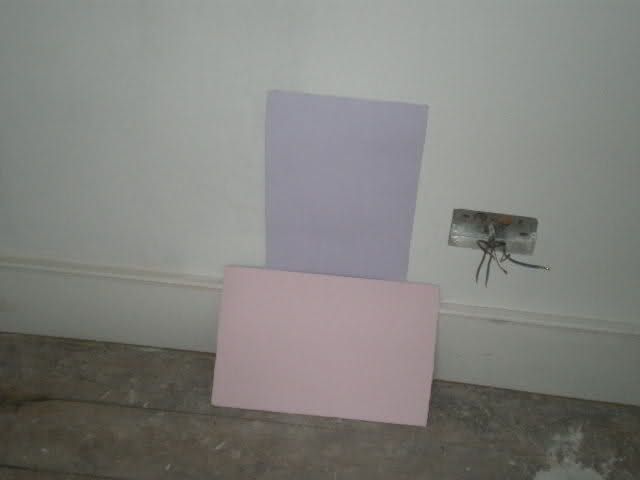 Now I just needed to find a blue for the ceiling, because "Meadowbrook" had come up way too dark...
Back to Woodberry to look at more colours, and then to Homebase to buy light switches and electrical sockets. One problem - David discovered we were totally out of money, we'd even spent our overdraft, so I ended up paying £60 towards the stuff myself, and Mum ended up paying a lot too. David says he'll pay us back when he has the money. Well, when will that be? On top of everything else, he is still continuing to buy Mills & Boon!
Then to Tesco, where I had to pay for our dinner - a bag of frozen chips between all three of us. I couldn't really afford anything to go with them. What can I do? While I'm stuck in this area where I won't leave the house alone, I can't even try to get a little job, David's interviews don't seem to be coming to anything... I got really down thinking about my future. How will I ever get an education if I can't even afford a box of cheesy pancakes?! Let alone extra drama classes and singing lessons.
Didn't leave the house - so much for my New Year's Resolution (which has been the same three years running, by the way) that I would leave the house every single day. It's a bit hard in this area with no independence.
David (the broke one) took off to the internet cafe for FOUR HOURS (That's £4 - or over three boxes of Cheesy Pancakes!) to order more books. His reasoning?
"I need to keep the seller happy until I've got the money to pay her!"
Basically, he's avoiding paying his e-Bay debts by telling the seller that he's bidding on more auctions, and he wants to pay it all in one go.
I was so mad when he said that. I hadn't bought a pony for myself since the Ponycon, despite missing out on tons of collections being sold off cheaply on the Arena the last few months. And then he goes and drops a load more money on romantic novels.
I spent most of the day washing and photographing more ponies, but what's the point when their shelves are not ready for them? They're just sitting around gathering dust again, and my hands are so sore from washing and curling seemingly endless synthetic hair!
Went to Hayes TRU, but were unable to find a Crayola diary, like the one I had in 2007/2008. So I was still unable to start an offline diary. I know it sounds silly using a kids' Crayola diary, but they're really good quality without so much space that I have to write tons, but I can make important notes to refer back to. Not to mention the padlock which just makes me feel a little safer when it comes to certain people and their nosiness!
We did, however, find a very special little pony - October Dreams! Now I just need July Jubilee to complete my Birthstone set. Yes, I'm ashamed to say I did buy her with a little cash I'd hidden in a secret compartment in my purse. She was reduced to £4, and since the Birthstone Ponies were never officially released in this country, I thought it best to snap her up while I saw her. Although there was a big palava at the checkout with me having to squeeze past a trolley and rush back to the pony shelf to get a different pony scanned, as the barcode wasn't working.
Mum wasn't best pleased, sitting in the car, because we were supposed to be at Woodberry for a set time to meet Emma and family who were coming to help her with colours. As it was, we weren't late (in fact, we were early!), but Mum had stressed me all the way there.
Abigale was disappointed that our house wasn't completed yet, remembering that I'd said we'd be moving long before Christmas. When Mum asked her what she thought of the house, and if she liked it, she replied,
"No. There aren't any ponies here! Where are the ponies? I want to see the ponies!"
I have her well-trained, see?
She'd brought along her Starcatcher and one of the Woolworths fakies that I gave her for Christmas to
"meet my ponies"
so that
"our ponies could be best friends like she and I are."
Isn't that just adorable? I'm glad I had October Dreams and my "daily pony" lucky charm, Backstroke, in my bag though, because I think she would have been seriously disappointed otherwise. I actually fear for the likes of my Thailand Tornado and G1 prototypes when we are living there though!
All the kids really enjoyed running about the house though, Gabriella being pushed everywhere by Allan. Then they started acting crazier and crazier. The builders had left some huge planks of wood from another job in our front room, and the kids began waving them around, hitting the ceiling, and aiming them at me. In fact, I have two films of the kids vandalising the place...er, I mean playing. Both end with me shouting,
"No, no, no! Stop, please!"
and are absolutely hilarious to watch. God, I wish I could upload movies on here! The first one shows Allan and Kizzy building a "car" out of the wood in the front room, then I spin the camera around to see Abigale holding a big spotlight that the painters were using, about to dip it (and her hand) in a can of white paint. Then comes the first
"No, no, no! Stop, please!"
Then the next video. The kids are playing see-saws with the ponies on the planks of wood. Then it gets a little crazy with Allan and Abigale catapoulting the ponies high into the air by stamping on the end of the wooden planks... A pony almost hits Gabriella in her pushchair in the hall, so I go to retrieve it. When I turn the camera around again, I see all four kids waving these long poles in the air, banging the ceiling and walking slowly towards me like a team of zombies.
"No, no, no! Stop, please!"
I scream, and the video cuts off as Nick yells at the kids to stop whatever they're doing.
So off we go to join a "racing track" and run round and round the kitchen, extension and family history room, with Allan telling me and the girls when to "walk" and "run". Oh, and I had great fun watching Allan as Indiana Jones trapping some kind of lion on his Lego Nintendo DS game.
In my unofficial babysitting job, I actually never got to hear any of the colour discussion, but Nick did pick out some lovely colours for the hall, which Mum has now just about settled on.
In the evening, I took my last gift from the tree...German Baby Glory, a great friend for my German Baby Moondancer! (The little things around her were the other pony items I got off of the tree the days before)
So we have the "City Kids" blouse, Sundance's bridle (mentioned in a previous blog), a really cute G3 hair bobble (not sure where it came from, but it looks like it dates from about 2003, and the pony looks like Sweet Summertime, so I'm guessing it's a European thing since she wasn't available in the US at that point) and
Rollerskating Melody's headphones and portable stereo set
!
Anyways, it's very late, so I shall dash off now.
*Hugs hugs*
Desirée Skylark xxx