Current mood:
scared
I have tried to write this blog three days running, only for AOL to "encounter a problem and need to close" right before I submit it.
So now I'm using Internet Explorer...fingers crossed nothing will go wrong this time!
We went for our annual holiday visit to Emma's house, to experience the madness of Christmas with four young children.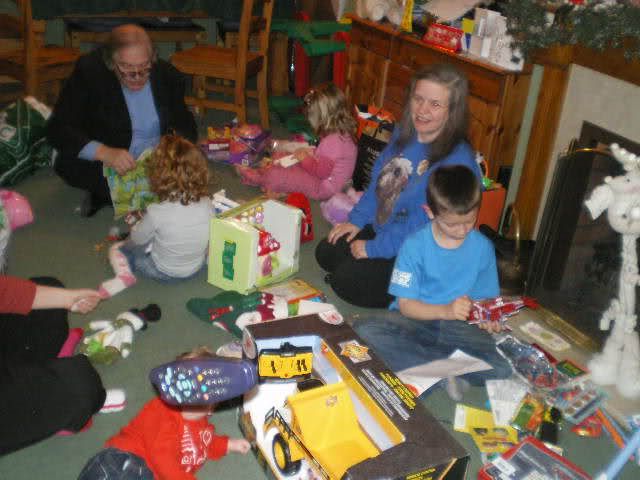 (Note the TV remote whizzing through the air in front of Gabriella's face... It wasn't really just a crazy coincidence, but my fantastically clever idea to censor the photo and avoid random internet weirdos identifying the kids, don't you know?!
)
After they had opened their stuff and the world had calmed down once again (well, as much as it ever does with all of them around!), we opened our gifts...with a little help from the kids, of course! I was spoilt rotten with tons of gifts including a £20 TKMaxx voucher and the Mr.Butterball Bath Ballistic from Lush, which I've always loved to sniff in the shop, but never had the money to buy. I hope we can move before it goes off, so that I can enjoy a nice soak in our sweet little bath.

I felt terrible that I had nothing to give Emma in return except a perfume set that Mum's friend gave me for my birthday. Mum had picked it out of the other people's presents like she always does, and it really was a horrible set. Oh well, maybe next year we will have moved house, and I'll have a part-time job, meaning I'll have the freedom and money to actually not have Mum get me labelled as Scrooge!
Speaking of Mum, by the end of the day, she had gone a little bit mad from all the noise in that house. I actually have a 30 second film of her sitting at the table, eyes shut (meaning she could not see me filming, so wasn't acting up for the camera), crooked party hat balanced on her head, laughing hysterically. I wish I could upload movies on dial-up! As it is, this photo of her and Allan, which was taken a few seconds earlier, will have to suffice.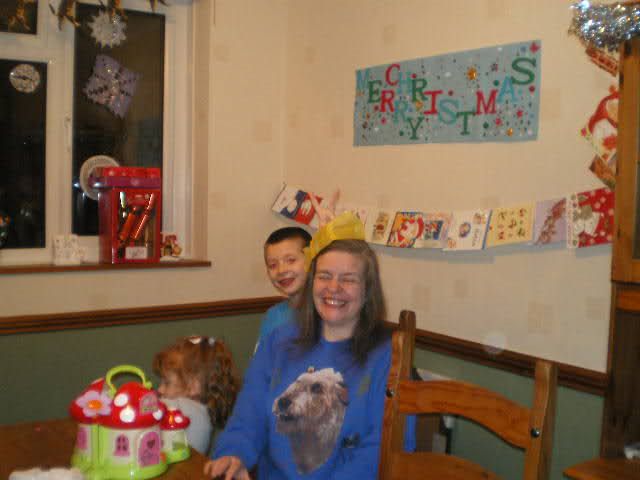 Maybe her madness was a result of our massive delicious dinner, after which she was so full up that she was rocking in her chair for about half an hour. Emma had made a new trifle for us to try, and asked us to guess what the "special ingredient" was. I said it tasted fruity. And the secret ingredient was? WHITE CHOCOLATE! How the heck does white chocolate taste fruity? Although in my defense there were also mandarin pieces in there. So maybe that's what I had tasted?

Whatever the ingredients, it was certainly delicious! So much so that David returned for seconds...And dropped the bowl! Oops!
Abigale had got So Soft Newborn "Make Me Better Rarity" for Christmas, and told me I could have the pamphlet out of the box so that I
"could look at all the pony pictures"
. I thought that was such a sweet gesture for her to make. Especially since the pamphlet was a US version I hadn't even seen before!
When we got back to Grottsville, I spent the rest of the time before I went to bed watching the Danish and Norwegian Pony Tales DVDs that Mum bought for me from Sebby6. I made an interesting observance too. In one version of "Shop Talk" (I think it was the Danish one, but I'll have to check on that), in the scene where Teddy is in his bedroom with his teddy bear, after his mother calls through the door, he answers in ENGLISH - with his original voice actor, Tony Sampson, no less - and continues to do so throughout the entire scene. Then the show continues in the proper language. I will have to check which version it was and see if it's on Youtube, just so that you can all have a good giggle at the terrible dubbing job.
Finally went back to Uxbridge to return the incomplete MLP sticker set to TKMaxx. Luckily, they accepted it and refinded my money. I do wish I'd taken a photo of the set before I'd returned it though, if only for my pony merchandise site...that's if we ever do move house and I can get back to work on it, of course.
I couldn't really afford anything in the January sales, but I did find the Ponyville Star Song's Tour Bus at half price in The Entertainer, and snapped it up, as I've wanted it for ages, but thought £15 was ridiculous for what it was. It is a cute set though, I must admit. I especially love how the musical notes on the side are supposed to read as the modified MLP theme tune. I think that was such a sweet idea.
I wish I could have got in a few of the clothes shops etc., as they seemed to have good sales this year, but Mum didn't want to walk around for long. I did have a look in TKMaxx, as that was one place I could have got something for "free" with Emma's voucher...but I thought better of it and decided to save it until the summer stuff comes in for the season, when I hopefully finally will be moved and have more freedom in what I wear re: short sleeves and legs.

Looking at my offline diary, it doesn't appear much happened at all. We went to Woodberry, where I got depressed because I know we SHOULD be living there now and instead of that, it's nowhere near ready. On the way back to Grottsville, we popped into Osterley Garden Centre in search of cheap advent calendars, but they'd already been cleared away.

I saw a gorgeous heart locket with space for a photo there, but it was still £12 and I couldn't afford it. I wouldn't have a photo to put in there anyway, but I still could have worn it and had them all guessing.
Hmm, I think that's all for now really. If this computer will only let me write this much again tomorrow, we might finally finish the sad tale of 2008...and finally move on to the next desperate story of 2009, the year I still hope might turn out to be a good one, although there's nothing on the horizon as of yet. Still, I shall shut up about all of that because that, as they say, is another story.

Best wishes,
Desirée Skylark xxx