Current mood:
sick
So I've had an interesting day, full of yet more arguments, an awful stomach ache and having to help in the disposal of a dead body. Still, this blog is not about today - it's about January 21st to January 24th. I really do need to get moving with these catch-up blogs when I can, as the computer keeps disconnecting and stopping my blogging, hence why I've been absent the last couple of days.
Another boring day stuck indoors. David went up London for yet another pointless interview. The interviewer actually told my father that he
"thought he'd be better working elsewhere"
, and yet still David is sure he's going to get the job.
I guess he's just in denial.
When he got back, he was so tired that he fell asleep in the bathroom doorway, meaning Mum and I had to keep flushing the downstairs loo with buckets of water again. He only woke up at 8pm when the doorbell rang. I almost had a heart attack because the local drunkards had been causing trouble outside again, and I thought it was one of them. But it was Mum's telephones being delivered. Yes, we received a parcel at 8pm! She was ever so excited as she's wanted these phones a long time. One is a restored phone from the 1970s which matches the one she bought when she was 16, and the other is shaped like...a white rabbit. It's a funny looking thing, but I can't take a picture because it's been packed away until we can move house now.
With David's bad back, the laundry hadn't been done for over a week, meaning I'd been stuck wearing the same t-shirt for six days, and was feeling sick. And to think we actually HAVE a washing machine now and have had it since last August sitting at Woodberry with the warantee period ticking away really annoys me.
I washed some more ponies and attempted to re-pink both Rosedust and Honeysuckle's hair, making my hands really sore again. I realise they wouldn't have had tight ringlets like that, but I can never style ponies to make the curls look original...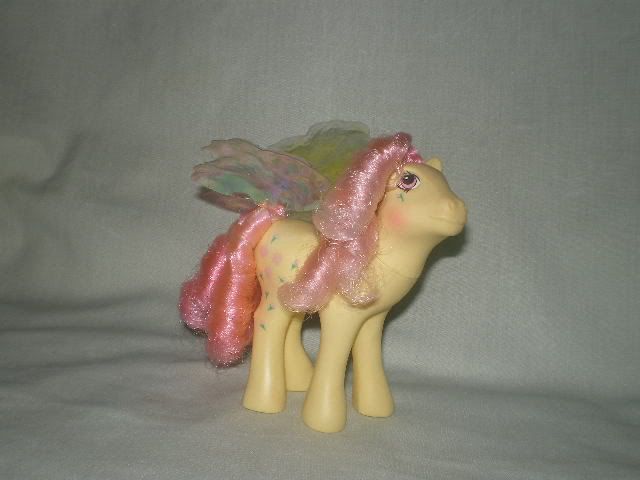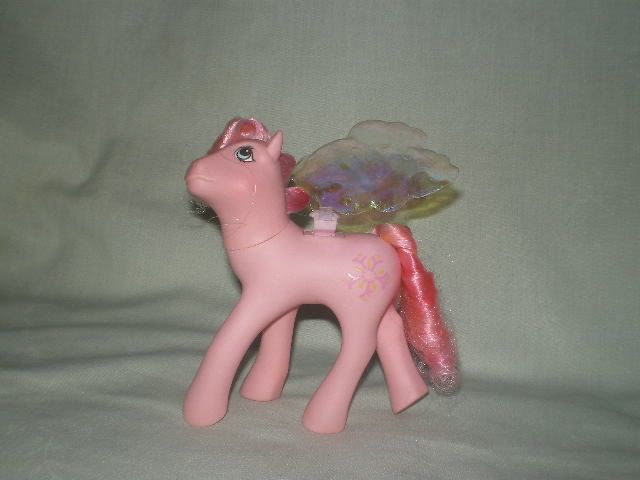 I also think their hair doesn't look even or the right shade, but considering I have no dye, and did all of this with a couple of pink felt tip pens and water, they turned out reasonably well, didn't they? Please say they did!
Went to Woodberry...but couldn't get in, because the carpenter (who was all alone again on the fourth day of the five final days of work) was working on the new front door.
So we went to IKEA instead. It's the first time I've actually been in there, would you believe. I like some of their stuff (and definitely like the prices!), but a lot of it is too modern for my tastes.
I bought a plush guinea pig there (I collect guinea pig stuff), and Mum bought a plush rat. So what was her reason for buying the rat?
"He can sit at the top of my Grandfather clock when we move as a souvenir of Grottsville."
Um, wasn't it a
MOUSE
that ran up the clock? Oh well...
While we were walking down the stairs to the exit at IKEA, I suddenly felt a shift in the weight in my shoulder bag. And when I turned around I found that one of the straps had broken. The bag only cost £1 from an animal charity and it's lasted me about eight months, but I'm still sad as I loved the kitten picture on it, and the purple colour of the background. (I'm sure you've seen the bag in question in pics of me in Iceland, Gibraltar and Luxembourg) On top of that, I was
DETERMINED
to use it until we move house, and only change my bag to something more fashionable then (part of the great transformation, you see?!). I know it sounds stupid, but when I get something like that in my head, I can be very stubborn. So now I'm battling around everywhere with a battered bag with a broken strap.
When we got in, we found that Emma had written to tell us she'd taken Gabriella to the doctor about an ear infection, and the doctor had said there was something wrong with her eyes. So she got whizzed straight down the hospital, and has to go through exploratory tests to find out what's going on. Apparently, there's a lot of pressure behind her eyes (over twice as much as normal), so now we're really stressed about that too.
A lot of stuff had been going on between us and Chris Sickton, and I didn't keep a day-to-day record of what happened when. But at this point certain things should be noted. (And it's just NOW that Hotmail has decided to go offline, I see, so I can't even quote exact e-mails for the laughs
)
Basically, Sickton continued to demand wall colours, despite not having got the actual building work anywhere near completed.
Then there was a little question of shelving prices. Both David and I need shelves for books and MLPs respectively, so we asked Sickton for a price for them. He quoted well over £2000, which we thought was absurd. So we rang around and sure enough everyone said they could do it all for around £700. So how much has Sickton been overcharging us through our naivety?
And now for the biggest laugh. You know Sickton said he would complete the work by Friday January 23rd? Well, as of Thursday afternoon, we knew it was nowhere near ready. So we wrote to him and complained. His reply?
(Ah, thank goodness, Hotmail is working again now. It appears we actually sent him two e-mails and got two replies)
By this point, Mum was getting sick of him, as you can see from the tone in her e-mails (all written in David's name, of course!)...
Hi Chris

You tell us if we dont provide colours by lunchtime we will lose the
painter (Oh yes, another of his lies. He said the painter was going to another job for a month, but we now have proof that was a lie, as I will get to later)

But the house is not ready for decorating (as promised) anyway

How about telling the builder if the building work isnt finished and the
house made ready for decorating HE will lose the contract?!

You wanted colours 4 months ago, and if we had provided them they would
still be sitting there unopened, because the house is still not ready for
decorating

When will it be?

Regards

David
Sickton replies (Important bits bolded by myself)...
When you were around the other day you said you had colours. Please provide these, the house is ready fopr decorating.
all delays are as a result of your failure to provide the colours as requested. The contractor will clean the house ready for decoration on Monday. He will not find this a problem but will just finish the contracted works a make a request for final payment. You will then be in a position of having to find another contractor and we adivse you that we will alos terminate our contract as well as this issue has cost this paractice monies.
I am sorry about thisd David but we have continuely advised the need to get the colours to enable us to push the contractor.
Now how does that read to you? He's finished the building work, right? Surely he has if they can clean it ready for decorating after the weekend! Ah, and he's terminating the contract (again) - I'm really scared.
Especially when another message came through less than five minutes later!
We asked about taking another (normal priced) shelving bloke around so that he can measure up for the job - without giving out too many details, of course:
Hi Chris

Can you insure there is lighting in the loft front bedroom, first floor
back bedroom and the ground floor extension

I have someone coming round on Monday evening

Thanks

David
Then came Sickton's response (again, the important part is bolded):
There are lights in all rooms. I must advise you that if you take a visitor on site the contractor needs to know who it is a under the contract he is responisble for security.
Well, he's never had any problem with us taking people on our own property (where we should have been living for over four months) before now, so I guess he figured out the significance of those rooms, and didn't want to lose the job (and all the extra cash!). Still, more imprtantly, there were lights in all rooms! A miracle must have happened overnight! So we hopped in the car to go and look at the completed house.
Well, it's hard to photograph non-working lights, after all we could just have turned them off, so you'll have to believe me when I say my bedroom light was not working. The spotlights in David's bedroom were actually dangling from the ceiling...but I forgot to take a picture. Oops. I DID get a picture of the ceiling in the extension though...
Um, where are the lights?! I must be missing something here. There were supposed to be two rows of spotlights between all of those rooflights, and perhaps I'm just blind...but I see no trace of them. Can you?
Anyways, even with all these lies and the massive overpricing of the shelves, David still wanted to give in and hand over the colours. Meanwhile Mum continued to fight, and refused.
On a happier note, Minty_Magic over on the Arena designed a pony for me...so I finally have my own persona pony.
May I introduce Rainbow Harmony (this is my picture - her symbol has been slightly modified, but she's Minty_Magic's basic design)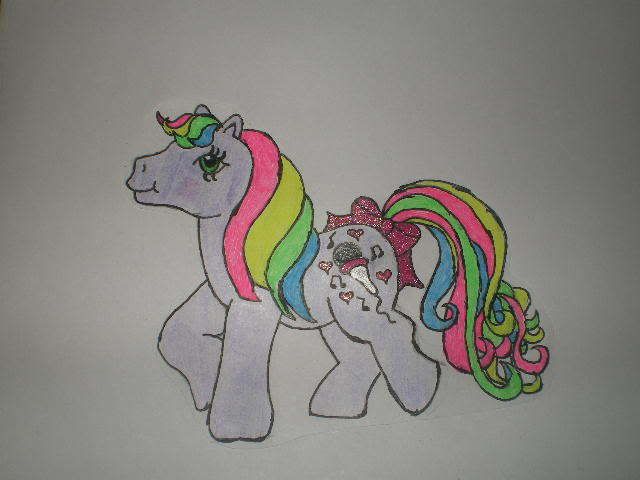 I got her colour rather wrong though, as she should look more like this (Minty_Magic's original pic).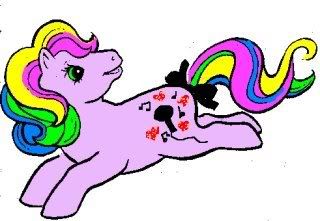 Naturally, she has to be Lancer's girlfriend. So when I saw Inuyasha23 offering up this cute Valentines Day adoptable, I just had to request one (just a pity I was still using my picture as a reference pic at that point, as now her colour is totally off, and I love this picture!)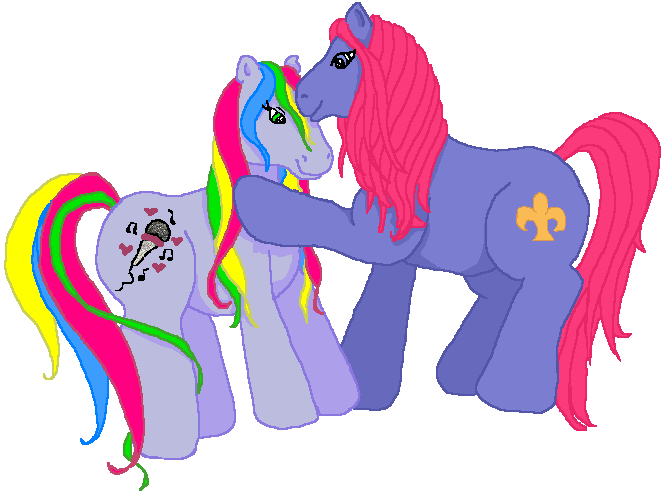 And SourdoughStomper made this one for me (Finally I figured out what I was doing with those refernce pics and both her colour and symbol is correct!):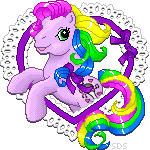 Sorry for so many pictures - I'm just so pleased to have a persona at last! Now I wish I'd bought more of those blank ponies from Hasbro, because I really want to make a custom of her, but I won't use anything but the blankies as a base, of course.
Went to Woodberry, and finally sorted out some colours. Then to Gillette's Corner Tesco and Homebase. David was over his overdraft limit again, so I had to hand over my money for the shopping...only for him to buy not one, but
TWO NEWSPAPERS
with it. I almost flipped, as that money was saved up for my next shopping trip, and now it's been spent on horrid newspapers
"for the sport"
(Yeah, right - and the girls on page 3), of which I don't even approve.
Meanwhile, we didn't even have any potatoes, and I ended up with a plate of plain cheese and tomato ravioli and got indigestion. Mum ended up with spaghetti (which she hates) and a slice of bread.
I sold a couple of Keypers to Xeevee on the Arena (not sure why, considering they'll probably end up funding newspapers anyway), and messed up by sending the wrong paypal address...so David started yelling at me, of course. Xeevee was really understanding and cancelled the payment so she could send it to the correct address though. She's such a sweet person, and I'd recommend her to any pony sellers out there.
Well, I guess that's it for now. I hope everyone is feeling fine - but then I suppose you must be if you decided to sit down and fight through one of my blogs full of nonsense!
Best wishes,
Desirée Skylark xxx