Current mood:
tired
Well, Myspace blogging appears to still be working. Fingers (and all other crossable body parts!) crossed that it holds out until I catch up with my most recent news.
May 2nd 2009
We were supposed to be going to a car boot sale, but we all overslept.
David decided to dig the hoover out from under the piles of newspapers he'd dumped on top of it and clean up the floor...only in the bathroom, where he has to sleep, of course! Anyways, after all these years of no use, it wouldn't start up.
So David announced that we had to get a new hoover...but with his bad back, he couldn't get one alone, so I had to go to Tesco and carry the thing back. He has not even offered to use it where we have to sleep down here on the lounge floor - and no way am I attempting to get it back downstairs over all the piles of junk!
Later on, David was enjoying one of his two hour sessions in the bathroom (not to bring disgusting thoughts to your mind, but how he can sit on a lavatory for hours at a time with a bad back is beyond me!), so I had to use the downstairs loo. Well, I intended on doing so anyway...
Just as I walked through the door, I heard a mad scrabbling noise! I don't know where it came from, but I swear I saw something move between me and the boiler. Possibly it ran across the newspaper which is spread out on the floor in case water splashes out of the buckets we have to use to flush the lavatory. Yes, I'm sure you already figured out what I'm thinking, but I believe it was a rat. I let out a scream and ran back to the lounge. David put some poison down and closed the door, but says it hasn't been touched (admittedly he hasn't checked it for about three days though). No way am I going back in there!
May 3rd 2009
Following our oversleeping the day before, David promised to take me to a local car boot sale, so I got washed, dressed and ready by 6.30am. He didn't come downstairs until 11am. So as you can probably guess I didn't get to the car boot. In fact, I didn't leave the house at all.
I had an awful headache all day again, which I'm pretty sure is just caused by stress and depression. Although my wisdom tooth has also decided to start causing trouble - I thought I'd been too lucky with it. Well, now it's decided to flair up. Basically, it seems to be pushing all my teeth forward as it comes through, meaning my already overcrowded teeth at the front are really hurting. My problem 'set back' tooth is actually being pushed behind one of my front teeth now. And since we're still in this dump I can't get this orthodontic work underway, nor can I even go to the dentist for a check-up unless David takes me (hence I can't make an appointment in case I double book with one of his useless job interviews), and he never gets around to making an appointment. In fact, I was due to go for a check-up last October, and it would have been totally free up to my 18th birthday, but since that's next Friday, I don't see it happening somehow. And how can I afford to pay when I have no income?
May 4th 2009
Third time lucky! We actually managed to get to the huge Bank Holiday car boot sale at Epsom car boot sale, and we got there just as it officially opened meaning for once there were tons of ponies there! I tried my hardest not to buy more duplicate ponies, but I couldn't help feeling sorry for a load of them...and came home with this lot.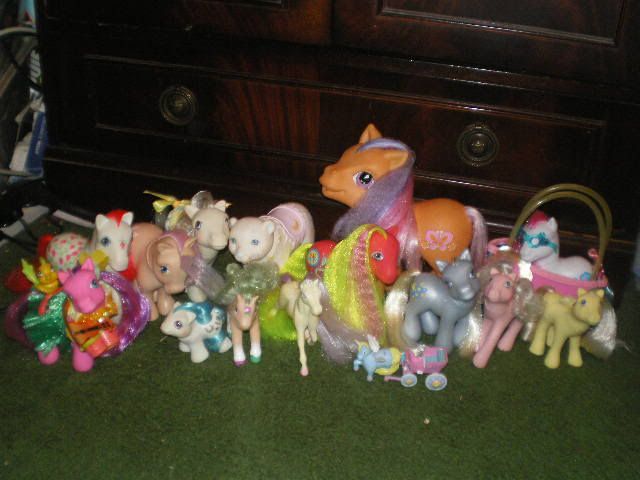 In keeping with my New Year resolution, I'm offering all the duplicates up for sale for six months, otherwise I'm allowing myself to keep them. I got a price check on the Arena so have prices set up for all of them. I'm keeping Moondancer who is an upgrade on my old frizzy-haired girl, the big Scootaloo fakie (she's SO adorable!) and a couple of the little non-MLP ponies (the hard plastic horse with purple hair and the tiny blue pony and carriage). If you're interested in giving any of the others a nice new home though, drop me a line.
Mum managed to get around the entire boot sale (we were walking for about three hours all together!) without getting too breathless too, so she was happy.
May 5th 2009
David went to Woodberry in the morning to see what was happening about the smell beneath the floorboards. Somebody HAD been in the house, to our surprise...and lifted just one floorboard. >.< They hadn't contacted us to tell us what was going on, so I guess they hadn't done anything much. David also reported that they'd left a window open...so we had to pay even more petrol to drive over there a second time later that day and check the window had been closed.
It hadn't.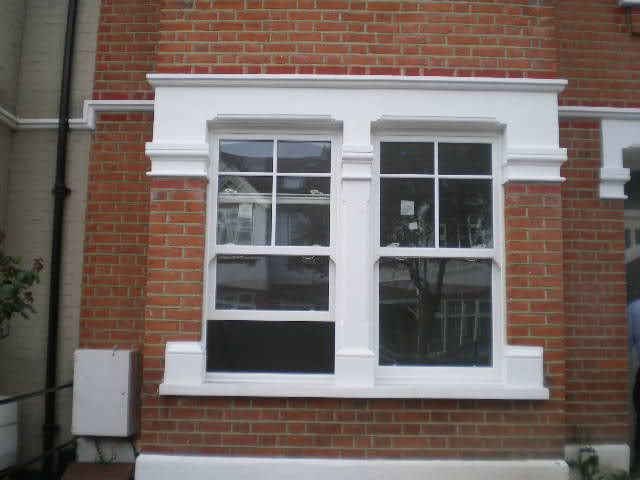 I'm sorry, but that is just NOT acceptable, is it?! It was 6pm by this point, so I can't imagine anybody was going back there to close that window. Anybody could have climbed in there overnight!

There were still bluebottles everywhere (although less than on our previous visit), and I noticed they are mostly deformed and unable to fly. I don't really know enough about blowflies, but perhaps that is a clue as to what the maggots are eating?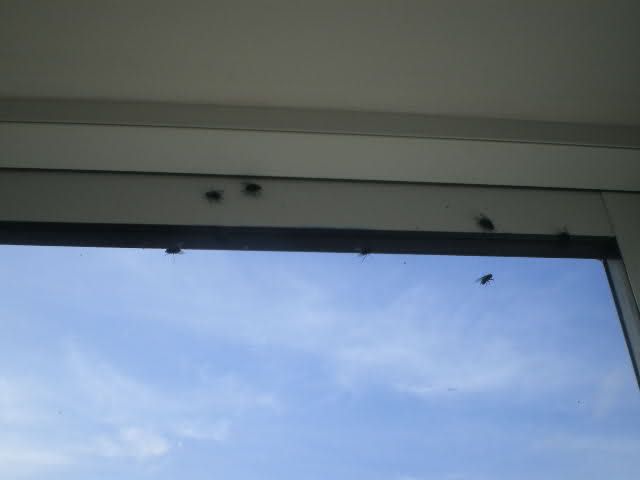 Oh, and finally, Mum noticed that somebody had quite obviously had a go at removing one of the remaining tiles from the fireplace, and chipped it further (only slightly, but still noticeable). I figure Sickton got someone to go in there and try it. He had written to Bell the same day to say he would not be held responsible for any additional tiles broken while removing this one. Of course, since there are only two of these tiles remaining, if both of them get badly chipped, we will be unable to get the fireplace restored anyway. I can't help but wonder about sabotage again...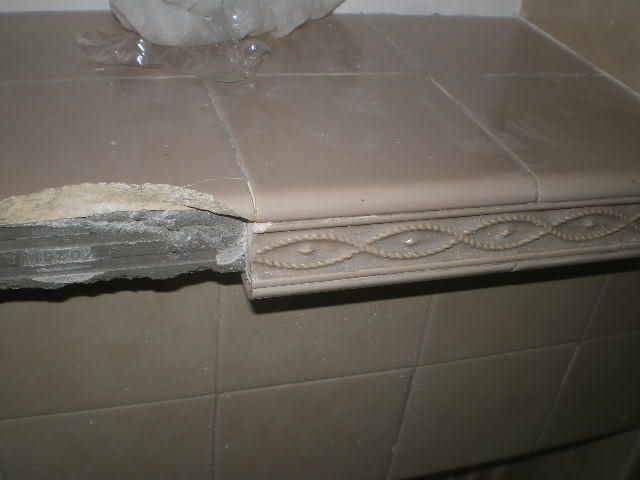 May 6th 2009
Back to Woodberry, where we found another window had been left open, this time the one above the back door. Still, nothing appeared to have been done to find out what's causing the stench under the floorboards.
Then Mum and I walked around the local park and fed the ducks. It sounds so stupid, but it just feels so nice to spend some time walking out in the open. There was this lovely squirrel there with a very straggly tail (it looked like he had been in a fight at some point in his life), who came up to me and took bread right out of my hand. The mandarin duck was there again too, as well as a couple of potchards. I guess they escaped from a zoo somewhere. I noticed there weren't many ducklings there at all though...then we saw a rat running across the path, so I guess they're the cause.
I'd been planning to tape "Tru Calling" at 2pm (Shane's episode, "Morning After", was on Sky One - I think I might have mentioned that before?), but David had taken us out so late again that I had to use the timer to record it. Ironically, we got back at about 2.05pm, but I don't know how to cancel our timer so couldn't edit out the commercials...annoying, as I'm trying to use up less VHS tapes. So I decided to record the repeat this morning...
Ah, I just mentioned this morning, meaning it's finally time to blog about today!
May 7th 2009
Didn't leave the house. David has been HORRIBLE to us all day. He refuses to ring the builder and gets cross when we
"pester him about stupid things"
.
Oh, and before I go any further, I forgot to mention before about our stupid doctors, didn't I?! Both of my parents have had to go down to the surgery over the past couple of weeks and I can't believe how stupid those doctors can get.
First off, you know Mum went down there about being breathless? As an example, she told the doctor that
"I get breathless even if I just stand up to peel the potatoes"
. Apparently, the doctor took a lot of interest in this, and wrote something down in his notes about it. Mum had to see the nurse about a repeat prescription the next day...and the nurse couldn't help but comment on her weird recent notes.
"Dr Mann has written down that you have a 'possible potato allergy'...is that correct?"
I shouldn't laugh; it's pathetic that these people are in charge of our medication.
And then David went down there about his nosebleeds/watering eyes etc. He supposedly told Dr Mann (yeah, he got the same doctor for his emergency appointment) the truth about how he's currently sleeping on the floor. The doctor didn't bat an eyelid, and says it sounds like David has an allergy - probably hayfever. He wouldn't even listen about the watering eyes, and just gave him a nasal spray for the nosebleeds.
"We can only treat one problem each appointment. Feel free to ring up and make another later in the week though."
Uh...
Anyways, David ended up paying £4.50 for eyedrops at Tesco (he should get them free from the doctor because he's over 60), and I've been having to put them in his eyes every 2-4 hours ever since. It makes me feel physically sick, and all I get is complaint after complaint about how I'm not putting the drops in the right place/flooding his eyes/missing his eyes etc.
So today the postman (sorry,
"PostWOMAN"
as David corrected me) arrives while I'm in the middle of an eyedrop session. Mum was upset because a couple of things she won on e-Bay hadn't arrived, and nor had my pack of five MLP comics I won on there the other day. I said something about how our useless postWOMAN would just fold them in half and shove them through the door. So David told me it's
"my own fault because I never go to the door"
. Sorry, but I will NOT go to the door any more in these baggy t-shirts. IF we ever get out of this dump and I'm able to wear clothes I feel comfortable wearing, I will go to the door as often as you like.
Anyhow, I was prove right. She had folded my comics in half and pushed them through the letterbox. Luckily (and amazingly!), they aren't damaged. So now my collection is complete right up to issue 80. And I have extras of issues 66, 69 and 70 if anybody is interested. I'm asking £2.00 for 66 and 70 (which are in good condition) and £1.50 for 69 (it has a corner ripped off of the cover). I've taken some photos, so I'll upload them tomorrow.
David eventually rang the builder...and let him walk all over him. The smell under the floorboards is
"probably a
dead rat, and lots of people have bluebottles in their houses"
, don't you know? Oh, and what about the picture rails, which were supposed to be going back up today?
"Oh, we can't make it to the house today - it'll have to be done next week"
. David's response?
He LAUGHED and THANKED MR WILLIAMS FOR HIS TIME!
Mum and I went mad. So David went even madder saying we were
"ranting about stupid things"
again, and
"why didn't I do something useful and get a job?"
. Well, first off,
I CAN'T LEAVE THE HOUSE ALONE
. Perhaps you forgot that? What sort of job am I supposed to get from this house? Secondly,
WHY SHOULD I PAY THE DEBT YOU'VE GOT US ALL INTO BY NOT PUSHING THE BUILDERS AND KEEPING TWO HOUSES RUNNING, MEANWHILE PAYING ALMOST £100 A MONTH TO STORE MILLS & BOON?!
He's an idiot, but it hurts me when people make out I'm lazy, when actually I'd do anything to go to school or work rather than sitting here all day every day. Oh, and as for education, David now claims he
"never said he'd pay for my education, or even help me to find somewhere to go"
, which he DID. Mum pointed out to him how he's spending over £1000 a year storing Mills & Boon, and yet he's not set aside a penny for his own daughter's birthday, and he got mad and retreated upstairs.
He returned tonight though, to eat the potatoes Mum had kindly peeled and boiled for him (even with her
"potato allergy"
) and to ask us if we had
"heard the phone ring a moment ago"
. No, we hadn't. Well, it was an employment agency, he told us proudly. They say they might have a job for him, but it will require working away from home...IN SCOTLAND. WTH? So now he thinks he can leave us in this dump for weeks at a time with no beds, no way of changing a lightbulb or getting shopping, no way of getting any shopping without a car...and not even a freezer to stock up on things. And certainly no way of watching those builders...
Mum just about told him everything above, although her language may have been a bit more, uh, colourful, shall we say? David told us we'd just have to move into the other house then (What? With none of the work done, and you still not pressing them to complete it eight months later? Not to mention the stench under the floorboards), and leave all our possessions in this area with the vandals. And it's all Mum's fault because she hasn't come up with WALL COLOURS!!! But we're not ready for colours! And then David starts ranting at us again.
"So you'd prefer to have no money?"
Well, since we'd be starving and sitting in the dark with a load of rats, I'm afraid I'm going to have to say yes...
Mum was so angry that she e-mailed Mr Williams herself. I'll quote their exact correspondence below, and follow them up with my own comments.
Mr Williams

I am concerned about windows being left open at
*Censored name of street*
. It has happened three times recently, and twice just this week. It was especially worrying that the downstairs front room window was left wide open as this poses a real threat to the security of the property. I cannot afford to drive to the house every night to check it is secure. Could you please ensure this doesnt happen again

I am also dismayed that the picture rail work has not taken place today as stated, as we are very desperate to get these works finished so we can FINALLY move in. I assume the work will be carried out on Monday, and look forward to having the house partially recognisable again

The smell under the stairs needs to be addressed. We cannot put the floor back down until we know for sure what is causing it. It is not normal for anybody to have to endure hundreds of bluebottles and maggots on this scale. If something has died down there, then we need to know about it so we can block up the holes so no more rodents get in

Regards
Mr Alder
Thanks for the email it was me that left the small window open above the back door as for the front of the house i nor my men have been anyware near the room to open the window may be it was opened by one of your family to get rid of the flies you did tell me earlier that you were doing this. As for the picture rail unfortunately for you i have client in Chiswick who keeps changing their mind so my carpenter is delayed so as soon as he is finished we will be at your house.
Rob Williams
What the heck? And which one of our family may that be? Considering we were all at Epsom car boot sale the day before and David found it open the following morning. Oh, maybe I opened it, considering I am unable to leave the house alone? I must have used my telepathic powers...

And what makes this client in Chiswick so much more important than us, considering two thirds of a year have passed since our work should have been completed. It's like they're saying, "Oh, UNFORTUNATELY FOR YOU, you lower than low piece of dog poo, we'll fit you in when we have a chance...if we ever do..." Probably because David has let them walk all over him for so long. I'm just sick of it all.

Mr Williams

The front window was left open on Tuesday the 5th, presumably by the men who lifted the floorboards. We found it open when we went over there in the evening.
Mr Alder
My apologies about window
Forgot to ask you do you have the paint codes
Does David know something we don't? Perhaps he has promised them the much-wanted colours if they'll finally get on and do the work they should have done eight months ago?! Why don't we hand over the rest of the colours so that they can mess up all the rooms and touch it up at the end? Again, I'm sick of it all. Oh God, he's on his way again. So I need to dash to brush my teeth before he blocks me out of the bathroom for the night, and I can't even make myself relatively comfortable for another night on the floor. I now have an infected carpet beetle bite on my elbow, by the way. Oh well, such is life.


Speak to you all soon, I hope...
Desirée Skylark xxx