Current mood:
silly
As you all know, I wasn't expecting the best 18th birthday in the world, but it actually turned out a lot better than I had feared.
I'm feeling pretty lazy tonight, and listening to a CD (we'll get on to that in a minute) so I'm going to concentrate on thanking everyone who helped to make my birthday feel, well, like a birthday, by sending me so many online comments, messages, and forum posts. I had approximately fifty of them, and am still working at thanking everyone individually, so I'm sorry if I haven't got back to you yet. I love you all!
And then, on top of that, a couple of people actually sent me gifts! I don't know how to thank you all enough. *Hugs*
Firstly, many thanks to Caroline for this cute little adoptable picture of Lancer and Rainbow Harmony. Aren't they just adorable?! They're now in pride of place in my Arena signature.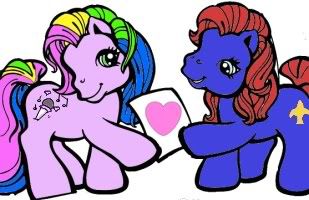 As far as offline cards go, I got nine. My parents and sister didn't give me cards this year (Mum said it was a waste of money to buy a card for someone she sees every day anyway), so the cards came from...um, looking along the mantlepiece, Mum's old penfriend, Karen (Emma's aunt, who sent me all those ponies from car boot sales and I have also corresponded with ever since), Mum's old friend, Aubrey, both of my grandparents' old neighbours, Great Uncle John and Great Auntie Madeline, Mum's cousin, Ruth, another of Mum's old friends, Marion, and David's old boss. Kind of sad that I don't have any friends of my own in 'real life' so the only people who send cards for my 18th birthday are my parents' old friends who've I corresponded with via snail mail the last decade or so. Oh, well.

But wait a moment, I only listed eight cards, right? And I said there were nine all together... Well, the ninth came from one of my online friends...but it came along with a gift, so perhaps it's best that I tell you about those now.

Firstly, the ponies...
The four ponies were from my parents (well, David bought them for me, but ponies always come jointly from my parents for some reason!
), and we found the SWEET SUNDAES AMUSEMENT PARK - yep, the Ponyville set that I thought I'd missed last year when I couldn't afford it - at a little toy shop later in the day... But what are those little things in front of the G3 ponies?
DOLLY MIX PONIES!!!
They came from my mystery ninth card-sender... Hannah (Seahorse on the Trading Post), I don't know how I can ever thank you enough. Seriously. So now my Dolly Mix set is complete, meaning I no longer have to cover the costs of more boxes of Dolly Mix, so my duplicate Star Songs and Scootaloos are now priced at £3.00 each if anybody's interested.
Here are my girls together in front of the TV. They smile down at me when I'm sleeping, so it's a way of keeping some pony love around me even now that my entire collection is packed up for the move-that-never-happens. Thank you, thank you, thank you!

On top of that, Hannah sent me £5 in my card which I spent towards the Sweet Sundaes Amusement Park...otherwise I probably couldn't have afforded it this time around either. I also got some money from David and his old boss, Harry.

As for non-pony, non-money gifts...
Yeah, that's a useless picture, isn't it? So here are some more detailed, close-up pics.
A book from Aubrey, and some pin-badges and a cute little compact mirror from John and Madeline...
...and a couple of really cute necklaces from Ruth and Marion respectively.
And finally I received a little package from Canada...
THANK YOU, SARAH!
So YOU'RE the one who messed up my grammar in this blog entry. *Continues humming "You Can't Stop the Beat"* Uh...excuse me? Did you say something? Oh yes, the blog!
To those who don't know, Sarah has been telling me to listen to Hairspray for years (I've actually never even seen the film, or heard most of the songs! >.<) I knew I liked what I had heard of it on 'Elaine Paige on Sunday', but it takes so long to load a single tune on dial-up. Anyways, thank you so much for finally giving me the chance to hear the whole thing...a thousand times over or so.
And as for the necklaces, I was telling Sarah a couple of weeks ago how two of my necklaces had got broken. A stone had broken out of my heart necklace, so she sent me a replacement. And the chain in this one actually threads through the frame rather than through the middle of the heart so it won't flip over anymore. My second broken necklace was the blue one I bought at Accessorize last November. Sarah tells me she searched everywhere for an identical - or at least similar - replacement for that one too, but Accessorize have changed all their designs for the new season, of course. So Sarah got me the pink flower necklace instead. And I'm so glad she did - it goes really nicely with my blue butterfly t-shirt, and I wore it all day.
Well, as most of you know, we were supposed to be in California for my birthday, but stuck in this country, I asked to go to the seaside - I love just watching the sea; seeing the boats and gulls, the whole atmosphere with the amusement arcades and candy floss/ice cream etc. The traditional British seaside is literally the only thing I'd miss about this country.
So we went to Southend-on-Sea. Some of the arcades were shut because it isn't peak time yet, of course. I spent most of the day photographing rides, and walking around the shops.
Not many of the old coin operated kiddie rides that I remember being there, but there were a couple I can specifically recall riding in 1997 when we took Grandma there.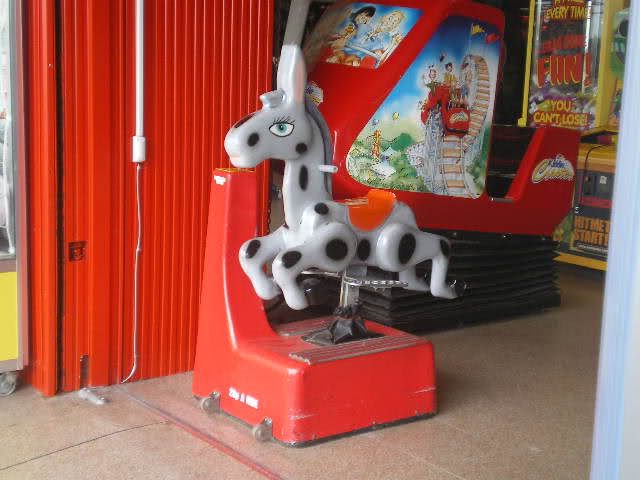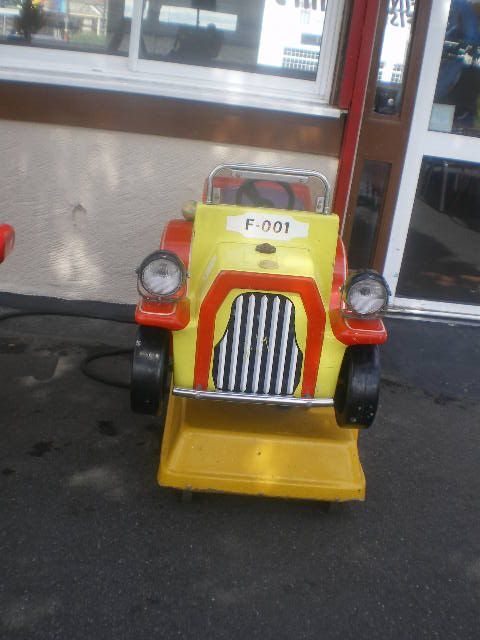 We took the train down the pier and went in the lifeboat museum, but the pier museum was shut. I took a few photos of myself, but they're all horrid really. It was very windy and my hair looks such a mess (not to mention my squinted eyes and that horrible cut on my lip), but hey, just in case you want to see me on my 18th birthday - or just have a good laugh...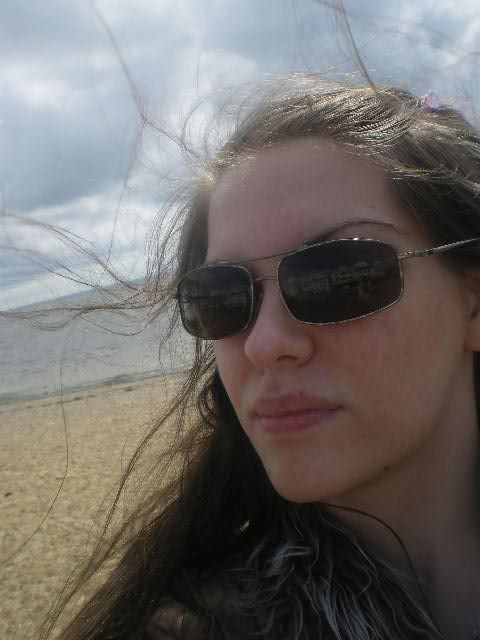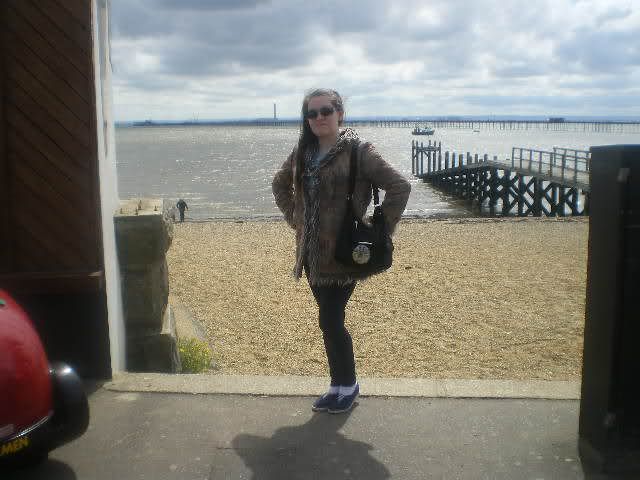 Yep, those really are the best pics of me in Southend-on-Sea. Oh, well.

I got a 'French Kiss' bubble bar in Lush. I would have got the 'Sympathy to the Skin' hand and body lotion though, but I could have sworn the sample pot I got before Christmas was a hand cream, and that stuff's a little expensive to take a risk. It seems they labelled my sample pot wrongly though, as they don't even make a hand cream under that name and never have done!

I got David some books in 'The Works' (It was also his birthday, he was 62), and also got Mum a CD for her birthday - well, when you're still stuck in an area where you won't leave the house alone, you have to plan in advance!

We drove through Canvey Island (the place where there are currently two swine flu cases!) on the way back, but the main ride place was all closed up by that point (sad, as I could see there were still a lot of really old rides beneath all the rain covers), but I spotted my "old friends" Pepper and Salt outside one of the arcades there. I wouldn't get out of the car to photograph them (stupid, I know, I was hardly likely to catch the flu just like that - but I want to go back there anyway, so there's a good excuse) but I snapped this shot of them both through the car window.
It looks like someone has scraped their names off of their necks. Poor things. I think they're pretty old though (for ride standards anyways - I'm guessing they're 1960s? Although I have no idea who made them. The last time I saw them was 2003 and they had no sign of a manufacturer's name even back then...)
I'll have to get back there later this year and take better pictures. They might be the last examples of their kind.
I wish I could work on my ride website, but it's hopeless on dial-up.
Well, I guess that's about all really. Thanks to Sarah and her CD, this blog has taken me a grand total of two hours, but now the disk drive has died on me again, so I'm off to floor-bed.
Thanks again to everyone who helped to make this birthday extra-special!
Best wishes,
Desirée Skylark xxx