Current mood:
tired
I have every kind of ache imaginable in other words!
But this blog will not cover the aches and pains of the present... First we must get through the aches and pains of the past... In the aches and pains-y world of Desirée Skylark's life!
September 21st 2009
Mum woke up in a far better mood than that of the previous few days, although I have no idea why, and agreed to come shopping with me in Ealing Broadway. David almost messed that up too though by asking her, as she went to change her clothes to go out,
"Are you going on your walk now?"
She started moaning that he
"didn't want her to go out"
and sulking, saying that she wasn't going where she wasn't wanted. Thankfully, after a while I managed to persuade her to come anyway and we had a really nice time together for once. I showed her some of the stuff I buy on the rare occasion that I'm allowed a shopping trip on my own, and she thought it was hilarious that I was embarrassed by such silly things as deodrant or body lotion... Although she still can't quite grasp what body lotion is. She thinks you put it IN the bath with you, like bubble bath or something. But oh well, it's progress between us, eh? Then she surprised me further in Primark (where I finally got some new underwear) by pointing out some cheap mango-scented body scrub - 50p! I bought a couple of bottles, and it smells yummy! Not quite the large jojoba beads I'm used to in Ted Baker's expensive body scrub, but still really nice, and seems to have worked wonders on my skin.
Mum really didn't have a clue what it was she'd found though - she thought it was hand cream, and asked why it had
"all those little bits in it"
!
She did also find a really nice cocoa butter hand cream for 99p, and some coconut facial wipes in an even cheaper multi-pack than the Nivea wipes I had before...and they seem to work just as well, if not better than the Nivea ones. They're really gentle on the skin, and I swear my face feels a lot softer than before.
Mum still can't quite understand
"wasting money on beauty products"
, but she seemed really eager to learn more about the stuff I like (and genuinely interested by the hand creams), and I think I can teach her in time. I should have got her talking on hair removal and make-up while I was at it, but thought that was quite enough training in feminine things for one day!
We walked around the charity shops, and I was annoyed to see what was obviously the end of a big pony display in the Fara Kids' one. Only a G3 book, Round 'n' Round and two scruffy little fakies remained though, all priced at a crazy £3 each! I can't help but wonder what ponies had actually SOLD at that price. There must have been some really gullible buyers or some really fantastic treasures there, that's all I can say! o_0
Lastly, we went to TKMaxx, where I saw this beautiful dress. It was a strapless dress but not too revealing; kind of hot pink up the top and a lovely plaid design from the waist down (it was knee length). Sound horrible when I describe it, doesn't it? But it was lovely in reality. I do wish I'd bought it now, but I have nowhere to keep my clothes, and there's no way I'd have been able to wear it until I can get rid of the acne and insect bites on my back, and get my legs into a nicer shape. >.<
I did find this little cutie hiding at the back of a shelf reduced to £2.93.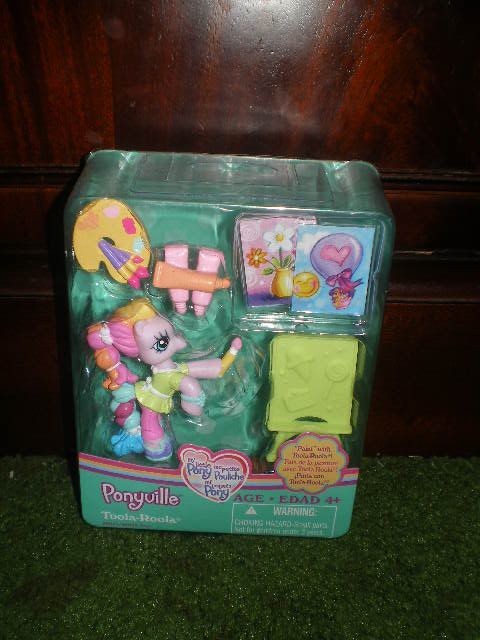 I love TKMaxx! (And, more specifically, their prices!) Note the Canadian packaging - they have such a crazy mixture of stuff in there.
When we returned to Grottsville, David went to the internet cafe for two hours, much to Mum's horror, as he was mixing with possible swine flu carriers, of course! But the most ironic thing about it all? He was looking up... SWINE FLU! He came back proudly announcing how the US and this country were giving away 10% of our vaccine to poorer countries, as if it were breaking news, even though we had already read about it the day before (See yesterday's blog entry). Too bad he doesn't speak to us more often, then he wouldn't have to spend money at the internet cafe mixing with people who might have the virus he's reading about so intensely!
Later on, with me fidgeting with anxiety, sitting on the floor re-listing the last of my MLP duplicates, and David gawping at TV, Mum started to get depressed. Suddenly, she made me jump by shouting,
"Right! Let's be positive!"
(She's random like that at times
). Nobody answered her. We're a very uncommunicative family, you know? So she continued,
"One depressive, one bald head... I've got no chance!"
I couldn't help but laugh. That just about summed our entire lives up in one line!
Mum's friend Jill very kindly sent me a couple of ponies she found at a car boot sale, Crystal Lace and Star Dasher. I feel really bad about it to be honest, as I've never done anything to help her out in return. And on dial-up, I can't even find nice thank you e-cards to send to her.
Anyways, once again, if you're reading this, Jill,
THANK YOU
!
September 22nd 2009
Good things never last, and Mum was back in her usual mood by the following morning. She woke me up ever so early just to tell me that SHE was going out for her walk (leaving me locked up here again) because
"there was no point going anywhere like Ikea because we weren't moving"
. I just don't know how much more of this I can take.
As it happened, I didn't leave the house all day, and although I don't remember much about individual days this far on, I guess I was pretty depressed as I haven't made many notes for the 22nd whatsoever.
Apparently, I spent almost the entire day making (another) playlist of all the Barbie movies on Youtube, which I doubt I'll ever get to watch since we're still here with a dial-up connection. And I'm so desperate to hear some of the voices in those movies. Ever since Kelly Sheridan gave some different opinions of which actor played which pony in Pony Tales based on her memories I have been desperate to listen to Lalainia Lindbjerg and see if she could indeed be Clover. Then Brigitta Dau probably did play Patch. The more I listen to Patch, I notice are large 'patches' (excuse the pun) where she doesn't sound anything like Venus Terzo, and although I know Venus is a very good VA and could feasibly have done a totally different voice, I can't help but wonder... And as I know she's already numerous supporting characters in the show (Dazzle, several of the main character's mothers, and possibly Meadowlark?), perhaps it's possible that my entire cast list was wrong all the way along. I wish we had more Canadian dubbed animation shown on TV here in the UK...
David his upstairs all day, making sure not to speak about Woodberry. How will we ever make progress like this? And the longer we delay, the more stuff is getting damaged here in Grottsville (including my voice and my back, but that's another matter!) Specifically, I'm speaking about my much-loved clay model of "The Black Pony of Darkness" - the enemy in my old MLP fanfiction series - who I made when I was probably ten or eleven years old. He's been standing on top of a stack of videos and must have got knocked down at some point. Now he's lost an ear and one of his legs is falling off. Well, I guess the ponies
did
always say that they'd defeat him one day! But that wasn't quite the victory I had in mind...
Well, I shall stop there, and cross my fingers that I will still have Myspace blogging powers 24 hours from now.
Speak to you all soon!
Desirée Skylark xxx