Current mood:
rushed
...was born at 1pm today. My new baby nephew, Matthew. I have yet to even see a photograph of him and had to find out his name through my brother-in-law's Facebook status, as nobody had bothered to contact us directly! Nice to be part of such a close family, isn't it?! >.<
February 26th 2010
I didn't leave the house all day again. I'm sick of being locked up in this dump all the time now that the weather is getting brighter.
I had a nice long soak in the bath with part of my Lush Candy Cane Bubble Bar. Well, it was nice until I accidentally sniffed some water up my nose while rinsing my hair! (Don't even ask!
) That wasn't so nice at all, especially with my nose being the way it is with all these allergies right now. It immediately triggered another nosebleed and left me with a sickly-sweet smell of sugar for the rest of the day!
The carpet beetle situation in this house was continuing to get much worse, and I also spotted a ton of dead moths on top of all David's rubbish on the old communal bed, so they must be back as well. I could hardly breathe, much less talk, and any form of voice acting or singing is totally out of the question, but when I dared to say something about how worried I was, Mum moaned at me that I was
"selfish"
since
"a voice doesn't matter but a bad leg stops you doing anything"
. Well now, that really depends what you
WANT
to do, doesn't it?
A couple of peculiar lots of ponies were listed on e-Bay with three never-before-seen MLPs included. I missed out on them, as someone had already clicked BIN, which annoyed me somewhat at the time as I thought they were prototypes of some kind. But it seems they are probably the exclusives that will be available at the Pony Fair and Comic Con and possibly a Breast Cancer Awareness Pony, who escaped from the factory, so they will be available later this year. It's just a case of being able to afford them at full price when they come out.
An old man parked his car in our front garden and leered through our living room window. It freaked me out, since I was on my way out of the room and he must have seen me walking away. I now think that he probably saw me get up from the floor and was checking to see if I was coming to tell him off. Satisfied that I wasn't going to cause any trouble, he then went to the Lunch Box and ordered a big meal, all the time parked on our property! Mum rang David to tell him, but all either them seemed to care about was the fact that he was ENGLISH! As if the English can do no wrong, and only the
"terrible immigrants"
would park on someone else's property.
February 27th 2010
I didn't leave the house again; it's horribly depressing to be locked up on a lovely sunny saturday.
David went in the bathroom until noon then went out alone to look for a new adapter for my laptop, but he couldn't get one as the shop is only open saturday mornings.
When he got back, there was another car parked in our drive so he called some passing policemen over to take down the numberplate. Just then, a woman came running out of our neighbours' house calling,
"It's only me! I'm disabled and just stopped to use the loo!"
She didn't look very disabled to me, but I'll give her the benefit of the doubt on that one. I'm not sure since when our garden became a disabled parking space though, or why she thinks it would make any difference to us that she's the friend of the neighbours we never speak to!
Then that evening there was a huge police incident right outside our house. I was almost asleep on the floor when I heard a screach followed by a loud bang. I thought it was just another car crash until I heard a loud common English man's voice yelling
"YOU B*****D! YOU ALMOST KILLED MY WIFE! STAY IN THE CAR AND DON'T YOU F***ING DARE TO GET OUT! SOMEONE CALL THE POLICE!"
Terrified, I crept upstairs and looked out of the bedroom window. It soon became apparent that a bloke who lives around the corner had stopped another bloke from getting away from some kind of incident by smashing his own car into the tree outside our house and blocking the offender's path. The bloke in question was Angie's husband, Angie being a friend (or relative?) of the horrible drug-dealing Donna who lives two doors away from us. For some time, Angie's husband continued to yell at the bloke in the car, repeating again and again that he had almost killed his wife. Then he called for Angie to bring his shoes (he had obviously rushed out of his house and got straight in the car). Angie seemed totally unharmed and came running up with her husband's shoes, followed by various other things that he asked her to bring... So I'm unclear what was supposed to have happened to her.
The bloke in the car attempted to open the door to defend himself as Angie's husband got more and more violent thumping and kicking the car door.
"I TOLD YOU TO STAY IN THE F***ING CAR! F***ING IMMIGRANT - GET OUT OF OUR COUNTRY! YOU ALMOST KILLED MY WIFE! SOMEONE CALL THE POLICE!"
By this time quite a crowd of people had gathered on the other side of the road to watch the scene. The bloke continued to try and open his car door. Angie's husband kicked the door again,
"STAY IN THE F***ING CAR OR THESE PEOPLE HERE ARE GOING TO WITNESS A STABBING!"
Then Angie's husband seemed to change his mind, quickly opening the car door, getting hold of the bloke by the front of his shirt and shaking him, before throwing him down on the road where he proceeded to kick him and punch him in the face. o_0
Eventually a large quantity of police arrived - having left the men fighting for a good fifteen minutes, despite the police station being just around the corner, one vehicle after another rolled up outside until there were about seven cars and two vans! At this point, Angie's husband took on a completely different character and gave them a statement. The other bloke was still lying on the ground - Angie was called for a bandage which one of the policemen wrapped around the supposed offender's head, which was bleeding heavily from where Angie's husband had attacked him.
I'm still unclear about the facts, as the police asked the bloke to drive himself back to the station and only when the car wouldn't start did they handcuff him and take him in one of their own vans, which rules out the possibility of him having been under the influence of alcohol or drugs to have maybe swerved on the pavement and almost hit Angie as she walked down the street. And Angie is obviously unharmed as she's running up and down the road all the time as normal, so I doubt she was physically attacked. Whatever happened, Angie's husband wasn't even questioned for having attacked the other bloke so violently. The justice system in this country is just plain odd.
February 28th 2010
We went to East Sheen Cemetery to take a photograph of Mum's Great Grandfather's grave. Well, you can guess which grave was the only one in the row to have totally disappeared, can't you?!
David had been really horrible to us the previous night, refusing to do our hot water bottles for us again, blaming Mum for
"changing everything at Woodberry specifically to cause delays"
. Why would she do that? She'd be more likely to just sell the house completely, if she thought she had a choice, but she knows we can't go on living here, or afford to buy a different property. Then David admitted that he's no longer sure on the colour of the carpet for his office. >.< Oh, and then added that he had
"never said that he would get a cleaner in the following week"
. So who's delaying things? How long does he think that we can go on living in this dump?
He went to work all evening, proudly gloating that
"he needs to work"
as if it makes him feel wanted or something. It must be nice to have somewhere to go - I wish I had a job; at least then there would be a structure to my boring life.
I won a MLP comic on e-Bay (I'd already won one from the same seller and figured I might as well combine the postage).
While I was on e-Bay, I started browsing and stumbled across this auction (Not sure if this link will work, but fingers crossed!) ~
http://cgi.ebay.co.uk/ws/eBayISAPI.dll?ViewItem&item=230442795267
Well, anyways, if it doesn't show up, this coin operated horse ride was up for sale: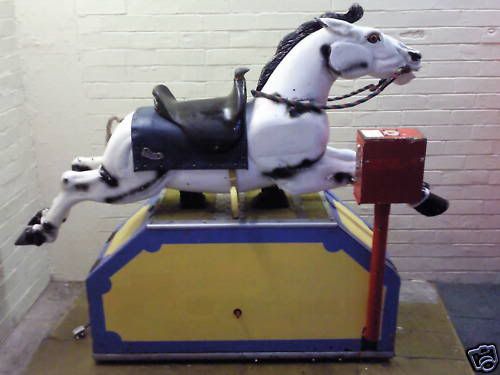 Funnily enough, I rode this exact horse in Cleethorpes (where the seller was located) back in the late 90s. It was definitely the same one. I did ask the seller a question to see if there was any manufacturers' mark on the horse, but they didn't respond, which is a bit of a pity as this is the only horse I have ever seen in this style, and it would have been nice to know more about him. Still, I thought it was funny to see him come up on e-Bay all these years later.
Anyways, I need to go to Tesco, so I must sign off now. Speak to you all tomorrow!
Best wishes,