Current mood:
distractable
Ugh, I'm just a bit annoyed right now, since I saw a great deal on e-Bay in a badly marked lot... but someone else obviously saw it too. >.< I didn't want the valuable item from the lot though and would have only sold it anyway, so it wasn't worth bidding more than the 99p opening bid to me. So that's what the other buyer paid! Oh, well, at least I saved some money!
February 24th 2010
We went for a Wispa McFlurry at McDonalds, and then onto Tesco. Fascinating, eh?
Freddie (the bloke who is supposed to be restoring the fireplace at Woodberry) says that he is positive that he can make matching replica tiles... but he doesn't say when. Why is it that nobody seems to see any urgency to get the house completed? For goodness sake, it should have been done over eighteen months ago now!
Having waited several days for David to help me (he scares me to death by making me feel that I won't be able to do anything myself, and I know he'll yell at me if I make a mistake) I finally decided to set up my own online bank account, which meant that I could verify my Paypal account. Now I just had to think of an e-Bay username. I'm usually Lancer or Skylark24 everywhere I go, but both were taken, of course. I thought about calling myself Princess_Skylark (to try and keep the pony theme, loosely basing my name on the Princess Brush 'n' Grow Pony), but I thought it might sound a bit silly to anyone who didn't know about MLPs. Mind you, the name I eventually settled on is awful too; Rainbow_Harmony. It's my MLP persona's name, for those who don't know, but it does look rather silly written "on paper" (or even online!)
I won a MLP comic on e-Bay... on David's account, that is. I wanted to spend the remainder of the money I have in his Paypal account if I was going to have my own account at last. Of course, it didn't really work as I now have a very small amount left in there - too little to buy anything, but enough to annoy me if it ends up being spent by David on Mills & Boon books.
The roofing men came back to finish fixing the gutters, but at least they didn't have to come inside this time. I still don't like the feeling of them climbing up and down ladders right outside our window though.
Mum got agitated while arguing with David and quickly bent her knee up towards her, making it worse. I can't imagine what she's done to it, but I can't stand all this stress regarding all our different health problems.
February 25th 2010
We went to Sainsburys and bought another couple of pairs of jeggings reduced to £7.50 a pair. I also got another of the Ponyville 3-Pack cylinders (supposedly a Sainsburys exclusive, but I think they were available at Target in the US?) reduced to £4 in the hopes of re-selling at a later date.
The lot of MLP accessories that I won on e-Bay arrived. I paid about £12 for all of this stuff including shipping, which I don't think was too bad a deal, especially as the seller included some extra stuff that wasn't originally part of the auctions I won...
First off, the free stuff:
Riding helmet and some kind of horse tack... I haven't got a clue what it is though! Are these Julip accessories?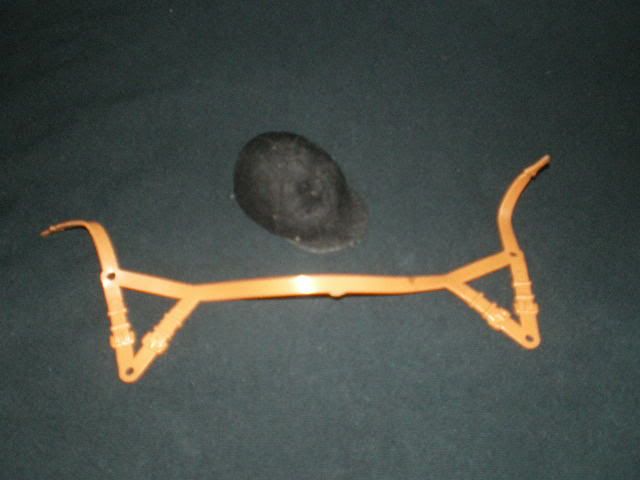 A baby necklace and bottle...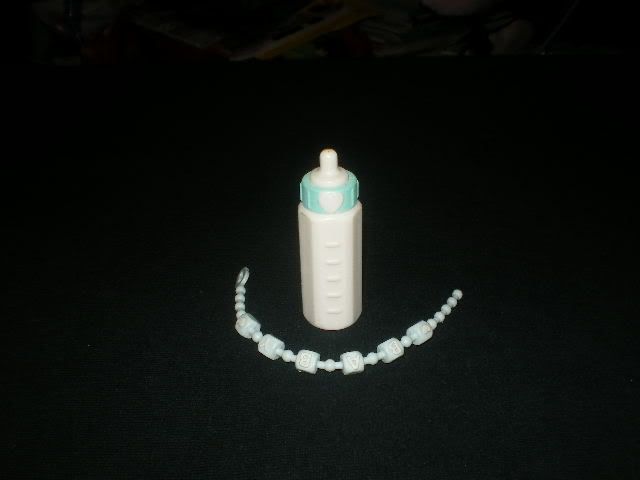 And some Gymkhana accessories (I actually didn't have one of these rosettes, and one of the others was an upgrade, so I was pretty pleased with these)
Then the stuff that I actually bought:
All this stuff will be up for sale (and I should be able to make up the money I spent just by selling these pieces which is always a bonus!
)...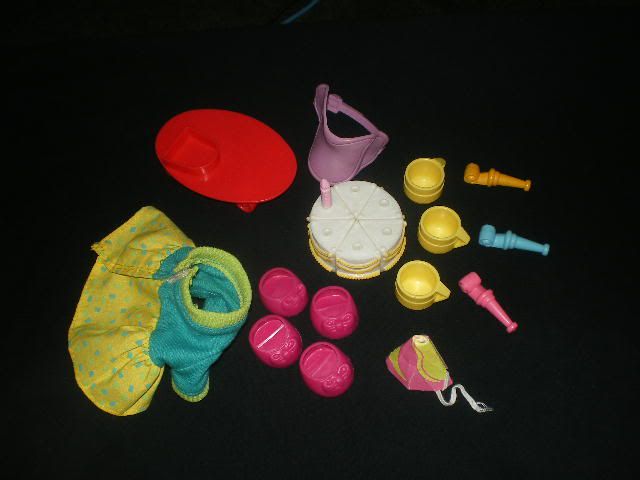 These are upgrades, meaning my old ones will be up for sale...

And the real reason I wanted these lots...

The radio from "Get into the Groove" and headphones from "Sidewalk Surfer"!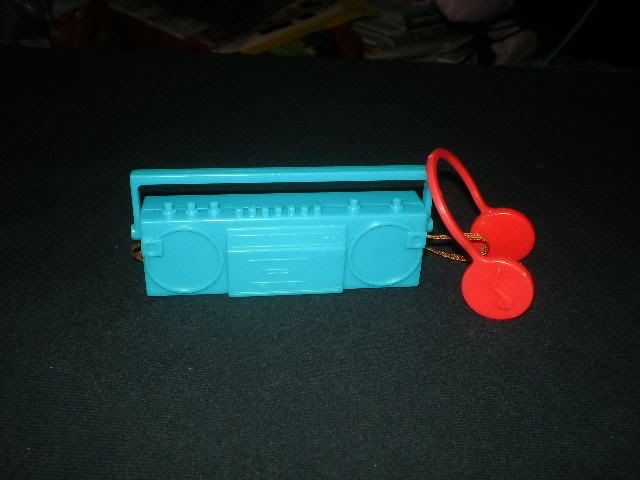 While packing all the new stuff away with my Pony Wear and accessories, I found a carpet beetle larvae munching its way through all the spare hair for my Changing Mane and Tail Ponies. Thank God I found it before it got any worse than a single larvae! Oh, and my Greek Rainy Day outfit has gone sticky from being kept near a radiator. But how was I to know that it would be staying there so long? It only arrived at the end of December, and at the time I was being told that I was going to be allowed to move into Woodberry alone straight after Christmas.
Mum bought an ornate metal basket to hang on the bathroom wall at Woodberry (she reckons she can keep all her essentials in there, although I think it looks rather small...), which also arrived that day. But we had no clue who was at the door, so the courier took it to our neighbours, leaving David to collect it that night. But I wouldn't have gone to the door if you'd paid me - I honestly thought a gang of yobs were trying to break in... The bloke didn't even use the doorbell, just kept rattling the whole door again and again and kicking the letterbox! What a bad tempered courier!
Well, I need to leave it there... So much for writing more today; I'm only up to where I would have been last night had I not started recounting my entire childhood in lyrics!
Oh well, at least I'm back on track, I suppose. Maybe I'll catch up with this blog by next Christmas! >.<
Best wishes,
Desirée xxx