Current mood:
scared
Yep, it's May already (God help me - I'll be 19 in two weeks! Ick.
), but you're just going to have to pretend it's still last month as we're only just starting the catch up blogging for April!
April 1st 2010
I returned to the orthodontist for the first time in eighteen months - well, they call it April Fool's Day for a reason! The consultant, Mr Crow, just sat there and totally brushed off all my queries again. At least he was more honest than the others I have seen before - he admitted that although very rare, this surgery COULD change my voice as it will re-position my tongue. I asked him if surgery was the only option, and he admitted that no, it wasn't, but he refuses to tell me about the other options as surgery will give the best cosmetic result. >.< I was so stressed out by all of this that I forgot to confront him about the fact that one of my Canadian friends had told me she was warned that surgery was the cheapest option (due to the fact everyone has to pay over there), but not the safest or necessarily the option that would give the best result. I am concerned that they're just telling me to have surgery since the cheapest option that the NHS can get away with. They don't really care if it ruins my voice/makes me look even stranger than I already do!
Mum was so furious about an article in her Ealing Times e-newsletter that she decided to read it out to me, at which point I became angry too. What on Earth are Ealing Council thinking of?
Root and Branch Change Planned
Group of councils to switch to artificial trees on local streets
A consortium of London Councils including Hounslow,

Ealing

, Hammersmith and Fulham and Wandsworth are planning to cut costs by switching to the use of artificial trees.
The plan envisages that as trees on local streets die they will be replaced with sophisticated carbon fibre replicas which would be virtually indistinguishable from the real thing.
The consortium believe that this will provide massive budget savings on maintenance and reduce the need to replace paving stones cracked by root growths. Problems caused by falling leaves in the autumn such as blocked drains and people slipping on wet leaves will be a thing of the past.
They expect residents to be pleased as the new trees will reduce the risk of subsidence for houses with trees in the road outside – and sticky deposits from lime trees have been a problem for people parked underneath them.
The new trees will come in a range of traditional British species and will allow the re-introduction of the elm onto London's streets. They will be preprogammed to 'shed' their leaves in Autumn and 'blossom' in the spring. It is estimated that it will take around fifteen years for the existing tree stock to be replaced. The consortium has given reassurances that no healthy tree will be cut down unless it is financially advantageous for them to do so.
Spokesperson

for the consortium, Avril Amadan said, "Many of our residents are already recognising the environmental benefits of switching from a real tree to an artifical Christmas tree and we are simply following the logic of this idea. Trees are costly to the taxpayer and bad for the planet and we are providing a 21st century alternative "
The move is likely to be resisted by environmental groups concerned about the loss of the capacity of trees to absorb carbon dioxide. Green lobbying organisation 'Friends Of Our Locality' have produced a study that shows that the switch to artificial trees will actually reduce carbon emissions – the need to pollard growing trees and sweep leaves creates more CO2 than the plants absorb they claim.
The hi-tech trees will also be able to contain extra equipment such as traffic monitoring cameras and display panels for the Councils to republish information from their magazines and newspapers.
As the trees will be hollow, the larger varieties may provide a workspace for local monitoring officers.

Ealing

Council is proposing setting up a unit called

Ealing

Local Volunteer Executives. These

E.L.V.Es

would reside in the trees to report breaches of parking and refuse disposal regulations by local residents.
The penny only dropped when she read the date at the bottom - that's the first time either of us have become April fools in many years!
Kind of sad that the council is so crazy that we actually could believe all of this though, isn't it?
Emma still hadn't been in touch since ringing David the previous day to say that the baby had been born and that it had some kind of respiratory problems and was being kept in hospital. So we wouldn't have even known its name if I hadn't thought to look on Facebook! You'd think she could have at least bothered to keep in touch.
David got a letter from his employers telling him that he must win the next tender and get more work done in less hours or else he'll get the sack on May 13th. How absurd - how can he swear that he'll win the next job for them? It's not up to him whether the client picks them or not! And I know he spends a long time at the office but he says he's working all those hours. And even if he is slow, he's supposedly very good at his job and is happy to work extra hours with no overtime. So why are they so keen to get rid of him? They'll never find another idiot willing to be so dedicated and work such ridiculous hours as him!
April 2nd 2010
It was a very boring day. We overslept so we only got to Woodberry to check all the walls for shiny smear marks and figure out what needed to be re-painted. Then we were rushed back so that David could get to work! I don't think I'd have been so keen after the letter they had sent him the previous day. He's obviously going to lose his job next week anyway.
I do feel sorry for him as nobody seems to like him very much, but there's no need for some of the nasty things he says. He got in such a bad mood with Mum over something that he bashed into the living room door and almost smashed the MLP door hanger I made for my bedroom years ago. Ha ha, it's been waiting all this time for me to have a door to hang it on! I said this to David and he got highly annoyed and told me that I should have gone to look for curtains for my room myself so that I could move to Woodberry. Um, A) I won't leave this house alone, and there are no curtain shops around here anyway. And B) What the heck does this have to do with a door hanger I made for the bedroom I was promised in THIS house anyway. It won't even fit on the round doorknobs we have at Woodberry... and I wouldn't really want a bad childish painting of Lancer hanging on my door now anyway!
Then he overheard Mum and I having a serious discussion about orthodontic surgery and the liquid diet that I would be on for several weeks following the operation on my jaw and thought that we were JOKING about losing weight as he
"knows nothing about liquid diets following jaw surgery"
. Well, you insisted on coming into the clinic yesterday to make sure that I said nothing to Mr Crow about my carpet beetle allergies or sleeping on the floor, and YOU keep telling me to go for the surgery while I'm still living this unhealthy lifestyle and sleeping on the floor as
"it can't be as bad as it sounds"
and yet you don't even bother to listen to what it entails?! o_0
David managed to briefly get ahold of Emma and she told him that the baby was still in hospital as he wouldn't feed properly following his respiratory problems. She still didn't mention a name though!
I spent the evening talking to Elisabeth on MSN and playing Facebook's Zoo World - I can't stand what they've done to that game now though. It's absurd to expect people to have the time to feed individual animals on a regular basis! I know I have no life right now but I don't know how those who do have the opportunity to go to school or work have time to play these silly games!
I also re-watched The Matthew Shepard Story on Youtube. I wasn't aware how many scenes Channel Five had cut out of my video recording of the movie. I guess they thought that they had to cut out some of the more violent scenes since they showed it in the middle of the afternoon, but I don't see the purpose of cutting some of the stuff that they did.
April 3rd 2010
We went to the building society in Ealing Broadway to complain - once again - about them taking tax from Mum's accounts (she's a non-tax payer). They never seem to listen to us though. I really wonder if anyone is able to absorb information into their brains these days... or maybe people just don't have brains?
We saw people walking around with Easter baskets and Mum made us "follow" them (or rather, go in the direction that all the people were coming from) in the hopes that we would find someone was giving them out for free and there would be something in them that we could give to Emma's kids. But it turned out to be some kind of competition at the local church!
Mum and I went into Savers so that I could buy yet more of the highly-recommended (by myself!) Inecto coconut products.
Go out and buy them, girls!
"Because you're worth it"
... and they don't even come at L'Oréal price tags!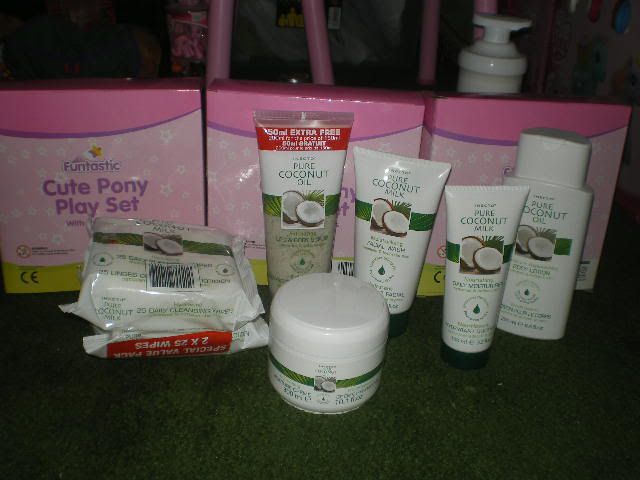 I still need to find and try the hand and nail cream, but the moisture cremé and body and facial scrubs are fantastic. I haven't tried the facial wash yet (still using the wipes, which work just as well as Nivea), and the daily moisturiser hasn't brought me out in spots like most of these things. You have received a Skylark recommendation!

..

Then we discovered that a huge branch of Poundland has opened in the centre, so we had a look around and I managed to pick up a DVD of the entire first season of Storm Hawks...
...which pleased me as we didn't have very good reception on our TV when the show aired on... can't remember now, either Cartoon Network or Boomerang, I think. Well, whatever channel, I didn't tape it at the time, and regretted it since I've wanted to hear the voice talent in this for a while.
And I also managed to pick up all of these girls for £1 each...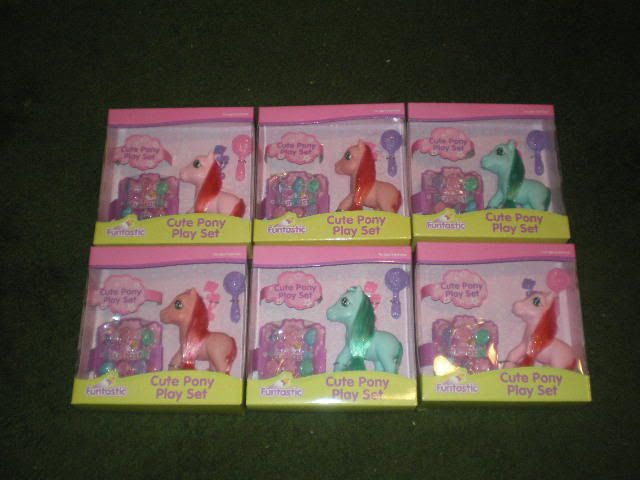 No clue why I wanted so many really, as I'll never be able to sell the duplicates. But they're so cute!

We also went in TKMaxx in search of all the clothes I had seen the day that David had called me out of the shop to stand in the rain and wait for him to pick me up. But they had all sold out, of course.

Then we went to Woodberry so that Mum could ring Emma at the hospital. But while she was listening to my sister's latest long labour story, she decided that she had to sit down, and the only place there was to sit was on the toilet lid! She attempted to drag the phone into the loo... but the extension lead wasn't long enough and she ended up pulling it out of the wall! So that was the end of that!

The neighbours were obviously in a bad mood with us for daring to say that we want to raise the height of the fence between our gardens and had pushed over the big window frame which has been leaning against the fence...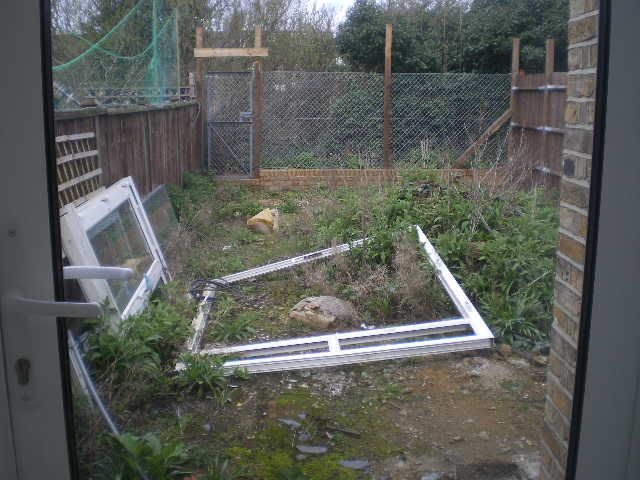 I don't really blame them though - it's been there for MONTHS and David doesn't exactly seem to be in a hurry to try and find a buyer. Well, it's warped as well as covered in moss now so I suppose it will go straight to the refuse centre.
It was the first time that Mum had been to the house since it had been cleaned and she found all kinds of dirty patches that David and I hadn't even noticed. She also spent a while looking at colours.
Meanwhile, I was so tired that I fell asleep on my bedroom floor! Oh, but it was wonderful! I was actually able to breathe when I woke up! So the cause of my problems is obviously allergies caused by something in this house... I just wish that we could move. Although who's to say that the carpet beetles (or whatever causes my problems) won't come with us? It only takes one batch of eggs...
Oh, and David made the most hilarious comments on the way back to Grottsville.
"I see no reason why you can't move in now,"
he said to me. When Mum pointed out that we often share ready meals for dinner, he defended himself by saying that
"Surely I wouldn't want to stay over there all the time"
... Um, so what does "moving in" mean to him if it doesn't mean staying to eat dinner?! Never mind, he can break off work every day and bring me back here to eat on the floor with the carpet beetles, stay for just long enough to bring my breathing problems back, and then be dropped back at Woodberry. What a silly thing to say!
Well, I think I'll leave it on a semi-funny note. It's late and I must go and get another dose of chest pains on the floor now. Speak to you all later!
Desirée xxx