Well, at least my lyrical title makes some kind of sense tonight. There's no way I'm going to get over a month of 'catching up' done tonight, so it will have to be some other time!


I will get as much as I can written now though, despite it being almost midnight already!
May 20th 2010


Mum and I walked to the post office to send five parcels of stuff I had sold on e-Bay. We found another MLP birthday card for £1.25 there. Typical, eh? I'm just trying to make some money on e-Bay and end up spending some of my profit immediately while shipping out the packages! It was so cute though, and features Pinkie Pie, so I just had to get one for my collection!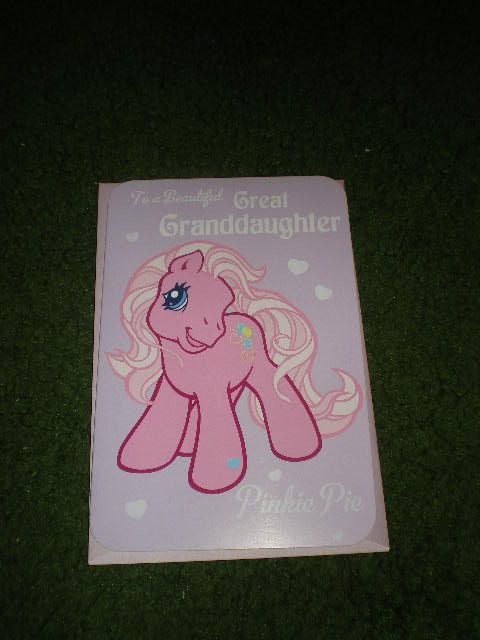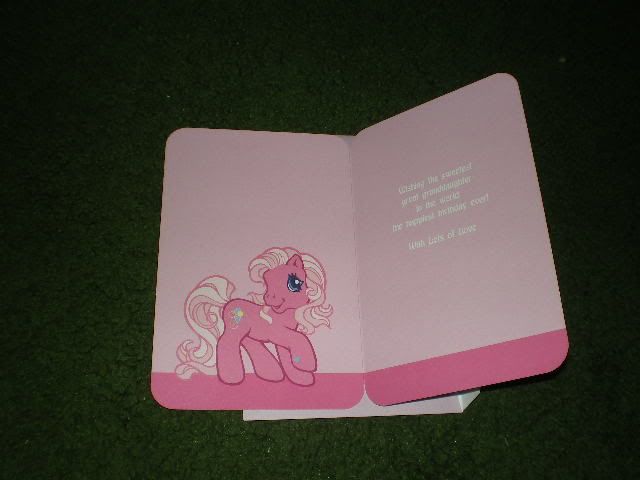 Wondering how many different ones have been made, I wrote to the company:
Thank you for your recent e-mail regarding our range of My Little Pony Greetings cards. At present we have 7 designs in this range. 2 x juvenile girl, 3rd birthday, 4th birthday, daughter, great granddaughter and niece.
We supply greeting cards to the following major suppliers:-
We also supply to a number of Independent retailers as well.
I hope this answers your query and if you have any further questions please do not hesitate to contact me.

So apparently there are seven different designs available. I've only found the two so far though. I find it rather strange that they make them for daughter and great granddaughter but not granddaughter! I hope I can find the others - I love the fact that they've used the old pre-alien artwork!



Somebody contacted me on e-Bay to ask if he could buy a couple of Keypers items that hadn't sold. It seems he had missed the auctions, and his wife was not best pleased with him! He even offered me a little extra for the 'trouble' of selling them to him privately. So of course I said yes. I was pleased to get rid of them really as they were just fading in the back room, and those big Keypers wooden puzzles are heavy and troublesome to post!

A bloke wearing an Ealing Council jacket came to the door that afternoon. We have no idea what he wanted, but I guess it was something to do with the front wall. Of course, neither Mum or I could open the door to him. And David got angry with us. Well, even without the fact I hate talking to people until I can get my crooked teeth straightened, we can't really answer the door while wearing these awful scruffy rags.
"Why not?"
David said. So while he is so obsessed with women that he finds it necessary to write down every one that walks past him in the street with details of what they're wearing, it's okay for us to look bad and show ourselves to strangers while wearing clothes which are so worn out that they are quite literally falling off of us!

May 21st 2010


Mum and I walked back to the post office to send another six parcels... blah, blah, blah... You don't really need to know about the mess we got into trying to get the right stamps stuck on each package!

When we got back, we noticed that the gate to our alley was hanging off of its hinges! We reckon one of the drunken thugs who walk aimlessly up and down this street must have kicked it the previous night. I'd had a strange dream about a gang of youths attacking David in the front garden - perhaps I heard voices out there and they disturbed me? David has managed to prop the gate up with bricks behind it, but it's still not secure as it's now hanging off its hinges.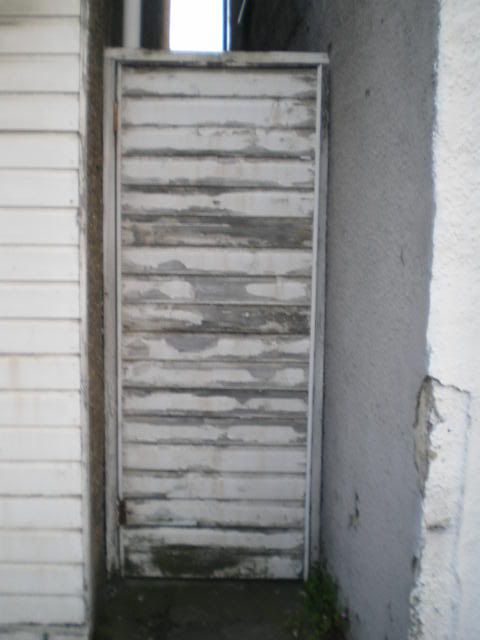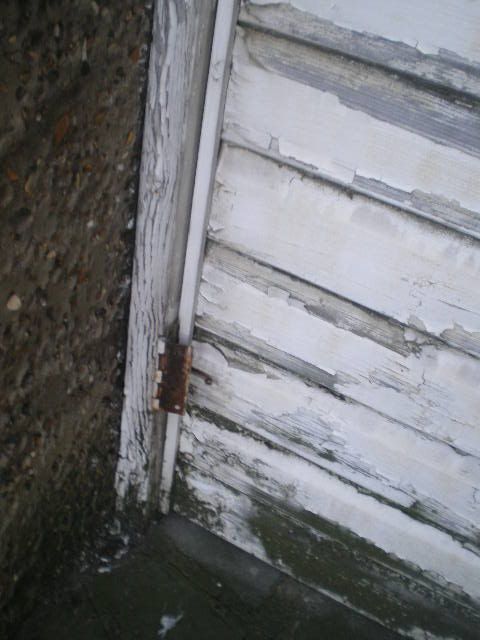 We need to get out of here before someone actually manages to break into this slum. If the other hinge and padlock hadn't held it, *whoever* kicked the gate would have got into our alley (and back garden). And since the back door doesn't lock properly, they could have easily got into the house. I think the youths around here are just bored vandals rather than burglars, who want to come in and mess things up for the sake of it, expecting all of us be asleep upstairs. That's scary enough, but when you consider that Mum and I are sleeping on the floor downstairs in the living room...


David remained unbothered by the situation though, and just continued to laugh at the TV all evening. He really doesn't care about Mum and I or our safety, does he?! >.<

The "Outrage" (1998 movie) DVD that I bought on e-Bay arrived. It's an ex-rental DVD, but I've wanted to see the movie for a long time now and I wasn't too bothered by a slightly bashed case, so long as I could buy it cheaply. I think it cost about $2.00, but shipping was about three times as much!

I actually really enjoyed the movie, although it couldn't really have come at a worse time than when I was already worried about people breaking into our property! Not that I'd be complaining if my favourite actor wanted to break in... Presuming he had different intentions to vandalising the place, of course!


Well, I should really try to get some sleep now, even if my allergies are making it difficult to breathe. The temperature is really making my breathing troubles unbearable. I hate being cooped up in this house all summer again.


Thanks for reading!
Desirée xxx