Stupid allergies. I can hardly swallow for this burning sensation in my tongue and throat. And I just seem to fall further and further behind with this blog - I really need to get my daily routine sorted out so that I can fit more into 24 hours!

May 30th 2010


Sunday. Mum and I didn't leave the house. What a great weekend.

It was made even more wonderful by the constant arguments between my parents regarding Woodberry. Mum was in another bad mood and shouting about how she wasn't going to live there. The only reason she was moving there was because of me and my health, and I'm
"not her responsibility"
. After all, Desirée,
"You're nineteen - you should
GET OUT
!"
Get out to where exactly? I don't have a scrap of education, no way of getting a job and no intention of getting married while I'm stuck here in England! And what man would be willing to take in a girl who can't support herself in this day and age anyway?!

Things got better yet when I discovered a pipe behind the toilet was leaking badly. I was only having to use the non-flushing loo downstairs because David was locked in the bathroom reading Mills & Boon upstairs as ever and happened to notice the dripping sounds and soaked floor. Of course, David came flying out of the bathroom (confirming he didn't really need to be in there) and started tinkering with the pipe... making it ten times worse and causing a second leak!

So we had to call in some emergency plumbers - and you can all guess how much that cost on the Sunday, especially on a bank holiday weekend, can't you? >.< David had to use my mobile phone as he'd left his own at work, and complained that I'm
"never happy with anythink"
because I asked him to wash his hands before using it as they were black from his amateur plumbing attempt!


By the time the men had finished, making me feel horribly sick and stressed as I hate the feeling of workmen coming into this filthy slum and laughing at the way we exist, we had a flushing loo for the first time in at least five years, but it took me a while to be convinced to use it as one of the last times I flushed that toilet before it packed up, I got a shard of metal off of the handle stuck in the palm of my hand. Ouch! But it's all good, we have a piece of brown tape wrapped around the handle so I'm told it's
"safe"
now. o_0

I had been even further stressed by the fact that I had to move all my ponies out of the back room doorway so that we could shut the door and the men could come in without seeing the boxes in there. And then I got upset because I found that my G2 Light Hearts have gone yellow and have black mold at their hairlines. No doubt because they've been in such a hot room for so long.


But still nothing got done towards getting out of here. David went to work all evening - well, he wouldn't allow himself to be cooped up indoors all the time, you know?

May 31st 2010


I got up at 6am in the hopes of going to my favourite Bank Holiday car boot sale at Epsom. But Mum couldn't decide whether to come or not. I convinced her to come eventually, but we didn't get there until 9.15am, by which time somebody had obviously swept round and bought most of the ponies as there were sad little piles of fakies and poor condition G3s everywhere. In fact, I kept seeing the exact same pink Asda fakie on practically every stall, by a large gap where similar items had obviously been earlier. It was almost as though the dealer who had bought the ponies was teasing me by giving each seller a fakie to place on their table in place of the stuff they had sold!


Then I saw a woman with a huge shopping bag packed with MLPs and Care Bears. Agh! However, if she was an e-Bay dealer looking for anything from either toyline, she hadn't spotted absolutely everything...

I saw some 80s badges in a little tub on the ground and decided to have a rummage... and found no less than four MLP badges and two Care Bears badges (and the front part of Sunshower's puffy sticker)! While I was down on the ground, my eyes were drawn to some Care Bears artwork on a cardboard box which had originally contained some Christmas cards apparently. The cards were no longer inside - instead, the box was filled with 80s stickers including a ton of Care Bears and MLP Panini stickers. Since the stallholders saw me looking at these, they pointed a box of books to Mum... She had a look through and found three 1987 Care Bears Panini Sticker albums, each with a few sealed packets of Panini stickers. Two are partially completed, the third is empty. Mum also found a 1990 MLP annual in beautiful condition - it may even be better than mine, but I haven't had a chance to check them yet.

But it didn't stop there - I noticed something orange that looked a bit like a miniature pony's legs inside something transparent in a box under the table. Reaching into the box, I found an

APPLEJACK SNOWGLOBE

!!! Yes, it's missing about half of its water, and is a bit cracked underneath, but I was still excited to find it. I also found two MLP cassette tapes - the same ones that I had bought on e-Bay just three weeks previously, having never seen them before that. I've seen them on e-Bay twice since then too... Weird how you never see these things and then they pop up numerous times in the space of a few short weeks.

The total for everything? £2.50. I didn't think that was a bad deal at all.

We also got a beautiful 1984 plushie Hornby Pound Puppies stuffed toy for 30p (I was intending on selling him but Mum has since fallen in love with him and is insisting we keep him even though he will most likely get eaten by carpet beetles if he stays here), a Barbie Princess and the Pauper video for 25p (that's the fifth Barbie movie I've been able to get for less than 50p a throw! Let's hope I can find the others), and a Ponyville Sunny Daze with her hat for 40p (I wasn't sure if I had her at the time - it seems I do, but the Ponyville Ponies don't take up much space so I don't mind having an extra).

Oh, and Mum was staggering up the first aisle away from the car park when she felt something under her foot. It was a little Ponyville Pinkie Pie. She was covered in pink ink but I couldn't just leave her there.

So here's a pic of everything I got together...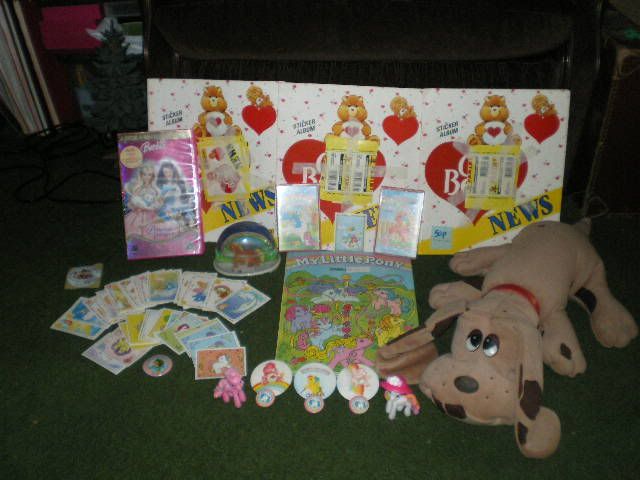 And here's my MLP snowglobes (I thought I may as well show off the Bow Tie snowglobe I bought on the Arena about three years ago as well as my new Applejack one!
)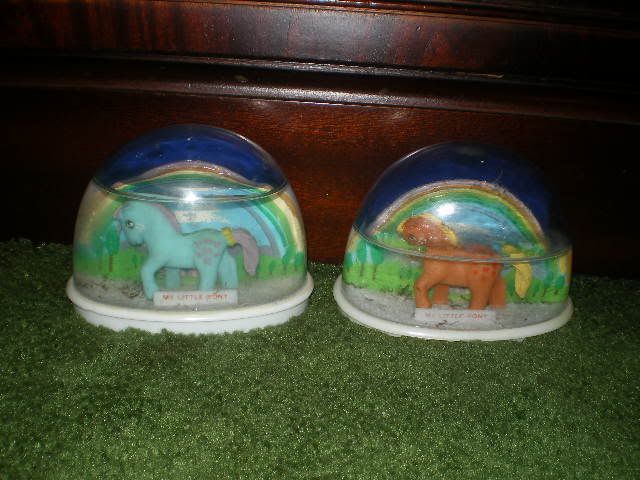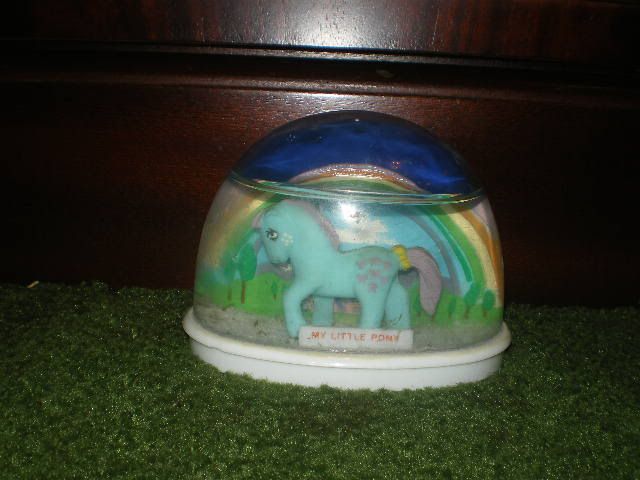 My parents spent the rest of the day arguing about Woodberry. I spent the rest of the day too tired and in too much pain to move! Don't get me wrong, I love a car boot sale, but I must be really out of shape because a long walk in the sunshine renders me unable to do much else for several hours! >.<


Well, that's as far as I'm going to get tonight. We're hopefully going to watch the BBC's 'Friday Night is Music Night' tomorrow evening, but I'll see if I can get another blog entry written earlier in the day for once.


Best wishes,