Well, hopefully. I finally bought my ticket for Ponycon as well as pre-ordering an exclusive pony. Mum is still not sure if she's coming in or not, but as she doesn't want one of the exclusives, she figures she can make up her mind on the day and pay at the door if she does decide to come in. I just hope that nothing comes up to stop me attending on the day...

June 18th 2010


Mum was too tired to go for a walk thankfully, so I didn't have to face the perverts of Grottsville for once. Of course, this did mean that we couldn't ship out my two remaining e-Bay parcels. David kindly walked to the post office and sent them for me, but I do wish we lived in an area where I could have a little more independence. I feel bad asking other people to do my jobs for me.

Mercynova started a thread on the Arena having found a new set of Dolly Mix Ponies - this time there were twenty characters to collect, all being original G1 designs! I was so excited when I saw them, it was the first time in ages that I had actually been happy to see something new from the MLP range. Even the packaging made my heart flutter - just to see the old G1 logo on something on the shelves in the current day. I got David to take me to three different branches of Asda that night though, and we didn't find anything.

I got another £3.29 from
Swagbucks.com
(I must have made about £20 just by searching the web now!) -
http://www.swagbucks.com/refer/Skylark24
Yep, yet another shameless plug for people to join the site through my referral link!

I had to save a poor little zebra spider from the bath where it had fallen... then David found a MASSIVE spider sitting just inside his Coke can! The wildlife from our garden is moving in and taking over this house. We really need to get out of here before there's no space for us at all!

June 19th 2010


David shipped my last three e-Bay parcels and got a shipping quote for an Arena member who had contacted me about some of my unsold e-Bay stuff which she had forgotten to bid on. He'd already had to go to Tesco to buy a packet of Cornflakes so that we could pack the items up too... I feel awful getting everyone else running around on my errands all the time!

Then we all went to Elthorne Park for the Hanwell Carnival Summer Fete. Sadly, there wasn't much there, considering it was the 50th anniversary. There just doesn't seem to be as much interest in carnivals and other summer events in this area as there used to be. The fete consisted of about four food stalls and a few tables of bric-a-brac. (No ponies unfortunately, although I have found them in the past ) We didn't even wait for the carnival, as we knew it would be tiny. In fact, the whole procession had passed by in the time it took us to walk back to the car and drive back up the road - about ten minutes. Pretty sad for a carnival that used to be the biggest in London.

Then we went to Asda in Hounslow where we found it now costs £1 just to park the car. It was work it though, as not only did I find one lone Dolly Mix Cheerilee from the Core Seven set (who turned out to be a later edition to mine in a different packet and with slightly different coloured hair - above packaging is the old style, below is the newer one)...
...but I found
TWENTY
G1 Dolly Mix Ponies hanging in the cereal aisle!
I was so excited that I didn't even notice that David had handed me a packet of pork scratchings to hold while he went to get a basket... usually, I wouldn't touch anything containing even the slightest bit of meat without a big fuss!

I was quite disappointed at the time as I only got ten different ones, and ten duplicates, but I now know they were the only ten available at the time, so I guess I was actually pretty lucky!
I can't remember which nine duplicates I got, I know I kept an extra Heart Throb though as the poor little thing was deformed. She has big cracks in her face, and actually looks as though she has a 'teardrop' falling from her left eye. Poor girl - I just couldn't bring myself to sell her and send her away!

"Hello, my name is Heart Throb."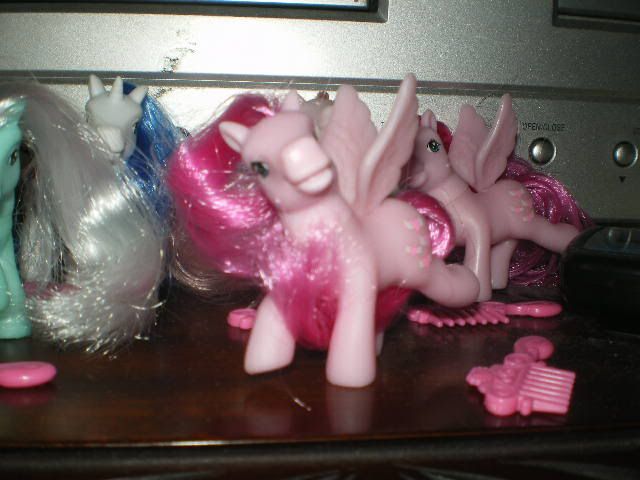 "The nasty machine that threaded my mane crushed my head and created this ghastly crack from my eye to my muzzle."
"Looks can be deceiving though - I am the sweetest little Dolly Mix Pony you'll find. Please love me despite my faults, or I shall continue to cry... loudly. Desirée has already experienced my sobbing and has found it in her heart to adore me as much as the rest of the herd. In fact, she said that she will make me a new mascot for the Rescue Home if I'll just shut up and stop crying! She must really love me!"
Ah well, you know Heart Throb - ever the drama queen!

Actually, Heart Throb seems very prone to faults. Even my 'collection' one has misplaced legs which mean she keeps falling over all the time like an old drunk! She fits into the Grottsvillian lifestyle just perfectly!

Next we went to West Ealing to buy some Weetaflakes. David also bought a ton of cheap bread and biscuits to eat at work that night. Well, that just shows how long he intends to spend at the office at the weekends!

I found a MLP video at Fara for 49p too. I don't normally pick VHS tapes up these days, but I know the first two TV specials are quite popular with people. It looks in good condition but I haven't played it yet. If anybody wants it though, let me know and I'll check through it for you.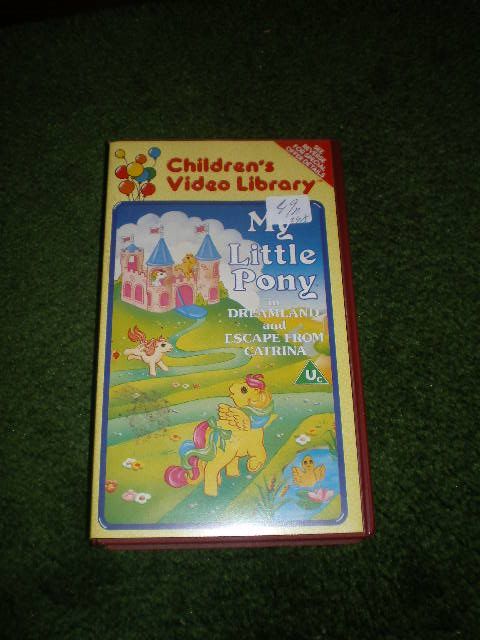 Our next stop was Ealing Broadway as I wanted to get some stuff at Savers... I ended up spending far too much money, but I can't resist these coconut products from Inecto!
I couldn't get the coconut cleansing wipes though, and had to settle for Nivea as you can see. You'd think a well-known brand like Nivea would be better for my skin but it really dries my face out and doesn't do a very good job removing mascara anyway in my experience. The coconut wipes are much better! I haven't been able to find anything online about whether Inecto test on animals or not, but judging by the low prices, I bet they do. I'm almost scared to contact the BUAV as nothing has ever worked so well for my sensitive skin and I'd hate to give it up. But I do intend to write and ask them when I get a chance.

We popped into Asda at Park Royal (one of the branches we had checked the previous night) on our way back to Grottsville, but they still didn't have any Dolly Mix Ponies.

Mum stayed in the car where she told us she was
"watched by a suspicious looking woman who was pacing all around the car park"
. The 'homeless' woman started begging David and I for money to buy something to eat when we got back to the car, but I'm not sure I believed she was that needy. She was far better-dressed than any of us with beautifully neat hair. She looked like she'd just thrown a shawl around her shoulders and thought she'd go out at the weekend and see if she could get a bit of pin money. I could be terribly wrong about all of that, in which case I wish I had helped her, but I can't stand people who pose as being homeless to cheat the general public out of their loose change when there are so many really needy people out there.

And at least I don't share my parents' attitude.
"What nationality was she?"
was Mum's first question when we got back in the car.
"She sounded horribly English,"
came David's reply. I don't care if she came from Timbucktoo, I think the question at hand is whether she was trying to scam us or not!

Speaking of beggars, David came into the room that evening and officially declared himself bankrupt, then began asking for Mum's money to finish off the work at Woodberry. But he's not too broke to continue collecting Mills & Boon books and paying to store them all, of course!

He received a letter from the company he works for saying that his work is
"of a satisfactory standard"
and he can continue to work there. That's kind of them to say to the bloke whon works all hours for no overtime pay, isn't it?!


Ugh, only two days of catching up done today. I'll never get up to date at this rate! Still, I guess it's better than nothing - all my e-Bay items are ending tomorrow and Wednesday so I fear I won't have a chance at all for a few days what with all the packing up and figuring out my money etc. Oh, and to those who expressed an interest, you'll find my items (mainly MLP stuff and other 80s/90s toys, plus a collection of badges from the late 80s) here:
http://shop.ebay.co.uk/rainbow_harmony/m.html


I still have tons more of this kind of stuff to go through, so if you're looking for something specific, drop me a line (I sell off of e-Bay too - in fact, I prefer dodging the fees!) or add me to your favourite sellers list over there. Yep, the second shameless plug of the evening! Wow, my blog is becoming one giant advertisement... Perhaps I should just go and beg in the car park outside Asda...

Best wishes,