Current mood:
rushed
... and now have a seller's account on there. It's a free listings weekend, so I'll be listing a load more stuff after writing this blog if I'm not too tired, or else some time tomorrow. Check it out!
http://shop.ebay.co.uk/rainbow_harmony/m.html?_nkw=&_armrs=1&_from=&_ipg=&_trksid=p4340
We went to Woodberry so that my parents could continue to look at - you've guessed it - wall colours. I wish Mum would just settle on something once and for all.
I attempted to put the butterfly knobs on the drawers, but couldn't find the screwdriver... David had obviously brought it back here to Grottsville. No problem, I thought, it was quite easy to just tighten the screw by just twisting the butterfly into place. Unfortunately, there was a problem. The screws were too long (or the wood not wide enough - however you want to look at it!), so we had to go to Homebase in search of washers before I could fix them. Mum and I decided to have a look around the garden section - big mistake. It was so depressing to see and smell the flowers when we still don't have a garden to put them in.
Later on, we went to Lakeland but they didn't have the cutlery drawer we were looking for. David had wasted so much time in the bathroom that afternoon that there was no time to go in TK Maxx (next door to Lakeland) before we had to dash off to Laura Ashley to buy 'lilac' wallpaper... which is actually the name of a pattern which they sell in green - the version Mum wants - and several other colours, none of which are lilac, in case you were wondering!
When we got back, I finally had a chance to open the two parcels I had received (the one that David had picked up from the post office that morning, and another which had arrived while he was at the PO... meaning I had to go to the door in my nightclothes! >.<) It was the G2 ponies I had bought from Svarta-Perland and the McDonalds ponies I had traded for from Snapdragon!
Firstly, the G2s...
I was so excited to get these girls! Back in the days when they were still available in the shops, Emma went to Callais and saw a ton of G2s in TRU but she didn't take enough money to bring them all back for me so I had to choose. I still remember her ringing us from the shop and listing out all these wonderful ponies that I didn't even know existed, and having to pick which ones I thought I'd like best. Blue Pearl was one of those ponies she left behind...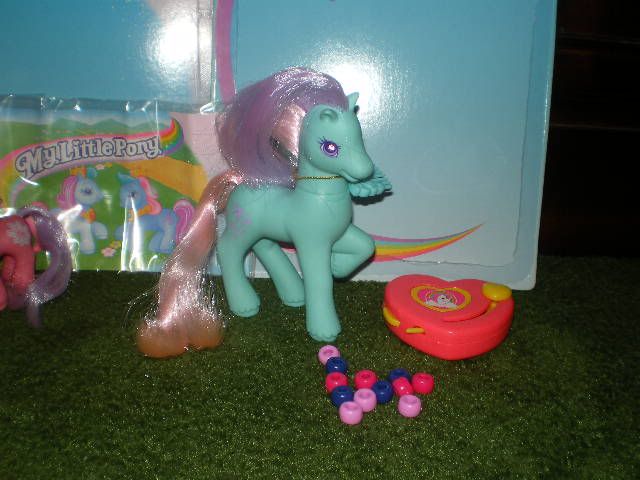 And now I have her, brand new and complete with all her accessories - straight out of the package.
And Mummy Morning Glory and Baby Dew...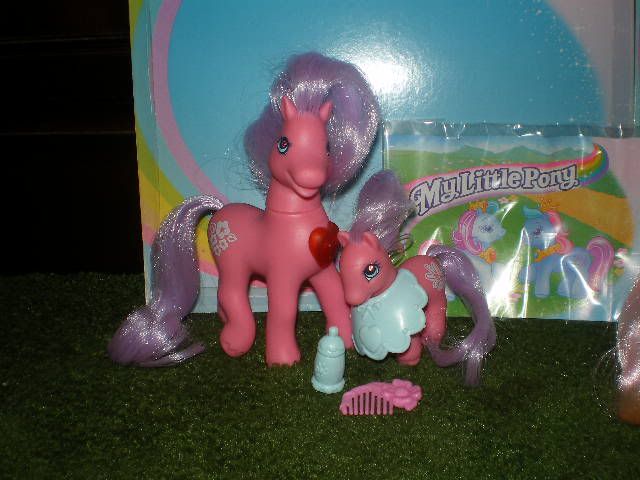 Again, absolutely new with all their accessories - ooh, I'd love to get a look at that pamphlet! It was one of the only ones I never got from any of the G2 ponies I had from new... but I refuse to open the little bag it's sealed inside!
Then I opened Snapdragon's package and found this sweet little note...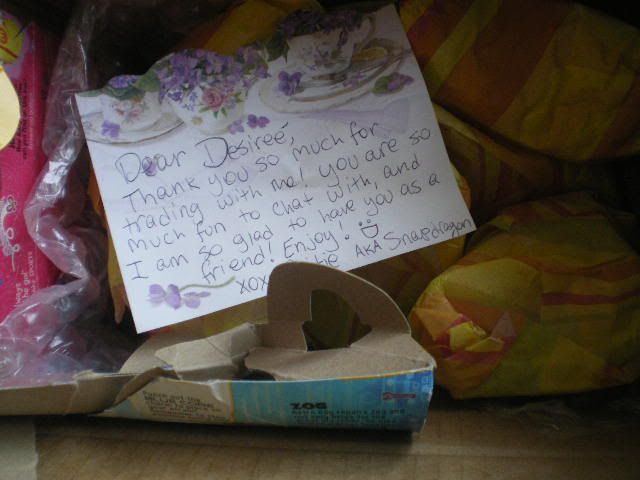 Taking that out of the box, I was faced with a stack of sweet little parcels wrapped in brightly coloured tissue paper...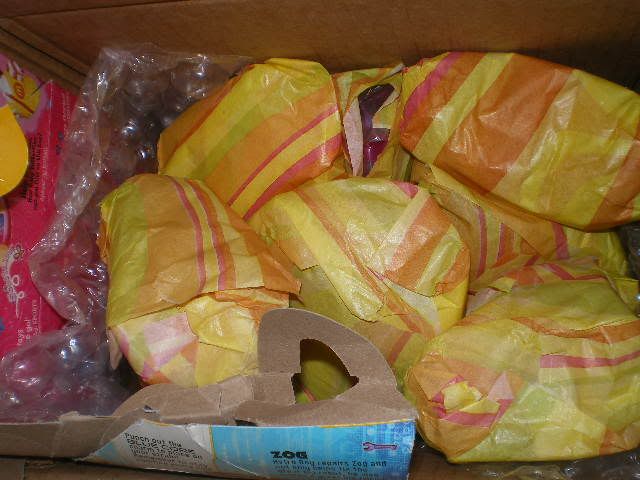 I almost didn't like to open them! And amongst all the yellow and orange ones, I found a gold package...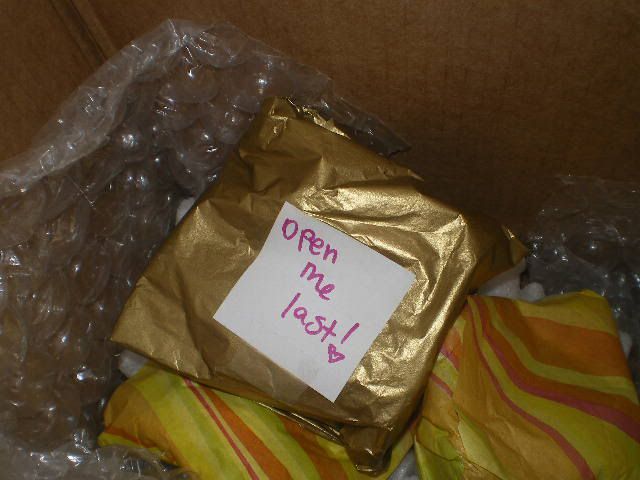 All unwrapped...
An entire set of 'Alien' G3.5 McDonalds ponies plus a spare Rainbow Dash and Sweetie-Belle that I can keep MIP! And Snappy also included one of the Happy Meal boxes which I am extremely pleased to have, even if it is bashed.
But just what was in that golden 'open me last' parcel? Well, look at all the stuff that Snappy gave me on top of the stuff from our agreed trade!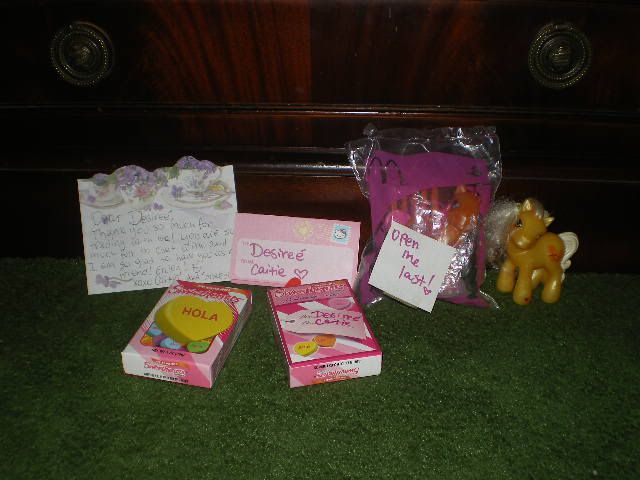 I knew she was sending Butterscotch (she's a little grubby but I needed one for my 2005 McDonalds set, and she looks so cute with the little polka dot ribbon in her mane!), but the 'open me last' MIP Sparkleworks was a total surprise... and a set completer!!! And the candy hearts were just delicious. Thank you so much!
Here's poor little Butterscotch before her bath...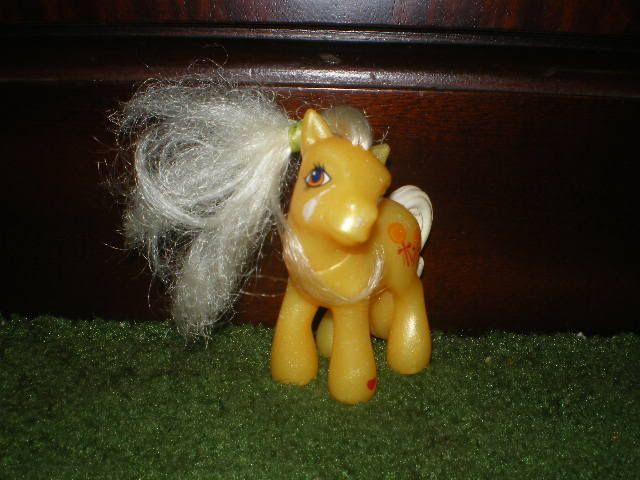 ...and here she is with her alien friends afterwards! Her hair is still quite poofy, but all the white dirt came off easily!
Many thanks to both of you for helping me to add to my pony collection!
Sorry for boring all my non-pony collecting readers there. But I just couldn't help but brag about all my new additions.
Back to the annoyances of the 'real world', I suppose. *Sighs* Mum was complaining that she never got to hear any music. David asked her why she didn't use the radio on the TV. She pointed out that I have nowhere to sit except right in front of the TV, so it's not very fair to put loud music on right next to my ear when I'm trying to write to people etc. So David told her that she
"should listen to the radio when I go upstairs to sing"
. Is he missing the point? I can't breathe well enough to sing any more so I hardly ever even try these days. Not to mention the fact that Mum doesn't just want to tune into any old awful modern music - she would want to listen to specific shows which may or may not be on when I vacate the room and get out of her way. >.<
David spent the entire morning at Woodberry, supposedly painting samples of the latest colours that Mum likes so that when we went over there they'd already be dry and she could look at them straight away. But when we finally got there we found that not only had he forgotten the tape measure so we couldn't measure up for wallpaper, but he had not painted a sample on the wall and had just painted a single small piece of cardboard, which we have already decided doesn't show the colours to their best advantage. So he ended up painting a sample on the wall while we were there anyway.
Then we went to Allied Carpets, where I got depressed to see the lovely clean cream carpet samples. WHY did David make me have my carpet laid last August if I wasn't going to be allowed to live there and enjoy it while it was new anyway?!
On the way there, I had spotted a MLP sign in a small toy shop window and I made David stop on the way back so that I could take a photograph!
We went in the shop but it's under new ownership now so it's not as good in there as a few years ago when I used to pick up 1980s toys and other bargains. In fact, all they had were a few half price Newborn Cuties...
When we got back, I found that Teddy had written to me on the Arena with a link to an auction she had noticed on e-Bay...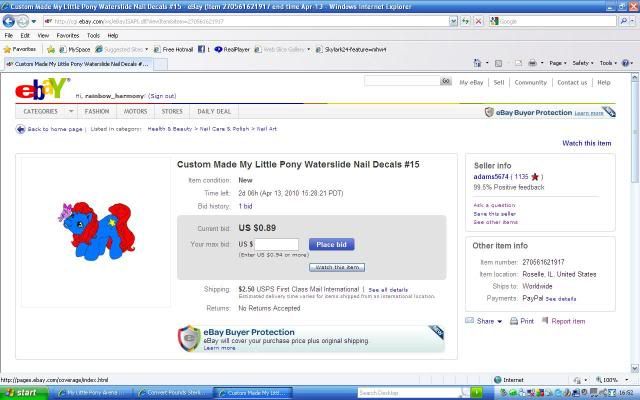 I was a little shocked to be honest. That's Lancer on those decals... but not just any picture of Lancer, the picture I made for my signature on the Arena! I spent hours correcting a picture of Pinkie Pie and making the line art and then further time colouring it to look like Lancer... It might not look very good, but I was so proud of myself as it was the first time I'd made adoptable line art from a picture all by myself.
Of course, I wrote to the seller and complained, and also wrote to e-Bay and told them about the stolen artwork. E-Bay ignored me (surprise surprise) but the seller pulled the aucton the following day. Not before writing a rather abrupt message to me though!
"I did not bother reading your whole email. I know who directed you here and I would like to say thanks to both of you for being such a pleasure to deal with. I have pulled the item and canceled the auction with the bidder because it's not worth dealing with any of this. Check Istock photo under images which is where yours was purchased with a bulk order of 40 images. It has upset me greatly that people on ebay just assume the worst about people before asking any questions!!! I have done the right thing when the so called person who directed you informed me that the images I purchased was copyrighted by someone!!!!!!!!!! I have been yelled at and treated like a thief when I have been screwed and lied to! Maybe you and your friends could try given someone a chance before you jump down their throat. Obviously I would have checked if I had known the place I purchased from were stealing images. I will not be listing any pony images in the future so I will be gauranteed not to have to deal with you and yours anymore! Thanks for being so kind to a stranger and assuming the worst immediately. It makes me feel so much better about people in general. As I said your image has been cancelled so I think it's safe to say....don't email me again!"
Actually, did I say message? I meant TWO messageS!
"Check with dipids2252. the auction was cancelled and i informed the bidder that this item was not for sale even though they bidded on it so you do not have to worry about your "persona" being used. I offered the bidder another item at no charge to satisfy them. I realize you don't give people the benefit of the doubt so feel free to check with them to verify that it was pulled. Once again, I did the right thing even after I was treated like a common thief!"
I believed her story and felt a bit sorry for her at the time, but having looked into the Istock website, I see no sign of any MLP images at all. So I think she was probably just being defensive, as she knew she was in the wrong. Silly really, as I wrote her very polite message simply informing her that the pony on the decals was a picture of my persona and my artwork. I never actually accused her of anything - I didn't even ask her to pull the auction. I just asked her to consider not using pictures in future if she didn't know who they belonged to... Oh, well.
Svarta-Perlan put another load of G2s up for sale - oh, if only I had an endless supply of money. Flash (one of my favourite G2s who we could never find in shops at the time), and about four other ponies that Emma had left in Callais back in 2003. >.<
There were some lovely MLP comic lots on e-Bay too - some of the comics even still had their free gifts! They would probably have almost completed my comic collection if only I could have afforded them, but they sold for crazy prices and I never would have recovered the money from the duplicates I would have sold.
Oh, and I taped Kid vs Kat on TV, as I knew a lot of my favourite VAs were in the show, but I can't find a proper cast list anywhere. In fact, only three people were credited on IMDb. I've put the rest on there since... I hope my ears are working properly and I haven't made any mistakes! Does anyone know where I can find a proper cast list (they never even show the credits on ITV! o_0) or have any of my voice acting friends ever seen the show so that we could 'compare notes', so to speak? So far, I have:
Trevor Devall - Mr Burtonburger
Kathleen Barr - Millie, Kat?, Lorne?
Cathy Weseluck - Dennis
Brian Drummond? - Harley
Tabitha St.Germain - Phoebe
It said on IMDb that Erin Mathews plays Coop and Vincent Tong is Henry, but I don't really know either of those actors well enough to say for sure.
Also, if anyone sees the episode, "Suddenly Last Slammer", the voice of the second police officer sounds really familiar, but I can't place it. Terry Klassen perhaps? Please help somebody!
David and I went to both Sainsburys and Tesco - I bought Star Song and Sweetie-Belle in the latter as all the 'Alien Ponies' were still on a BOGOF offer.
Oh, and something ran over my foot in Sainsburys car park - presumably a rat, but I couldn't see properly in the dark. Nice, eh?
I'd had a really strange dream the previous night about finding a load of large ground beetles in the porch, trapped in cobwebs. In the dream, I was having to untangle them from the webs so as to release them. o_0 Then, that night, David called me out of the bathroom to remove a large beetle from his files of papers in the front bedroom... a large ground beetle...
COVERED IN COBWEBS!
How very peculiar!
Well, that's all for now, folks! Looks like I won't be listing any more items on e-Bay until tomorrow... so I'll have to work ovetime and probably won't get a blog written. I'll never catch up at this rate! >.<
Best wishes,