Current mood:
miserable
So, on to the last day of our "holiday". The rain was pelting down, so Mum and I waited in the car while David checked out of "Greaseville", noticing a small caravan right by the entrance, which we realised was where the drunkards we'd been disturbed by every single evening had been staying - conveniently located by the bar.
While sitting in the car, we saw a man in the chalet opposite (which had no blinds on the bathroom windows, of course!) making use of the restroom, peeing and vomiting in full view of everyone. Quite obviously more drunken "fun" had taken place there too.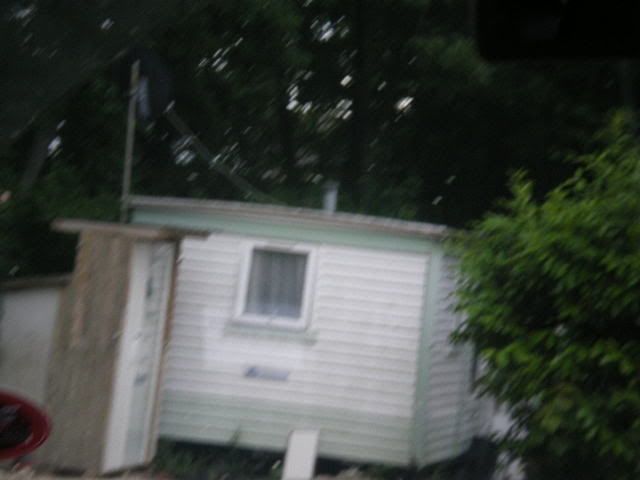 (This photo shows the caravan by the exit, you'll be pleased to know. There are no men to be seen through the windows!
)
David popped into the "market" too, but couldn't find anything to eat in the small shop the signs lead him to. So no food for us again.
We set off for Peronne for another small war museum, where Mum thought she might
"find something on her relations"
. But, of course, there was nothing personal on any specific people. David still insisted on walking around about twenty times though, and watching two films which were all in French (meaning he understood absolutely nothing of them). We had English audio guides, which were totally hilarious, as they were obviously in the process of updating them, so half the information was spoken in a really posh English voice, while the rest was obviously recorded by a Frenchman who spoke hardly anything of the language.
Having left the museum, we went in search of a yellow rose. When Mum promised her Grandad she would visit his brother's grave (back when she was just 12 or 13), he asked her to
"take him a yellow rose"
as Alf grew yellow roses during his life.

Fortunately, we found a florist right round the corner, but the shop owners had just gone out to lunch, meaning we had to wait an hour for their return. David tried to get them to sell him a single yellow rose from a bunch (Cheeky meanie!), but they would only sell him the entire bunch of roses in mixed colours.

Once he gave in and bought the things, we went on to Epehy, and finally found the cemetery where Alf lies. It was really sad, and kind of eery...in a nice way. I don't think I've ever been anywhere quite so quiet. All you could hear was the birds singing and distant rumbles of thunder, giving the impression that the Great War might still be taking place today.
Of course, it rather ruined the effect that some bird had decided to kill some baby mice and drop pieces of their bodies all over the place. But I guess that's nature for you!
Mum and I did have our pictures taken with his grave. She hates the photos I took of her, but I thought this one was pretty good actually. Just about sums up my crazy family anyway!
Here we are, in a very rare photo of us both together: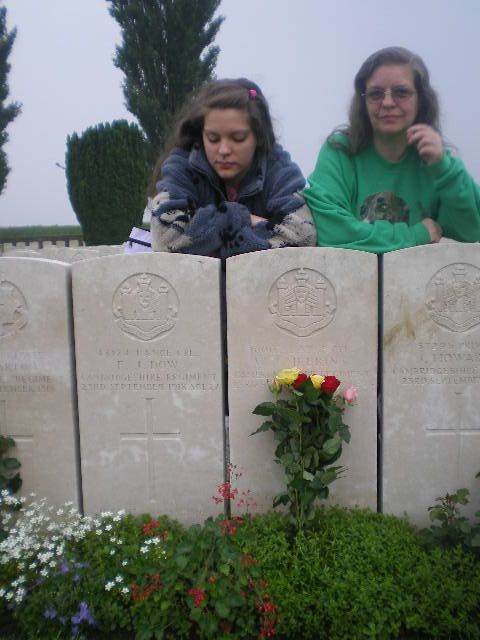 And, just for laughs, the picture that went extremely wrong! With me looking kind of stupified and dumb, with that ridiculous hairstyle I'm forced to keep, and Mum looking like a little jack-in-the-box who just popped up from nowhere behind me!
There was a logbook for everyone who visits the cemetery to sign, and we added our names, once Mum had cried over all the sad messages written on the page before ours...
I went to sleep in the car (actually, I'd been sleeping in the car all that day - I was so tired by that point!), but we were supposed to be making our way to a different cemetery to get a photo of the war grave of Mum's Canadian family history friend's father. However, when I awoke (and suddenly started reading from a list of directions I was supposed to have been guiding us from - like a human sat nav, if you like - to my parents' great amusement!) I discovered we were in a huge traffic jam, and we were quite obviously not going to get to the cemetery in time.
So we just stopped at a service station, where David
"just had to use the bathroom"
(*Insert mad tapping foot noises in car all through traffic jam here*
) and where he actually managed to get us something to eat in the form of - you guessed it! -
CROISSANTS
. While we sat and ate our croissants, we watched a whole load of young teenagers kicking an advertising board, and writing "School sucks" all over it. I commented on how sad it was to see young people wasting their lives in that way, and Mum had to make some nasty comment about
"Well, I'm sure you'd like to join them - at least 'they're doing what they want with their lives'."
No, I would not like to join them. I would just like the freedom to do normal things, and to have been able to attend drama classes, and maybe make a few friends. Is that too much to ask?
Anyhow, enough of my
"whining"
. Apparently, I
"enjoy being hard done by, and won't shut up even when we move house"
, as I'll
"have to keep moaning about all the years I didn't have a bedroom"
. AGH!
That got me so annoyed, but I bit my tongue and kept my mouth firmly shut.
Right, well, basically, with no time to go to John's father's grave, we went straight to see the Last Post played at the Menin Gate (we made it by the skin of our teeth!), where one of the buglers was so out of tune Mum stuck a finger in her working ear!
It's nice to be able to say we've been though, although my photos didn't come out - it was so rainy and dark by then.
I do have a recording of the out of tune bugler if anyone wants to hear it though. I just haven't got time to upload it right now!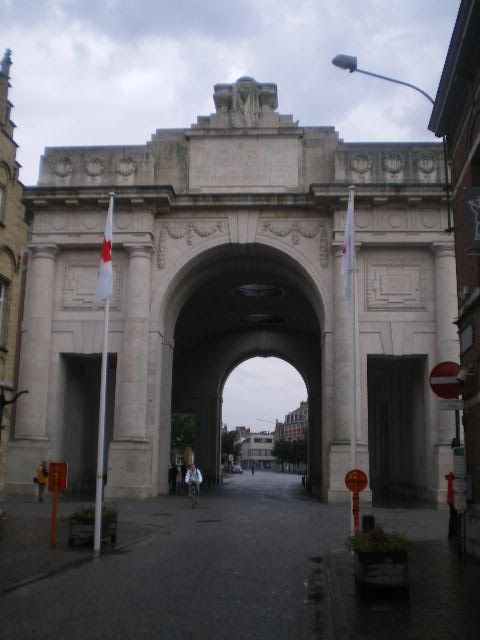 Then we had to get back to Dover, fearing we might miss the ferry if we didn't dash. Luckily, we didn't run into any more traffic jams, so we were there an hour early...and found out that the ferry had been delayed by a further hour and a half because of the weather!
So we sat at the port for two and a half hours, then settled down on the ferry to sleep.

We watched a family with a young boy, whom they let run wild, smashing up all the video games, and jumping all over the chairs and tables at the bar. I'm not surprised the kid was so rude though - when a cleaner wandered off to see to a delivery of drinks, the child's parents switched the vaccuum cleaner off themselves! Mum and I were horrified, until the cleaner returned and switched the vaccuum back on with only a slight "how did that happen?" look on his face. Then we were in fits of giggles!

When we got back to England, we managed to find some egg mayonnaise sandwiches in a petrol station, so we finally got something decent to eat at about 2am on Tuesday!
I must say, there was an upside to starving those few days though. When we got back to Grottsville and weighed myself, I found I had lost 4lbs! And I haven't put the weight back on either! I need more trips to France for sure!

Ah, Grottsville. I forgot that little story, didn't I? Of course, the house was absolutely fine, as you probably figured out by now. However, we did get a nasty surprise. Someone from the local council had obviously been to the door, and left a card in the porch.
David has just told me it's
"in his car"
(the car he hires, that is
), and he won't get it in because he's gawping at "Law and Order" on TV, so I can't quote from it, but basically it informed us that somebody had asked them to call us on the subject of
"Report of rats"
. Nice. Obviously the horrid things multiplied over the weekend, and one of the nasty neighbours (You know, the ones who were kindly ringing us to tell us about the non-existant break-in) had seen them and blamed us. So they reported us to the council, which means this house could be condemned and re-possessed by enviromental health, which will affect how we pay off the loan for the new house...and could mean we're homeless until we find somewhere else to go.
Of course, all we can do is hope things turn out OK. The appointment with the "rat man" was booked for today...but you'll have to wait until I get up to date to hear about that.
At least, now that I've told you about France, it shouldn't take too long to catch up. In fact, I'll probably do so tomorrow.

But first, I must post another blog tonight. Complete with the contents of that private blog I posted a couple of days back. I am able to make that public (at least to my Myspace friends) now, I guess...

See you in a few minutes!
Best wishes,
Desiree Skylark xxx