Oh dear, it's going to be yet another looong night. The computer is on its very last legs (it took me three tries just to get it to turn on this morning, and it's so slow that my words are taking around ten seconds to register after I type them!) and I have a lot of photographs and other stuff on the hard drive which I really don't want to lose. So here I am, at 1.36am, waiting for them to load onto a flash drive...and it is taking forever. I don't even know if I'll be able to turn the computer on again so I really want to get the job done before bed. But I am so very tired and have to be up early in the morning. *Yawns* It's no wonder I feel ill all the time, is it?!

Oh well, I'm not sure how long I'm going to be stuck here, so I might as well write a blog entry while I wait!
We went to Hounslow Heath car boot sale and were early for once in our lives. Too early. We arrived fifteen minutes before the entry fee was reduced to a sensible price so we had to wait outside while I watched the dealers who had paid extra to get into the car boot sale early with frustration. David stood well back, allowing other people to get in front of us in the "queue" (if you could call it that!) and even when I did get him to move nearer to the gate, the latecomers elbowed us out the way and pushed past in order to get in first. They were like a pack of wolves, all eager to get a taste of a hunk of meat with no regard whatsoever for those around them.
This put me in a very bad mood, but it turned out to be a good boot sale with lots of ponies dotted around. None I wanted, but it was good to see that the dealers hadn't snapped them all up anyway!
I came away with two Care Bears and a Rainbow Brite Sprite, all of whom have since been sold.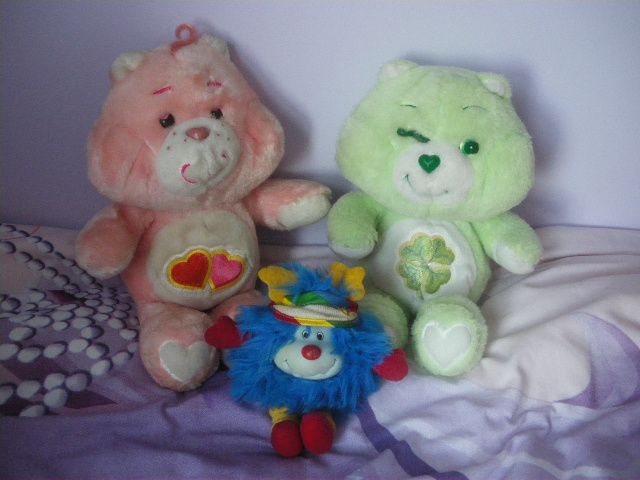 The couple from whom I bought Good Luck Bear also had a vintage Littlest Pet Shop Playset for sale. They wanted £5 for it though and wouldn't let me look inside to see what was included for the price
"in case the little pieces fell out on the grass"
, so I left it there. Even now I think of that pet shop and wonder what treasures lurked within! Then I remind myself that the rattling I could hear coming from inside could have been caused by false teeth, rat droppings or any other number of nasty things. How ridiculous to expect people to buy something without looking at it beforehand!
Another thing I regret not getting at that car boot sale was a really crazy fake Sing 'n Dance Pinkie Pie. It was in the exact same mould as the real one, had a balloon symbol/cutie mark and even wore a similar tu-tu, but it was in purple with rainbow coloured hair! I was too embarrassed to ask the price or find out whether it worked or not...but I would love to know what it did/said!
That afternoon we went to Grottsville for cottage pie. The house was falling into a worse and worse state and really desperately needed to be emptied so that builders could move in. But, while Mum and I at least tried to work at clearing the place up, David just sat and watched "V" on television. Could he really see no urgency in getting that place sorted out before the damp caused the whole house to rot away?!
I rearranged my pony shelves again and managed to get all of the G1 ponies on the left hand side. (Before that, the last few G1s had overflowed onto the G2 shelf!) But it was not easy to see them all with everyone packed so closely together. And I was still hoping to keep a lot of my duplicate/variant ponies as well!
There had been dirty water stains running down the bathroom wall for months. Mum finally convinced David to take a look at them but he couldn't tell what was wrong, so he and I went into the back alley to have a look from outside. As the garden here is overgrown and unuseable, I rarely see the back of the house and was shocked by how awful it looked with crooked tiles and white paint everywhere. It appeared as though the builders had failed to fill in properly between two or three of the bricks though which could be what was allowing water to get through.
Another thing that concerned me was noticing that the house two doors away (on the other side of the central alley) where the drunken youths party frequently has access to our back alley. So, if the mood took them, they could actually walk along the bottom of our garden and jump over the fence. >.<
My left arm kept trembling which was quite scary actually. I wasn't sure if it was caused by some kind of trapped nerve or whether it was just due to me being so darn cold all the time. Then again, WHY was I cold all the time? I've always been a "hot" person of the type who wears t-shirts even on the coldest winter days, so why had I suddenly started shivering and shaking?!
David wasted his day in the bathroom and then complained about doing a little bit of scanning as
"nobody else will do it"
. You can say a lot of things about me, but that's just not fair, considering the hours and hours of my life I was putting into trying to scan everything before our trip to America. As well as scanning, I washed fifty ponies, photographed the Flutter Ponies and adult Sea Ponies and struggled to get the latter into the Paradise Estate swimming pool which was up on top of my shelves out of reach even from the top rung of the step ladder!
All of the Flutters/Sea Ponies were lying on my floor waiting to be photographed, but when I picked them up I discovered this on my beautiful cream carpet...
I can't have dried Seawinkle out properly following her bath so that when I tipped her on her side, the water seeped out, causing a stain from her already rusty innards. >.< I tried my best to clean the stain, but I was still left with this...
It's bang in the middle of my carpet so not even an easy place to cover up. I can't have anything nice for five minutes, eh?!
David and I went to Tesco in the evening. It was horribly crowded but there were no queues and next to nobody at the checkouts. It was also closing time by the time we left. o_0 So what were all of those people intending on doing with their shopping trolleys heaped high with groceries? Were they going to bypass the checkouts and leave without paying?!
Mum wasn't feeling very well. I got her some ice cream to stop her having to get up and serve herself. Within a few minutes, David had made a rare appearance from upstairs (did he smell the ice cream?!) and demanded she got some for him. He also mae her do his laundry late that night while he was at work. He really doesn't seem to notice when she's not feeling well.
Well, I didn't get very far with that again, did I? But I'm too tired to think straight now so I really must get to bed. See you all tomorrow, I hope?

Best wishes,