You'd never guess today was one of the sunniest days of 2012. It is bitterly cold right now and I am sitting here shivering. So grab a blanket, get yourself a cup of hot chocolate and cuddle up in front of your computer screen for another bor...uh,
fascinating
"warm up catch up blog"!
October 13th 2010
We were supposed to be having a day out but things didn't turn out too well. (Do they ever?) Mum was awake most of the night due to being cold and uncomfortable on the floor, and kept wandering around, also keeping me awake in the process. When morning came, Mum finally fell sound asleep. Despite being overtired myself, I dragged myself off the floor and attempted to wake her up. But she just turned over and pretended to be asleep, and my allergies had rendered me totally mute again, meaning I couldn't shout at her. I was so tired that I just lay back down on the floor again and fell asleep... I didn't wake up again until 9.15am and wasn't ready until 10.30am. Not only did my allergies and chest pains make me slower to get ready, but I heard a mouse in the bathroom and myself and my parents spent quite a while trying to figure out where the scratching sounds were coming from. But that wasn't all. After that, David decided it was a good time to finally go to the recycling centre. Then he decided to start looking at maps (couldn't he have done that before now?!) and then he went to the bathroom... We finally left the house at 12.15pm.
We went to two different branches of Furniture Warehouse, a store Mum had been looking at online. She'd fallen in love with some furniture in their sale but wanted to see it in real life before purchasing it. Alas, the furniture in question was not in their show room so that was a complete waste of time.

As we drove along, we passed tons of nice charity shops but we just didn't have time to stop and look inside.

We went into the local shopping centre... we didn't do much shopping but got my niece's Christmas gift in The Entertainer. We left David to buy the toy and wandered outside. We happened to catch sight of our reflections in the window and BOTH of us thought MY reflection was Mum's. I'm not sure if Mum should take that as flattery, or if 19-year-old me really looked like a 53-year-old woman... but it was a bit of a shock to see just how similar we looked.
We travelled onto Brighton - all the amusement arcades were closed as it was out of season, but it was nice to just take a stroll along the pier. I'm never happier than when I'm by the sea, and it was a beautiful evening! I took some photos of the few coin operated rides there... it's so sad, I remember when there were around 25-30 rides on the pier, now there are only five or six. The rides at the front of the pier's arcade are huge garishly-coloured things imported from Falgas of Spain...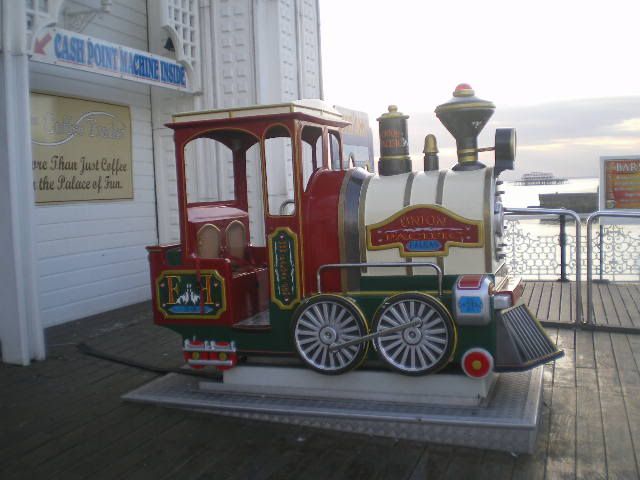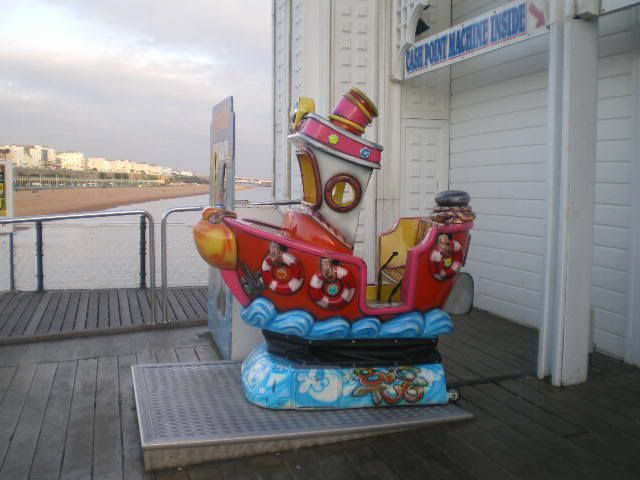 Sorry, but those just aren't the kind of rides I remember in my childhood. I think it's sad that the British kids of today will never get to experience more traditional coin operated rides. What happened to the good old cowboy horse or sweet little cars that rocked backwards and forwards and (maybe) had a button which made a "beeping horn" sound if you were very lucky. Now it really seems size and added activities are all that matters. I liked rides because I liked RIDES. Not because I liked to watch TV while I was riding...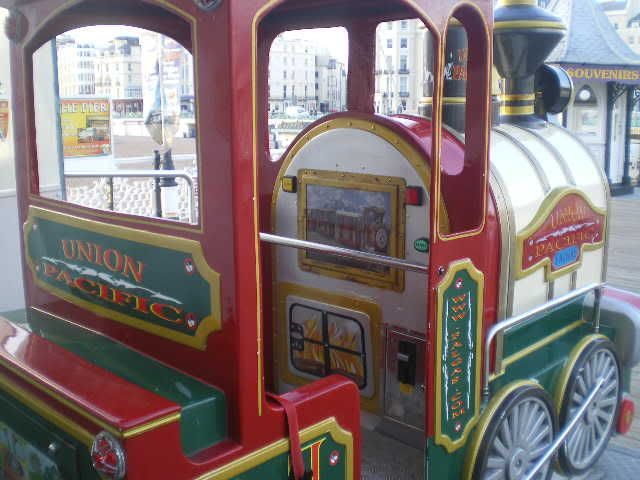 Mum took this simply wonderful photo of me on the pier... yuck. My hair was starting to look bad even then, and I look SO awkward. Holding my mouth over my crooked teeth and wringing my (huge) hands in that "I hate having my picture taken" kind of way!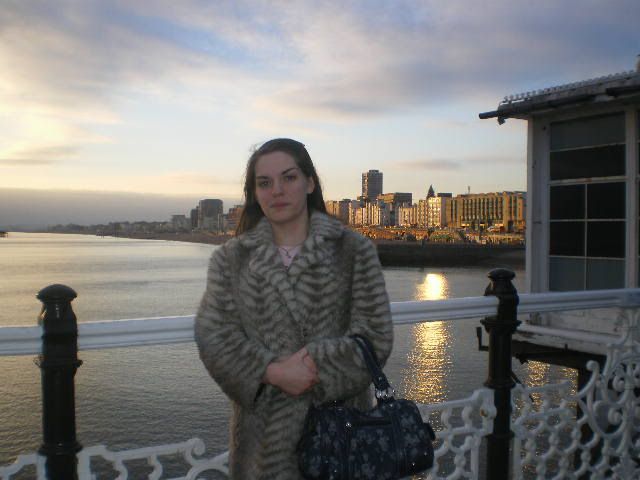 And these are just some random photos I took, which give some idea of just how lovely an evening it was.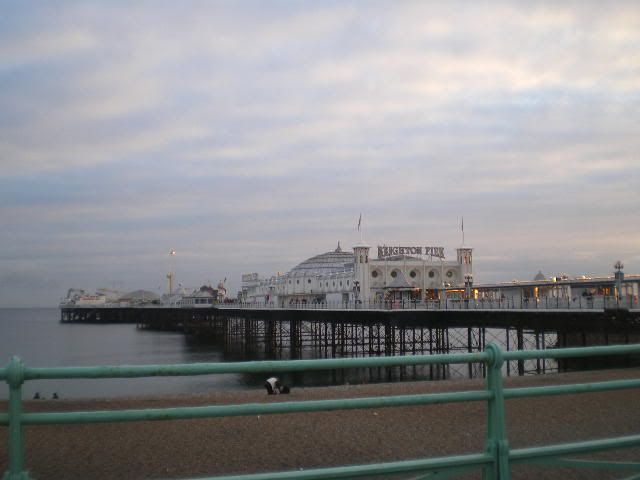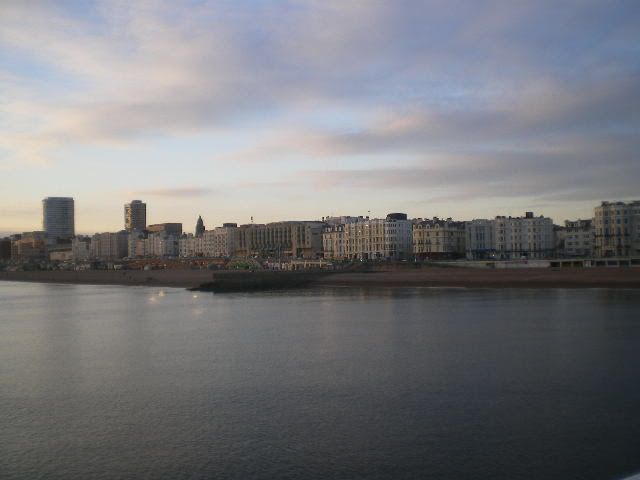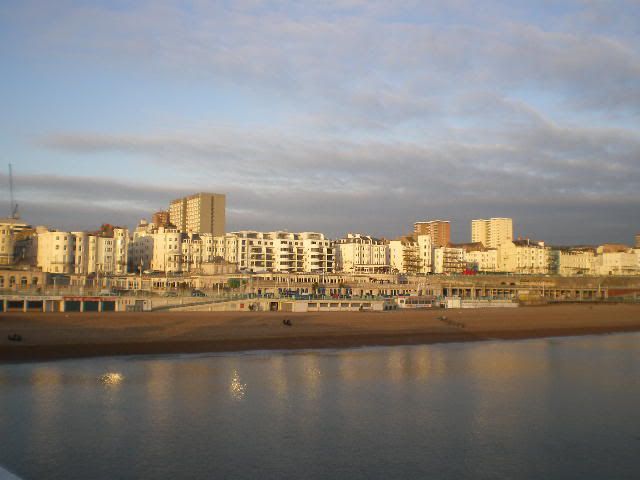 A seagull posing on top of a statue...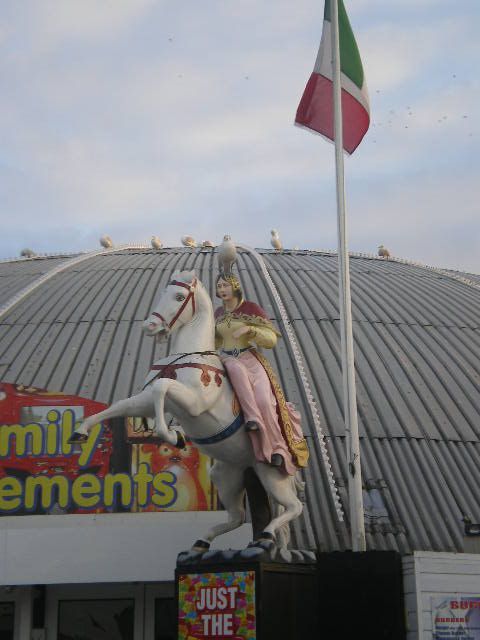 And finally, my personal favourite photograph of the evening, a simply beautiful sunset over the sea. I wish I'd had a better camera - no photo could have done it justice, but I know I could have got a much nicer shot than this. It was simply magical in real life.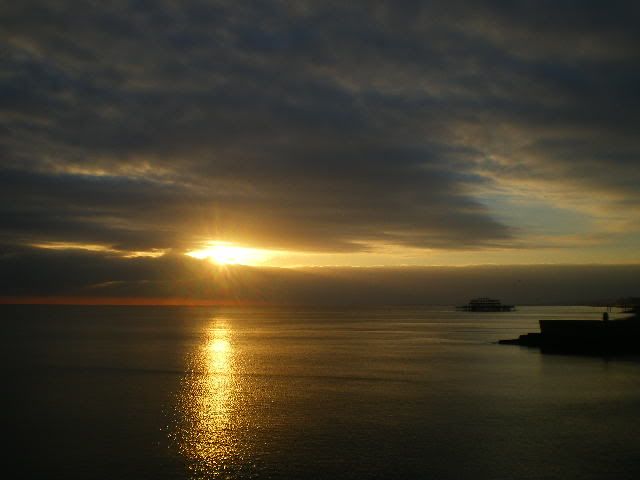 After the sunset, we made our way back to Grottsville. We stopped at a service station on the way back where a tattoo vending machine caught my eye...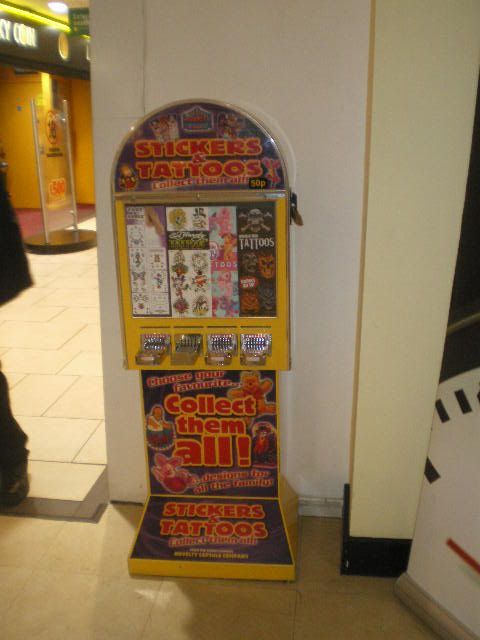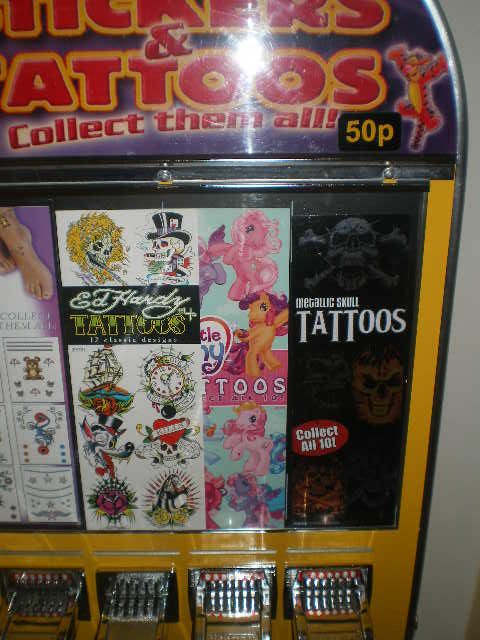 G3 Core Seven MLP tattoos! Apparently there were ten to collect but I only managed to get eight of them, then I ran out of 50p coins. I got five duplicates too which I later managed to sell at a small profit on e-Bay. I never saw these again - I wish I'd managed to collect the final two... they are so cute!
Janyse Jaud released two new songs which I purchased when I got home. I especially love her latest jazz song, "I Had To Say Yes".
Take a listen
(and please buy it to show your support!) If you like jazz, I promise you won't be disappointed.
October 14th 2010
I awoke with a bad chest pain again. It was honestly like there was a big air bubble trapped inside me which blew up each time I breathed in causing a sharp pain in my lung.
I had a bath and used my Lush Avobath ballistic. The water was too hot and as we didn't have any running cold water in the bath at Grottsville, I decided to do my daily exercise and run on the spot while I waited for the water to cool down. Well, that was probably the more sensible option anyway. Not much point having a bath and then working out, right? One problem. By the time I'd finished running, the water had got too cold and there was no more hot water. >.<

Oh well, the Avobath was a great skin softening ballistic and the fragrance was very calming...just what I needed at that point in time!
In the evening, we went Dolly Mix hunting at Queensbury Morrisons and struck lucky - a whole box of the second wave! A complete set including the elusive Snuzzle! So, at long last, a fourth set was completed and could be shipped out to their new owner.
We returned to Morrisons, but there were no more ponies there. There was a horribly suspicious-looking gang of young boys in the car park but David still spent ages choosing smelly out of date meat and leaving poor Mum in the dark, isolated car park with them. Thankfully she was okay when we returned to the car (the gang were just abusing shopping trolleys), but it still made me feel uncomfortable to leave her out there.

We went to Tesco afterwards where all the Ponyville Ponies were on a BOGOF offer. I'd have liked to have got some but refused to support Hasbro out of loyalty to Janyse Jaud and disgust at the new cartoon! I was also disgusted with Tesco when I realised they'd reduced their already small selection of vegetarian food in favour of even more oriental foods. No longer could we purchase mushroom burgers or Quorn fillet pieces...so what were we (or any other vegetarians) supposed to eat? Noodles in various meat-based sauces? That's what the shelves were filled with now.

David had promised us McFlurries but he forgot and Mum didn't like to remind him - she just quietly told me how disappointed she was! So I sucked up the courage to ask for a small tub of ice cream. They didn't have any Haagen-Dasz though, so we had to get Green & Black's instead. It was a smaller tub than the Haagen-Dasz tub we'd got before and cost £1.49 more! It did taste nice though.
My hair felt nice and fluffy following washing it the day before. I really wanted to get it cut before the Ponycon but Emma still hadn't got me an appointment with her hairdresser friend. If I didn't get an appointment for that weekend, my hair would be too greasy and dirty to face the woman again. And I really didn't want to wash it too often, considering how much I lost each and every time.
David booked a meeting for the day of my upcoming orthodontic appointment... oh well, there was no point going anyway, as I couldn't have surgery while I was still sleeping on the floor with my awful breathing trouble. But it would be nice to be remembered once in a while!
October 16th 2010
I hardly got a wink of sleep for the second night running - it was just so cold down on the floor, but I was really starting to suffer from sleep deprivation now.

We went to Ealing Broadway so that I could withdraw some of my Paypal money to repay David for all the unsold Dolly Mix Ponies. I couldn't find any of my favourite Inecto coconut products in Savers but did get some more Dreams perfume at The Body Shop which qualified me for a free bottle of the body lotion in the same range.
Next to the storage depot where we discovered more damage to some of the furniture (scratches on the dining table and a big chip out of the TV cabinet) that had been moved from the room where the wall had fallen down without our prior notification. David was still in a fowl mood and saying that we were moving the furniture
"too soon"
. How the heck could it be considered too soon when we should have moved three years earlier?
Our main reason for going to the depot was to collect Mum's trolls and my porcelain MLP teaset and take them to Woodberry. David had painted the openings between the extension and kitchen/family history room in Laura Ashley's Pale Parisian Blue as Mum had asked him to... but Mum HATED it and demanded he painted some patches of Parisian Blue (as opposed to the pale one) right there and then...which she far preferred, by the way. I managed to snap these photos before he started painting.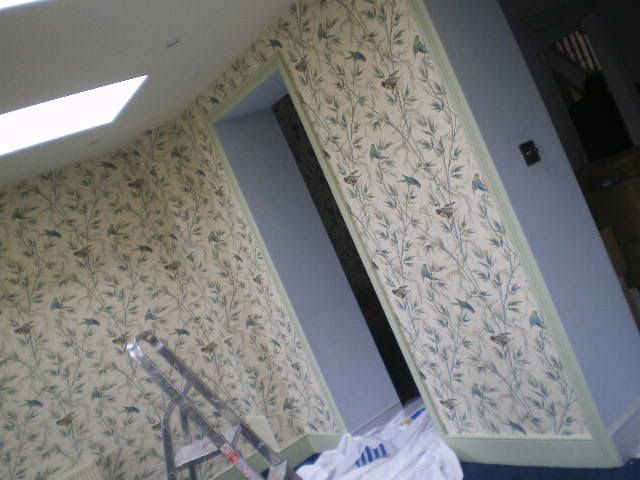 We hoovered the new carpet in the front room and discovered another eight dead wasps. Where were they coming from?!
Emma had failed to get me an appointment with her hairdressing friend again. Now I really wouldn't get my hair cut in time for the Ponycon. Oh well, I guess I was lucky to be going to Ponycon at all, considering my ticket had been torn in half! >.<
And that brings our little "warm up catch up blog" to an end. Hope you enjoyed it and I haven't sent you all to sleep under your warm blankets. Wouldn't want you to burn yourselves on that hot chocolate!
Best wishes,
Desirée xxx