It started with free listing weekend on e-Bay, and then the last two nights I just got too tired. to start blogging. Even now, it's long past midnight and I'm not going to get much written. Still, I can see me losing all the progress I'd made and thought I could at least finish up October 2010 before bed!
You always know it's going to be a bad day when you have a bad breakfast... well, that's the way I feel about it anyway. Breakfast is my favourite meal of the day, so I guess it's a bit of a let down when something goes wrong with it! The bananas we had been buying from Tesco lately were horrible, they were always bursting out of their skins and tasted fowl. And today was no exception. Yuck. What other horrors did the day have in store for us?
We headed to the storage depot to pick up some more stuff, and then went onto Woodberry to drop it off. We carried Mum's bed up to the loft and, since I never got any proper sleep down on the floor and was really quite out of shape with my allergies and other health problems, I actually fell asleep on the floor at Woodberry for about an hour afterwards!
Next to Daniels to pick up the new drawer for my desk. We had to wait for ages in the queue and by the time we got to the front, an agitated customer was hopping from one foot to the other claiming that David had parked the car in such a way that he couldn't reverse out of the tiny car park. So David had to go and move the car. Mum was embarrassed about complaining about the damaged drawer so she wandered off to the other end of the shop and left me alone to look at the replacement. Kind of her, especially as she knew I wouldn't speak to anybody due to my crooked teeth. Well, to cut a long story short, the "new" drawer was chipped in exactly the same place (I actually wonder if it was the same drawer), but I accepted it because I couldn't face arguing with them. On top of that, it was closing time and they really wanted to get rid of us, but we had no clue where David had gone, and the drawer had been put in a ridiculously large box which I was struggling to carry around the shop as I chased after Mum and tried to catch her attention!
I was even more self conscious about my crooked teeth than usual actually, as I was in a lot of pain with my back left wisdom tooth. It still hadn't managed to cut through, but my gum was raised right up and extremely red and inflamed. It felt as though the tooth was actually cutting through the bone and coming through sideways into the inside of my cheek. Ouch.
The doorbell rang much later that night, and we were convinced it was David's estranged brother... thankfully he was so busy with his Mills & Boon book in the bathroom that he didn't even hear the doorbell or go to the door so Mark didn't get to laugh at us for STILL being in that slum. Not that he would have done anyway... as we realised later, the callers were actually Trick or Treaters. Uh...don't they realise that Halloween is on October 31st? Or could they just not wait an extra day?!
British Summertime ended that night, meaning we should have no problem getting up an hour earlier in the morning and actually getting something done the following day. But David's plan was to spend an extra hour on the floor. Well, that's all very well for him. What about those of us who suffered with such bad allergies that we spent as little time in our floor-beds as possible?!
October 31st 2010
(There you go, little Trick-or-Treaters. Was it really that hard to wait?! :P)
David was angry with Mum for waking him up an hour earlier, rather than allowing him to have a lie in. Still, we managed to get out a bit earlier and get a fewjobs done. Not half as much as Mum and I had hoped though.
First we went to the storage depot to pick up some more stuff to take to Woodberry, and also some rubbish for the refuse centre.
Then to Wickes to get a mallet as David had lost his first one. Mum and I wandered up to the bathroom displays while he was debating which one to get, and Mum saw some nice old fashioned taps that she liked. We took David to look at them but he started a big argument about how a shower attachment wouldn't connect to them (not sure why he thought it wouldn't!) and almost pulled the entire ceiling-high display down on his head by arrogantly touching the taps and demonstrating how useless they were!
Next to the refuse centre to get rid of the rubbish we had found at the storage depot. David got out of the car with the bags of rubbish and walked up the steps to throw them into the big skip of "general waste". Moments later, we saw him triumphantly waving something in the air. It was...
...a little teddy bear.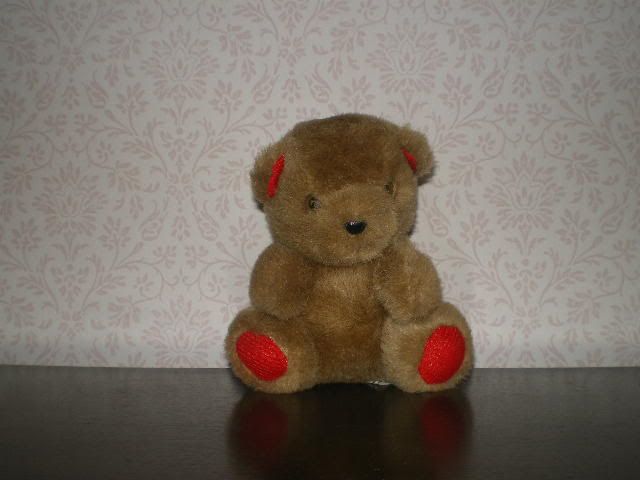 There's a law that says you can't take anything from the landfill (not that it's ever stopped anyone else - I'm always watching people walking away from that place with bags of stuff), and so I was quite horrified to see not only was David taking the bear, but waving it in the air where everyone could see exactly what he was doing. He later said that he
"wanted Mum to look at him"
. Why exactly? Did it not occur to him that everyone else might be looking at him? Well, nobody stopped him (unfortunately) and we ended up with yet another unwanted teddy bear. Don't we have quite enough of our own, especially considering my allergies, David? Ugh, my parents are hopeless hoarders! At least the bear looked clean and brand new. Rather sad that he had been thrown out. Apparently the skip was full of bears but the others were quite dingy and dirty-looking. This one just stood out to David for some reason. Well, he could keep it in his own bedroom then! And take responsibilty for cleaning around this latest bit of clutter too!
Next to Brent Cross Toys 'R Us for the latest free Lego toy for Allan and to Laura Ashley for paint and three pink cushions to match the paintwork in the front room. We were still choosing three nice cushions (most had bad stitching) when David went to pay for the paint. He wanted to
"save time"
... um, apparently you save time by queueing twice! You heard it here first!
Then to Home Sense where I saw a Christmas Care Bear. It was a relatively modern one from around 2005 but I did wonder if anyone would want it/if it was worth picking it up. And finally to Asda where David went to use the restrooms for ages and left us struggling around the crowded shop by ourselves.
It was too late to go to Woodberry by this point, so the stuff we had picked up from the storage depot had to come back to Grottsville with us. We could have taken it over there after dinner, but David went out to work and stayed there until 1.30am.
I bought a huge lot of MLP comics on e-Bay for a BIN price of £19.99. Not too shabby considering there were a few issues I needed included, and I could sell the duplicates for £2.00 each. I was in such a rush to buy them that I forgot to claim my Boots Treat Street points though. Sure, it was only 20p lost, but it was still annoying all the same.
And that's pretty much it for October 2010...thank goodness for that! Perhaps someday I'll actually be less than 16 months behind with this thing!
Tune in tomorrow for a better written (I hope!) entry about the start of November...uh, the November before the last one, that is!