Okay, spring doesn't technically, uh, "spring" until March 20th, but I have always thought of spring beginning on March 1st each year... And it was so sunny the past couple of days that it certainly didn't feel like winter!
But, I guess that's all rather irrelevant considering we're still blogging about November 2010!
I woke up with the worst breathing problems I'd experienced in a long time. Terrible chest pains, coughing up blood etc. It was horrifying but my parents had no sympathy for me, of course. I tried to wake Mum up but she yelled at me that she was
"too tired to go to the bathroom"
as I
"was selfish enough to keep her up all night again"
. I tried to tell her how ill I felt but she continued ranting,
"you wouldn't feel so bad if you went to bed an hour earlier"
. Uh...actually I felt sicker the longer I was left lying on the dusty floor. Yes, I was exhausted and suffering with severe sleep deprivation now, but God knows how ill I'd be with my allergies if I didn't sit up half the night.
My throat was in no state to call David out of the bathroom so I had to wait until Mum did get up and had finished in the bathroom before I could go in there myself. As it was, I ended up hurriedly applying my mascara in the small restroom downstairs (where the door was always kept shut because of the scratching noises we kept hearing in there - we wanted to stop whatever rodents were getting up through the broken floorboards to stay in that room. Hence, it was like a sauna in there with the boiler!) while Mum changed her clothes ready to go to the storage depot for 10.30am.
Having stressed ourselves out and rushed around like that, the removal men didn't turn up until 11am anyway! By this time, David had decided to go to the loo. We had to get him out of there, but couldn't even get into the building for ages as we didn't know the security code to get the door to open, and even once we were in, we realised that we didn't know where the toilets were. So we and the removal men were left running around blocks of yellow doors, desperately hunting for the public restroom for quite a while and, once we found it, had to hammer on the door to call David out. (Thank goodness he WAS still in there, otherwise whoever had been in the bathroom would have got quite a shock!)
We were supposed to be photographing the furniture we didn't want with a mind to selling it on e-Bay, but Mum and I had to go back to the car with some boxes of ornaments and by the time we got back, we found David had got the removal men to pack all the unwanted furniture back in the room (un-photographed). Agh!
Fortunately, it was discovered that the large wardrobe that was made by Mum's Great Uncle's Dad (yes, the master carpenter I mentioned before) came apart in four pieces so it did go up the stairs...not without damaging the walls though!
This is the wardrobe in question, by the way, since I know you're all dying to see it (!)...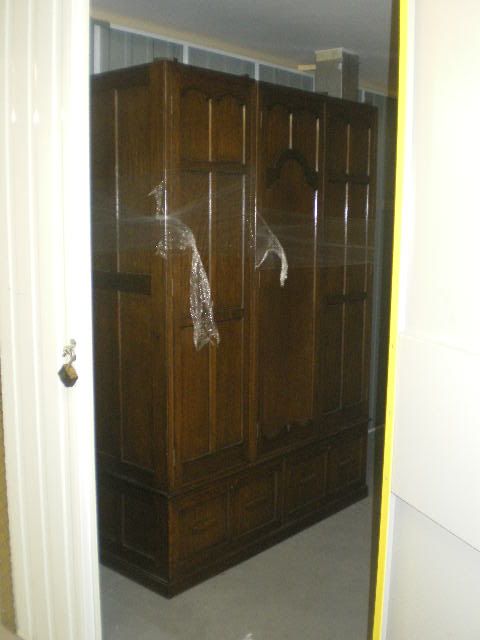 We assembled Mum's bed while we were at Woodberry too. Mum was not best pleased and said the bed
"dominated her room"
, she
"should have got a kids' bed"
and it
"looked like a child safety gate"
!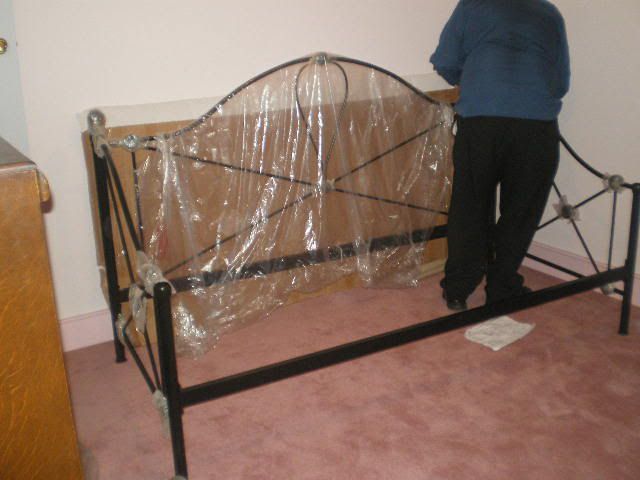 Well, it was a lot of hard work to put together and I thought it looked really nice once it was completed! It was pure bliss to get the chance to test the mattress for five minutes as well. I hadn't laid on a mattress in well over a year and had almost forgotten how soft and restful they were compared to the hard cold floor I was currently sleeping on!
That night, we went to Brent Cross Toys 'R Us for the latest free Lego toy. I was so overtired and dizzy that I almost fell over - oh, to have a bed to sleep on like the one I'd got to test earlier! We got some batteries as they were on a half price offer. David handed over his Gold Rewards Card, but apparently you can't get points on any purchases under £10.
And then to Morrisons on the continuing Dolly Mix hunt. We got seven ponies, three from the first wave and four from the second. Alas, no Snuzzle so we must have missed her again. >.<
According to my blog notes, I was panicking about falling behind with my blog... and for good reason, it would appear! If only I'd tackled it at that point, perhaps it wouldn't have become so unmanageable. But it really did seem as though I never had enough time for all of my internet jobs and even when I did, I felt too ill to do much.
Mum and I sat in the car outside Brent Cross Toys 'R Us while David picked up the last item in the free Lego promotion... It wasn't even a toy, but a cardboard presentation to keep all the toys inside. Oh well, at least we had got the complete set, I guess.
Then to Home Sense for some super soft faux fur throws for Mum's bed. As it doubled as a sofa, she wanted to cover up the mattress and sheet during the day.
I also bought this little guy...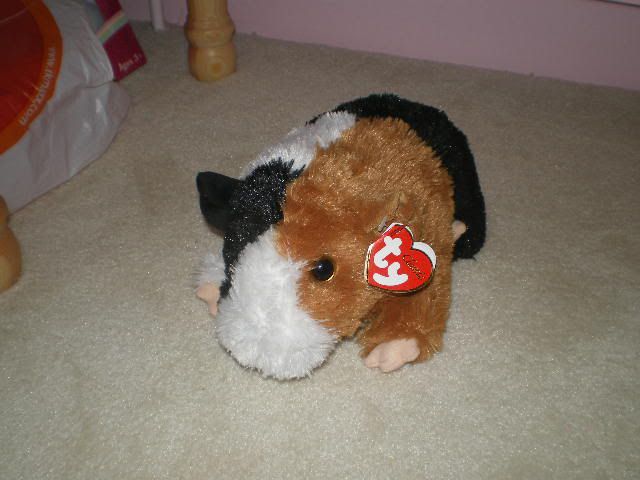 Cute, isn't he? I don't really collect Beanie Babies and other TY plushies anymore, but I do pick up the horses and guinea pigs whenever I can. So when I saw Patches at half price, I couldn't resist!
We drove straight to Woodberry to drop off the stuff we had bought at Home Sense (well, we didn't want to take all those fabrics back to Grottsville to become carpet beetle food, did we?), and then to Tesco for a few bits of shopping.
David was still waiting to know whether he had lost his job or not, but as the days passed and he heard no more about it, we took that as a good sign. Either way, he had been for a few interviews and had been offered a new one. But it was only a short term contract with a small company so he decided to hold out a few more days before he made a decision. If he DID lose his job, he was still hoping to hear back from one of the bigger companies.
My breathing troubles were awful and didn't even clear up when we went out. I was really starting to worry that it was getting too late for me and even when we did move house, I wouldn't recover.
My latest batch of MLP comics arrived.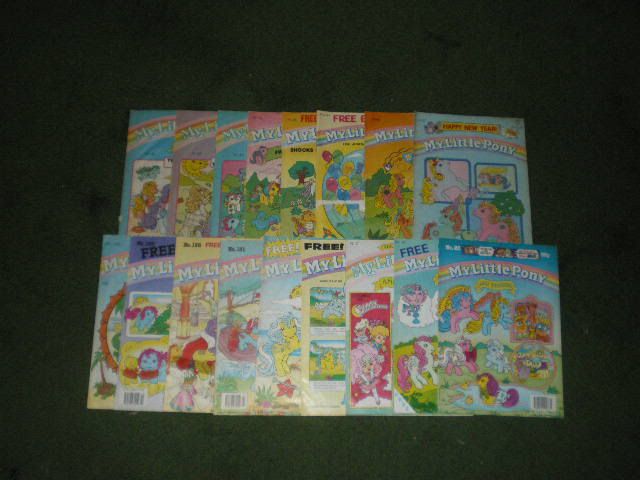 There were three new issues for my own collection included...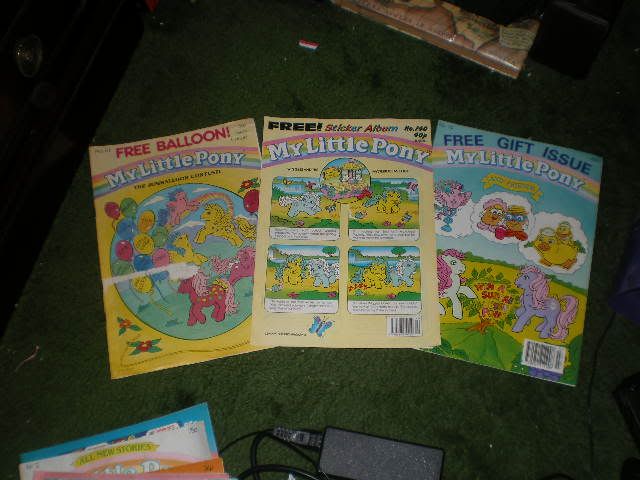 ...But all the others could go straight back up for sale. Unfortunately, they were all in rather old and tatty condition but I should still make a small profit so I wasn't complaining.
Speaking of online sales, I was in the process of selling a lot of my childhood Pokémon collection to SparkyGemini. I felt really sad as I was packing them up as they held a lot of happy memories for me, but I knew I had no space to store them at Woodberry and if I was serious about getting out of this country eventually, I had to stop all this sentimental nonsense.
I was struggling to find a box the right size for them and David had promised to help me with cutting down a larger box. Instead, he went in the bathroom all evening until both Mum and I got dreadful stomach aches and had to call him out. It turned out he hadn't even been using the bathroom and was instead just sleeping on the floor. When he stumbled out onto the landing, he was carrying a file of papers...presumably the page 3 girls (or worse) he had chosen to tear from various newspapers and magazines to save and keep forever.
"What's in there then?"
Mum said in a disgusted tone.
"Oh, go away!"
David snapped, nastily shoving past her and almost pushing her down the stairs in the process. Yuck, I hated living under the same roof as that pervert who puts his pretty pin-ups before the real women in his life. And yet there was not an escape route in sight.
I woke up with a bad chest pain every time I breathed in. It really felt as though my left lung was packing up...the pain continued all day long without much improvement and I was terrified. My voice kept cracking up and I felt so ill and generally overtired. I HAD to get out of the place somehow before it was too late! My parents didn't seem bothered though, and David certainly saw no rush in moving house even now. No surprises there then!
I uploaded the little MLP stop motion film I made to Youtube. I can't remember if I already posted it here on my blog, but there's no harm in posting it again anyway. It might give people a giggle anyway. I know it's not much good, but remember it was my first attempt and I only had that old broken camera to work with. The lighting was not at it's best either, as you can see! I do hope to improve on my stop motion animation skills and make some more of these when I have time though!
I also worked on my "Bring Back Kelly Sheridan as the Voice of Barbie" video, but it was taking far too long. As I had been unable to find a video making software which allowed me to upload actual video clips (please suggest one to me, guys! I really want to improve my video making skills!), I was having to save the movie clips as individual screenshots using MSN paint and then upload them to Windows Move Maker in a stop motion format! I could only save about seven shots per second which meant the quality was severely reduced anyway, and it took HOURS!
In the evening, we went to Wickes to look at taps. But they didn't have the ones Mum liked, and just tried to sell us a "similar model"...some discontinued model (which looked nothing like them!) of which they were obviously trying to get rid of old stock. We did manage to get the mixer tap for the basin, but had to order the bath taps.
Then to Morrisons where I picked up another six ponies so four had already sold again, including...you guessed it, SNUZZLE!!! AGH! Would I never get these darn sets completed?! I got a really nice binder to keep my MLP comics in too, pink with purple and white butterflies on it. I had far too many comics by this point to keep in just one binder though, so I really needed to get a couple more in the same design.
Mum noticed that David had been stacking dirty DVDs on her rocking chair... the chair he had already cracked by stacking heavy newspapers on top of it. But when she complained, all he could find to say was,
"They're not filthy - some are suitable for 12 or 15 year olds!"
Well, maybe some of the romantic comedies you're hoarding for various actresses might be suitable for teenagers, but the rest of them most certainly weren't. Anyway, in this particular case, we didn't care if they were cutesy little Disney movies about bunny rabbits and bluebirds, the problem was that he was stacking them on Mum's precious chair which he had
ALREADY BROKEN
with all his rubbish!
We put a bag of bric-a-brac out for the PDSA who were supposed to be coming down the street on Thursday. So we were a bit surprised when they didn't pick up the bag...then we looked at the bag again and realised they weren't coming until the FOLLOWING Thursday, so we'd carted the heavy bag out into the garden for nothing.
I bought a MLP book on e-Bay for £1.94 (including postage!), and some G3 MLPs from Hodgemo2 on the Arena. You can always tell when I'm depressed when I start buying large amounts of cheer up presents for myself!
I continued working on Kelly's video (agh, the next Barbie movie would be released before I'd even finished the video at this rate!) and did some clearing up in the library. Mum washed her much-loved stuffed poodle named Pom Pom who she has had since she was a small child. The poor thing ended up looking a LOT cleaner...but also looked like a drowned rat.
David and I went to Woodberry (Mum refused to leave the house due to a gang of twelve rough-looking youths standing outside the Lebanese grocery store opposite out house) to drop off a couple of bags of MLP merchandise. I got upset about the clutter building up over there as I couldn't find anywhere to put the bags. I just wanted a clutter-free house but even with my desperate errors to sell most of my rubbish, the pony stuff alone was making that place just as untidy as the house we were currently living in!
Then to Morrisons but there were no more ponies (or folders) to be found.
We brought Rolo McFlurries back with us - yes, I thought they had been discontinued by this point too, but apparently not. Oh well, these would probably be out last.
And that's about it for the 4-day catch up blog! (Just as well really, as I could feel my writing really going off as I got more and more tired). I was hoping to get five days into this entry but November 5th's a relatively long one and I know I couldn't do it justice in my current sleepy state!
Thanks so much for sticking with me through my horrendously out of date ramblings, guys! Talk to you all tomorrow!
Best wishes,
Desirée xxx