...and a post-midnight blog! Where do the days go? I'm always so busy and yet nothing ever seems to get done, blogging being no exception. I don't know how far I'll get with this, as I really don't feel well enough to be sitting up all night again, but I'm determined to write something on here each night!
Mum's cousin Katie sent her usual pretentious bunch of flowers in time for my late grandma's birthday the following day. Mum and Katie don't get along so well, but Katie was pretty close to Grandma. We were a bit puzzled when Katie didn't send any flowers for Grandma's funeral, but every year since she has sent a HUGE bunch of flowers in her memory. Of course, Katie is VERY rich so this probably doesn't make too big a dent in her wallet, and it annoys Mum no end as she HATES arranging cut flowers (I believe Katie knows this too!) And we had nowhere in the slum in which we were living to display flowers nicely. Mum usually puts a vase by the urn of Grandma's ashes on the kitchen shelf as she
"doesn't like to let her down"
, then the rest are taken to the cemetery and placed on Mum's grandparents' graves. This year, however, Mum decided to give them to Emma as a "get well soon" gift. She knew Grandma would have liked that.
We went to Ealing Broadway. I was really ill with my allergies by this point (I know I keep saying it to a point that I'm probably becoming like the boy who cried wolf, but I was getting dangerously sick with both the breathing problems/chest pains and sleep deprivation of having nowhere but the dusty floor to lie) and my ears were clogged almost as badly as my nose and throat. I don't know what happened, I guess it was a combination of not being able to hear properly and being overtired, but I just went dizzy as we were walking through the central square of the shopping centre and my legs gave way under me. I fell to the ground heavily, twisting my ankle and smashing my knee. It could have been worse - I think my pride was hurt more than anything else as people around me stared at me on the ground. Mum helped me up, blaming it on
"the funny way I walk"
(?!) David just kept walking, embarrassed by my
"clumsiness"
. Nice people. Could they really not see how sick I was getting?
We went to the building society who admitted they're giving us the wrong interest rate. But, even though we had reported it, they couldn't sort it out until our ISAs mature - then we'd have to go through the regular complaints process. I guess they hope that people will forget to complain at the end of the term and they won't have to give as much interest. Check your interest rates, guys! I swear they're all on the fiddle these days.
After that, we had a quick wander around the shops. We went in Savers, but they still didn't have the Inectio body scrub. I did get some more of the hand cream though as I wondered if that too would be going out of the shops again soon.
Then to the FARA Kids' Charity Shop. They have some good stuff in there, but the prices are outrageous. Meadowbrook with a bad haircut - £2.00. A small fake MLP Cotton Candy Café (not even a playset - just like a cheap plastic facade) - £1.50. A My Scene DVD (that originally came free with one of the dolls) in a severely damaged box - £2.00. I came away empty handed. I would have loved that fakie Cotton Candy Café, but I just couldn't justify spending so much on a bashed up toy which originally came out of a Poundland playset!
Finally to the Body Shop to get Emma's birthday gift (a White Musk gift set) with a voucher Mum had found in one of the newspapers. I had also had a voucher which I'd been given when I made my last purchase there but David hadn't taken me back to the shop in time to use it. Just as well really, as I felt far too ill to think what I wanted in the shop anyway!
We headed straight back to the car after that, Mum moaning at me that I had forgotten she needed wrapping paper for Allan's birthday. I couldn't even remember what I needed, much less recall her shopping list! Why couldn't she remember? Or bring a list with her, for that matter?
David wanted to drive straight to Emma's house to put the flowers on her doorstep but we reminded him that we still needed to go to Woodberry to see the new taps. So, he reluctantly let us go in the house for a few minutes to take some photos...
Mum liked them (thank God!) but, having seen the damage to the Window Pane cabinet in the daylight for the first time, she insisted that it needed to be replaced.
Oh, and you know David had stayed at Woodberry until 10pm the previous day? Well, he claims he was extremely busy all day long, but I have no clue what he was doing over there. This was the extent of his work...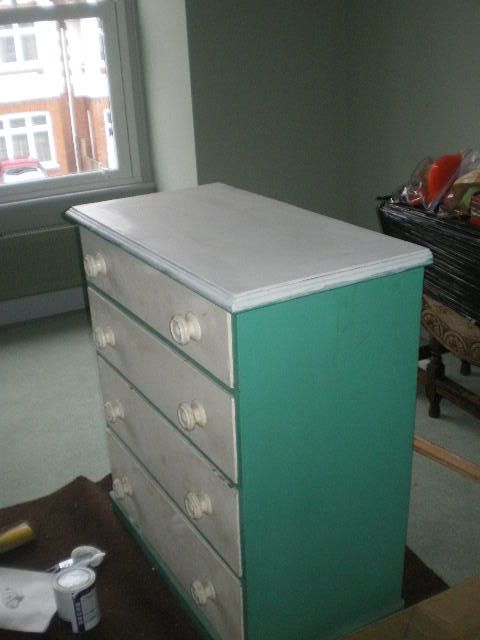 He'd taken the piece of pretty paper off the top of the chest of drawers and painted it white. The work would be done in no time at all if he continued at this rate, right?!
We stopped at Homebase on the way to my sister's house. But there were no mattresses there and we totally forgot the 1/2 price Christmas tree light sale (not that we were going to have any Christmas decorations this year anyway, but the lights had finally packed up the year before so we needed new ones).
David stopped at Tesco to buy some extremely smelly rotting meat on the way back. God, it stank! He left Mum and I in the car while he bought it, parked right opposite Toys 'R Us. I really wanted to go in TRU, but I felt too tired and ill to even walk across the car park.
When we got back to Grottsville, there was a card in the porch stating we'd missed a parcel. Probably my super-secret Boots order, even though they claimed it wasn't due until Wednesday and hadn't even e-mailed to say they'd sent it yet. Oh, noooo! David threw the card at me with a snarl as if to say "you shouldn't have ordered anything if you weren't going to be in to accept the parcel". Well, what else was I to do? He never took me anywhere near a Boots store to buy directly from the shop. And I had no way of getting to one myself!
I awoke at 8.20am (early, considering I hadn't gone to floor-bed until 2.30. I just couldn't sleep with such a bad cough and chest pains!), but David wouldn't come out of the bathroom until 10am - leaving Mum and I using the leaking latrine downstairs, filling heavy buckets etc. Even when he did get up, he went to the refuse centre to get rid of some old cardboard boxes. He seemed to be out forever, and even when he returned (long after we were dressed and waiting to go out), he went BACK in the bathroom.
While David was in the bathroom, a courier came to the door. Hoping that it was my parcel from Boots, I went to the door despite being embarrassed about the raggy, torn t-shirt I was wearing. But it wasn't my parcel. It was the extremely heavy novelty table Mum had ordered for her family history room (she intended to use it as a stool, but more about that later).
"I've got this parcel for you, but it's very heavy!"
, the courier said. God, you can say that again. He just kind of dropped it into my arms, and I almost fell over backwards. My arm was still killing me from where I had fallen over the previous day and trying to carry that thing made it so much worse. Still I somehow managed to get the table into the lounge. When David finally came out of the bathroom, he was horrible to me about it.
"It's not 'eavy! What's wrong wiv ya?"
he said, staring at the box in the middle of the floor (and having not even tried to lift the box himself, may I add!)
"If ya fink that's 'eavy, ya wanna go ta a doctor an' get that arm looked at! You moighta cracked it!"
Minutes later, he tried to lift the box and couldn't manage it without my help to lift it to the car!
"God, it is 'eavy!"
he exclaimed. "
Whoy didn't ya put it dan in the 'all or pawch?"
Uh...how about because the hall and porch were so cluttered that there honestly wasn't a patch of floor in which to place it?!
We finally got out at 1.30pm.
We went to Lakeland for metal polish and popped into TK Maxx (nothing interesting enough to note here!) while we were there. Then to Laura Ashley to look at the Window Pane cabinet they have on display there. The door definitely closed better than ours did so it wasn't a design flaw. It looked as though we really would have to go through all the upheaval of getting a replacement.
Then to Woodberry to check the novelty "library table"...
It was a really sweet little thing but my goodness, what a mess! It was terribly scuffed and unpainted!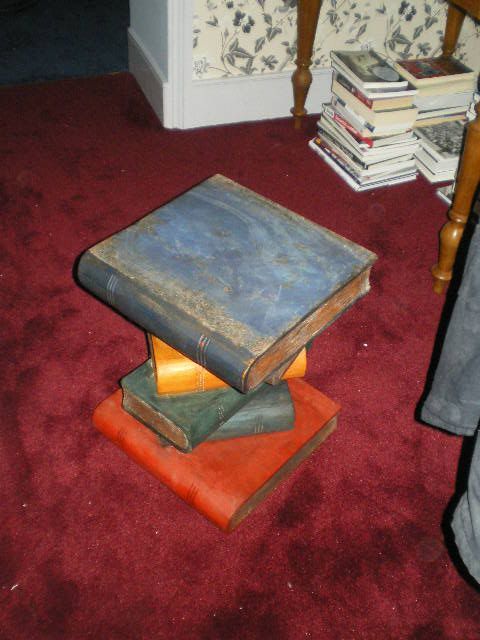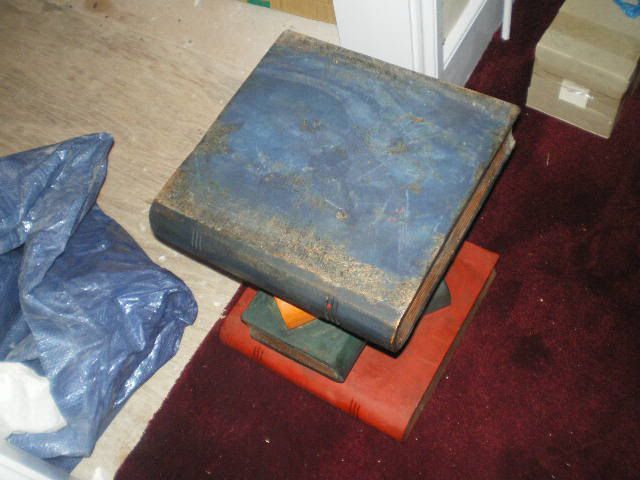 But then we realised what the problem was... that was the base! We had it the wrong way up! THIS was what it was actually supposed to look like...
Mum tried to have a discussion about where to put armchairs in the front room but David wouldn't join in.
"Well, I won't be sitting in here anyway. There's going to be no television, no computer..."
He really upset Mum. She wants a friendly, communicative family but she has entirely the opposite in David.
He finally got around to ordering the mattresses for Mum and I. I don't know why he said we had to be included in the decision, as he totally ignored our choices and bought the cheapest mattresses he could find. But it was okay, any mattress was better than none!
"You like firm mattresses, don't you, Desirée?"
he said to me. How should I know? If you recall, I'd never even had a bed before. The only bed I'd ever slept in was the one I had shared with my mum for many years, and the mattress on that bed was bought before I was even born!
Then he dashed us back to Grottsville so that he could go to work. He was owed loads of time off in lieu now, but couldn't afford to take it as he
"had another rushed job on"
. So what was he going to do? Just work overtime for no pay AND never take the time off that he was owed either?! Madman.
Well, that was still only a 2-day blog, but it's 2am and I really need some sleep. I guess two days is better than nothing, I was just hoping to keep up the regular 4-day plan!
Thanks for reading, everyone! Talk to you all tomorrow!
Desirée xxx