I'm not sure if these blog topic-related titles encourage or discourage readers. Lyrical titles may be boring, but at least they're not as dull as some of the content!
I was getting rather depressed as I realised that I never left the house except to go to Woodberry to sleep. Why must there be a downside to everything?
We had planned to go to Watford to have a look around the "January sales" (which start earlier every year!) but a quick check on the Lush website showed that they were not having their usual sale with goodie bags of Christmas products etc. so my parents decided not to go. Nothing else got done with the day though. We spent the morning watching Kiss Me Kate on TV, then David went in the bathroom for ages before going to Woodberry alone for the rest of the day.
I had a nice/embarrassing surprise in that my parents had got me Christmas gifts, they just hadn't bothered to give them to me on the right day. Mum, feeling bad, had spent until 3.30am wrapping them up so that they were there waiting for me when I got home on the morning of Boxing Day!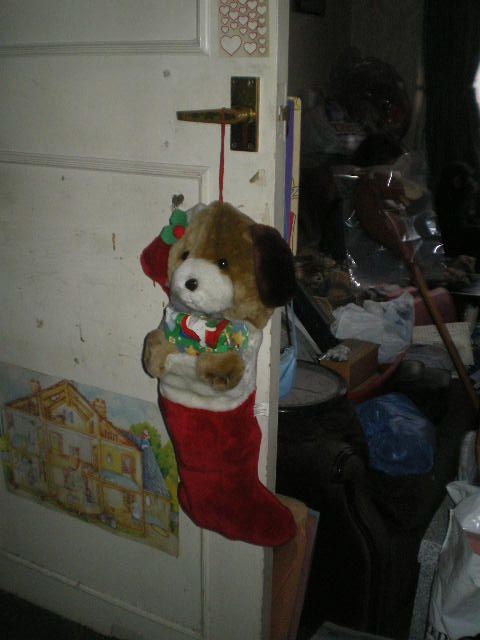 As well as my stocking, I had a box of gifts. This mainly consisted of the Body Shop stuff that my parents had bought in a sale with my 10% discount card a few weeks previously, as I believe I mentioned in this blog (I had no idea they'd bought so much stuff though!) but also included a few very special surprises!
I don't want to turn this into a massive brag post but I was so excited to get this stuff that it really deserves to be shared on my blog! (Sorry for the quality of the photographs...the house was so cluttered, there really wasn't a clear patch of carpet in which to take pictures!)
First off, CHOCOLATE! (As if I'm not fat enough already! xD)
BODY SHOP STUFF (Did they buy the whole shop?! o_0) I love trying the different fragrances in that shop, and I even got a bottle of my favourite Dreams perfume!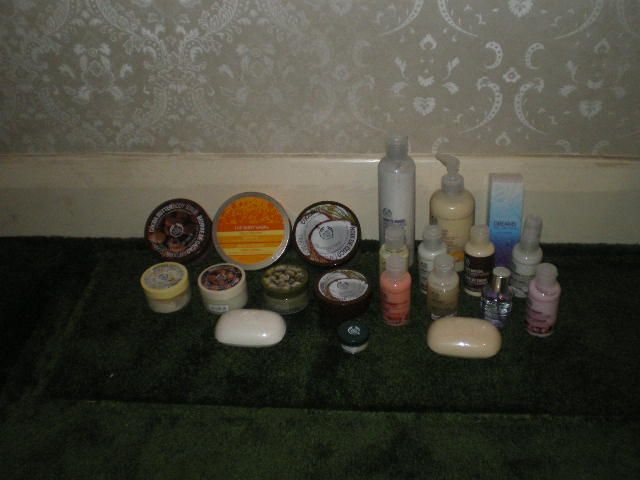 Random things. A much needed flash drive, cute notepads, diary for the upcoming year, adorable guinea pig brooch and a Twilight Pony which I'd really wanted an example of for my non-MLP pony collection.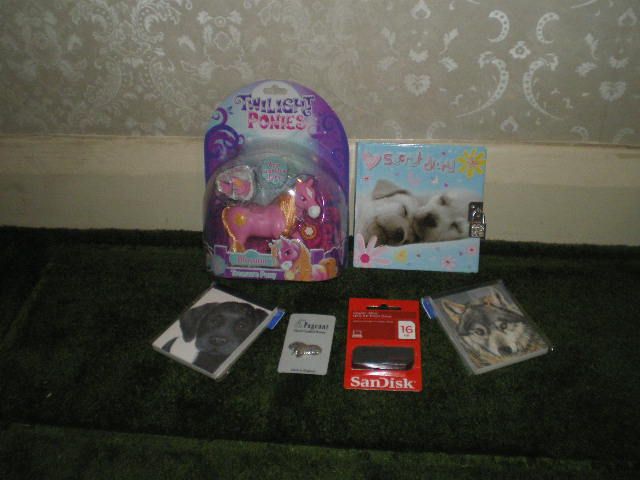 Moving onto the pony things (yes, I was spoilt and I didn't even have anything to give them in return! >.<)...
A Scrub-a-Dub-Tub with some accessories! I already had the basic tub - with only three feet - but had none of the accessories before this. The duck is so cute! And the soap is so tiny!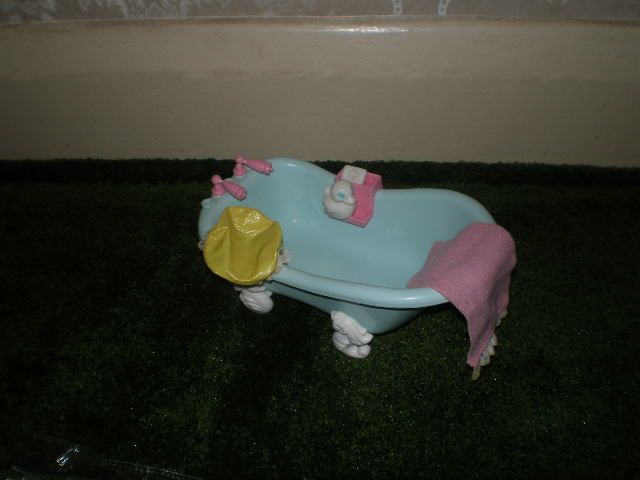 Various bits of merchandise and accessories including two of Summer Hayes's inventories (one of which includes a photo of mine and mention of my name so I pretty much had to have a copy in my collection!), a cute G1 handbag, G1 gift tags, puffy stickers, hairclips (and different jewellery box to the ones I own) and Grooming Parlour name tags.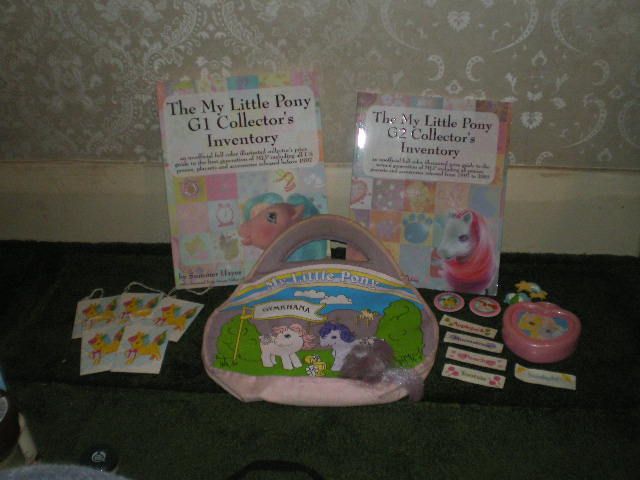 Accessories galore! Mum was a bit obsessed with buying accessory lots at the time so I ended up with quite a lot of duplicate stuff...but I was able to trade or sell most of that quite quickly. And it was so much fun to sort through! :D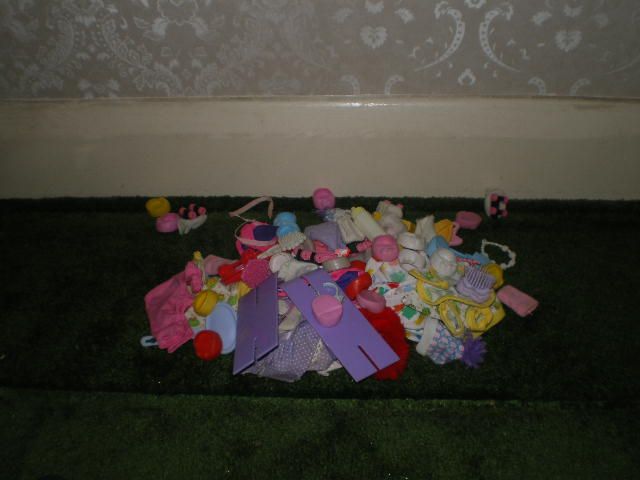 MORE ACCESSORIES! And the cutest G1 swim bag featuring Bright Eyes and Bon Bon! I'd never seen it before so I was thrilled - there's not a lot of My Little Pony Tales merchandise out there really which is sad as Tales is my main MLP obsession.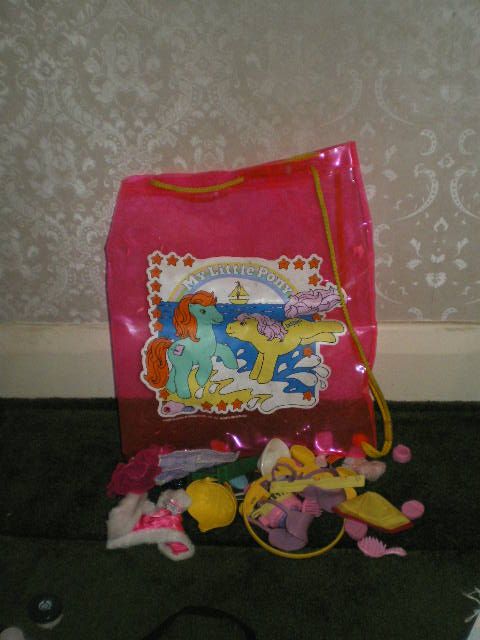 G1 MLP soap and a G3 Minty Christmas tree ornament! Sorry about the glare, the soaps are adorable in real life!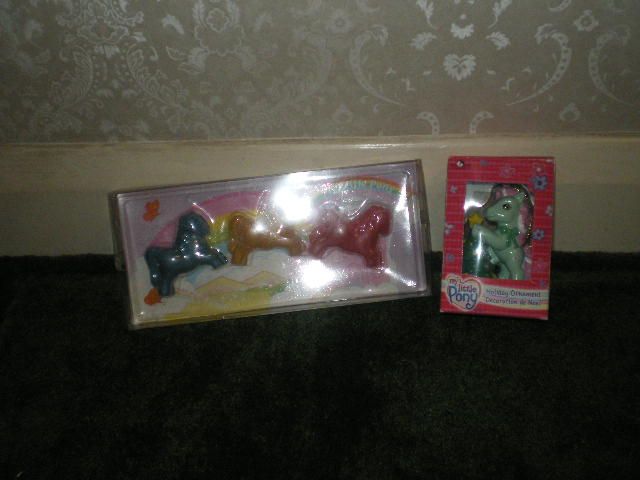 Now for the BIGGEST surprises...
"Pony Playmates", my first ceramic G1 MLP multi-character scene! They are adorable! I actually made a clay copy of the "An Affectionate Moment" scene when I was little (having never seen a real ceramic MLP) and I can't believe how close I was with the sizing. I should take a comparison picture sometime.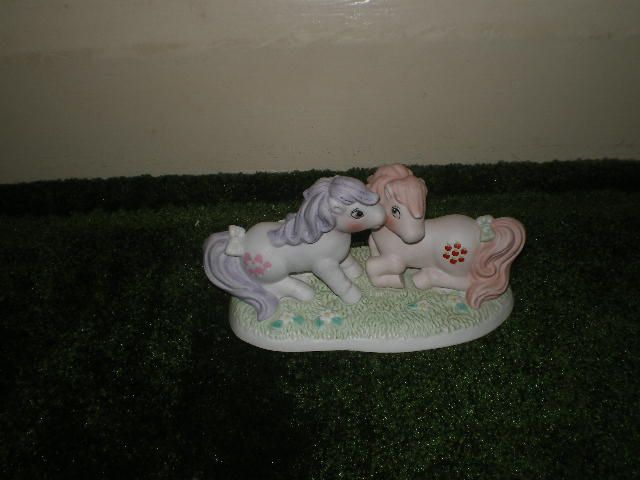 One of the Body Shop bags was covered with kitchen towel. I didn't think much of it, just presuming Mum was concerned about one of the bottles leaking. So imagine my surprise when I lifted the kitchen towel and found...
.......................
.......................................................
........................................................................
Oh my goodness!
.................................................................................................
................................................................................................................
..................................................................................................................................
I almost screamed when I saw her looking up at me, but I think I ended up just gasping and going completely speechless.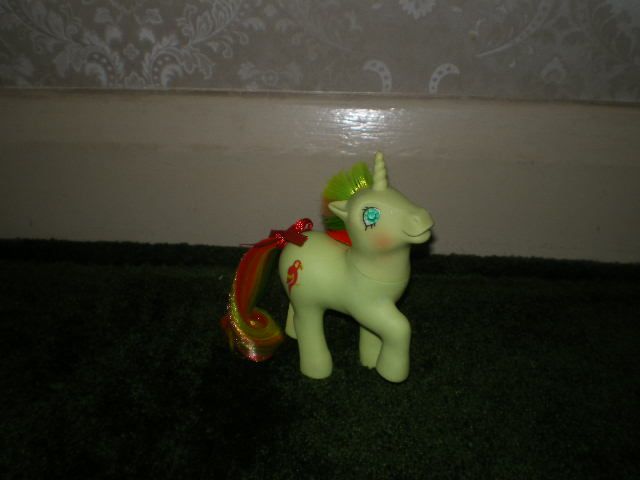 MIMIC!!!
Now Mimic is a very special little pony anyway as any MLP collector will know but she also happened to be one of the last three adult (store bought) ponies I needed to complete my US G1 collection. AND she completed my childhood goal of owning every pony who ever appeared in the TV show. This Mimic is beautiful - even the pink streak in her mane is still relatively pink. Yes, she has a couple of regrind spots, but find me a Twinkle Eyed Pony that hasn't. (Not a real challenge - I know they exist, but I'm not a picky collector and am just glad to have this gorgeous girl in my herd!)

I used to think Mimic was quite ugly but her colours are lovely in real life. And who can resist those beautiful twinkling eyes?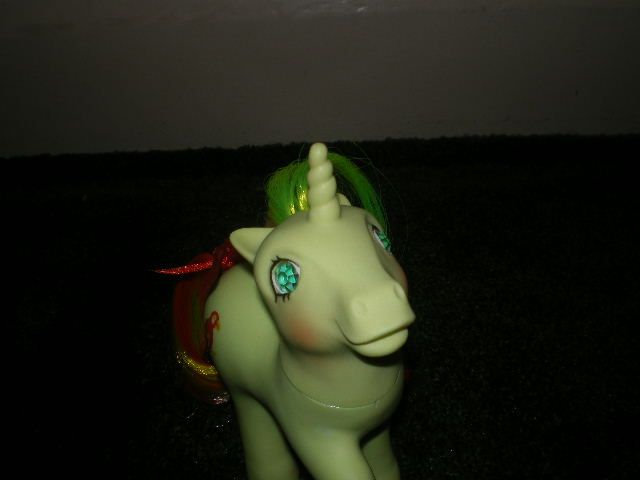 I overslept badly. I was suffering badly due to it being a certain time of the month and was awake most of the night. But what was David's excuse? Well, he sat up listening to the BBC i-player until at least 4am and he couldn't even resist the urge to switch the computer back on at 10am when we were finally ready to go back to Grottsville.
Mum had locked the door from the inside (obviously terrified of drunks etc., but still David didn't show the slightest sign of guilt for leaving her there) so we couldn't get in and had to wait out in the garden until she came downstairs from the bathroom. Horrible for me in my unwashed, hair standing on end state with all the gross men over the road staring at me and laughing. And David had even locked the car door so I couldn't get back in there. I ended up crouching on the path behind the car trying to hide from them while I waited. What a nightmare.
The day was quite uneventful. My parents went to Woodberry while I made some voice recordings. They must have stopped at Tesco on the way back and brought far too many cut price Yule Logs, festive chocolate biscuits and fruit cake slices back with them! They just can't resist a "bargain", you know?!
We went to see Emma. It was nice to see them all again but I came away with my usual headache and felt quite tired out and ill after a day of the kids making rude comments about my
"sticking out teeth"
,
"stringy hair"
and
"weird clothes"
and just generally running about and making me chase them around! I did already have a bad toothache and was overtired from all the going back and forth to Woodberry to sleep so that probably made things seem worse than they really were!
I was upset to see just how sad the Triple Treat that I had given Kiera was looking and am ashamed to say I confiscated the poor little pony. I knew the kids would never miss her and I intended to take her back as soon as I had cleaned and conditioned her hair and faded the ink scribbles off of her back.
Emma spoilt us as usual. I got a Simple bath gift set, TK Maxx voucher and a very pretty bracelet.
We were listening to the radio on the way home and were quite surprised to hear Neil Sedaka on Friday Night is Music Night. Mum usually received a newsletter from "BBC Audience" whenever there were tickets available to go and see Friday Night is Music Night being filmed but we'd never heard about this episode - we definitely would have entered to win free tickets to see Neil Sedaka! Stranger still, it was a TUESDAY so why were they airing "FRIDAY Night is Music Night" anyway?! The world was going mad!
Following their trip to Woodberry the previous day without me, my parents had finally got their heads together and calmed down enough to re-book the removal men. David rang them when we arrved home and we were quite shocked to get an appointment for Thursday, just two days later.
December 29th 2010
We spent the day moving stuff around the house in preparation for the removal men the following day. My parents were in a fowl mood and kept shouting and being absolutely horrible to each other and anyone else who happened to stand in their way. We kept uncovering mouse and carpet beetle evidence, both new and old and even found a large chunk of half-eaten bread (half-eaten by a rodent which looked to be too big to be a mouse, that is) behind a box which had been on the floor just a few inches from my pillow in my floor-bed. Ugh. Of course, we were also stirring up a lot of dust and my allergies were killing me. David didn't seem to notice any of the mice/beetles/dust though. At one point we found a box that was completely caked in carpet beetle coccoons and dung and, upon being shown the stacks of living laravae amongst the mess, David squinted at it and said that he
"could see...uh, two of them?"
This is the kind of dust/carpet beetle larvae/mouse evidence/old traps we were dealing with, by the way. This is how the floor looked under a cabinet right next to my old floor-bed. The bigger pieces you see are all carpet beetle larvae or mouse droppings. My pillow used to be located where the turquoise Wishbone playset can be seen in the bottom left of the first photo...it's no wonder I was so ill with my allergies really, eh?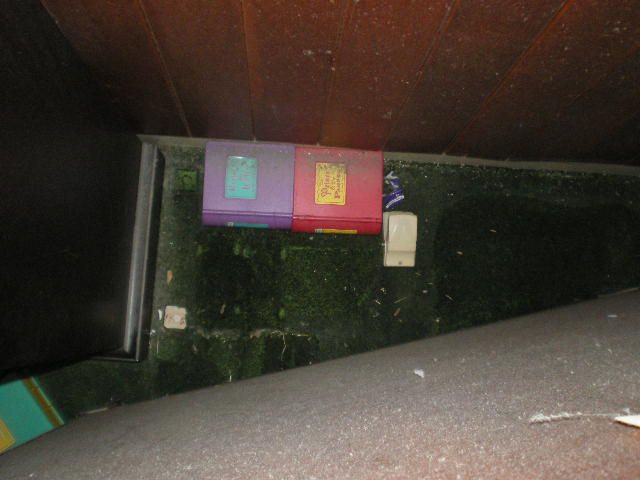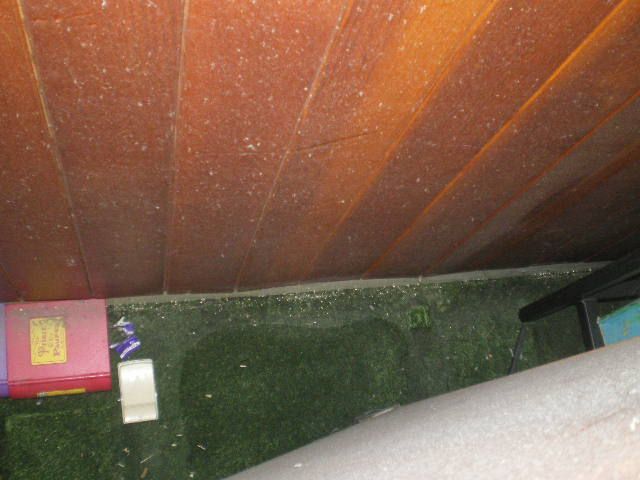 I worked hard, was tired out and didn't even have a chance to do my daily exercise. They went to Woodberry for a very short time and I spent the time while they were out taking a break to make some voice recordings. And they went mad that I
"hadn't done anythink"
. When I tried to defend myself, I was told that I was
"ugly when I shout"
. Bear in mind all the work I had done and that I was still suffering with, uh, bad pain and troubles that any lady should understand and I don't think those comments were very fair. Oh well.
In fact, on the subject of my "problems" (and hopefully this isn't too much information, dear readers!), I had been so terrified of messing up my lovely new bedding that I had laid DEAD still all night long. Ironically, this was how I made a mess of my lovely new bedroom wall. No, you dirty minded people, it was not a red stain, but a black one...with a small red heart in the middle of it. o_0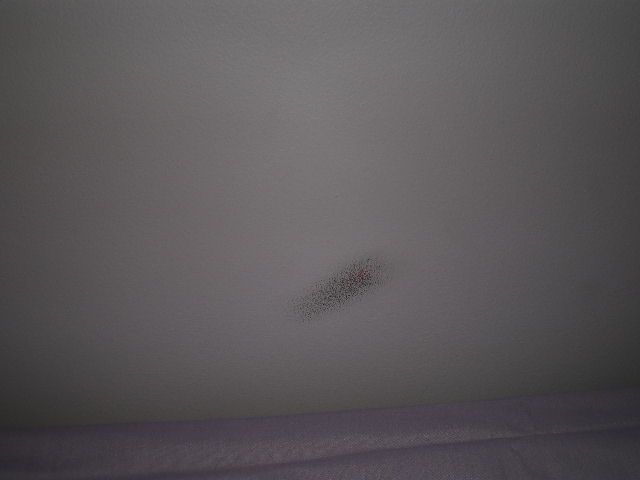 I guess I was so eager to lie still that I had got into a sweat under the thick duvet and the dye in my pyjamas trousers had transferred to the wall! Rather ironic that I should create such a bad stain when I was going to such lengths not to make a different kind of stain!
I moved a lot of stuff to Woodberry including all my old diaries which went into my new desk drawer. It was nice to have a place other than on the lounge floor to keep them at long last. Not that Mum wanted me to be living there even now, it seemed. She was "sick of me going on about emigrating - I was long overdue to leave". Nice to feel wanted, huh?
In actual fact, she had found out about me taking Triple Treat from Emma's house and was terrified that somebody would notice. For goodness sake, I had only taken the pony to clean up and restore then I had every intention of returning her. And I KNEW nobody would notice one toy disappear from the seemingly never-ending crates under the kids' beds.
I was still suffering from bad toothache in the overcrowded front teeth (which was bringing back all the old fears of jaw surgery, of course) and now had a bad stomach to go with it. My body sure knew how to hit me when I was down!
Well, much to my own personal disappointment as I had hoped to complete 2010 in this entry, I will have to cut off and go to bed now. The last two days of the year before last will have to be tacked on my next entry...which will finally take us into 2011!