There's so much going on in my life right now. I'd love to have some more opinions because I know I'll make the wrong decision and mess things up (as I always do!) but I can't talk about the present because my blog is still so far in the past. And by the time I catch up, it will be too late...
I didn't leave the house all day. David went to Woodberry so I should have gone with him, but he was in an awful mood. It had snowed heavily for about fifteen minutes that morning (yes, fifteen minutes...it stopped just as quickly as it started) and we were left with about an inch of snow on the ground, so I can't say I fancied risking the icy paths, given my history of slipping over anyway!

Mum cleaned some more of her stuff. The intention was to move house the following day...that was until David put his foot down and banned us from taking anything else over there until the lino had been laid in the kitchen and hall. The carpet layers were not coming until his very last day off work, so I guess he thought he could postpone moving house for a nice long time that way. Did he really want me to die before I got out of that place?
I cleaned Joelle, one of my two childhood Fashion Star Fillies. She was in a terrible state before I started so I was pretty pleased with the result...
Before (please excuse her sock "coat"!)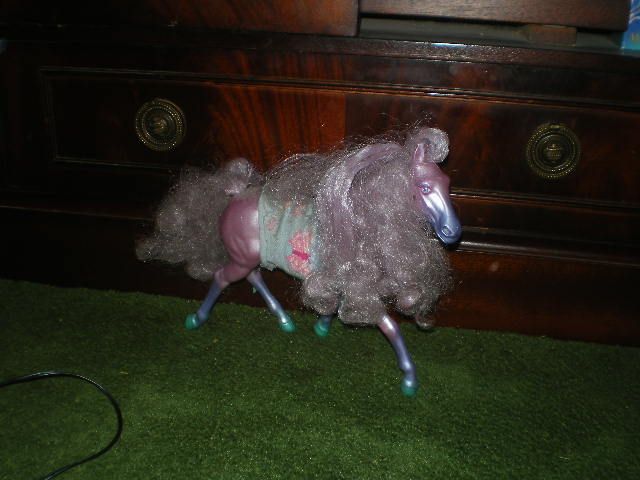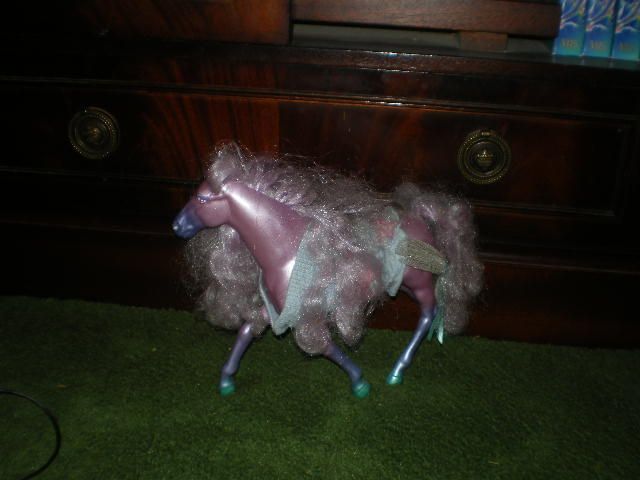 And After...
Not too bad, eh? Mum has to take credit for saving Joelle's hair tie from that severely matted tail - I didn't even recognise what it was until it was untangled from the mess!
The rest of the day went on packing e-Bay parcels. David asked if he could
"help"
late that night. I did ask him to cut down a couple of boxes for Keypers I had sold as it was so hard to cut them down to size while there was no table and everything had to be done on the floor. I soon found out why David was so eager to help though. It was an excuse to spread himself out on the floor and watch a very loud television. I have no clue what he was watching. Something full of loud pop music and starring Laura Harris (who I hate, by the way. As well as being the voice actress for Bright Eyes in the Pony Tales cartoon, she has appeared topless in various movies and David has a bit of an obsession with her). And so it was that he had one eye on the TV and wasn't watching what he was doing with my parcels at all. As I got more and more tired (it was about 3am, but we couldn't get to sleep until David vacated our floor-beds), I took less notice of what he was doing myself. But, when he handed Shelldon back to me, I found that a huge chunk of his shell was missing! The piece was on the floor - David had broken it right off!
He started yelling at me, of course.
"You dropped it!"
David yelled at me. I dropped it? Why was the piece under
your
knee then?
"You didn't lock it!"
How was I supposed to lock a Keyper with no key? And what good would locking it have done anyway?
"You should have bubblewrapped it!"
Why would I bubblewrap it before I knew the size of the box it was going in and how much bubblewrap would fit?
Who cares whose fault it was anyway? I was just scared of negative feedback.
Luckily, the buyer was very understanding and even left me positive feedback for being so "friendly and communicative", but I still lost the sale and she didn't get her Shelldon, of course.
After David had broken the Keyper, I thought we would finally be able to go to floor-bed, but it was THEN (at 3am) that Mum decided to start sorting out the boxes of Christmas presents we had for other people, ready for them to go back to the storage depot. Do my parents never feel tired?
Unsurprisingly, we overslept and didn't get up until 10am. David went to Northolt alone and posted the latest lot of e-Bay parcels. Then he came back and went to the bathroom for hours. While he was in the bathroom, the snow started falling heavily again. VERY heavily. The roads were in chaos. It took a whole hour to drive round the corner to the storage depot to drop off the boxes of other people's Christmas gifts Mum had sat up all night to sort out.
We battled to Woodberry to drop off my duvet cover and Joelle before the carpet beetles ate them. The snow was too deep for Mum to come in, and David got in a really bad mood with me for taking time to put my boots on so nothing else got done in the house.
Next to Daniels to find out the prices of the wardrobe and chest of drawers but we didn't order anything. We even went back to Woodberry to measure the space for the wardobe AGAIN (perhaps if David hadn't got in such a bad mood, we could have done that the first time we were there!), but we still didn't order anything.
The snow had turned to black sludge within an hour and the roads were getting more and more slippery and dangerous, not helped by the large quantities of immature youngsters who appeared to be running wild everywhere... Throwing ice at the cars, smoking something while rolling about in yellow stained snow, rolling up HUGE snowballs to do...well, I wouldn't like to say what they intended to do with them actually! I was getting more and more annoyed by them. It was dangerous enough outside, those idiots didn't have to make things worse!
David still went to work in the evening, despite Mum pleading with him to stay home due to the dangerous roads. When he got to work, he rang to say cheerfully,
"You were right, you know? I did almost have an accident!"
Mum went mad.
"Oh, don't be silly!"
David laughed.
"It was only once, and it wasn't my fault!"
Why did he have to tell her? She made herself ill worrying about him driving home. And, once again I have to ask, why does everything come down to whose fault it was?! If he was killed in a car accident, does it really matter who caused it?
He announced that he was going the following night too, so we wouldn't be able to move to Woodberry the next day either. Meanwhile, my allergies were getting worse and worse. But David
"couldn't put back the date the client had set"
. Even with a risk of my lungs packing up, work would always come first.
Well, I was hoping to get more written than that but it's 2am and I really must get some sleep! Will we get to move house at long last in the next installment? Tune in tomorrow to find out!