This is no good. I keep neglecting this blog, and soon I really won't have time to write for reasons I won't go into here. Let's just say I must get this blog as up to date as possible over the next couple of months or declare it officially dead. You don't want to see it die, right? So keep screaming at me until I find time to write an entry every single night!
December 23rd 2010
The previous night, Sternenstaub had really pushed me over the edge. I was already stressed to death about Christmas with no decorations, sleeping at Woodberry and leaving Mum in Grottsville with all the drunks, hair loss and various other things, so I ended up having a full blown panic attack. I hated being treated like a scammer when I was already so out of pocket due to buying enough Dolly Mix Ponies for everybody. I had written this post (in a semi-delirious state), asking for opinions:
http://www.mlparena.com/Forums/viewtopic/t=253591.html
I don't think I said anything out of line (maybe I shouldn't have moaned about my own finances, but in my defense I really was stressed to death at that point!) and I didn't even mention her username, but she saw the post and went crazy again.
"I saw your posting here:
http://www.mlparena.com/Forums/viewtopic/t=253591.html
It\'s your way.
But why did you say there that you\'re waiting on my respons?? I wrote you motre then once now that I\'m agree to split the costs and I\'m waiting for your 23,- refund.

Just another thing - I had never seen your sales thread in the classifieds when I bought from you - so I\'d never read your terms of buying form you... I just got your name from another member here who bought Dolly Mix Ponies from you first and contacted you - and you know the first transactions works smooth. So I did a second with you.
I told you in the first mail taht I got your name from another member - so you had known that I\'d never read anything from you in the classifieds.. so you have had the chance to offer me several methods of shipping - but you never did that!

I\'m more disappointed and sad. You just tell your point of viewing - maybe I should also open a thread and show my..."
I replied and said she was more than welcome to write a post showing her side of things, but she never did. Thankfully, David still had some money in his Paypal account so I was able to refund her all my profit and half the cost of the ponies as promised. I asked her to keep in touch and let me know if the ponies turned up or not so I could refund her the rest of the money when Royal Mail sent my partial refund. But I never heard from her again. I guess she must have received the ponies, otherwise she would have contacted me for the rest of the money. But then she'd said that if they turned up she would pay me back what I'd refunded. As this was our first time claiming with Royal Mail, we messed up and only asked them for the actual price we'd paid for the ponies in Morrisons. They made an error and didn't even refund us that much but we never heard any more from them after we complained either. So I was out of pocket, and am ashamed to say I never refunded Sternenstaub the rest of her money. But if she couldn't be bothered to let me know if her ponies showed up or not (and I'm presuming they did), I wasn't going to refund her any more. I still feel a bit bad about it though. I've had a couple of other parcels go missing since then and those people got full refunds (and I got my money back from Royal Mail too). Oh well, you live and learn, I guess.
Anyway, as I was saying, following all the stress, I had a really bad panic attack...the worst I'd had in years. I was crying and shaking, I didn't want to go to Woodberry and leave Mum behind, then David yelled at me and made it so much worse. After a lot of debate, I realised that I couldn't sleep on the floor again and did end up going to Woodberry. But we swerved all over the road on the way there due to David piling loads of heavy stamps from his collection on the passenger seat which kept falling on him. It's a wonder I could get to sleep at all once I got there, but I guess my body was just so relieved to be free of allergies after so long that I drifted off almost immediately.
Upon returning to Grottsville in the morning, Mum had me clearing more stuff out of the back room. David wasted most of his day off from work in the bathroom though.
We went to Morrisons in the evening, but this brought my panic attack back. I just physically couldn't face buying any more Dolly Mix after the trouble of the past few days. I remember being in a terrible mood and snapping at everyone. My blog notes mention
"shouting at David about mixing gravy"
and
"yelling at a kid for getting in my way"
. I don't remember either of these particular incidents but it sounds about right. Moral of the story: don't come near me during a panic attack!
Goodness, I really was in a fowl mood with everyone.... o_0 I think I shall totally ignore my blog notes and give you some pretty photos of the new flooring in Woodberry's kitchen and hall instead!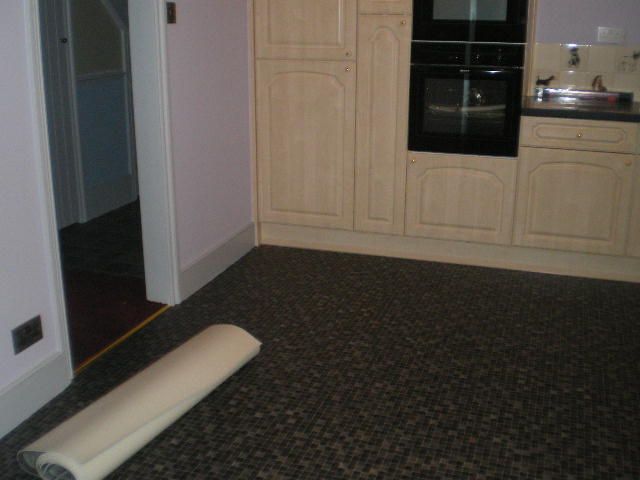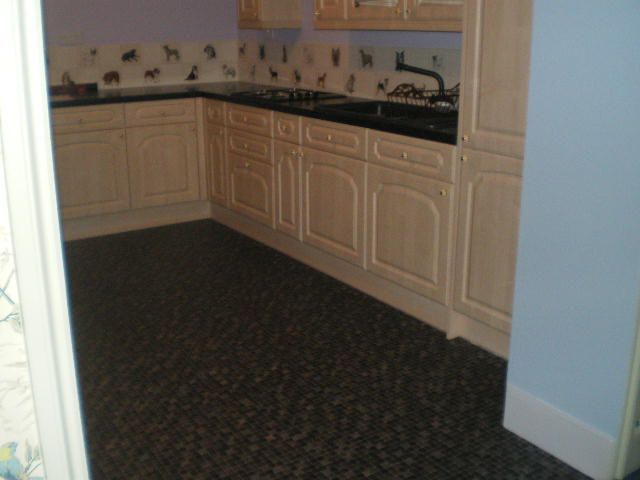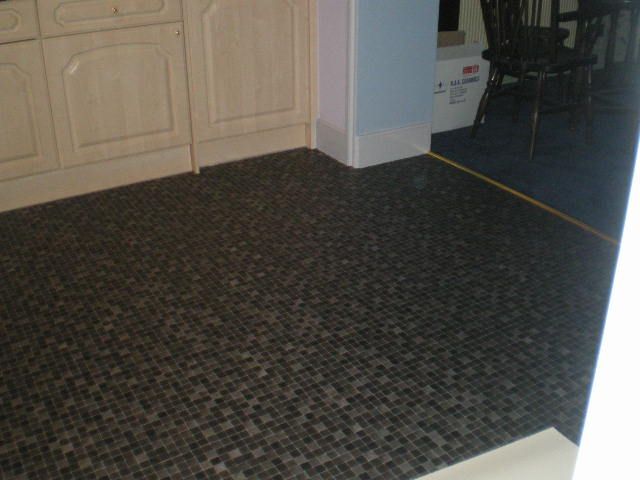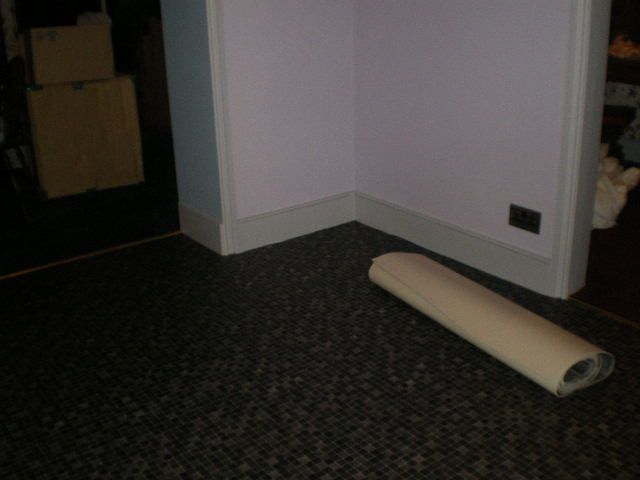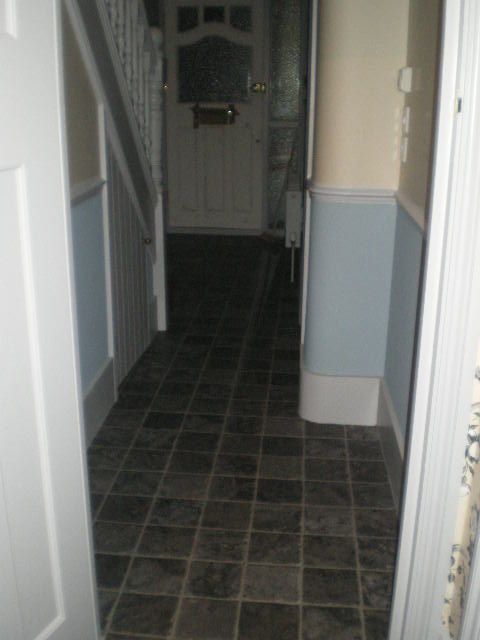 David woke me up...to tell me that he was going to leave me at Woodberry until the afternoon (with no food or clean underwear). I went mad and told him he bloomin' well wasn't leaving me there. I'm not even sure why he thought he would. Well, anyway, it set me off on the wrong foot for the day - I had another major panic attack when we arrived back in Grottsville and anargument began between my parents. I hid upstairs to be away from it so I'm not quite sure what was said (my parents blamed my panic attack for causing it though, of course, even though my panic attack had actually been brought on by their arguing!). Anyway, by the time I came downstairs it was announced that Mum had
"downed tools on Woodberry"
again and David had cancelled the removal man. Due to all of this, none of us went to Woodberry that afternoon. Thank goodness I hadn't been left over there without so much a drink!
I got the heavy ottoman out of the back room by myself, determined that an entire day wouldn't go by without anything being done. But considering the amount of work that needed to be done on both houses, it really didn't make a big difference.
I recorded "100 Greatest Toys" on TV which included a copy of the first ever British My Little Pony commercial. I had missed it a few days previously so was pleased of the modern trend of endless repeats on television for once! MLP made it to 58 and, just in case any pony fans out there want to watch it, the segment can still be found on Youtube:
It didn't feel like the day before Christmas so I decided to give myself a gift in the form of a long relaxing bath before we headed off to Woodberry for the night.
The most horrible Christmas of my life. (So far anyway. I'm sure life will throw a few more of them at me before I'm through!) I love my Christmas decorations but I wasn't allowed to decorate at all. Well, they tried to stop me. But I had a bedroom now, remember? So they couldn't stop me putting together one little display late the night before!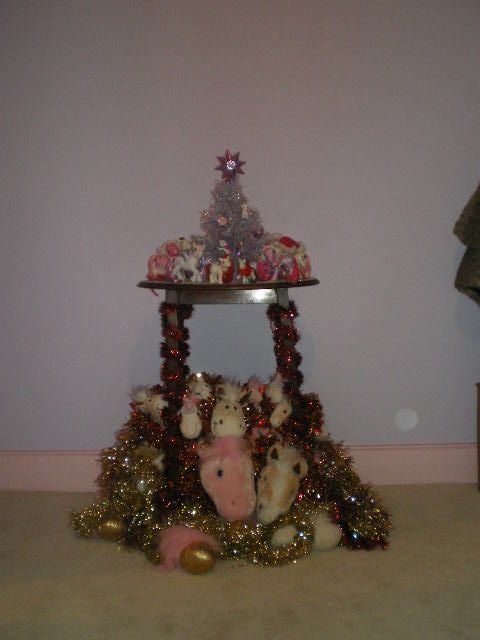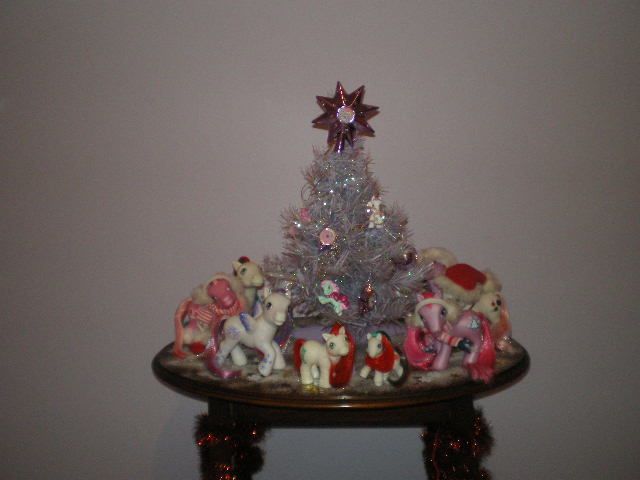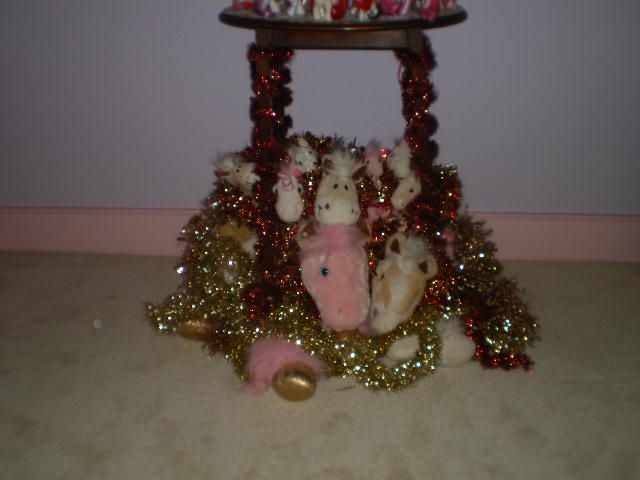 We didn't have any gifts for each other or special dinner, of course. No mention of Christmas at all in fact. And as I had to spend the daytime at Grottsville, I even had to leave my little display behind. It was a very lonely day. David went back to Woodberry alone to do some painting and Mum (who was in a terrible mood) kept falling asleep. Actually I dozed off a few times too! I spent most of the day on the internet trying to keep my mind off of my various problems. I was obviously still very disturbed though, proved by the strange nightmare I'd had the night before in which a certain guy I know announced to me that he had married a certain Dolly Mix buyer and severely upset me!
Moving on swiftly, I did have two gifts to open, thanks to a "certain someone"...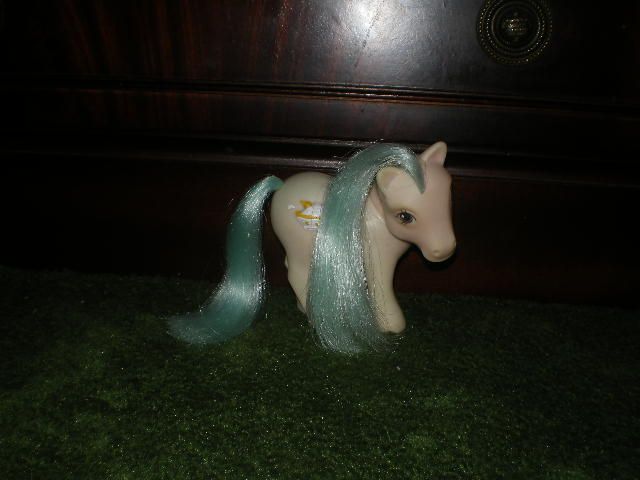 Mexican Banana Surprise!
And some jewellery! It's kind of hard to see in the photo but there's a carousel necklace and matching earrings (perfect for a farground fan like myself), a zebra necklace and the sweetest little charm bracelet.
Mum even shouted at me while I was opening those as the rustling noises were disturbing her sleep. Well, I was pleased to have a gift...thank you to a person who shall remain un-named!
Well, I have to be up in about six hours so I shall leave this entry there and try to get the last six days of 2010 written up tomorrow. Talk to you soon!
Best wishes,
Desirée xxx