...among other stories. Come and join us for another barrel of out-of-date laughs!
I had to go to the storage depot early in the morning to see the removal men who were taking a lot of our old furniture to the tip. Mum knew she couldn't keep the old family furniture, but she wanted a memory of it so I was sent on photography duty. I had no time for breakfast beforehand, so I was very hungry, weak and dizzy. It was also near impossible to take decent photos in the narrow corridors at the storage depot.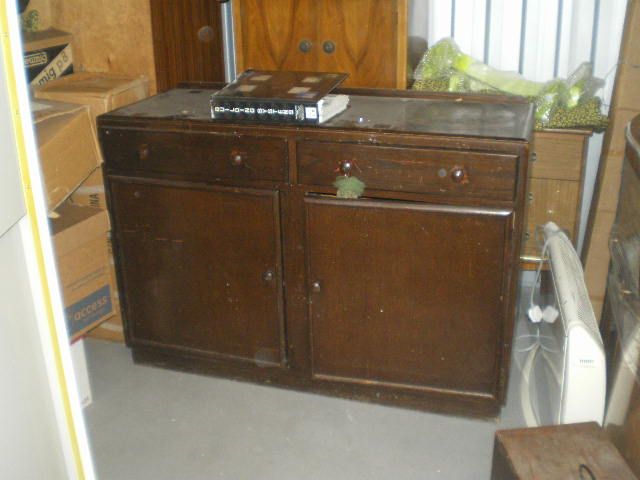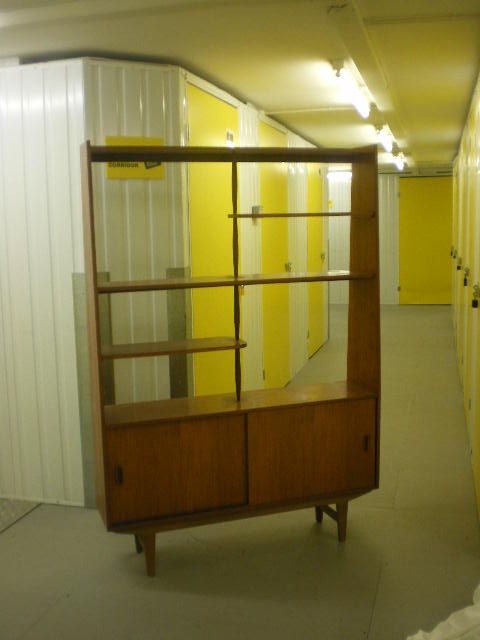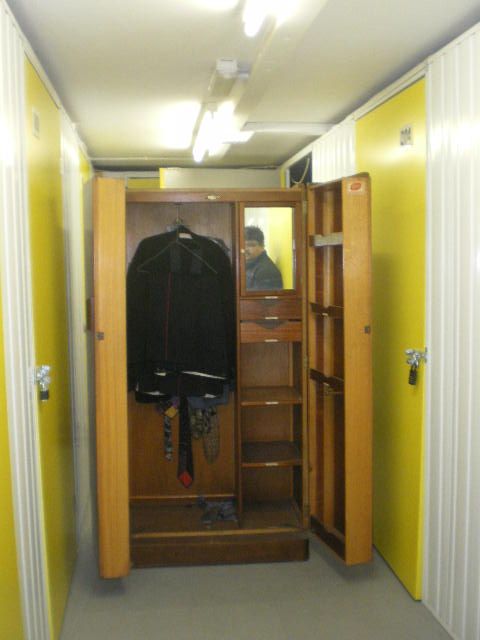 I just realised you can see the reflection of one of the removal men in the photo above! So many memories of my grandparents' house... Don't worry, we did at least remove the contents before the furniture made its final journey!
I found the sideboard particularly sad to throw out after I found this written on the shelf inside!
Apparently, this used to be my mum's toy cupboard when she was a little girl and she indexed the boxes inside by making a list on one of the shelves (much to Grandma's dismay!) It's kind of hard to read, but I think it says
"1. Zoo, 2. Pirate, 3. School, 4. Farm, 5. Zoo 2, 6. Reading, 7. Black Magic
(one can only guess what that meant! o_0)
8. Riting"
. It made me quite tearful to have to throw away her messy childhood writing like that.
I was really weak by the time they'd finished loading the furniture onto the van...and then David discovered he didn't have enough money to pay them! So he went off in search of a cash machine and I was left alone to make small talk with these two guys...it was AWFUL. They started questioning me about my education which made things even worse. I pulled a lie out of thin air and told them I was going to university to study psychology! Where did that one come from?
It was 12.30pm by the time I got my breakfast, by which time I had a dreadful headache which lasted all afternoon. Hence, I didn't go with my parents to Woodberry at about 3pm and instead stayed in Grottsville to make some voice recordings. I'm quite glad I didn't actually as it seems the trip descended into yet more arguments. Mum
"HATED the new chairs"
and
"could still see bubbles in the hall flooring"
. David dumped her back in Grottsville in a fowl mood and returned to Woodberry alone where he apparently fell asleep instead of doing anything useful. He didn't wake up until quite late that night so I didn't get over there to bed until midnight again which was too late for Mum to go out.
It was also too late for me to get much done towards clearing the place up and my allergies were building up again due to the dusty piles of clutter everywhere.
I was still feeling rattled by the creepy story that we had found the previous day. I felt uncomfortable walking around the same house as its author and it wouldn't even leave my bedroom once I'd changed into my pyjamas. I needed to get out but I had no education and no money to get any. I'd started saving towards it as my New Year's Resolution but so far I had a grand total of £10! I'd really get a long way like that, wouldn't I?!
I had won a lot of MLP comics on e-Bay, so we drove to Harefield to meet with the seller and save on shipping costs. I was quite nervous about it, especially as we were told to meet in a very run down car park, but the lady showed up on time and was very nice. I think she was more nervous than I was and a man (who I presume was her partner) kept driving around - obviously keeping an eye on her - and almost knocked me over at one point! I ended up with 67 comics plus a 1980s Tom & Jerry magazine for £9.50. Not too bad...there were a few issues I needed for myself, but most would be re-sold and the money put towards the education fund.
David went to the bathroom for an hour and a half upon our arrival back in Grottsville, then he took Mum and I to Woodberry to do some tidying up, mainly filling cabinets and photographing MLP merchandise so that it could be put on the shelves. Suddenly, Mum decided she wanted dinner so I had to stop halfway through my work and leave my bedroom looking something like this: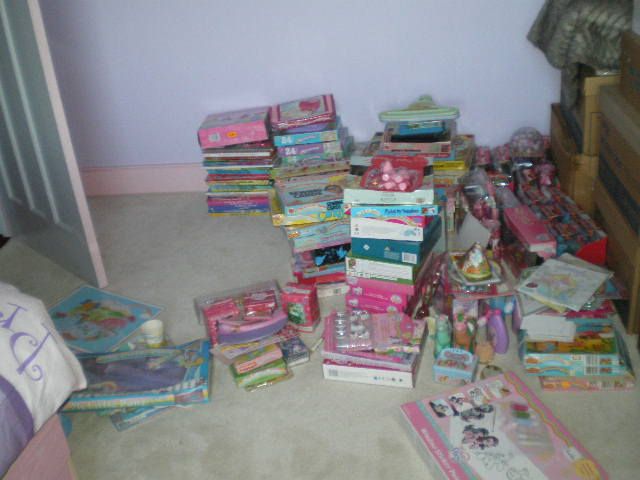 Mum refused to come to Woodberry to sleep that night, and yet she didn't want to be left in Grottsville either, so I didn't get there until 10.45pm. There was no way I could sleep surrounded by this kind of mess...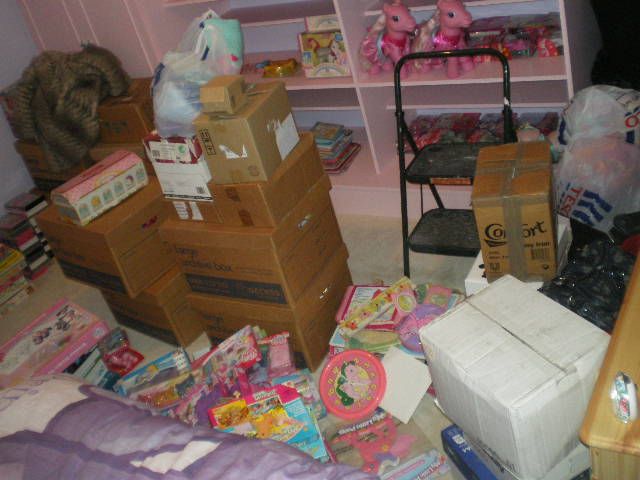 So I ended up staying up until 1am trying desperately to clear up. I was so tired but progress was being made, however slowly.
I tried putting some of the surplus MIB G3s on top of the shelving unit. I have no idea where I thought my MLP playsets were going to go, I just wanted a home for those ponies at that moment!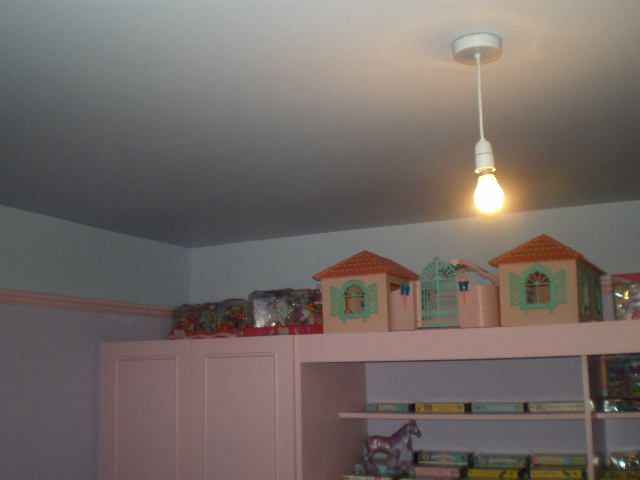 (Rather off topic note, but I love my blue dropped ceiling. The light isn't good here but it looks like the sky behind Paradise Estate in real life!)
There was far too much merchandise and the place still looked a terrible mess as I settled down to try and sleep (very hard, as the clutter was really disturbing me!) The shelves were starting to look *slightly* better though...
Why are you looking at me like that? I only said they looked slightly better!
It was a free listing weekend on e-Bay (and this was in the days when you could list an unlimited number of items - oh, to have those days back once more!) but I didn't have the time or energy to list much. Someone else had just informed me that her Dolly Mix Ponies had gone missing, and I was really feeling quite disheartened by the whole online selling game.
I pulled another load of books and board games out of Emma's old bedroom in order to photograph and sell them. However much stuff had we been keeping in Grottsville all these years? I was starting to think that Mum's old joke about the house having elastic sides wasn't such a joke after all!
I was very tired, but I was rewarded for my endless clearing out when I discovered my MOC G2 Water Lily who I thought had been accidentally thrown away and several other things I'd lost long ago.
It was another rather uneventful day, but I did speak to Grace on MSN for three hours that evening - we hadn't spoken for ages and it was lovely to hear from her again. We always have such crazy, random and yet very interesting conversations. I also won a Barbie DVD on Swapit and a Pinkie Pie plushie on e-Bay.
My thinning hair was driving me crazy but Mum didn't take me seriously. When I moaned at her for not being more sympathetic, she said she was
"sorry for brushing me off"
and went into fits of giggles.
"Brushing you off...brushing your hair off...get it?"
*Groans*
I got to Woodberry at 11.30pm and spent two hours working on the pony room. You'd never guess it though, would you?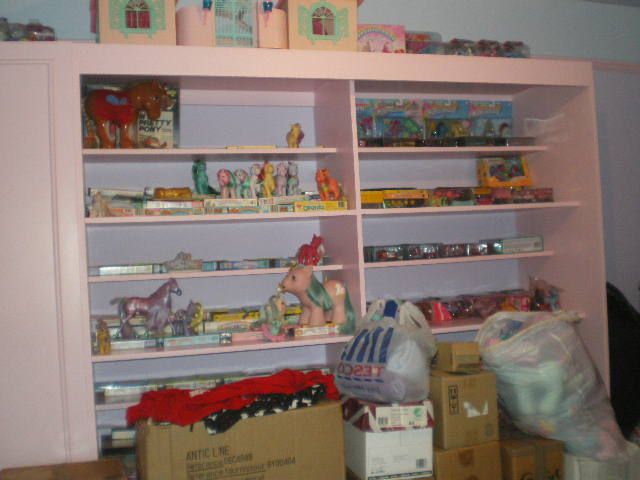 I was taken back to Grottsville at 7am, having had just four hours sleep. Was it any wonder that I was overtired?
Most of the day went sorting through the stuff I'd dug out of Emma's old bedroom, photographing and preparing it to list on e-Bay. I got my old Pound Puppies collection out of their crate with the intention of selling them too. But my silly sentimental feelings and childhood memories got in the way.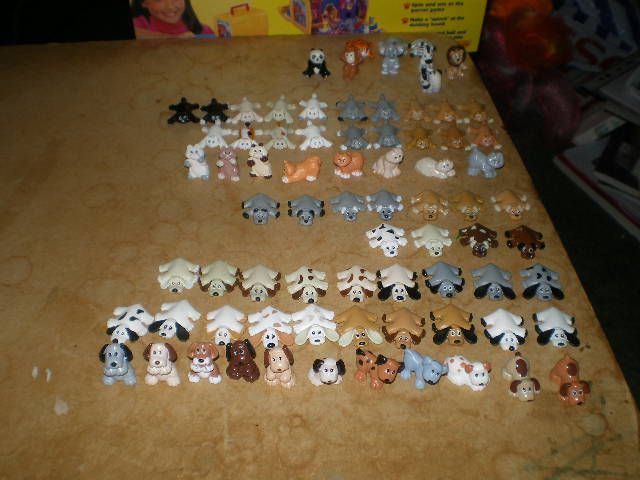 I can remember spending hours playing with these as a kid, hiding them away in their little playsets etc. I will have to get rid of them eventually, but right now I'm still using the excuse that I don't know which dogs/cats/jungle animals go with which playsets!
David came in from work ridiculously late when both Mum and I were half asleep. He couldn't understand why we didn't want to go to the supermarket with him.
"Aren't you coming? Why don't we all go to Asda?"
he asked. Asda is even further from Grottsville than Tesco! Doesn't that man ever feel tired?!
Mum was scaring me to death - she was
"worried about my tiredness"
(well, SHE wasn't spending half the night washing ponies and climbing up and down a stepladder, was she?!) especially as I was starting my period again after less than three weeks. She was convinced I had cancer. >.<
I was more concerned about my hair which was getting thinner by the day and desperately needed to be cut. But Mum was trying every trick in the book to scare me about going to a hairdresser. Her latest tactic was telling me that any salon would be
"full of horrible people who would laugh at me"
. Oh yes? I thought she couldn't see a problem with my hair? So why would they be laughing, eh?! That was the nearest I'd got to a confession that she could see my hair thinning out.
I didn't get to Woodberry until 11.30pm again and was working hard until long gone 1am. Tell me again how my tiredness was caused by cancer? >.<
The room wasn't looking much better anyway... it was just so hard to arrange the ponies on the shelves with all the boxes stacked up in front of them!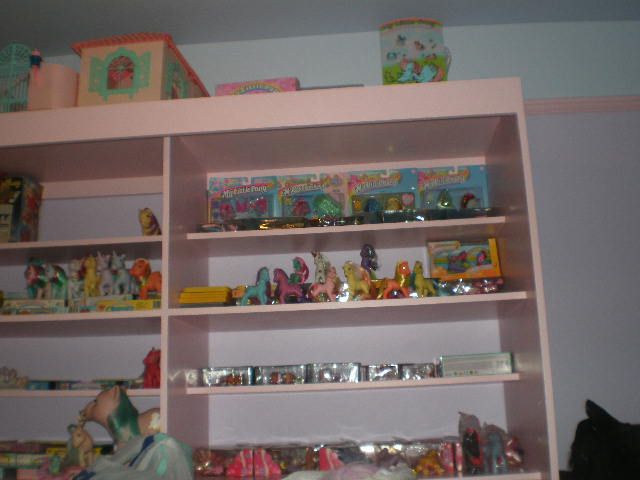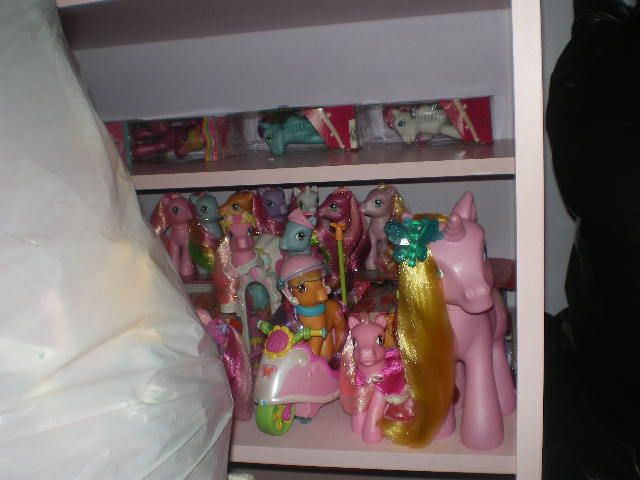 I was feeling so overtired and depressed from the endless strain of moving between houses. So much for 2011 being the year for change!
Every time we took one step forward, we took three steps back again. Mum demanded that her belongings were brought back from Woodberry as she obviously wasn't moving in anytime soon (in the hopes that this would push David to make some progress). Instead, he obeyed and brought a car load of stuff back to Grottsville with us! Why? When DID he intend to move house then?!
This step prompted a frank conversation in which it was declared that we weren't going to America in May (the second holiday we'd have cancelled due to the house move being delayed) and that I wouldn't ever get any education now. Emma was still supposed to be organising an appointment with her hairdresser friend, but totally ignored us each time it was mentioned. No wonder I was depressed!
I kept myself occupied sorting through MLP backcards and pamphlets...well, I would have sorted through the pamphlets if I hadn't lost my entire G3 pamphlet collection! In the evening, we watched Dancing On Ice. Yes, it was time for DOI again. The first series aired a week after Mum had inherited Woodberry, and now here we were on the sixth series, STILL waiting to move house! Even more depression ensued as I realised just how much of my life had been wasted due to the delays....
We went Dolly Mix hunting at Morrisons for the first time in ages but I wasn't able to find a Snuzzle, the last pony I needed to complete the sets for the poor people still on my waiting list.
It was past 11pm before I got to Woodberry again. I hardly scratched the surface of what needed to be done and it was still 12.30am before I got to bed...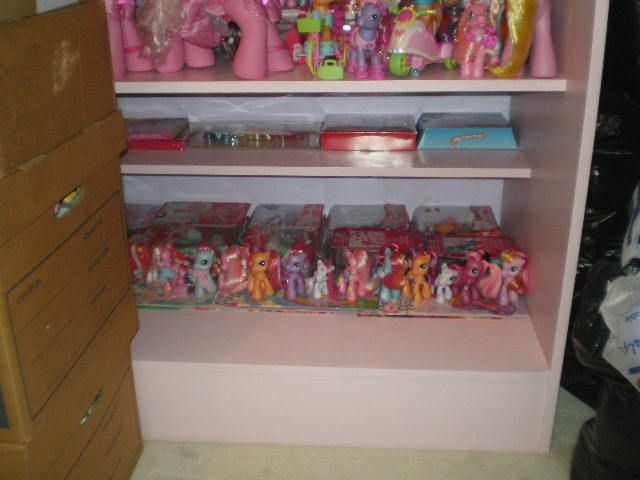 The plush Pinkie Pie that I'd won on e-Bay arrived but I don't appear to have taken a photo of her for the blog. It's the patchwork version anyway which meant I only needed Rainbow Dash to complete my patchwork trio!
Phew, it's 2.15am but at least I made up for the time I lost yesterday by writing a longer blog tonight. Tune in tomorrow to hear about another four days in the life of Desirée Skylark...from 18 months ago!
Best wishes, and thanks for reading,