Well, my heart has stopped pounding today but I am SO very, very cold! I don't know if it's really cold in this house or if it's still my nerves messing me about. I do wish something nice would happen, but with both of my parents doing everything in their power to ensure I can't do what I want to do with my own life, it doesn't seem very likely.
Mum and I decided to walk to West Ealing. It was noon by the time we got there and very hot. Of course, Mum blamed me for making us so late to leave, despite the fact that she was the one who had spent ages chatting after breakfast. It was hardly worth it anyway. Our main reason for going was to find unusual Easter presents for Emma's kids (they always have far too many chocolate eggs from Nick's family), but she was feeling too mean to spend any money anyway
It wasn't a total waste of time though, as I managed to get some new underwear and two pairs of pretty shoes. Then I found a 1980s Care Bears egg cup for 49p in one of the charity shops. The best was yet to come when I finally found the dress I had fallen in love with in Peacocks! They only had one on the shelf (I presume somebody had returned it), but it just happened to be in my size. And so, for the price of £20, I came home with my first ever dress. Mum tried to put me off, saying it looked like an
"old lady's dress with its lace and floral pattern"
but I was sick of wearing leggings and just wanted something nice to wear for once.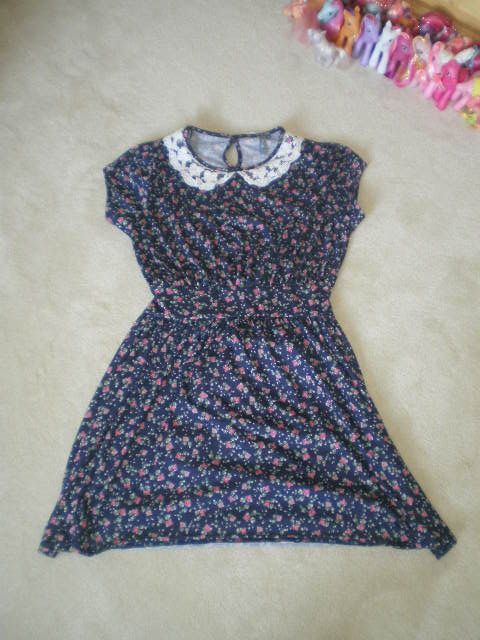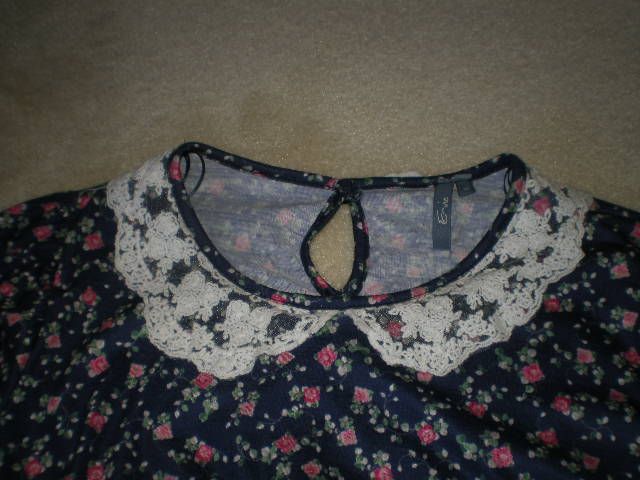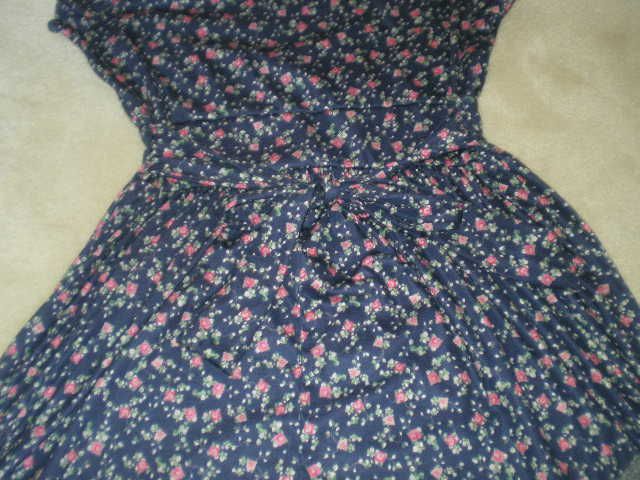 And here's an (awful) photo of me wearing the dress... Ugh!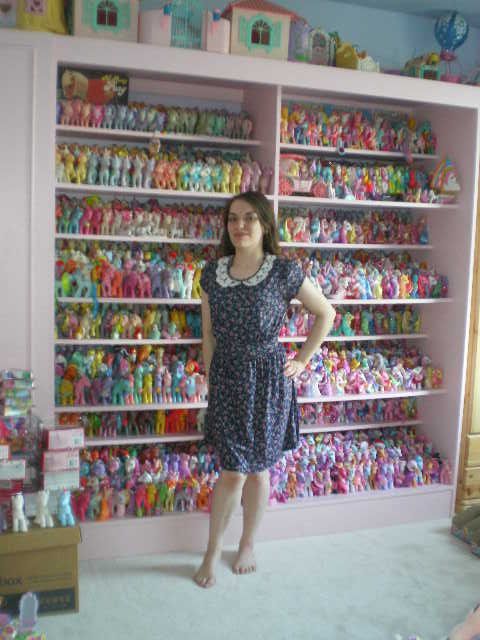 As an added bonus, the above photo shows how my pony shelves looked at this point. In fact, it was on this day that I filled the final shelf...with 37 adult ponies still remaining! >.< It looked as though I would have to rearrange them all again, cramming more ponies into a smaller space (if that was even possible).
While we were in West Ealing, Vesna (my grandparents' old neighbour who we had bumped into on the way to Sparkle Dental Boutique a few days previously) had put an Easter card through the front door. Do you remember how she told us that she kept
"peeping through the windows hoping to see us in the house"
? Well, funnily enough, when we arrived back at Woodberry, the sheet of polystyrene that Mum had put at the front room window as a temporary curtain had fallen down! I can't help but wonder if Vesna also rattled the windows to get any obstacles out of her way and give herself a clearer view!
I was getting increasingly frustrated by the so-called "bronies" all over Youtube. A few weeks earlier I hadn't even heard of the surge of young boys fawning over the new My Little Pony cartoon, now I had them attacking me over comments I had written on G1-G3 MLP videos before FiM was even created. Yes, I like the previous generation cartoons, especially Tales and G3, for the voice acting. And yes, I prefer Tales and G3 over FiM (although this was obviously not stated in the comments on which they were replying, considering they were written before FiM even existed!). Does this mean I deserve to be
"killed with fire"
or to
"die of cancer"
? I think not.
David took a day off work. We went to the curtain shop, but the women who worked in there all seemed a little doolally! I wasn't sure I really trusted them to make our curtains! Then again, everyone seemed a bit addled that day...
Our next stop was Grottsville to pick up our passports. David went in the bathroom for ages and then started cleaning Mum's toilet-shaped plantholder which had been hanging on the kitchen wall since before I was born. After all the toilet dealings, he managed to forget the passports. We were halfway back to Woodberry before we realised this and had to turn round for them!
Next my parents went to see the lawyer about writing their wills. I was asked to come along to jog their memories about things, but I really wish I hadn't as I have been blamed ever since for causing them to make mistakes (even though I was quiet almost the whole time and only spoke once to remind Mum about something she'd wanted to ask). The real reason that things went wrong was due to the two men in the room. The lawyer himself had very strange ideas, and David seemed drunk! He began talking complete gibberish. The lawyer offered him water and David kept pouring more and more for himself, his voice becoming more slurred the more he drank! o_0 It was a very hot day so that might have been the cause of everybody's madness, but it was quite disturbing at the time!
On the way back to the car, we passed the clothing shop where I had seen the black rose patterned dress. It was still in the window but not in stock. I was beginning to doubt it would ever arrive now... Oh well, at least I'd got the Peacocks dress, and that one was a lot nicer really.
Good Friday, and my goodness, was it a hot one! I've rarely known such a hot April. I overslept and found the bed drenched in sweat. I really needed something thinner than a winter duvet for nights like those!
David arrived before I'd even finished my breakfast so I had to gulp down the remainder of my cereal as fast as I could. Then we went to John Lewis in Brent Cross to look at curtains and order some samples. I was so hot and tired that I had to sit on the floor in the middle of the shop, and was actually hallucinating that I had sat on a chair! I couldn't even go in New Look as it was so unbearably hot. >.<
Next we went to Laura Ashley and Home Sense at the retail park across the road. My parents ordered some more curtain samples at LA, while I spent the time glaring at a man who wouldn't stop leering at me wherever I walked. We were looking for photo frames in Home Sense, but there weren't any there. I did find the Welcome to Ponyville MLP book complete with placemat and figurines though. I'd wanted those little figures for a long while and couldn't resist buying it even though I had nowhere to keep the book!
David wanted to go to Grottsville after that to wash some old toys I had put aside for Emma's kids (we were to visit them on Easter Monday as usual), but Mum was starving by this point and made us come straight home.
David went to work in the evening, supposedly to
"do things for us"
. (Although I have no idea what things he was doing!) I had a bath, but was finding it increasingly hard and stressful to try and wash my hair with no shower attachment. Pouring buckets of water over my head just wasn't cutting it with my hair loss problem.
Some Canadian records were made free on Ancestry.co.uk for the day so Mum was able to research her grandma's sister Lou who emigrated to Quebec and lost touch with this side of the family a few years later. It soon transpired that Lou had met a man, got married and had three children over there, despite being in her 30s when she moved (quite old to be starting a new life back then, I think). Unfortunately, she died as a result of complications following childbirth so she didn't get to enjoy living in her new country for very long; the kids grew up without a mum and my great grandma died thinking her late sister just didn't want to know her anymore. A very sad story indeed.
I always go to a car boot sale on Easter weekend but Mum had announced we couldn't go to the usual one at Epsom on Monday as it would make her too tired to see Emma & co. in the afternoon so we'd agreed to go to Denham on saturday instead. But it didn't happen as she was too hot and didn't want to waste the day. Nothing else got done anyway though really.
We went in the car to Laura Ashley but didn't bother to get out the other end when David went to order the curtains. Mum was in a terrible state for most of the journey, convinced that she was going to throw up.
"Stop laughing at the wireless! I said I feel sick! Didn't you hear me? I'm going to be sick!"
She wasn't sick thankfully, but still insisted we came straight home
"in case she felt sick again"
.
It was still very hot but a much-needed thunderstorm came suddenly in the middle of the afternoon and cooled us all down a bit. After that, Mum felt well enough to hang a few things on the walls and David reluctantly agreed to do so. He was in such a bad mood though that it's a miracle something didn't get broken! He very nearly dropped a mirror on the floor (not that it could have made our luck much worse for the next seven years anyway!) and managed to bend a nail in his anger.
I managed to rearrange my ponies in such a way that they would all fit on the shelves. Sure, you couldn't see the back rows of ponies very clearly anymore as I'd had to put a second row of ponies standing sideways on in front of them, but at least they were all there.
It was a very boring, lonely Easter. Isn't it always? Almost everything is shut, the weather is usually miserable one way or another, and we're not the "happy families visit each other for Easter dinner" types!
David wasted most of his day in the bathroom, then we went to Grottsville to wash the toys for the kids and to iron Mum's trousers in preparation for the great day out. On the way we had passed through Ealing Broadway and seen that Holland & Barratt was open so David stopped and bought a vegetarian cottage pie for dinner. It was nice, but very dry compared to the Quorn one.
In the evening, I heard David listening to Disney's "Enchanted" on his computer. I'd wanted to see the movie for ages but it wasn't available on the likes of Youtube, of course. It turned out it had been on TV and was on the BBC i-player for a week. It didn't occur to David to tell me about this though...apparently he had no idea I wanted to see it, even though he must know I have a mini-fixation with the song "True Love's Kiss" and sing it frequently!
Well, I was hoping to get a bit further than that, but again my bed is calling me away! Thanks for reading, guys, and please tune in tomorrow for another installment!