Today I have a stiff arm from a blood test, and a sore eye from getting grit in it earlier...but I am still determined to do a little catch up blogging, especially as the computer is probably going away to be repaired again tomorrow!
June 16th 2011
Another day, another exciting trip to Tesco at Osterley. David was determined to prove that this branch wasn't as good as the local branch at Grottsville. Tonight's complaint was that they only had one loaf of his favourite brand of bread on the shelf (considering it was almost 11pm, I'm not really surprised!), and this loaf had a tiny hole in its plastic packaging. David went and complained to a member of staff and was told that he could have it at a much reduced price, but this wasn't good enough. He chose to go to our local Tesco Express instead!
Tesco was my only outing of the day. We were enjoying typical British summer weather (RAIN, that is), so it wasn't really feasible to go for a walk.
Mum had another of her dreadful stomach pains. She was clutching her stomach, rolling around the floor and screaming as if she was about to die again. It only lasted around ten minutes but that was enough to stress me for the rest of the day. In fact, I developed bad breathing, chest pains and lost a whole load of hair. (I swear stress had an instant impact on my hair loss issues!) Mum got cross with me for
"going on at her"
about this though when she had
"real health problems"
. Both of my parents seemed to just ignore my health issues (and just about anything else I spoke about for that matter!) - they'd just talk over me no matter how hard I tried to get through to them. I was getting quite concerned about my own health at this point. I always felt overtired, dizzy and breathless. I guess stress was the underlying cause but it would still have been nice to think that my own family cared about me. Who knows? Maybe if they'd cared, I wouldn't have been so stressed in the first place!
They were just insensitive to my concerns. As I was sitting there, crying and shaking, following on from the stress of Mum's pain, David scooped a load of hair off of the carpet and waved it in my face, shouting at me for
"not keeping the house clean enough"
. Pretty mean when I was already so upset about my hair loss, I think. I was trying my best to keep the house clean too, although I admit I had felt too ill to do much housework since we had got back from the USA.
He did finally give me the three ponies that he had bought for me for my birthday though.
Mum and I walked around the block via the three South Ealing charity shops. We witnessed a man clearing one of the charity shops of "rubbish" (perfectly good quality books, from what we could see!) I wouldn't donate to those shops if you paid me. They're so upmarket that they'll get rid of anything less than designer clothing and jewellery. They must be in real need of the stock they keep begging for, eh? (It almost makes you wonder if the guy was REALLY taking the books to the tip...or if it was a cover for the fact that the volunteers and their friends take a lot of the donated goods to sell for their own causes...)
We were still having heavy showers so we didn't dare to walk as far as the park again. Mum was
"bored with the park"
anyway. (But kicked up a terrible stink if I spoke about going without her!)
I spent most of the afternoon doing Mum's scanning as usual. It was such a tedious job, especially when I had to sit on the front room floor because we didn't have a desk for the laptop/scanner. I must admit that I was enjoying looking through my old coin operated ride pictures though.
I had managed to identify my 2005 photograph of an Edwin Hall Muffin the Mule ride (shown in a previous blog) as having been taken in an arcade on Deal seafront. Google Maps showed that it was still there as late as 2009. My 2005 diary made reference to a second arcade "full of old rides" but I had no photographs and couldn't find any trace of it on Google Maps.
My stress levels continued to rise, mainly about the hair loss (which was - ironically - definitely made worse by stress!) Everything disturbed me though. Now I was watching videos of the riots in Vancouver and getting upset over those. I was grateful that my friend was in Los Angeles, even if he was still in hospital, as he lived right in the middle of the riot zone back when he was in Vancouver. I still had another friend who WAS living in that area though, and it was worrying to hear her emails talking about being sent home from work early and being told to
"buckle down and wait it out"
. Seriously, what is wrong with people these days?
David rolled up at noon again. He blamed Mum for making him so late. She had
"woken him up too early which had caused him to sleep through his alarm"
. The alarm clock had been set for 8:15 to get to Woodberry before 9am, by the way.
Due to this, we missed Hanwell Carnival. Well, it was raining and pelting hailstones as usual anyway so I guess we didn't miss much, but I do like to wander around the stalls in Elthorne Park just in case there are any ponies for sale.
My anxiety was getting beyond a joke. I tried to remain calm by spending the day listing on eBay, but I couldn't stop stressing about my hair and comparing the thin mess to how it had looked even just a few months previously. I just felt so depressed and ill...then Mum had another minor pain and stressed me even further.
The usual trip to Osterley Tesco was the extent of my daily excitement. The stress followed me there and I jumped a mile when I happened to see a woman move in the car parked next to us! I couldn't keep up with David either as I kept going so dizzy. He didn't notice though, of course, and thundered on ahead. I had an awful backache which he also failed to take into account when he kept asking me to bend down and get things off of the lower shelves in the shop.
He departed for Grottsville earlier than ever; as soon as we got back from Tesco, in fact. What a friendly family man.
I had got into a real panic about my hair again. When you look back at my blog notes, you can see the waves of anxiety and depression shining through. It's a shame that my doctor can't study them and see what she thinks is causing it all!
We had a fantastic trip to Brent Cross Shopping Centre today in search of curtain tie backs and hooks. No luck, of course, as Mum wanted
"something a bit different"
and you're not going to find that in John Lewis! I got upset to see all the pretty women walking around with their long thick hair...crikey, Desirée. Take a good look at yourself in the mirror. If you're worried about pretty women, I think the hair is the least of your troubles! Funnily enough, I was just thinking today (in the present day, that is) how I have no idea about applying make up or even what colours/products I should use if I wanted to. Aesthetic beauty doesn't seem to even be about what you look like naturally any more, it's about knowing how to present what you've got to its best advantage. I wish I had somebody to give me a nice little make up tutorial. I'm curious to know what a proper make up artist would do with me!
I did manage to redeem my free £5 birthday gift at The Body Shop anyway.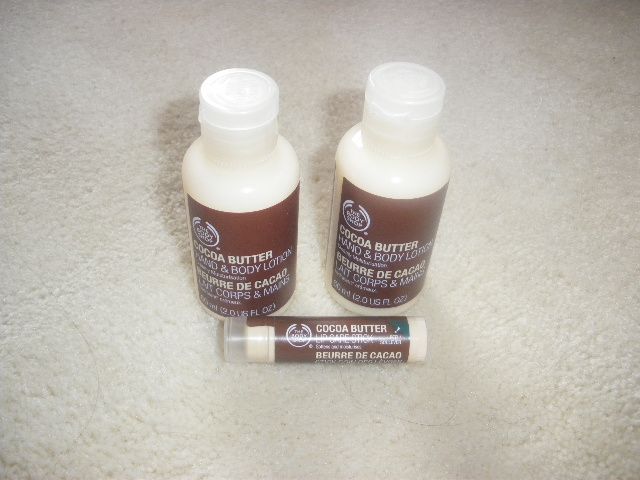 We also learnt that a Lush was opening there that July. Nice to have one a little nearer than Watford (not that I can ever afford Lush prices anyway!) Annoyingly, I couldn't update my Boots Card with its "Treat Street" points - which you used to earn for shopping on eBay back in those days - as the points weren't ready to collect. They came through one hour later. Grrr....
We crossed the road to the retail park opposite to buy some laundry bags from Lakeland. I had a wander around TK Maxx too, but found no nice clothes that weren't too low cut for my standards.
We went to Laura Ashley in search of curtain tie backs after that. David was horribly rude to a lady who worked there, abruptly asking if they sold tie backs in eau de nil to match our wallpaper and not even thanking her afterwards. Mum and I scurried out of the shop in embarrassment and went next door to Family Bargains. I got some Weetaflakes (Family Bargains being the only shop that still sold my favourite type of cereal) and, more surprisingly, three boxes of "Paint Your Own G3 Ponies".
I had been looking for more of these but the price in TK Maxx had been too much for my budget. I thought they were long gone from the shops now and had given up hope of ever finding any more. These were also very cheap compared to TK Maxx - maybe now I would be able to make the characters I had been wanting to paint for so long.
I listed 90 items on eBay over the course of the free listing weekend. It had been so long since eBay's last free listing promotion that I had lost all of my old photographs and descriptions, so I didn't think I'd done too badly. Alas, now that eBay seems to have stopped these promotions all together and I am totally bankrupt, I am cursing the ten slots that I didn't use and wishing that I could redeem them now!
Mum and I had a nice stroll in Lammas Park. In fact, for all Mum's moaning about how "bored" she was with the parks, once she was there she didn't want to come back, so we walked around twice.
When we got back, I finished scanning all of the old "Tripleprint" photographs from when I was a child. Then I started work on cleaning - I only hoovered two rooms before I got tired and had to sit down though. There was definitely something wrong with me, but I was determined that David wouldn't have another chance to say that I didn't TRY to keep the house clean at least.
Having seen my eBay listings (which included some Happy Meal toys), Emma wrote to me about a cardboard treasure chest full of McDonalds toys which had been donated to the kids' school for their summer fair. She asked me how much I thought it was worth, but I had to admit that I had never seen anything like it before. I don't know what happened to it in the end as I don't think it got sold at the summer fair just in case it was worth more than they knew.
Despite all of David's nastiness of the last few days, I was feeling guilty about Father's Day as I hadn't got anything for him. Then again, what do you get for a man who does everything in his power to avoid even having to see you on a day to day basis?!
Well, as I am literally falling asleep where I sit and still have to have a bath before bed, I think I had better leave it there! If you hear about a girl drowning in her bath in Ealing, know that the blog is to blame!
Best wishes,
Desirée xxx