What's more, it wasn't even in the room.
Just when I thought my taste in music couldn't get any worse... But I just discovered this song today and I didn't know whether to laugh or cry about the similarities between Johnny's infatuation with his jukebox and my love of a certain coin operated ride. I could certainly sympathise...not sure I'd smash my motorbike just to travel to the "great Carousel in the sky" though!
July 21st 2011
Yet another day of disruption caused by workmen. This time though, the man in question was EARLY. (Well, it's nice to have a change, eh?) This was the man to try to flatten out the 'bubbled up' areas of the hall and kitchen flooring. I went into hiding as usual and had to eat my breakfast in my bedroom. Ah, breakfast in bed! I'm really going up in society now!
Mum and I had a nice walk in Lammas Park and picked up another parakeet tail feather. I was getting quite a collection now.
I was still stressed about my thinning hair, which no doubt made things even worse. Now I had a strange upset stomach (the return of my IBS?) where I had to keep running to the bathroom...but by the time I got there, I wouldn't need to go anymore. Too much information? Probably. Sounds like IBS though, doesn't it? And, as I've been suffering on and off since I was a child, I expect that's what it was.
I had a birthday party invite from Rusty, my adoption horse at Redwings Horse Sanctuary, but there was no way that I could get all the way to Norfolk to see him. This made me sad as I knew he was getting old and wouldn't be having too many more birthday parties. He was such a sweet horse and I wanted to see him at least one more time.
Still on my kiddie ride research kick, I decided to ask on a couple of forums about the Walter Streets' Star-Dust horse I remember on Hastings Pier in the early 1990s.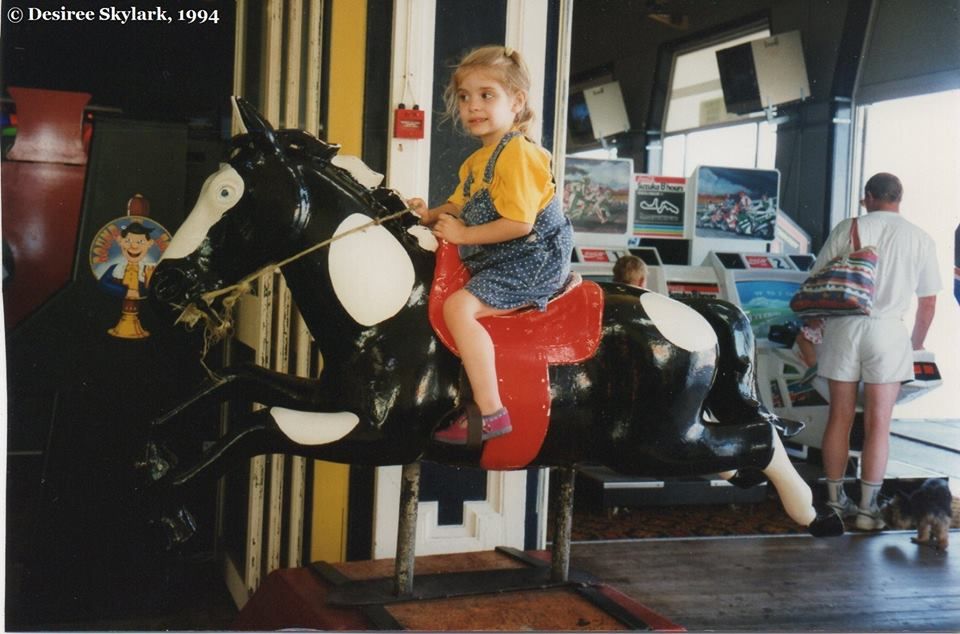 The story with this one is that I remember two identical horses standing opposite each other just inside the entrance to the pier, a white horse with black patches and a black horse with white patches. However, we only have a photograph of the black horse. I have talked to several people about this now and some remember both horses like I do while others think that the white horse was actually repainted in negative the following year. Unless more photographs show up, I suppose I'll never know the truth.
We hardly saw David again. He couldn't wait to get
"home"
to Grottsville via the fish and chip shop. He didn't even do the shopping again. What a close family I come from!
Mum had yet another couple of ailments to add to her list - a headache and
"a toothache or earache"
(she couldn't decide which). Make that a STRANGE close family.
July 22nd 2011
Another day frittered away on kiddie ride research. Oh well, I found out a lot about the history of JM Kiddie Rides and the people behind the company at least!
Mum and I walked to the dentist. Her mystery pain WAS a toothache after all, a dental abscess to be precise. They gave her a prescription for anti-biotics but David
"fell asleep"
(in the bathroom with a book) until the pharmacy had closed for the day. Not to worry though, Mum had a spare packet of anti-biotics in the cupboard (apparently she had kept them in reserve from a time when she had been prescribed with them and the pain had gone off, proving she didn't have an infection and didn't need to take them... o_0) and decided to start taking those instead. Then she realised that these were a different dosage to the new prescription...not to mention they were out of date. Crumbs. Talk about playing with fire.
Despite her tooth pain, we had a nice walk around the shops in Ealing Broadway. I got a lovely Native American patterned t-shirt in TKMaxx. (It's still one of my favourite t-shirts three years later so it has lasted well!) There were loads of cut price G3.5 ponies and Ponyville Mermaids in there too but I didn't have enough money for those as well as the t-shirt.
We walked home via Walpole Park where a small funfair was taking place as part of some kind of beer festival. Among the rides was a beautiful set of gallopers but I hadn't brought my camera to take photographs of them. I would have dearly loved to ride but didn't dare ask if adults were allowed without being accompanied by a child!
July 23rd 2011
We spent a few hours at Grottsville emptying David's stamp cabinet and moving some of my pony stuff. Once I had it all boxed up, my parents dumped me (and a stack of rubbish) back at Woodberry before returning for another car load. Inspired by a bit of clearing out finally taking place, I decided to have a go at singing my "Farewell to Perivale" song while they were out. Alas, my attempts were so dreadful that I didn't even bother saving the recordings!
I was still keeping my mind occupied with all the kiddie ride mysteries. I seemed to think of little else these days. We drove through Greenford and I noticed that the RG Mitchell Rocky and Jerry rides were still outside the little children's clothing store there. I really wanted to photograph and film them, but the street was crowded and I'd failed to bring my camera again anyway.
David had said that we could go to Earnley Gardens to photograph the two Edwin Hall/Edward Savill rides there the following day. Now he informed me that he had arranged for the removal men to return with Mum's framed pictures at noon. Oh well, maybe we'd go to Earnley another day.
Other coin operated ride discoveries of the day included the fact that Robinson Partners (whose rides I'd always believed dated from the 1950s and 60s) didn't cease trading until 1997! No wonder their rides were still such a common sight in my childhood! It seems they continued making the same designs for several decades, hence the old fashioned appearance of the models.
I also discovered a lot of relatively recent pictures of Camber Sands on Flickr. I had never been to Camber Sands and was very upset to find out that there had been around a dozen rare, old rides there right up until a couple of years previously! How sad to be discovering these things JUST too late.
July 24th 2011
I didn't leave the house - well, this is going to be an exciting entry for sure!
David spent the day
"painting his shelves"
...although he actually seemed to spend most of it asleep on the floor or sitting on the loo with his books!
We had filled pasta for dinner (I said this was going to be exciting, didn't I?) and I apparently thought that there wasn't enough in the packet to go between two people. Then I dropped one of the cushions on the floor and wasted it. The funny thing is that these days we make two of those packets last over three days so we must be eating a lot less! I can't imagine eating that quantity now.
The only other thing I have noted for that day is another
FASCINATING
(being sarcastic there - I realise you're all bored to death!) ride discovery. A Walter Streets horse of the kind destroyed in Canvey Island lived on in Bispham. This was Brownie, another childhood "friend" of mine.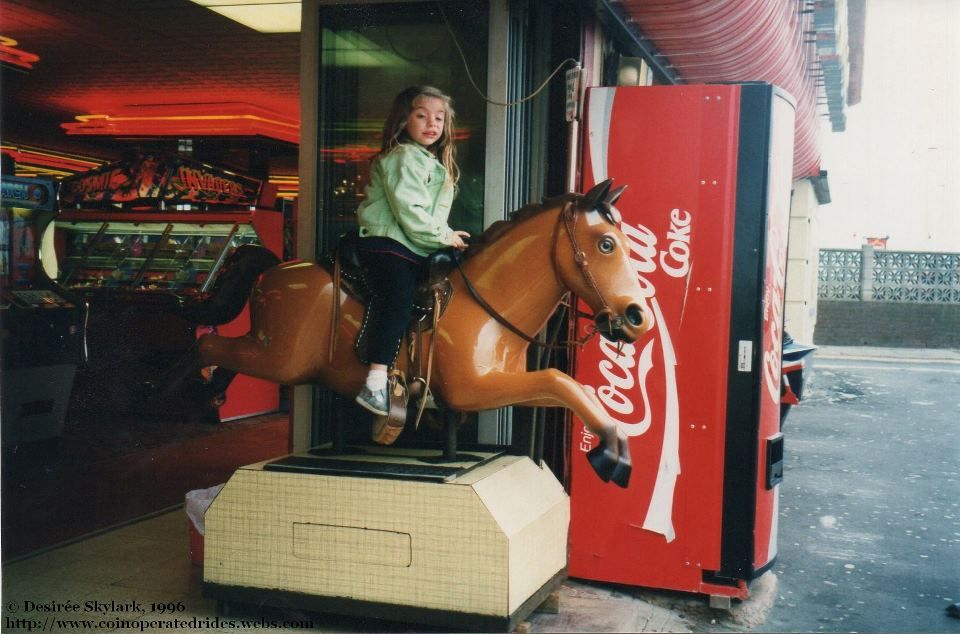 Now I had another amusement arcade on my "to visit" list!
I went to see a doctor about my ever-thinning hair. I was told that dermatologists are not available under NHS care so was just prescribed with some kind of steroid gel and an anti-dandruff shampoo. For God's sake, I don't even HAVE dandruff. The flakes the doctor saw were the residue of dry hair shampoo spray!
I was still depressed and trying to focus on kiddie ride research. Even that was turning to depression now though as I realised how few of the old rides still existed. How I longed to visit any British seaside resort in the 1960s, just to experience what it was like before they all turned into ghost towns. I'd got an upset tummy again...it was obviously stress related. I just wished I could turn off to all the sadness and get on with my life.
David had developed a bad toothache (well, he always has to have the same ailments as Mum!) but the dentist wouldn't see him until the following day, even as an emergency. Put up with it and suffer, in other words.
I really wanted to walk back to Walpole Park and photograph the gallopers before they moved on but Mum was
"too hot"
and kicked up stink at the thought of her 20-year-old daughter walking that far on her own. >.<
Mum had that awful pain again later in the day, rolling around the floor and clutching her side. If she'd been hot before, the sweat was pouring off of her now. Whatever could be causing it? I'd put it all down to indigestion before, but now that was worrying me too...
And so that brings us to the close of another five day blog. Dull as it may be, I will keep this up...somehow!
Best wishes,
Desirée xxx