Well, I just lost all the progress I'd made, didn't I? As a friend said recently, it seems I only get the twilight shift on the laptop these days...and now David even wants it overnight. Can anybody recommend me a good laptop? I don't want anything too expensive, just something basic that I can use for eBay, Facebook, Youtube etc., preferably with good sound recording quality (with separate sockets for microphone and headphones which seems to be a hard thing to find these days) and something that will allow programs like Skype, Audacity and ToonBoom. I need to get my own laptop or I'll never catch up with all my jobs!
We went to Grottsville to collect the last two items that I had sold on eBay. David got in a bad mood with me for digging one of the items (a jigsaw) out of the library cupboard because it meant that he
"couldn't do anythink"
....well, we were only there to collect those items so why wouldn't I want to get it out of the cupboard?!
I did a lot more of Mum's scanning and stressed about my ever thinning hair. Why do looks have to be so important to everybody? While doing an - ahem! - unrelated search (yes, completely unrelated! I've no idea why the results that came up did) on Google, I accidentally stumbled across the guy I liked on a dating agency. I had no idea he was on such a website (I can't imagine why he needed to use a dating site!) or even, indeed, that he was single. Anyway, his profile stated that he was
"looking for a beautiful woman"
...because yeah, outer appearance is everything. No mention of shared interests or personality, just that she needed to be beautiful. As for him? Oh, he
"works in an industry where looks are important"
so he thought that potential dates
"would be happily surprised"
. Hmm...yeah. Why are looks important for
WORKING IN A SHOP
? You're a
"petty shop clerk"
, remember? Well, anyway, if I'd felt nervous about meeting him in real life and confessing my feelings before, I knew now that I couldn't ever do so. Why would he want a girl with crooked teeth and thinning hair if looks were so terribly important in his world? *Sighs*
I did my laundry and hung it up in David's bedroom (where the airer was kept)...then David came in unexpectedly at lunchtime in search of a phone number and had to be told to stay out of the loft!
The rest of the day went on packing eBay parcels. I'd sold quite a lot this time, including one of the leaflets that I had picked up for free in Tesco for which a Canadian Brony offered a higher Buy It Now price! It was to be another free listing weekend too, so the cycle would start up again...I never seemed to get a break from the eBay chores! But at least I was making a bit of money through it, I suppose.
I didn't leave the house again. David did offer me the chance to go to the wonderful Tesco but he went out very late and still wasn't home at almost midnight so I was pleased that I hadn't gone with him. Plus I was still feeling really down about my hair and didn't want to be seen with what was left of it. I had wanted to have a bath but didn't get that either due to waiting to go out until it got too late for me to be bothered. I was annoyed to say the least.
More eBay chores - packing up during the daylight and sorting photographs on the camera and computer in the evening. Two of my buyers still hadn't paid so I couldn't put this set of eBay behind me even now! I'd just realised that anything listed this free listing weekend would end just before we went away to Morecambe as well...I didn't want the stress of people complaining about items being sent out late, but I really didn't want to lose a free listing weekend either.
The dress that I had bought for myself finally arrived. It was bursting out of its packaging (brown paper with no inner lining), but was miraculously still in nice condition.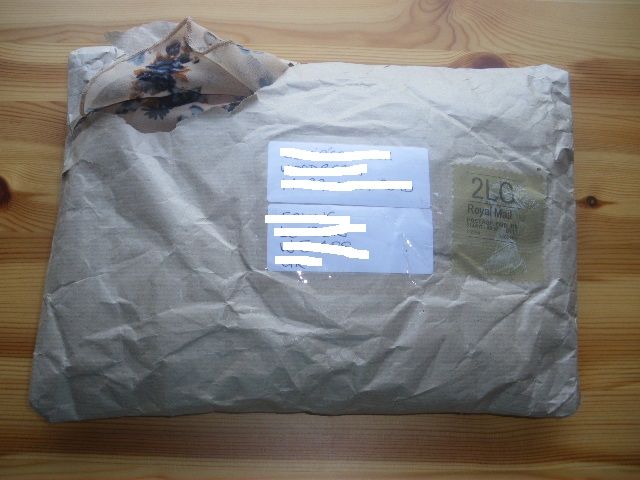 eBay free listing weekend was limited to 100 items (Oh, the OUTRAGE! Back then free listing was usually unlimited!) I decided to take the risk despite their end date and listed 112 items. (Including 12 99p items...you had 100 free 99p listings per month back then too.)
I finished setting up an eBay account for Mum as she had asked me to do but she
"couldn't be bothered with learning how to list"
so I just listed one item for her - an Iceland travel guide. She had all kinds of weird limits anyway. She could only sell 10 items/£350 worth a month and wasn't allowed to offer worldwide shipping. o_0 I'd never had any of those limits when I signed up!
We went to Grottsville while David posted the eBay parcels at the post office across the road. I started sorting through my Sylvanian Families collection and observed Scar Face hiding in a bush further up the road watching women passing by... What a weirdo.
After that, we headed to IKEA to look at chairs (Mum didn't like any of them) and Laura Ashley for discounted curtain hooks and a shelf with hanging hooks (which David said he would saw off?!) We went next door to Family General after that for Weetaflakes and creamed rice. I got another pair of shoes and Mum commented that this must mean that the last pair I'd bought there must fit. Er...where did she think I'd been to try wearing them? We also got some nice pink padded hangers...which I quickly discovered wouldn't fit in my wardrobe! Then to Home Sense for tins, a cardboard storage box and a mug tree. There were lots of cheap ponies there but I managed to resist.
Finally we went to Argos to get a shower attachment for the bath at long last. David disappeared and Mum worried when she spotted him leaning against the car outside the shop. We dashed outside, only to find that he was angry with us for not guarding the car while he waited for them to bring the shower attachment up. How were we supposed to know his plans if he didn't tell us?
I was still very self conscious about my hair. Mum was horrid and told me I just had to get used to it and walk around bald. She made me cry as I knew I couldn't do that. Why was she SO against wigs and hair pieces? Of course I'd rather have my own hair than something fake, but I didn't want to walk around bald!
I was always so tired too. I ended up taking a two hour nap after dinner before my bath. Whatever was wrong with me?
David then went to "work" until 12.30am, despite having promised me a car boot sale for the following morning. We'd never get up now...
We went to Walton on Thames car boot sale. Just as I had predicted, David got us there late. (He didn't even come in with us because he was so tired after his night out!) The weather was bad too so I got nothing at all. There were a few G3 ponies dotted around but nothing worth buying.
I died a little when I saw this sign. Can the people of England really not use their own language now?
We stopped at Tesco on the way home but I was too tired to get out of the car again. I was also stressed about a splinter in my finger (which I thankfully managed to remove).
I listed another six items on Mum's eBay account for her and won a big lot of MLP comics and club stuff on my own account.
I didn't leave the house again. David did say we were going to Grottsville to do some clearing up but then he went to sleep in the bathroom until 10.20pm.
He kept offering to help Mum with her family history, typing it up on spreadsheets and so on. Very nice of him, you might think. But he wasn't doing it as a favour. He only offered to do it to get out of doing other more important jobs! And he kept messing up Mum's meal times and talking through her snacks/giving her indigestion in the process. Mum does love to keep to her set meal times...
I did a lot more scanning for her, and came across another childhood coin operated ride picture.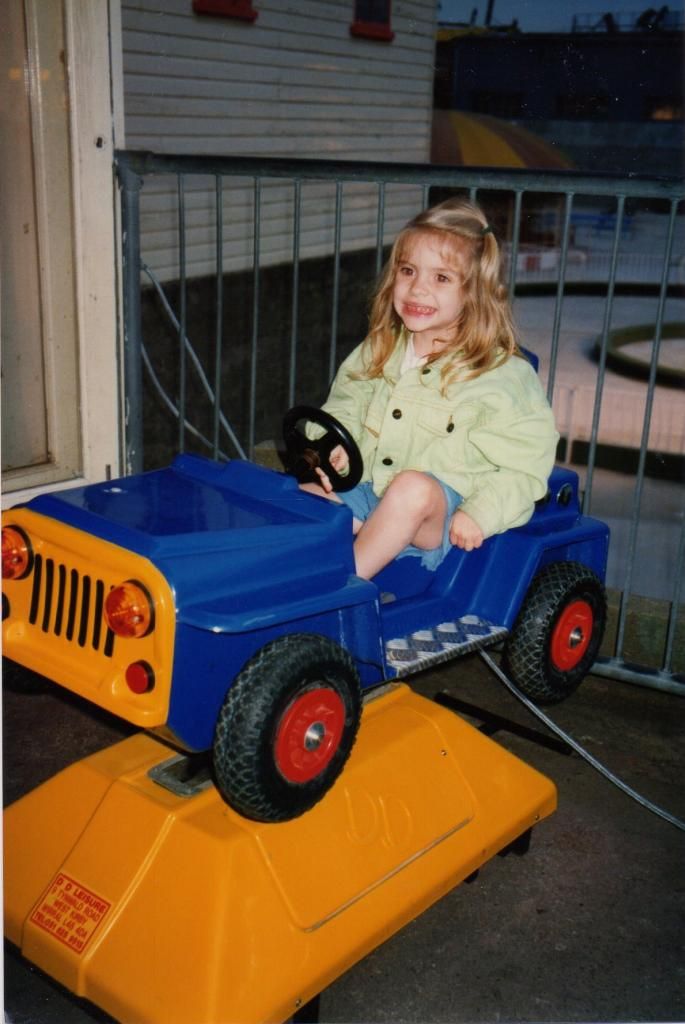 This was my favourite car ride, Bluey-Yellow (Yes, I certainly came up with some great names as a child... >.<), at Southend's Adventure Island in 1995. I'd never taken much notice of the sticker on the base before. I wondered who DD Leisure were...especially as I've seen other rides on a very similar base with the initials "RL" in place of "DD".
Penny Machines approved my kiddie ride post on their forum but I didn't get much in the way of useful replies.
I won an original G3 Scootaloo on Swapitshop! I never thought I'd get an actual MLP from that website...oh well, it made all my Swapit collecting activities seem worthwhile at long last. I paid for the eBay comics...I was a bit disappointed that the seller didn't offer combined shipping for the two lots I'd won, but it was my own fault for not asking beforehand.
I finally got around to uploading the videos of Rhadlon's birthday party to Youtube (but you've already seen those so there's no point showing them on here again). While I was on the site, I stumbled across this episode of Beyond Belief: Fact or Fiction which I had wanted to see for some time for obvious reasons...
Not sure it was really worth the wait really. Are all 1990s TV shows really that badly acted? ;)
Oh, and finally, I took some updated photographs of how my teeth were looking after six months of orthodontic treatment. I was so happy with the results so far! I couldn't believe how quickly things were moving!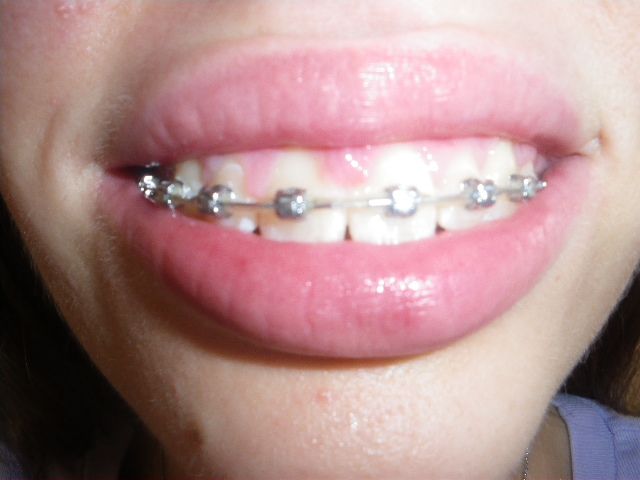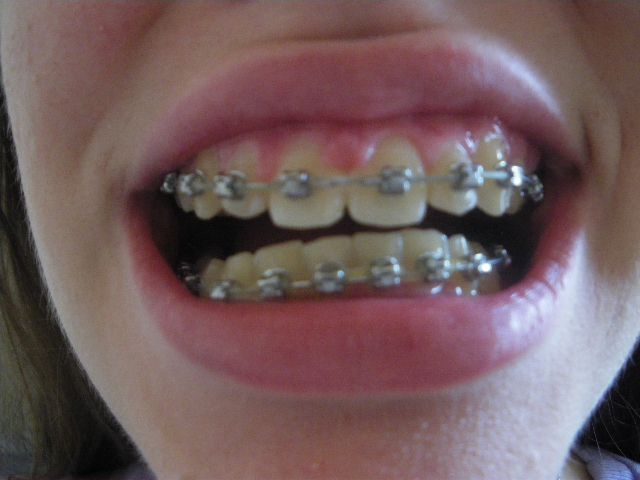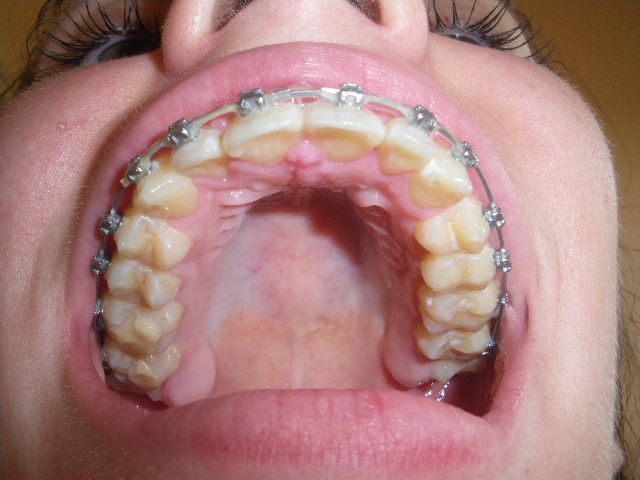 And, with those ghastly images, I shall leave you in peace. Let's hope it's not another six weeks before you hear from me again!
Best wishes,
Desirée xxx