Nope, this time it was closer to ten! I will never catch up with this blog again now. I don't even have the excuse of not having my own computer anymore as I bought a new laptop a few weeks back. I've just been so busy with 'real life' things that I don't get online as much these days. Still, better to have a social life in the real world, huh? Job hunting also takes up a lot of my time. I used to say I didn't know how I'd have time for blogging if I had a regular 9-5 job, but I think the endless scrolling through vacancies I'm not qualified for takes almost as long!
I may have to have a rethink about this blog in the new year and just go over the highlights (or even give up and cut out the last three years completely, although that seems sad when I've kept such meticulous notes!), but until then I shall plod on with the tale of September 2011!
Another exciting day, not even leaving the house. David seemed to come home later every night, often stopping for hours at Grottsville on his way. Tonight's excuse was that he had to pick up some paperwork from the other house. He still wasn't home at 11pm. It had been raining torrentially all day so there was no chance of getting out on my own two feet, hence I was a prisoner in my own four walls again.
The extension roof couldn't take the weight of the rain and kept creaking as though it would collapse. Looking out of the bathroom window, I saw streams of bubbling water making their way along the roof and soon we had the gushing waterfall effect pouring down the outside of the windows again.
I spent the day trying (and failing) to clear the house. I sorted out my childhood Grand Champions collection and found that I had two duplicates which I photographed for eBay. I scanned another photograph album for Mum whilst listening to/semi-watching an episode of Call of the Wild in order to retain a little of my sanity. My right arm was hurting where I had fallen out of bed and twisted it the previous day which only made things harder.
I was trying desperately to convince myself that my hair was looking thicker and finally starting to grow back but it was hopeless. I was losing handfulls of it every time I touched it. It was devastating to watch my once beautifully thick hair just disappearing in front of my eyes, especially when all the men in my life seemed so obsessed with women's appearances. It's not fair that people find it necessary to judge people on how they look on the outside. Surely it's what's inside that counts in the long term.
If I'd kept relatively calm about my hair the day before, I was now in full blown depression watching the outrageous amount that was falling out.
I didn't leave the house for a third day running, which might explain why my depression and anxiety had returned.
David came home "early" for once (8pm), but then went to the bathroom for an hour. By that time, I was feeling too sick and tired to go out with him...and he was only offering to take me to Grottsville anyway.
I scanned another half of a photo album and began resizing the pictures that David had scanned incorrectly. Then he decided to make himself look busy by sitting in front of the computer that night, looking through albums that I had long completed and occasionally making comments like,
"You haven't touched this one yet, right?"
,
"Oh, I'll have to find something else to scan then..."
and
"I don't know what she's bl**dy scanned!"
The last one was to Mum, of course. Apparently it's too hard to keep the 'scanned' and 'unscanned' boxes apart? He couldn't seem to understand how I'd got so much scanned in such a short space of time and got quite nasty towards me for being quicker than him. Well, maybe it's because I dedicate my time to actually scanning rather than staring at the BBC News while sitting in front of an untouched scanner!
Mum then suddenly got cross with him for "making the carpet dirty" in the front room and insisted that he started lying on a dust sheet whenever he used the computer and scanner in there. Here's a novel idea. Why don't we have the computer and scanner on a desk like a normal family? Welcome to my world...
Mum and I had our first walk in ages. It was nice to get out for a little stroll in the fresh air, even if it was only up to the South Ealing charity shops and around Lammas Park.
I saw a G2 Secret Tale in a big bag of toys in MAPF but worked out that it wasn't worth buying the bag as I wouldn't make any profit out of the other toys.
We ran into Chris Sickton again, chaining his bike outside a cafe in South Ealing Road and drinking a cup of tea. Admittedly, he looked more awkward than us for once and just kept his eyes down on his cup. It was horrible to run into him every time we left the house though.
David took us to Grottsville in the evening so that I could collect the Mr Men jigsaw that I had sold on eBay. He was supposed to go to Tesco while we were there but decided to go in the bathroom instead. This meant he had to go out again after dropping us back at Woodberry. It was so late by this point that Osterley had closed for the night so he had to go all the way back to Grottsville to Hoover Tesco. Talk about a waste of petrol!
I was very self conscious about my hair again. It felt horribly dirty and greasy but I was too scared to wash it. Oh well, at least I hadn't suffered so much from the burning scalp and accompanying spots over the last couple of days.
September 9th 2011
I returned to Sparkle Dental Boutique and met my new orthodontist, Saba, who seemed very nice. They made an updated video about my progress for their website, and filled me with the usual nonsense and flattery. They told me I was beautiful, complimented my t-shirt and necklace, asked about our American holiday and the origin of my name...and told Mum how much I love Vancouver and how I had friends there. Uh...how the heck do you know that? Aaahh, you've been Googling me again. So, tell me, is it considered professional these days to research your patient's private lives online? Maybe I'm just hyper sensitive but it seemed a bit weird to me!
They asked if we were going to Canada for
"our winter holiday"
. Who said we were going on a winter holiday? We're not rich, you know?
"Well, we're going to Morecambe next week,"
Mum said, thinking on her toes.
"Where's that? Is that in America?"
the receptionist asked, obviously still thinking we were made of money.
"No, it's near Blackpool..."
Mum answered.
"Oh..."
The receptionist looked phased as if she'd never heard of any of her patients holidaying within the UK before.
"Well, that will make a nice change!"
This is the video blog I made for my own Youtube account that day. I haven't watched it for over three years and hate myself so much that I can't bear to watch it now! So I will not be held responsible for anything offensive in it, as I literally have no idea what I'm posting!
We made our way to Boston Manor Park afterwards. It was not our nicest walk there. David was supposed to be meeting up and walking with us, but couldn't find anywhere to park, and the pigeons weren't hungry for the bread we'd brought them as they were too busy eating a pile of some kind of orange coloured grain...
A very greedy labrador came bounding over to us. I quickly stuffed the bread in my bag, but that didn't deter him as he jumped around me and tried to open the bag with his nose!
"Don't worry, he just thinks you've got bread!"
his owner cried cheerfully.
"We have,"
Mum said.
"Oh yes, he'll have it off you!"
The owner laughed, making no attempt to retrieve his dog. Thankfully, the dog eventually gave up on opening my bag and went on his way. What is it with labradors that they always come looking for duck bread?
By the time we got home, the usual toothache was setting in. Not as bad as after the previous adjustment though so I was still able to get back to the job of scanning Mum's old photographs.
That evening, David managed to break the scanner lid by lazily lying on the floor and bending it back at a funny angle. Of course, he denied that he was the one who had broken it, saying that
"it must have happened earlier"
. Yeah, sure.
September 10th 2011
We went to Uxbridge to buy Kiera's birthday present from The Entertainer. I saw that the G4s were in stock there but didn't even bother to notice which ponies. I guess I had finally grown tired of the modern MLPs.
After doing the chore we had gone there to do, David refused to stop and discuss where we were going next. Hence, Mum and I had to follow him to the post office like a couple of little lambs before he slowed down for long enough to work out our plans. Mum turned on ME as usual.
"You won't get off the computer until right before we leave!"
she snapped at me. Admittedly I had gone upstairs about half an hour before we went out because David was hoovering and in a fowl mood. But we couldn't really discuss anything with the noisy vacuum cleaner in the room anyway, and she'd had all morning to say where she wanted to go in Uxbridge (or we could have discussed it on the way there, come to that!) I just felt too unhappy and self conscious about my hair to want to go anywhere really.
"Well, if you are really losing your hair, you'll be sorry that you didn't make the best of these days when it doesn't look all that bad."
Mum snapped. Nice.
We ended up just going in Savers to buy some cheap essentials, TK Maxx and the charity shops. There was a newly opened Oxfam there but no ponies or anything else to sell on eBay!
I finally sucked up the courage to take a couple of photos of the juvenile roundabout out in the high street. It's been there for years (I'm pretty sure I used to ride on it when I was small enough!) but I'd never had the guts to take photos of it before. Some of the toys on it are old 1970s RG Mitchell and Whittaker Bros. models.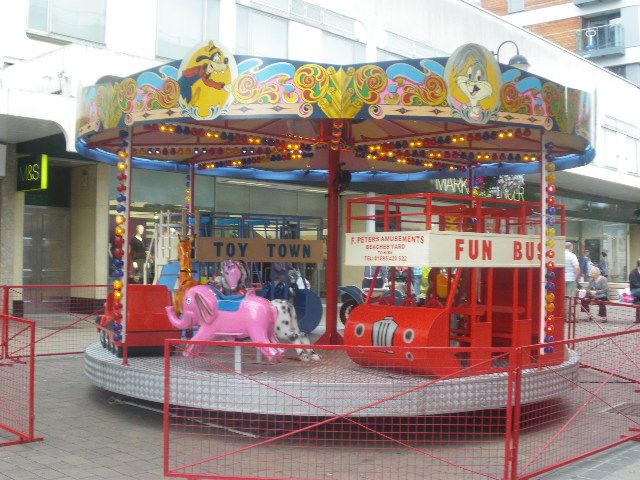 We went to the storage depot in the evening. Big mistake. The lights weren't working, and there were mouse traps and dead moths everywhere. It was like something out of a horror film. But never mind, they let us borrow a torch!
Then to Grottsville to collect some wrapping paper and a couple more items that I'd sold on eBay.
A man was supposed to be coming to look at my bedroom cupboard (where the floor was falling out) but he never showed up. Hence, I'd gone to all the trouble of emptying my room for nothing. AND I found a carpet beetle larvae on my carpet. The first I'd seen at Woodberry. Great, allergies here we come!
Mum had got her first bid on eBay...on a derby race card she'd had since she was a teenager. Her wonderful friend, Jill, decided to shill bid on it and push the price up. (Without telling us that she was going to do so, of course!) Did she want to get Mum banned before her eBay career had even begun?
And so ends another blog entry. This time I swear it will not be another six (or ten) weeks until the next one! In fact, I might even try to write another one later today if I find the time,
Best wishes,