We certainly do meet some strange people (and always have done)!
December 11th 2011
We drove to Hanwell in search of a car boot sale...which had clearly been called off. David yelled at me for not knowing the exact address but we were at the right school. You can expect car boot sales to be cancelled at that time of year. I don't know why my parents suddenly become active car booters in the coldest months of the year!
I was getting more and more self conscious about my thinning hair. I was really starting to feel the need of something to cover my head with (if not a wig, a head scarf of some kind) but my parents claimed that I didn't need anything.
I watched Friendship is Magic but it was becoming more and more ridiculous. It reminded me of an episode of Spongebob Squarepants with its silly jokes about Spike refusing to wash his cheek after being kissed by Rarity. (I'm sure I remember seeing an episode of Spongebob while recording adverts once where that Squirrel character touched his hand and he refused to wash it. Same unfunny gag.) WHY did the bronies think it was so great that it was worth writing hate mail and death threats to innocent people over it?
I discovered that a lot of my In My Pocket figurines were missing as I started packing them up. I had a horrible feeling that some might still be lost in the undergrowth in the garden at Grottsville. I did used to play with them out there all the time, and I still remember my mum finding one that must have been left in a flower pot all winter without my noticing it being missing! Hopefully there was just another box of them elsewhere in the house at Grottsville. I was usually such a careful child...surely I couldn't have lost that many in the garden!
We were supposed to have another large calorie intake at McDonalds that evening but David decided to get some soup for himself so didn't want to take Mum and I. Just as well really. I think I'd have burst if I'd eaten any more fries!
December 12th 2011
Mum's friend Karen sent me a Parasol pony who had, um, come home in her bag from the local church fair where she had run the toy stall! It was nice to get a surprise pony for the herd.
Mum and I had a walk in Lammas Park and saw a tree with that was already starting to blossom.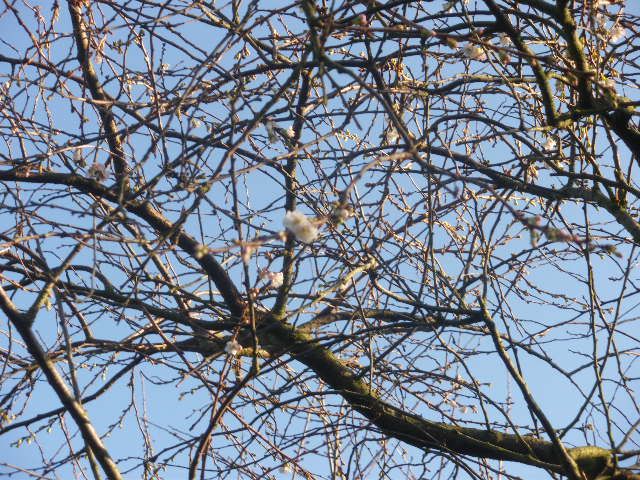 As I was taking photographs, a very strange woman walked up and started chatting to us and telling us why the tree was blossoming so prematurely.
Apparently it was caused by an alternate universe and its huge sun which was moving close to Earth at the moment. Scientists are keeping quiet about this alternate universe so as not to worry people - NOT that it would get mentioned on the news anyway because politics always take priority. The woman refused to move on until we assured her that we believed every word she had told us because
"she didn't let many people in on her knowledge"
...
Thankfully, we escaped from Lammas in one piece! We walked up to the South Ealing charity shops but found nothing of interest. We were really trying to find a post box in which to post Mum's letters but all of the post boxes were full to the brim with Christmas cards!
David kept ringing us all the time that we were in the charity shops to ask if we wanted him to give us a lift to Grottsville. Mum kept putting the phone down on him to try to keep him away for long enough that we could get around the three charity shops and beat him back to the house (my laundry was on the airer and I wanted to put my underwear away before he got home).
Eventually just David and I went to Grottsville to collect the last In My Pockets (yes, I did find another box containing the missing figures!), a tape recorder and his suit. He was annoyed when I started emptying a cupboard of other stuff to clear out/bring back with us. Did he want the house emptied or not?! Well, it was raining too heavily to bring much back anyway as it would have got soaked just moving it to and from the car.
We stopped at McDonalds on the way back, David not even having asked me if I wanted to. (I think they wanted to fatten me up for Christmas, quite literally!) I'd already had dinner so wasn't really hungry but would have had a McFlurry for dessert. David ordered the usual fries though. I made some kind of comment to say I wasn't hungry enough - not to worry though, he just ended up eating both packets!
December 13th 2011
David went to Borehamwood for a job interview, then wasted the rest of the day in the loo (reading a book with the door wide open!)
I didn't leave the house. To be fair, I was offered the chance to go to Tesco in the evening but my hair felt so awful that I couldn't force myself out in public. I was very depressed and kept crying, which only resulted in Mum yelling at me that
"at least I wasn't in pain"
, She had bad acid reflux and an upset stomach again, by the way. Yes, maybe my problem didn't cause actual pain but it was certainly ruining my life. I was already dreading having to go to the orthodontist and various other places that would force me out of the house because I didn't want anybody to see what a mess I looked.
I washed my MLP curtains and continued packing my In My Pocket collection into a crate. I'd really hurt my hands trying to pull apart the little fenced enclosures etc., to flat pack everything and make it take up less space. And this stuff was meant to be fun for children to play with?!
December 14th 2011
I was so very distressed about my hair that I didn't even want to get up.
After I eventually forced myself to do so, David dropped us in West Ealing while he went to the bank. The YMCA charity shop was full of fakie ponies - I wonder what real MLPs had been there earlier? I came home with a dear little G3-style baby fakie. She cost 50p which she really wasn't worth...the poor thing was even balder than me!
Next to Grottsville to collect my Pretty Pony Club Comics as well as my hat and scarf. Mum heard a rat clattering around in the back room while we were there. It really made me feel good about spending a lot of time over there, especially in the evenings considering there was next to no lighting in that house!
There was yet more discussion on the radio about the unemployment rate for young people on the way home. I was stressed to death. If well educated youngsters who had helpful parents and support in finding their path in life couldn't find work, what chance did I stand?
There was a new charity shop in Ealing Broadway so David pulled up on double yellow lines and let me run inside! Lots of toys (no ponies though), but the staff made me feel really uncomfortable for leaving without buying anything. Not a shop that I'd go back to in a hurry.
December 15th 2011
A trip to Brentford McDonalds for yet more fattening fries. Oh, and since Mum took longer to eat hers than I did, I got a Dairy Milk McFlurry as well. At this point, I'm
SURE
my parents were trying to make me fat! I was still eating the McFlurry when Mum did finish her fries, but my parents were not prepared to wait for me to finish eating and drove off, giving me indigestion.
The traffic was horrendous. The roads were full of crazy drivers, honking their horns and shouting at each other. I think this was the worst Christmas I'd ever known for lunatic shoppers!
To be honest, I didn't want to go anywhere further than McDonalds. My hair was driving me crazy and I was too distressed about it to even want to sit in the car now, let alone walk around. It was so awfully greasy and stank of sweat. Surely NOW I could see that it needed to be washed? But no, I refused to do anything about it and instead used the nasty dry hair shampoo which was not making the slightest bit of difference to the filthy mess on my head!
I was having the most dreadful anxiety attacks - unable to breathe, knees knocking etc. My hair had taken over my life. I tried to sort through the Pretty Pony Club comics that we had brought home from Grottsville the previous day but I didn't even want to move my head enough to do that job! What I discovered was that I was even sentimental over these and the few duplicates amongst them had been cut up for scrapbooking etc. back in the day. I think I'd developed some kind of hoarding condition where I couldn't let anything go. It was as if I had so little control over my life that I had allowed my possessions (the only things I could control!) to take over.
Neither of my parents gave a darn about me really. David went to Grottsville as soon as he'd brought us back from McDonalds to dump the rubbish bag and start sorting through his rubbish over there. Mum called him
"heartless"
for leaving me alone in the dark and, more importantly, for leaving HER with me, but he just told me to
"put the radio on"
if I wanted company!
Best wishes,
Desirée xxx