I let it get too late to write two blogs again today, but here's one at least.
I got up early to go to Hounslow Heath car boot sale. I needn't have bothered. I only got as far as the car when I turned sharply at the sound of "B*****D!" being shouted from the front garden. My parents were having one of their usual arguments, resulting in Mum kicking David in the backside. (No, don't ask me how she managed to get her little short leg that high, but I guess anger makes us capable of things we wouldn't normally dream of doing!)
Mum had a backache - well, I'm not surprised after all that excitement! - which she thought might be a kidney pain, so she hadn't wanted to go out anyway and I think had caused the argument so that she had an excuse not to go. She had
"been up for hours praying that I wouldn't wake up"
. What difference did it make if I woke up or not? She made sure we didn't go out either way!
Anyway, the day was wasted again. David painted a shelf to go on the landing above my bedroom door and a cabinet for his office. But that was the only useful job that got done all day.
We went to McDonalds in the evening for fries. No wonder I was overweight! David had already had soup (with added milk
"to flush it out of the saucepan"
whatever that's supposed to mean!) but still ordered a large portion of fries for himself while we just had medium. Still it wasn't enough to satisfy his appetite.
"Is this any different to the medium ones?"
he asked.
I had a nice relaxing bath when I got home to try and soothe my nerves. I used up the last of my coconut scented scrub, went to open what I believed was an orange scented scrub...and discovered that it was a body butter! So I had to start my precious Soap & Glory Flake Away scrub which I had been saving for a special occasion.
An exciting trip to Grottsville to collect my old Kinder Surprise toy collection was the highlight of my day.
We watched the last episode of Downton Abbey. What a silly programme it had become to be sure, and yet somehow I couldn't stop watching! Mind you, it was always ruined by the fact that Mum had looked up spoilers online and already knew what was going to happen. Even if she didn't say it directly, she gave enough hints that I knew the ending. Of course, she didn't admit to looking up the spoilers and instead blamed her friend Jill for ruining it and telling her!
I had a terrible craving for chocolate. I dropped some chocolate ice cream on the floor and had this desperate urge to lick it up off of the floor. (I resisted, by the way! But there was something very wrong with me for even having that thought cross my mind...)
An upcoming song from Friendship is Magic, "Smile", was leaked online. It made me cringe. I still couldn't get over the vocal differences between Andrea Libman and Shannon Chan-Kent. Maybe it's just because I focus on the voice acting instead of the show as a whole, but there is no way that Pinkie's singing voice sounded anything like her speaking voice!
I finally finished washing the last of my My Beautiful Horses collection. Now I just had to see if I could cram them all into one crate! How did I end up with so many anyway?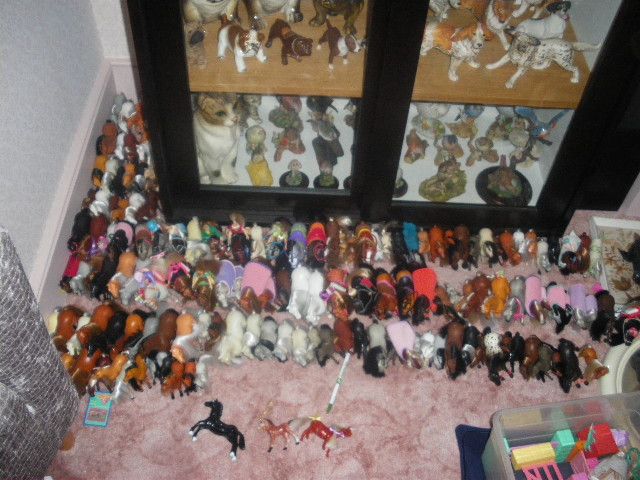 David dropped us in Uxbridge while he went to Harefield for a meeting. It was not a very successful shopping trip. I couldn't find a nightdress in BHS, ELC had become a mobile phone shop so we couldn't look in there for anything suitable for my nephews and nieces, and the 3 for 2 offer in Boots didn't extend to the miniatures that we had hoped to get for my sister's upcoming birthday. Mum then decided to go in La Senza in search of a nightdress. Ahem, not my kind of night clothes, I'm afraid. Then a shop assistant put a voucher in my hand. She took one look at my mum and told me to
"spend it another time"
with a knowing look! Sorry, girl, but my mum's the one who encouraged me to come in here. I will not be coming back without her to buy some sexy nightwear!
Mum saw a lovely coat for £55 and also some postbox-shaped cruets that she really liked, but she wouldn't buy either because she
"wanted to go home and think about it first"
!
I treated myself to some stuff in The Body Shop and got a pot of Ginger Body Butter for £1 though which was a good deal. I also found a purse for my friend Grace for Christmas, and got three Ponyville Mermaids in The Entertainer reduced to £3 each.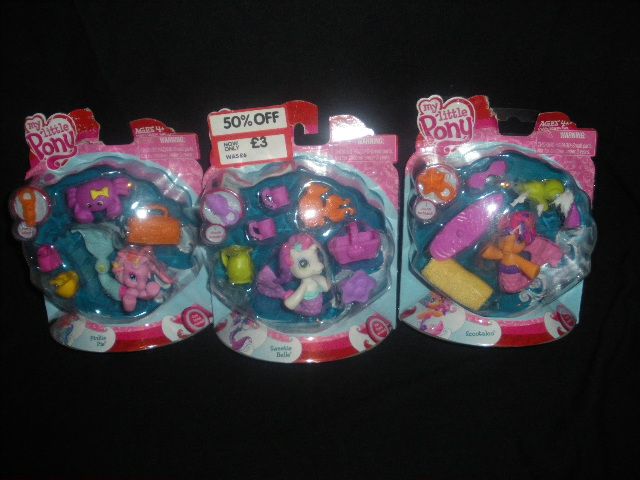 We were left sitting in the cold market area for a lot longer than expected and I developed a bad headache and dizziness. Oh well, at least it gave me a chance to finally photograph the kiddie rides there!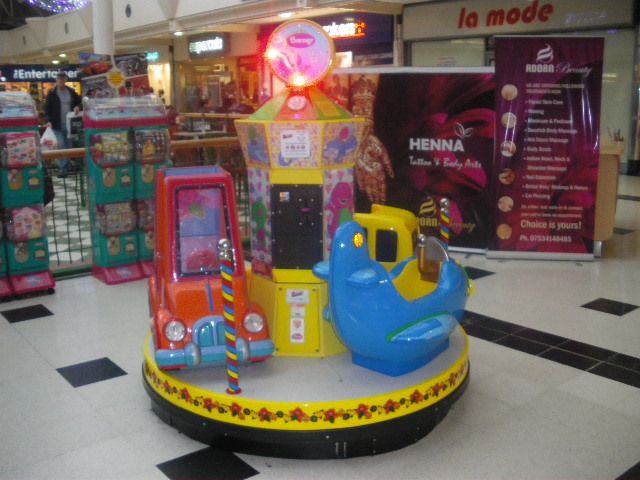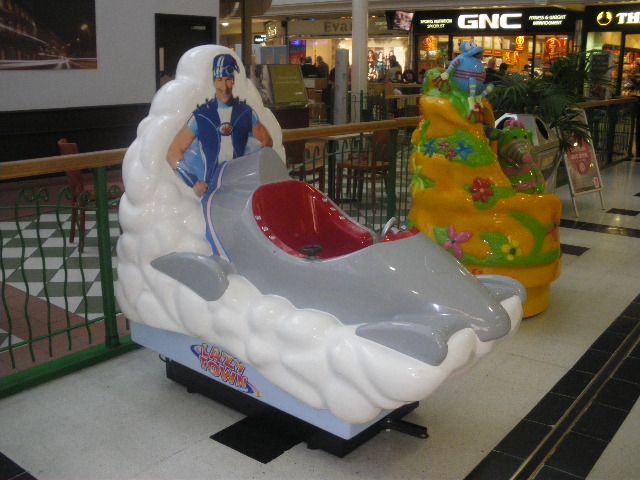 The Lancer animation cel that I bought on eBay arrived, packaged between some old film posters . I felt a bit sad that the posters had been damaged just to protect my item (I bet somebody would have liked them for their film memorabilia collection), but still, it was a nice animation cel.
Having finally given up on finding a suitable present, we went to Brent Cross Toys R Us to get a voucher for Allan's birthday. Mum didn't want to go as it "meant that we wouldn't go to John Lewis at the weekend" (we wouldn't go to Brent Cross twice in one week, and John Lewis was closed by that time in the evening) and screamed all the way about David's driving and the pain in her stomach.
We stopped at Grottsville on the way back to pick up the Cheer Bear beanie that I'd sold on eBay. I discovered that this one was stained and had a scratched eye that I hadn't mentioned in the auction. I had to stop selling things that weren't in the same house with me!
David had the most awful cold and had lost his voice. I had sneezed a few times too so was shovelling the echinacea pills down with every meal!
Mum's Chartbuster game auction ended. She got £51.33 for it in the end - a record for our eBay sales at the time! She still wasn't happy though and thought that it must be worth more than that or people wouldn't have bid that much.
I was continuing to lose my hair but wasn't bothered about it at the moment. Calm before the storm?
Mum upset me by accusing me of being
"silly if not stupid"
for wanting to be dedicated to one man for the rest of my life and not wanting to replace him. Well, good for you if you want to experience mutliple partners and relationships, but my dream was always to find my one true love and settle. I don't get the point of flings and short term nonsense. Obviously you can't help it if a relationship breaks down for reasons beyond your control, but why the heck would anybody want to enter into something without at least having the intention of making it work? Surely you're just setting yourself up for heartache, as well as all the risks of unwanted pregnancies and diseases. If you truly loved/cared for one another, you wouldn't want to break up. So are we saying that entering a "relationship" purely for physical satisfaction and then tossing people aside when you no longer need them is considered perfectly normal these days. Am I missing the point? Maybe I'm old fashioned, but I still think my way is best in an ideal world.
I spent the day wrapping up the latest batch of eBay parcels and writing/drawing pictures in Christmas cards for my nephews and nieces. It was dark by the time I'd finished. (Well, I guess that's the problem with having so many nephews and nieces!)
Having said that, Mum hadn't even woken me up until 9.45 that morning. She said that she had called me earlier but that I had
"told her not to wake me from my dreams"
! (I love that line so much that I decided to use it as a the title for this blog!) Later she used the excuse that she was
"too tired to come upstairs"
(why she couldn't call me from downstairs is beyond me). The truth was that she just didn't want me to get up. And I can't say I blame her with all my depressions of the time.
She was in a fowl mood, panicking about her thin hair which
"looked like a man's wiry sideburns"
(?!) Halfway through her breakdown, David walked into the room to
"wash the Chartbusters lid"
(don't ask why he thought he could wash a cardboard lid of a game hat had just sold for so much money!) so she asked him what he thought of her hair. He kindly told her that he'd
"noticed it looked worse but he thought it just needed washing"
. Well, gee, thanks a bunch, David. She really needed to know that you'd noticed it looking worse!
He still had a stinking cold so I wasn't too keen on him being in the same room as us in general anyway!
My teeth were my complaint of the day. I'd noticed that the gap between the front teeth was reopening and also that the stupid orthodontist had failed to properly close one of the 'gates' on the brackets. So THAT'S why it was rubbing the inside of my lip and causing so much pain!
We returned to Grottsville that night while David went to Tesco. I started sorting through my old Sylvanian Families but didn't have a lot of time and didn't finish the job.
The place seemed to have gone even further downhill. There were gangs of drunken thugs everywhere, and the police were busily arresting another youth in the short time we were there. One drunkard staggered to our front wall to sit down and drink some more as we were leaving. We didn't dare turn back at that point in case he thought we were watching him, so we had to drive out past him. I made David drive around the block three times to check that the bloke moved on without damaging our property though!