Wow, it's only 8.30pm. I'm ahead of schedule for once! (If you ignore the fact that this is more than three years too late anyway, of course...)
December 6th 2011
David and I went to Grottsville to collect a Lotta Littles set that I had sold on eBay. No sooner had we got home, than a woman won three plush Keypers...which were also in Grottsville! Another problem with keeping your sales goods in a different house to the one in which you live.
Mum got an invoice from eBay charging her 10% on everything including the Chartbusters game and Beatles Pencil By Numbers set which went for over £40 (the price at which I believed final value fees were capped). David was going to ring to enquire and argue on her behalf but the helpline went down when we attempted to find the phone number.
December 7th 2011
I got up early (for my standards anyway!) with the intention of getting a lot done. Mum had already put the first lot of MLP bed linen in the washing machine for me so it was ready to hang up when I got downstairs.
David came in at lunch time and rang eBay for Mum to enquire about the fees. I'd thought final value fees were capped at £4, but it was in fact £40. (Very misleading wording on their website indicated they only charged fees on items priced up to £40, what they meant was that they charged up to £40 on an item that sold for £400 or more if that makes sense). So Mum would have to pay all those fees out of her earnings as well.
We went to Grottsville that night to collect some more of my old rubbish - Keypers plushies, In My Pockets and Pound Puppies this time. Then we had yet more fattening fries at McDonalds on the way home.
The drive home was very unpleasant. Manchester United lost a football match so David drove like a madman in a foul temper. I could hardly hold on to the stuff that I had picked up in Grottsville! I will never understand why people get so wound up over a few men kicking a ball around a field. I mean, is it really worth risking our lives because one man fails to get a ball into a net?
I was distressed and utterly miserable again. I didn't leave the house again all day. It was rubbish collection day in Grottsville the following morning but I didn't even get offered the drive to dump the black sack. Instead, David went straight to the loft with his laptop after he came home from work.
Mum fell asleep at 7pm, leaving me totally alone in the darkened extension again. No wonder I was depressed! I had developed a bad tummy and had to keep running to the loo every day...but only after it got dark. I think my IBS symptoms were returning. Not surprising when I was always so stressed though really, is it?
I packed up my Pound Puppies collection and got all of my eBay parcels ready for shipping. Little else happened all day. I was just too wound up over my hair again. I wanted to get on with my life now that I'd finally moved house but it was horrible to feel like I was getting balder by the day.
Emma was talking about getting a husky puppy. How did she think she'd keep one of those in her mad house full of noisy children?
December 9th 2011
Mum woke me up at 9.30am, yelling at me how lazy I was to be able to sleep for so long. She
"didn't understand how I could sleep when she had been up since 4am"
. Well, maybe because she'd gone to sleep at 7pm, and I'd been in the bath until 2am?! Maybe she could have woken me up earlier? She'd put my MLP sleeping bag in the washing machine and it was
"getting screwed up"
by the time she did call me.
David was supposed to be coming home at lunchtime so I didn't think it was worth starting doing anything towards clearing up the house etc. As it happened, he didn't come home until 3pm so I wasted the day for nothing. We went to Ealing Broadway to post the eBay parcels but the fire alarm went off while we were queuing at the post office and we were all evacuated!
I got angry with another horrible bloke for leering at me. A huge smarmy grin spread across his face when he realised I was annoyed. What I would have done to wipe that grin off of his face with my fist. Mum blamed ME though, of course, for not wearing a coat. It shouldn't matter what I was wearing, no man has permission to stare at a woman in that way.
Everybody was getting into the "Christmas spirit"; yelling at each other, shoving each other out of the way, honking horns as they battled to get out of Ealing Broadway car park... I had to tell David to stop staring at the "wild animals" screaming from their cars and having a particularly nasty argument about
"needing to get to another f***ing Argos because this one's sold out"
as he seemed to be completely mesmerised by their performance!
We headed for West Ealing Post Office after that where my parents joined in with the good cheer. David started it, shouting at her for reasons I can't remember. So she turned on him as they walked into the post office.
"Stop being such a b*****d! Merry b****y Christmas, everyone!"
Oh well, at least the people in the queue had a little light entertainment!
That night we went to Hammersmith to drop off three plush toys that I had sold on eBay. The lady was very nice and even gave us an extra £2 for our efforts.
I was saddened to see how Hammersmith had gone downhill since we were last there though. We even witnessed two youths stealing a radio from a car in front of our eyes! David drove down an unfamiliar side street on our way back, clearly looking for something. It turned out that he had driven past his childhood home. It would have been nice if he'd told us so that we could see it too! My family are such a sociable lot.
December 10th 2011
The decorator finally decided to show up, giving us very little notice that he had any intention of doing so. He didn't do much while he was here anyway, just argued with David that he hadn't been the one to screw the light switch on the wall where the wallpaper had been torn (an outright lie!) and broke Mum's special screwdriver. The house stank of cigarettes every time he'd been anywhere near it and he left a dirty t-shirt hanging on our stair railings. It would be nice to find one decorator who could do a good job and act professionally for once, wouldn't it?
David went to the recycling centre and Grottsville on his own. Our only offer of an outing was Brentford McDonalds for yet more fries. Agh! How could I ever lose weight like this?
David found a "missed parcel" card addressed to my mum at Grottsville. We could only imagine that it was one of the eBay parcels that had been returned for some reason (sometimes we put address labels with Grottsville's address on the back), but we would have to wait until we could get to the post office to find out for sure.
I sorted through my In My Pocket collection. Gosh, the memories! They were my favourite toys for several years when I was very young (3-6ish?) That lovely plastic smell when I opened the boxes after so many years! The little collars and leads I made still tied on the puppies, the pots that Mum's vitamins came in which I kept all the tiny accessories inside, as well as other little bits and pieces that I used to play with alongside the puppies. It was all still there like some kind of time capsule! I suppose we never think when we pack our toys away that this will be the last time we'll ever play with them and they'll be forgotten in a dark cupboard for fifteen years before they see the light of day again. Kind of sad really.
Never mind, the puppies, kitties, ponies and other animals were finally smelling the fresh air in my bedroom once more...and spreading dust and allergens everywhere they went!
I found this funny little toy computer amongst my In My Pockets. I'm not sure where it came from, but it made me think of all the trouble my friend and I had been having with the bronies, taking hours to "delete" all their offensive comments and hate mail from Youtube and Facebook etc.!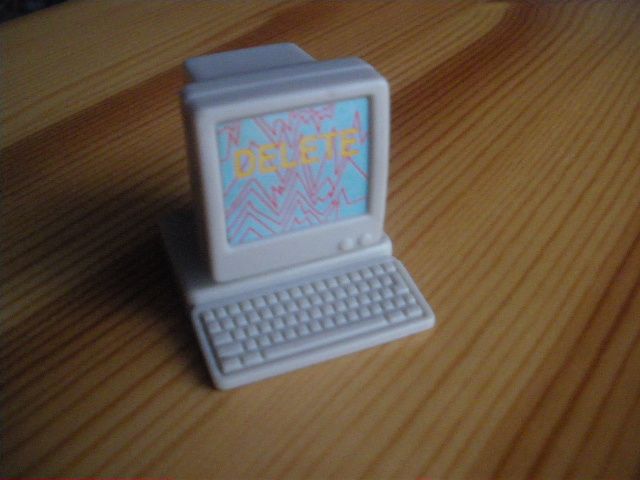 The toilet roll holder fell off of the wall in the bathroom. I got the blame, of course, but any idiot could see that it hadn't been fitted properly. I managed to put it back up but it still does fall down now and then. I try to be very careful now. Seriously, are all workmen useless?
Best wishes,
Desirée xxx