So I've abandoned this for almost a month again. All that progress...for nothing. Not to worry though, I have marked out blank drafts, each labelled with a date. I WILL write a blog for every day this year, even if it means writing two a day for a while now to catch up!
November 1st 2011
David gave Mum and I a lift to West Ealing. It was unbearably crowded with Christmas shoppers already and near impossible to even get in the charity shops. I saw a video that I would have liked to buy in British Heart Foundation but the queue was just too long for me to bother. So in the end we just came away with Weetaflakes, a few bits and bobs for Emma's kids and some nice Christmas cards personalised with the word "Ealing" which I thought would be nice for my international friends.
I had another bad time with some horrid leering men God, why did they always choose to stare at me? It's not like I was even underdressed at that time of year and I'm hardly what anybody would call attractive. They picked on the wrong person again anyway, because I turned around and shouted at them. Not that it stopped the shop assistant in Pound World from continuing to stare at me like a piece of meat. Get back to work, you loser. Keep your eyes to those shelves you're stacking!
We saw a lovely colour-in Tinkerbell photo frame which I knew my niece Kiera would love (she was a massive Tinkerbell fan at the time) but there was only one there and somebody had stolen the markers from that one. Why do people have to be so greedy?
We walked back via Lammas Park which turned out not to be such a good idea. The path was still blocked off for further work, so we were forced to walk on the wet grass in our non-waterproof canvas shoes. Yuck.
Mum ate a boiled egg when she got home, with the intention of having chips later on. It never happened though because she got that crippling pain again after eating the egg. She blamed it on the long walk and having to carry the bags of shopping (even though I'd carried everything except for a very short way in the park when she took some of the bags off of me) but there was obviously an underlying problem that kept causing it.
We went to Grottsville that night to collect a Care Bear that I had sold on eBay (which I promptly discovered was missing its tush tag, something I hadn't mentioned in the auction...the problem with listing things from a different house!), and another box of duplicate MLPs.
Woodberry was getting more and more cluttered. I set to work trying to sort out the last of the My Beautiful Horses. I was pleasantly surprised to be able to ID all but one...now I just needed to finish washing them and see if they would all fit into one crate with the duplicated weeded out.
November 2nd 2011
Mum and I had a walk in Lammas Park where I picked up another huge leaf. This time it turned out to be the leaf of a sycamore tree.
Mum was tired after the walk and got in a bad mood. She decided to use Christmas as her target and spent the rest of the day moaning about how much she hated it. One of the very few gifts we still sent each year was a calendar to my dad's old boss who he has remained friends with through the years. Mum angrily sellotaped the calendar to his Christmas card.
"Well, why the f*** should I care if his f***ing calendar is torn. I don't even WANT to do Christmas!"
David had to go to Harefield for work so he could have dropped us in Uxbridge on his way, but Mum refused to go because she was too tired and scared to eat anything after the pain of the previous day. Lack of food made her even more tired and even more crotchety.
My hair loss was still distressing me but I was trying not to think about it too much.
Mum was upset that two more Chartbusters games (like the one she had listed on eBay with all the watchers and viewers) had been listed. This would reduce the interest and value in hers!
November 3rd 2011
Depression had taken over my life again. I couldn't even get out of bed or get dressed until noon, or move from my seat for much of the rest of the day. I blamed it on the hair loss but I think it was a combination of many things really. I kept having bad anxiety attacks - feeling as though the walls were closing in on me etc. It had been a long time since I'd felt this bad.
I'd had a nasty nightmare about David kicking me out due to me stealing a jar of apricot jam (?!)...then it turned out that he and mum had really been arguing about the cost of me living with them. Well, maybe they would like to set aside some time to help me work out my options as far as education or careers went? No, of course not.
Mum's friend Jill sent me a lovely cheer-up parcel containing Blossom Forth, Pink Sunsparkle, a fake pony and Scooter Sprite's scooter. It definitely put a smile on my face on an otherwise bad day.
I did manage to clear the dining room table of all the paperwork that my parents kept dumping there so that I could finally dust and polish it. The polystyrene makeshift "table protector" that Mum insisted on keeping on it looked a real mess whatever I did though.
In my stressed daze, I accidentally listed a comic on eBay that had been on hold for somebody on the Arena....and now it had a bid. Oops. I had a bid on one of my old Disney beanies, Panic from Hercules, too though so at least a little money would be coming in at the end of the week.
It rained heavily for most of the day and many of the surrounding roads were flooded as was Osterley Tesco. This meant that there was no way that I could get out of the house on my own two feet even if I had felt up to it.
So the furthest we went was back to Grottsville late that night which was pointless because Mum had banned me from bringing any more back until I'd finished sorting the last lot anyway. David started watching Crimewatch on TV (about a woman who had been murdered, which did great things for my nerves, I must say!) and I had to sit in the allergen-ridden house until the show ended.
November 4th 2011
Back to the orthodontist for the next brace adjustment. We were running late so I didn't get a chance to floss my teeth and still had some rather obvious cereal stuck in the front ones from breakfast. Oops.
Much to my dismay, the lower teeth hadn't even moved enough for her to change the wire yet, but at least the upper ones had. They finally informed me that it looked as though my wisdom teeth would not have to be removed. Nice to know when the wisdom teeth should have been extracted before the braces were fitted if they were going to be anyway!
Both Saba and the nurse made me feel very uncomfortable by quizzing me about work and education. They could quite clearly see that I was squirming at their endless awkward questions but they wouldn't stop. I was really starting to hate my visits to that place.
Blogger won't let me embed the orthodontic vlog from that day for some reason, but you can find it at this link: https://www.youtube.com/watch?v=gBDgtFcoMsY
We walked around Boston Manor Park on our way back and fed the ducks. The geese were greedy for our offerings but the ducks weren't even interested. There were also loose bread-stealing dogs everywhere which made me feel most uncomfortable. Mum saw a sparrowhawk flying overhead (I missed it).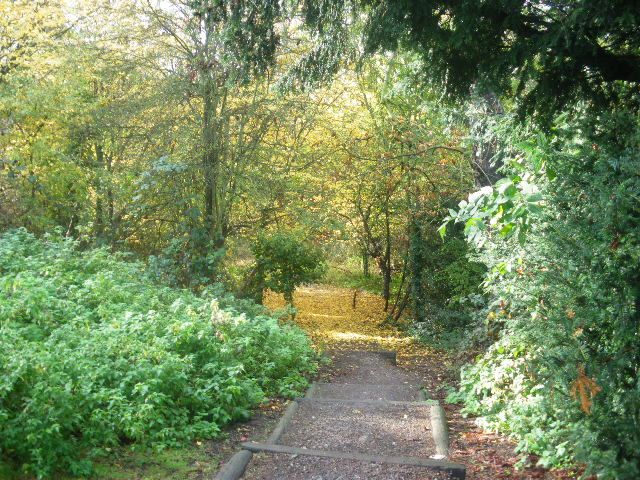 We were having a nice time until ANOTHER gross man decided to start staring at me intensely. Wow, I was having a bad week with them! He couldn't even stop after he had walked past and strained to look over his shoulder at me. What's wrong, idiot? Never seen a human being before? I swore at him, I'm afraid, and Mum told me off. Well, I'm entitled to walk around the park without having complete strangers make me feel uncomfortable.
I had another bad day of anxiety attacks, focussed mostly around my hair loss. I was actually rocking in my chair at one point because I was so stressed, but Mum didn't even notice. She thought that I was
"nodding to say that I didn't believe that she was talking about me to Jill and Emma"
. WTH? God knows what she was talking about (I can't have been listening because I was so stressed), but I think she just proved her own guilt with that statement!
The inside of my lip became more and more sore as the evening wore on due to the braces rubbing the skin there. I was beginning to wish I'd never had the stupid things in the first place.
We went to McDonalds that night for fries and a Caramel McFlurry. David asked for the fries in
"one separate bag"
and was then surprised when only ONE lot of fries were separated from his Chicken Legend. Well, that was kind of what he asked for!
November 5th 2011
We went to Greenford. The greedy Christmas shoppers had apparently already struck there as well though. Both the cheap shops and charity shops were cleaned out with empty shelves everywhere! What on Earth was going on? Was everyone laying up for a siege?
I did finally get around to photographing the coin operated rides outside the kids' clothing shop there though.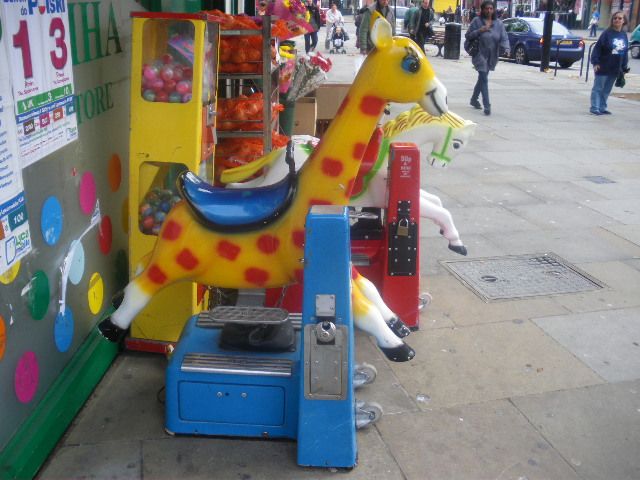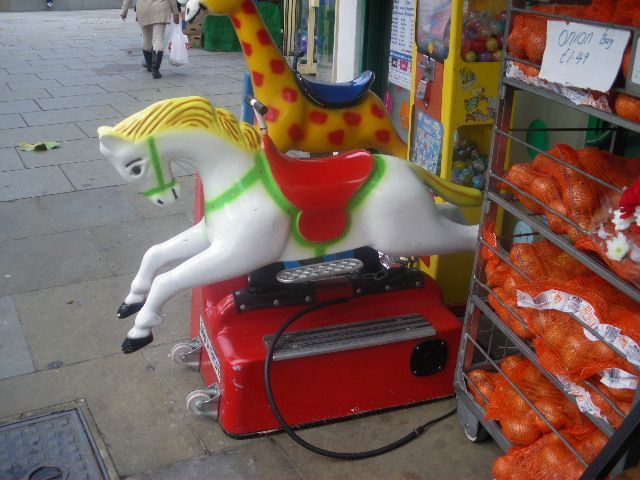 I even sucked up the courage to film Jerry at long last! Sadly, he doesn't play the same music as my beloved "Gilbert" (as I named the Jerry who lived outside our local post office), but it was still a trip down memory lane.
We moved on to Staples Corner after that, and were just as unsuccessful in our shopping attempts there. No light fixtures in Laura Ashley, no cards or gifts for my nephews and nieces in Family Bargains, no microphone in PC World. Oh, and I forgot that I had a money off voucher to spend in Toys R Us (which we were very near), and Mum kept quiet and didn't mention it because she
"didn't feel like dragging round more shops"
.
Finally to Grottsville while David posted a couple of parcels. I recorded some adverts but didn't manage to catch any MLP ones.
David went to Tesco alone that evening and came back with the strangest looking microphone I'd ever seen. Oh well, at least it was a working microphone to replace the one I broke.
I was still struggling with my anxiety, but it had been overshadowed by the usual orthodontic toothache. It wasn't unbearable this time at least.
One of our lovely neighbours decided to have a noisy, smelly bonfire and fireworks display that night. One of the rockets hit the extension roof, showering it in sparks. Well, if my stress levels had died down, that soon put a stop to that. I thought the house was on fire!
And so concludes another dull blog. I hope that you have enjoyed your travels through time with me.
Best wishes,
Desirée xxx