We went to Grottsville to pick up another lot of stuff for Mum to list on eBay. And boy, when I say a "lot" of stuff, there certainly was a LOT! It took ages to photograph and list it all with her. I wished she could learn to operate her own eBay account.
I realised that there was nothing to stop us making David's account a seller's account too in order to shift the stuff faster. Not that it would make much difference. Despite his years of experience and feedback as a buyer, they only permitted him to list ten items because he was new to selling. Oh well, it enabled me to get some of the duplicate Blind Bag ponies listed anyway! I was still left with ten empty slots on my own account but everything of mine was in Grottsville.
Photographs of the Hasbro stand at the New York Toy Fair went online. Lots and lots of toys pandering to the bronies' wants and needs. Yuck. I was glad to be out of the mindset of having to collect everything with the MLP logo on it!
My hair loss was bad again...perhaps it really was caused by the dry hair shampoo clogging the hair follicles on my scalp.
Mum and I listed a lot more of her stuff on eBay. When I finally had a chance to start listing mine, my parents decided to start a huge argument so that I couldn't concentrate and kept making mistakes! That's what you get for helping people.
We went to Asda where I got another seven blind bags for my own collection. The queues were horrendous, especially as there was a gross man right behind me who would not stop leering at me. I ended up leaving the queue and standing by the cafe just to get away from his gaze.
Then to Laura Ashley to buy some of their "Lilac" wallpaper. Mum fell in love with a hanging hook in the shape of a dog but she didn't buy it. She
"wouldn't use it as it was so nice"
. Hmm, we'd better buy horrible home decor for all over the house then. Wouldn't want anything too nice that might get messed up in the process of being enjoyed, would we?
Next to Family Bargain for some boxes of Weetaflakes. There were more old G3s there - Sweetberrys in a promotional pack with the A Charming Birthday VHS tape from 2003. I picked up a couple of them. I just couldn't resist something that had obviously been lying in a warehouse for almost a decade!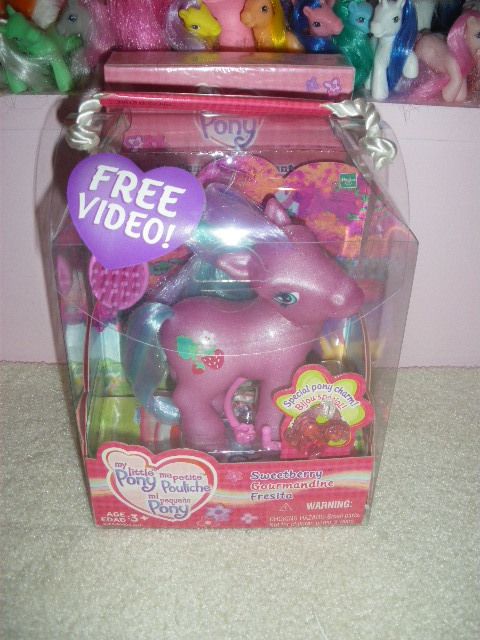 It was then that I realised that I had absolutely no idea where the Rainbow Dash that I had bought in that shop before had gone. I certainly knew how to waste my money in those days!
We went to Grottsville to collect three more eBay items in the evening. David put the loud television on while I struggled to find the stuff in the near darkness. He almost forgot to stop at McDonalds for our promised fries and Yorkie McFlurries on the way back due to the loud football on the radio.
Maybe he had a reason to be distracted though. It seemed as though he would soon lose his job again Apparently he had found this out on Wednesday. But he only just got around to telling us today (the following Sunday!) He lives in his own little world.
Looking at his emails later, he asked if we fancied going to Australia? I asked him what he was talking about. Oh, he'd had the chance of an interview for a job in Australia two MONTHS earlier. Well, even if it wasn't too late to get an interview and he managed to get the job, I wouldn't be allowed to go with him as a dependent at my age!
The braces had moved yet again and the wire was now sticking out at the back on one side, creating a nasty mouth ulcer. How did I end up with such an incompetent orthodontist?
Back to Sparkle Dental Boutique in order to have the latest painful wire clipped. David came in with me and moaned at the dentist who thinks that the treatment must be
"about half done now"
. I should bloomin' well hope it was more than half done by this stage!
Instead of going straight back to work, David came back to Woodberry and went upstairs to the bathroom. A little while later, I remembered that my laundry was hanging on the airer in his bedroom. I went mad - full panic attack mode. Screaming, throwing my (wet) laundry back in the drawers, and throwing my poor ponies around the room. My beautiful Sprinkle Stripe (my favourite of the blind bag ponies) ended up getting her mane chipped. Well, that's what I get for not remaining calm, isn't it?
My dust allergies were returning. Battling to keep them at bay, I struggled to put the MLP backcards away in their drawer and clean my wardrobe, but it didn't do much to help.
We returned to Family Bargains that night in search of the other Sweetberrys which I regretted leaving there the previous day. But the shop had closed early due to the tills not being open. David and another man actually forced the doors open so that they could go inside and ask what was going on. Seriously? I know retail workers suffer at the hands of ignorant customers, but I never expected my own dad to be one of those customers.
We went to Grottsville on the way back to dump off some of the unlisted eBay stuff as well as a MLP advent calendar which somebody had decided not to buy.
Mum and I sat in the car outside Hoover Tesco while David popped in to buy some bread. A man started to park right next to us (so close that David wouldn't be able to get in the car). I looked daggers at him and he turned his car around and drove out of the parking space. Even if looks can't kill, they can apparently move cars. Mind you, David was just walking out of Tesco at the time and almost walked under the hastily turning car...so looks could potentially kill as well!
Valentine's Day. Of course I had no Valentine as ever so, in order to not feel so left out, I sent a poem from an anonymous email address to a man I secretly admired at the time. God knows what he thought about it when he received it or who he thought it was from!
I was still suffering from my allergies. I put more of the dusty backcards away in the drawer and hoovered my carpet but I was fighting a losing battle while I was surrounded by so much clutter.
Mum was in a bad mood all day long, tired and hungry for seemingly no reason. She told me that I'd
"made her late getting the dinner by not getting on with anything until the last minute"
. But it was HER who had not wanted to get the dinner until later due to staring at her eBay account (her new obsession) all day long.
Back to Family Bargains that evening for the elusive Sweetberry who got left behind. And some cheap Galaxy chocolate. Who can resist cheap Galaxy chocolate after all? Especially when I was so desperately trying to lose weight!
We stopped at Tesco on the way back and I laughed at the piles of G4 ponies with slashed prices.
"They can't sell the bl**dy things!"
I cackled, before Mum told me to stop swearing in public!
I didn't go to bed until 4am which meant, since my alarm clock didn't work and Mum failed to call me, I didn't get up until 10am. I'd painted my nails the night before to make myself feel pretty while talking to someone special on Skype. Then, when I got up the next morning, I panicked about Mum seeing said painted nails and ended up breaking most of them trying to remove the polish. Yeah, they looked really pretty after that!
We went to West Ealing where I found a Wuzzles Bumblelion poseable for 40p and some G4 MLP colouring books for £1 each. We also got some London shopping bags for £2.50 each.
I was followed by another weirdo on the way home. He eventually said hello and started trying to make conversation. I looked daggers at him and he slunk away. Mum blamed me and said that I should have
"kept my coat on so that he couldn't look at my chest"
. WTH? I was in a plain t-shirt, hardly something revealing! Then she started mocking me.
"Did you know him? I was going to offer him a brohoof."
Yeah, because it's so funny when a weirdo keeps staring at you and then tries to talk to you for no reason.
I spotted a lovely old Edward Savill tank kiddie ride on eBay which prompted me to look at the seller's completed listings. There I found another five old rides which had been bought for a dealer at £30 each...and relisted at 99p. o_0 Sadly I lost all of the photos of these rides on my old computer when it crashed. I'm still angry with myself for that.
I do still have a copy of this wonderful video that I found that day though, showing Skegness in 1966.
There's a lovely RG Mitchell Scoota Ship and Edwin Hall Cowboy Horse shown at 3:12. How I wish I could step back in time and take a look around the old British seaside resorts!