Mum discovered that there was no bread in the house for her breakfast so I ran to the Co-Op to get her some...halfway through eating my own breakfast. Nobody could say I wasn't a helpful soul...I just didn't receive any appreciation for it!
David wasted another day in bed...which meant he wasted my day as well as I sat around waiting to hear his plans before making any of my own. When will I ever learn my lesson?
He ended up hanging one picture on the wall before walking to Sainsburys with me via Lammas Park.
I was feeling horribly self conscious about my hair again having washed it the previous night so I decided to wear the dress that I'd got myself for my birthday to try and boost my confidence. David took some photos of me at the park which I absolutely hated at the time due to my thin hair. Now I can't see anything wrong with them! I guess all things are relative.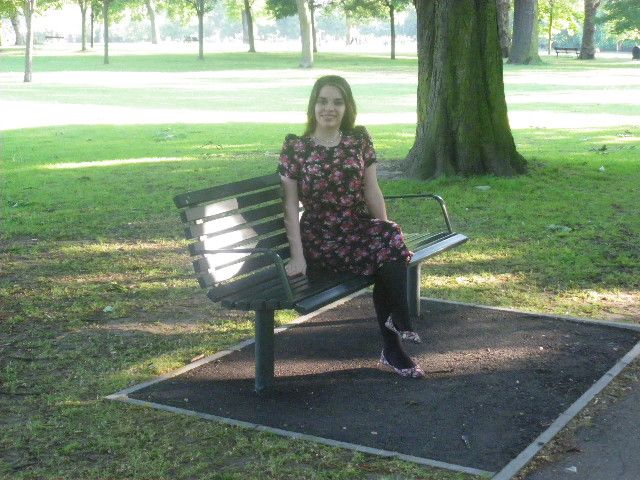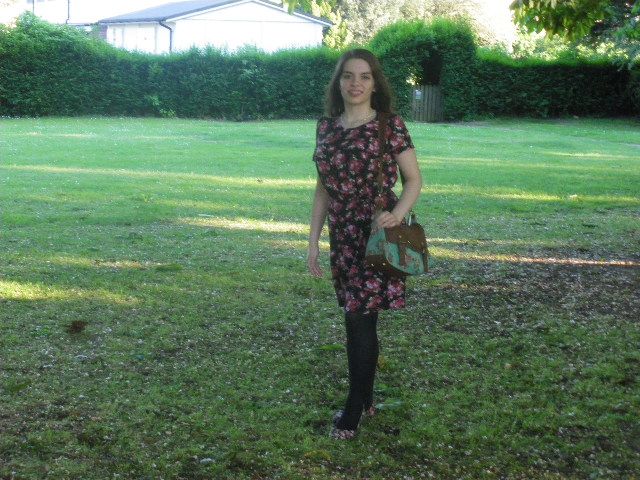 My legs were absolutely killing me following using the Lammas gym equipment the previous day so there was no way I could try again today even if David had been willing to hang around and wait for me to do so. Well, at least I'd pushed myself to go for a walk so my fitness must be slowly improving.
The extension ceiling was getting worse with more damp stains and water run marks appearing. Yet another thing for which we could thank Chris Sickton and his cowboy builders. It was hard to photograph, but you can just about see where Mum is indicating with a broom handle!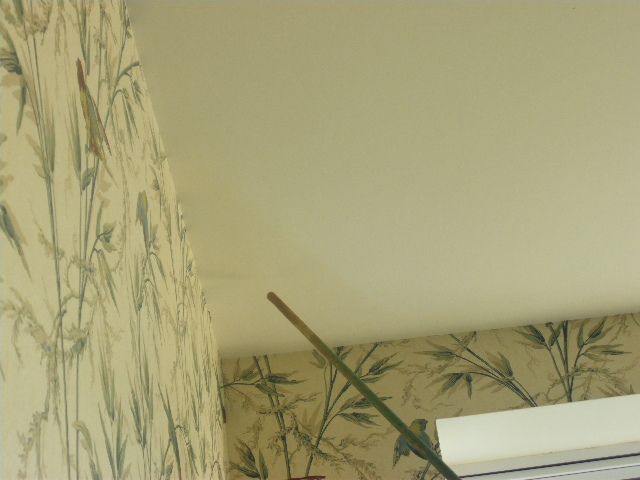 I did some more ride research that evening, focusing on Lowestoft. It seemed that the old Whittaker Bros. rides I'd seen there in 2008 were long gone now - if only I'd filmed them at the time! While searching for Lowestoft pictures, I did stumble across this interesting old photo on Flickr...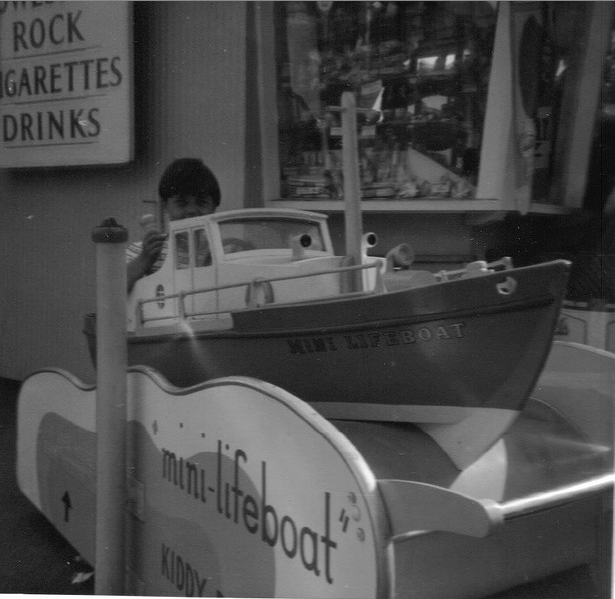 (The original can be found here: https://www.flickr.com/photos/runninginsuffolk/3138538501/in/photolist-5MkQ9M-5Mq57y-32zLHj)
What a magnificent old ride! Sadly, I have no idea who made this machine even to this day. I have since found other rides obviously made by the same company, and usually in photographs taken along the Norfolk coast in the '60s which might give a clue to the rides' origins. I'm starting to think I bit off more than I could chew by trying to research the history of coin operated rides!
I was determined to lose weight and get fit but my parents were making it impossible. David came downstairs just as I was going out and Mum insisted he went with me as she hated me going out on my own so much. We had a very short walk a little way along South Ealing Road and back down some side streets. I'd have gone so much further on my own. How could I ever get fit like this?
Remember how David had hung a picture on the wall the previous day? (The only constructive thing he HAD done the previous day!) Well, Mum had now decided that she didn't like it there so took it back down again. For goodness sake, how could the house ever be sorted out?
Yet another decorator came to look at the loft landing wall with a view to wallpapering. He was a bit of a weirdo, phoning David on his mobile to announce his arrival instead of knocking on the door! I hated to think what his decorating skills were like...and whether they would be up to Mum's high standards. Well, it was too late to back out now. He left his tools here, announcing that he would start work on Tuesday. Yes, David had agreed to his terms without even speaking to any other decorators. He
"didn't want to have to wait to get three quotes"
! Well, we'd waited a long time to get the job done already. I don't think a couple more weeks of getting quotes would have made much difference!
My continuing stress lead to another restless night full of strange dreams. Tonight's dream entailed me re-packing all of my My Beautiful Horses into a crate along with my old Pedigree Chums dog models...only to have Mum tell me to empty the crate again as she wanted the Pedigree Chums dogs for herself!
We took my beloved MLP curtains to the shop around the corner to be lined. They said that they'd be ready to collect by the following day, thank goodness...at least that didn't give me too long to worry about them getting lost or damaged.
We walked back via Lammas Park but I didn't get a chance to go to the gym equipment again as David was with me.
I spent most of the rest of the day clearing up and sorting out more ponies to try and force myself to sell. David hung some more pictures on the wall and positioned Mum's Nosy Bears on top of the kitchen cupboards...but I was starting to feel like it was totally pointless as she was likely to tear everything down again the next day anyway!
Hanging a few pictures and arranging Mum's Nosy Bears had tired David out and he had slept for the rest of the day. He eventually got up at about 11pm and came downstairs in a terrible mood, shouting at Mum (who was asleep) and asking
"Why haven't you dug out the photos that you want scanned?"
When she mumbled that she was too tired to do it now, he angrily told her that she was
"rubbish"
!
He then went into the kitchen to look for tea. He pulled Mum's button box out of the cupboard (which, admittedly, had held tea many, many years ago) and got angry when he found there was no tea inside. Well, who did he think had bought said tea? If there had been tea in that old box, it would have been well out of date!
The decorator returned to strip the wallpaper off of the wall. Just as I'd feared, this bloke was a disaster waiting to happen. Rather than throwing the wallpaper away like any normal person, he put it down the toilet! WTH? Of course it wouldn't flush away...so somebody had to pull it out and put it in the proper rubbish bin!
I had an early breakfast so that I could hide away and avoid seeing the decorator and refused to snack due to my weight concerns. Mum didn't want dinner until later than ever so I got bad indigestion. The pain was so bad that I couldn't even move or take a deep breath at one point, but it passed off about an hour after dinner thankfully.
David and I walked to Northfields Tesco and to the curtain shop to collect my precious curtains. They'd done a beautiful job with the lining - my bedroom cold be properly darkened now for a good night's sleep. I only wished David would have done it before so many of my ponies had faded and been damaged by the sun streaming through my window.
Here are before and after pictures to try and show what a difference it made...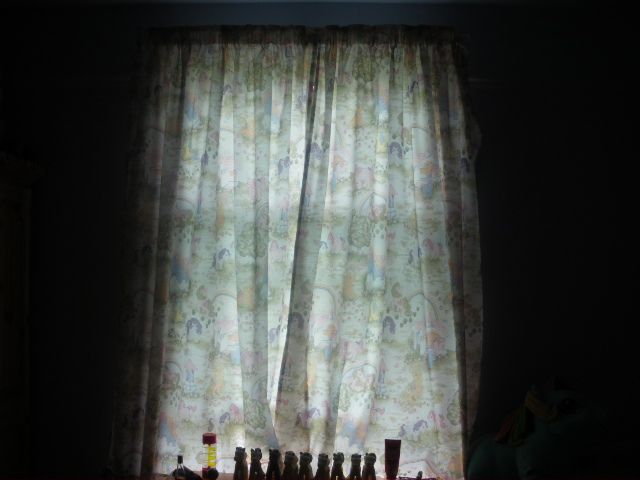 Mum finally received a letter in the post from the doctor in Grottsville about having physiotherapy for her knee. It was a bit bloomin' late now, wasn't it?!
The bronies were getting even more attention to feed their ugly little egos. John DeLancie, Lauren Faust and Tara Strong announced that they wanted to produce a documentary all about them. The bronies were so desperate to get their own documentary that they'd donated $125,000 by the end of the evening! What a shame they can't find that kind of money to donate to a charity or something worthwhile.
Oh, and Hasbro announced what the exclusive Comic Con pony was to be. Derpy Hooves. Seriously? After all the aggro, they still wanted to play up to the bronies by giving them a toy of their favourite character? It seemed us long term collectors had just been shelved in favour of these arrogant, hate mailing idiots. One particularly gross one on the MLP Arena was busily preaching how
"bronies had improved MLP and deserved to have this exclusive. Us collectors should stop complaining about it and go customise an ugly G3 to look like whatever we wanted the exclusive to be."
When others pointed out that a custom would not be an official exclusive so would not make the situation any better, Mr Arrogant retorted that he was
"sorry he'd hurt their feelings by suggesting they be artistic"
. Grr...why were these unpleasant people being given everything they wanted? It just made them feel more entitled to send hate mail to people like me.
I had borrowed David's computer the previous night while he was at Grottsville to feed my Facebook Zoo World animals. (Boy, I have such an exciting life!) Anyway, the battery ran out much faster than I had expected it to and then the laptop wouldn't turn back on again.
David managed to get it working the following morning but said it "was not how he'd left it" (how did he know?!) and that all of his tax paperwork was missing off of it.
The decorator spent another day here and made even more mess, getting wallpaper glue all over the lining paper and roughly bumping the vacuum cleaner down the stairs, denting the skirting boards whilst doing so. He then put even more wallpaper down the toilet (our poor drains!) and scraped the wallpaper on the first floor landing. He opened the very high window above the loft landing (which none of us could even reach) too and left it open after he'd gone. David rang him to try and get him to come back and close the window and the bloke put the phone down on him!
Mum's friend, Jill, sent me a G3 Flippity Flop that she'd found at her local car boot sale. Even she agreed with us about the "cr*p workmen" we find. I never thought I'd see the day when Jill would swear!
David finally rang Ealing College for me (more to shut me up rather than to help me) and then thrust the phone in my hand when I had absolutely no idea what he had said to the woman already. She got rid of us anyway, saying that she would call back later. Then she never did.
I only had three hours sleep before Mum awoke me to complain that the computer wasn't working and that it kept showing a black screen with white writing on it. Then I couldn't get back to sleep once I'd got it working for her! Later on, I attempted to have a 40 minute nap...but it doesn't work like that. If you miss your night's sleep, you can't catch up for it in the daytime!
I walked to the South Ealing charity shops and chemist to collect David's latest lot of tablets. Then I went to Sainsburys. There were some horrible young boys sitting on a bench near Sainsburys when a woman walked by in a rather revealing dress. The boys laughed and whispered something to each other. The woman spun around, marched over to them and got one of the boys by his collar. "What did you say?" she asked. The boy stammered. "Nothing..." "Say it to my face!" The woman commanded. It was good to see the boys get their comeuppance but also terrifying to watch. What if the others had turned on the woman? They far outnumbered her!
As for the brony/MLP business, it just got worse. Not only was Derpy the Comic Con pony, but the MLP Fair Exclusive as well. What? The MLP Fair had always been aimed at older collectors...but most of them would have no interest in Derpy. Yet another sign of Hasbro ignoring their faithful long term customers in favour of a lot of rich little boys.
Rich, perverted boys, that is. Somebody linked me to a website where those boys could buy inflatable MLP sex dolls. What sort of sick mind what's a blow-up doll in the shape of a colourful horse?
Surprisingly, the decorator got back in touch and said that he would be returning the next day (but "not as early"). Good. Maybe I'd actually get four hours sleep this time!
Well, I won't get ANY sleep tonight if I don't leave it there! It's already gone 4am. No wonder I'm nodding off!
Best wishes,
Desirée xxx